I'm Jennifer Oster, local Baton Rouge Mom and business owner. My husband and I love to cook, and we recently started a
YouTube channel
to share our passion for cooking with the world! Our specialty is Louisiana/Cajun/local food.  This Easy Boudin King Cake is always a hit during Mardi Gras season; it's stuffed with boudin, pepper jack cheese, and topped with pepper jelly, green onions, and bacon. To save time, this recipe uses pre-made dough! It looks impressive, but it's a super easy recipe.
Traditionally, boudin (pronounced BOO-DAN, not BOO-DEN) is made with ground pork, rice, onion, green peppers, and Cajun spices and seasonings, left to the boudin creator's own devices.
I hope you enjoy this savory pastry that marries two Bayou State classics.
Easy Boudin King Cake – Mardi Gras Recipe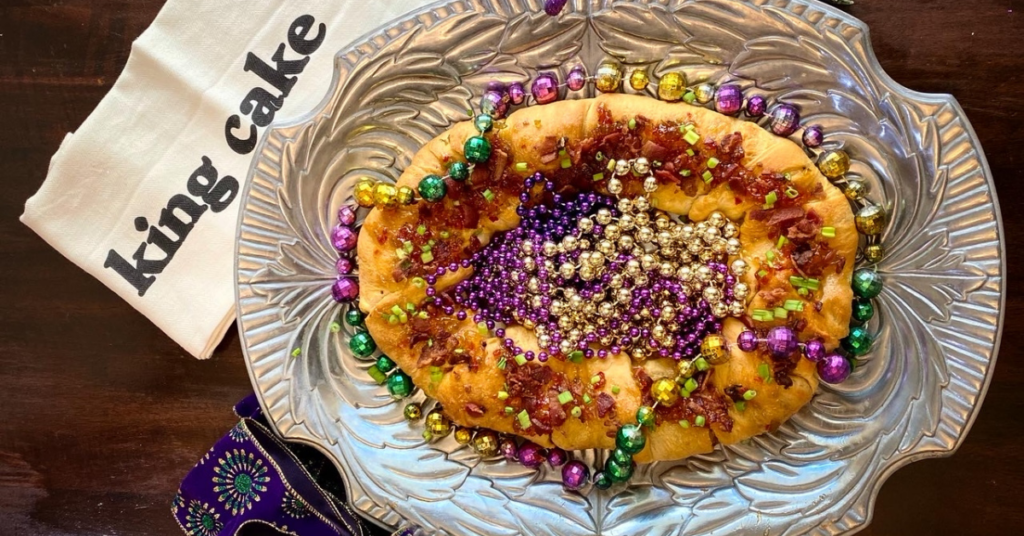 Ingredients
2 cans crescent roll dough
 1 pound boudin, de-cased and cooked until warm
About 4 ounces (half of a block) pepper jack cheese
4-5Green onions
4-5 slices of cooked and crumbled bacon
Pepper jelly
Instructions
Arrange dough on a greased baking pan in the shape of an oval. Fill the ring with cooked boudin and top with slices of cheese. Roll the sides to form the ring and pinch together. Bake at 375 for 12-20 minutes, until golden brown, then, top with pepper jelly, green onions, bacon, and bake another few minutes until pepper jelly is semi-melted. Serve warm. It can be refrigerated and reheated!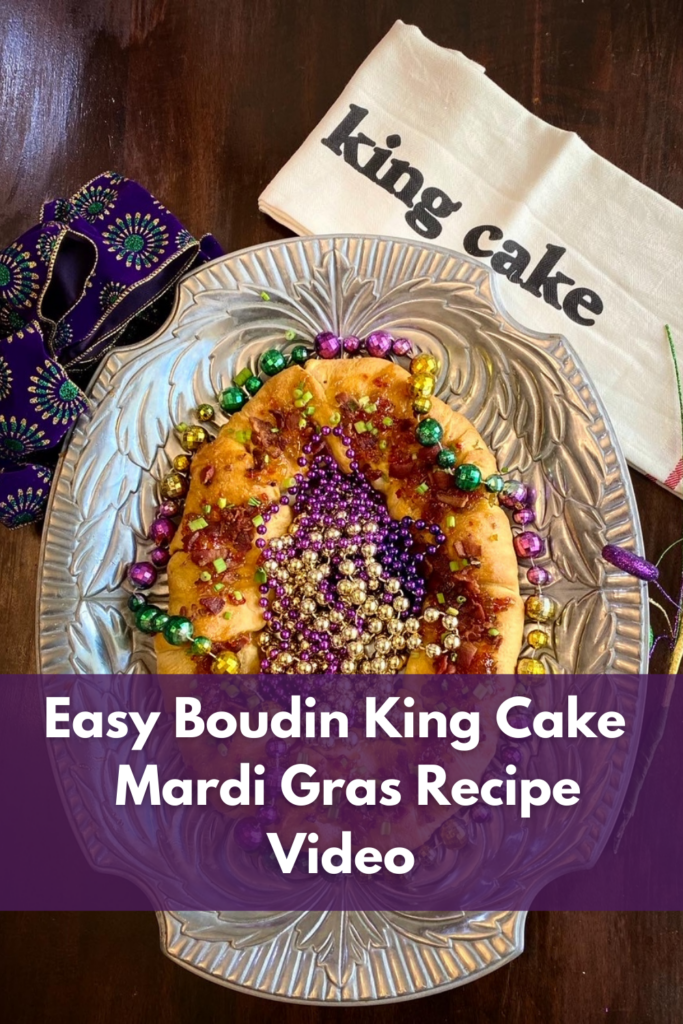 This would be a great recipe to make with kids! If you decide to try your hand at it, please be sure to tag us so we can see your masterpiece! Use the Hashtag #BRFamilyFun and tag us on
Facebook
and
Instagram
!
Visit the Oster Adventures YouTube channel for more recipes! 
Check out our full Mardi Gras Guide for more Mardi Gras Family Fun, King Cake Guides, and more!