We have a plethora of options for Baton Rouge summer camps with a wide variety of ways to keep the kids active, entertained, and learning all summer long! From numerous theatrical camps to sports, music, horseback riding, and swimming to camps for those with special needs, there's surely something for everyone.
Did we miss a camp? Contact us and we will be sure to add it.
2023 Featured Baton Rouge Summer Camps
Thanks to  BREC Camps for sponsoring
this year's Baton Rouge Camp Guide.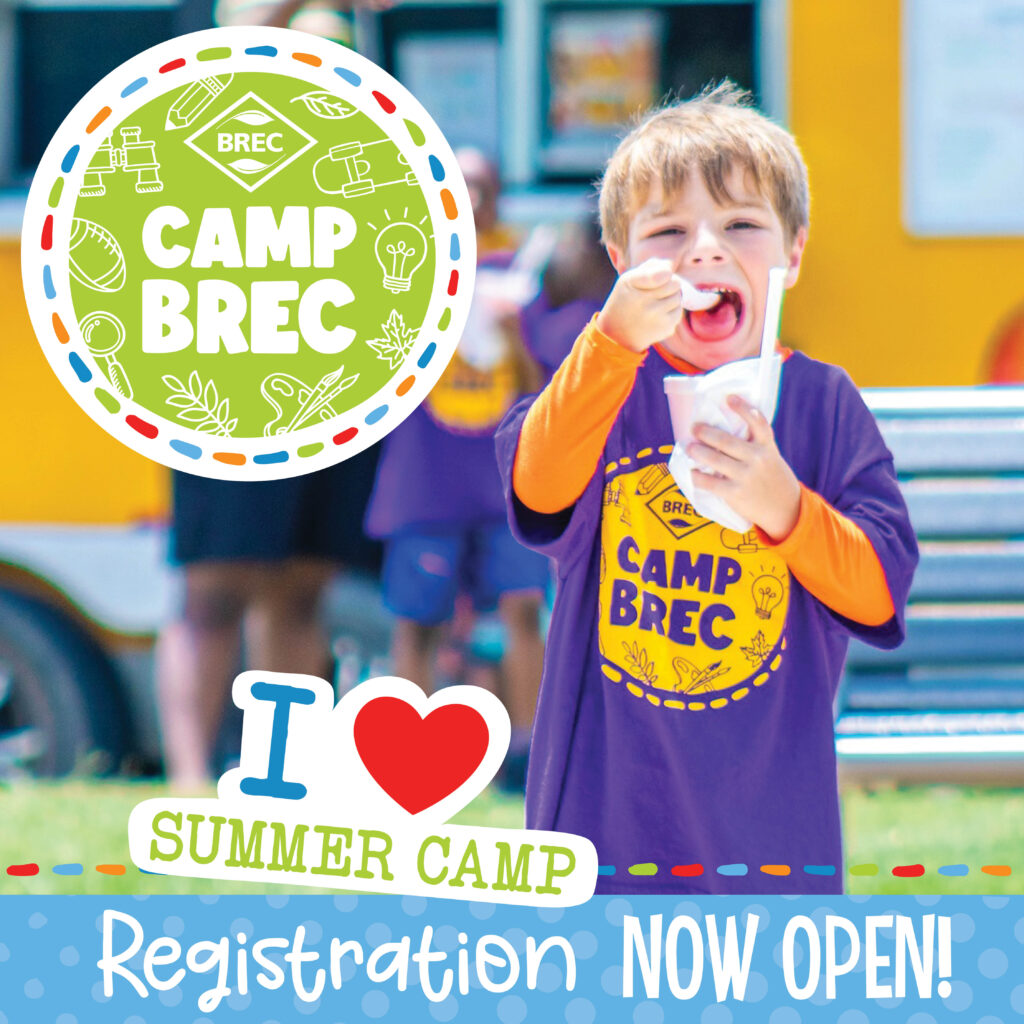 For decades, BREC's Summer Camps have been an inclusive, family tradition in East Baton Rouge Parish! Parents recognize the quality of BREC's summer program, which is loaded with a diverse curriculum of fun, memory-making activities that are second to none. Campers experience recreational games, community field trips, recreational sports, and cultural arts, develop new friendships, and more. From recreation and theatre to animals and science, there is a camp for children of all abilities, ages, and interests!
Registration is NOW OPEN!
For more information: See a full list of BREC Summer Camps! 
---
 LSU University Recreations Tiger's Den guiding principles are Fun, Enthusiasm, Compassion, Discovery, Humility, Leadership, and Community. These principles serve as the foundation for our activities, which are designed to impact and encourage social growth in our campers, in areas such as teamwork, community living, healthy sportsmanship, and positive competition. We combine creativity and cooperation with individual challenges, which impact critical thinking skills and encourage a greater sense of confidence and self-esteem.
Personal and physical growth also tends to occur naturally and their individual gains such as honesty, trust, communication, and friendships are some of the dividends. We see camp as the special opportunity for a child to experience the fun and excitement to be found on campus, in an environment that removes the academic and social pressures that are a part of our children's lives. Our plan is that this experience satisfies that need with happy, relaxed, but well-structured programs.

Our goal is that all who attend Tiger's Den receive a supremely unique experience, one that is treasured and cannot be found elsewhere. LSU UREC Tiger's Den is a recreational experience that provides fun and comprehensive camp programming for children ages 6 to 12, where each session is filled with sports activities, structured games, sports skill instruction, and interactive educational activities, all incorporating Tiger's Den Values.
We offer 10 different, 1-week sessions, to ensure your children are learning, playing and having a blast all summer long. Registration is NOW OPEN for the Baton Rouge Community. Lunch, snacks and a free t-shirt are all included in the registration cost.
For more information: http://lsuuniversityrec.com/lsuurec/tigersden
---
These week-long piano camps are motivating in a fun, interactive camp setting. Beginners' camps are perfect for children and teens with little or no experience. Students will learn music reading, and also solo- and ensemble- playing skills. A variety of musical styles are explored, along with lots of ensemble playing to build musicianship and listening skills. Our goal for these beginners camps are for students to have a positive and enriching first experience at the piano. All camps meet Monday-Friday, 9:00-12:00, with a "Celebration Day" on Friday for family and friends to attend. Daily snacks are provided each morning.
For more information: please call Rebecca at 225-767-0030.
---
Summer Camp registration is now open! Don't miss out on this awesome Ninja Warrior, Circus Arts, Parkour and Movement Camp at
GymFit – Adventure & Fitness
!
Sign up at GymFitBR.com
❤️
Ages 5-15 are welcome! Spots are limited
😀
We are excited to offer this one of a kind camp experience for your child! We will offer a variety of daily activities for your little monkey(s):
Acrobatics/AcroYoga
Circus Arts (Aerial Silks, Trapeze, Lyra),
Ninja Warrior/Parkour Courses
Gymnastics/Tumbling
Fitness/Yoga
Music
Arts And Crafts
Dance
Flow Arts (Hoola Hoop, Juggling, etc)
Water Days
And More!
For more information: https://gymfitbr.com/summer-camp
---
Martial Arts Summer Camps
David Vincent's Martial Arts has been offering camps and classes in the Baton Rouge area since 1993. Our summer programs teach real martial arts and life lessons to help students develop confidence, control and concentration.
Flexible Hours
Our experienced instructors teach kids what they need to know to excel in our martial art school and in the classroom. We offer full day or half day camps as well as early drop off and late pick up options to fit your busy schedule.
---
The Summer Holiday Camp will offer daily instruction on position-specific fundamentals- hitting, pitching, fielding, & base running. The camp will provide the best possible instruction for players of all ages and abilities in a structured, enthusiastic, fun environment. Kids will be taught through verbal instruction and visual demonstration, and also by taking part in instructional drills/games. They will also receive instruction from some of the best collegiate coaches and players, along with top high school coaches in the area. Campers will be given quality instruction on how to play the game and how to improve themselves on and off the field!
Ages: K-8th
For more information: www.lsubaseballcamps.com
---
Spend the Summer at the Manship School. Housed at LSU's Manship School of Mass Communication, the Louisiana Scholastic Press Association (LSPA) Summer Institute prepares high school sophomores, juniors, se­niors and incoming LSU students to tell the world's stories through media. Their mission is to equip students with advanced skills in journalism, digital media, broadcast reporting, public rela­tions, advertising and more.
---
More Baton Rouge Summer Camps: