No need to travel far for summer fun and adventure in Baton Rouge. Baton Rouge has an endless supply of family-friendly events, water fun, nature trails, water parks, and more. We have put together a comprehensive guide of Summer Fun in Baton Rouge and Beyond.
Updated Daily!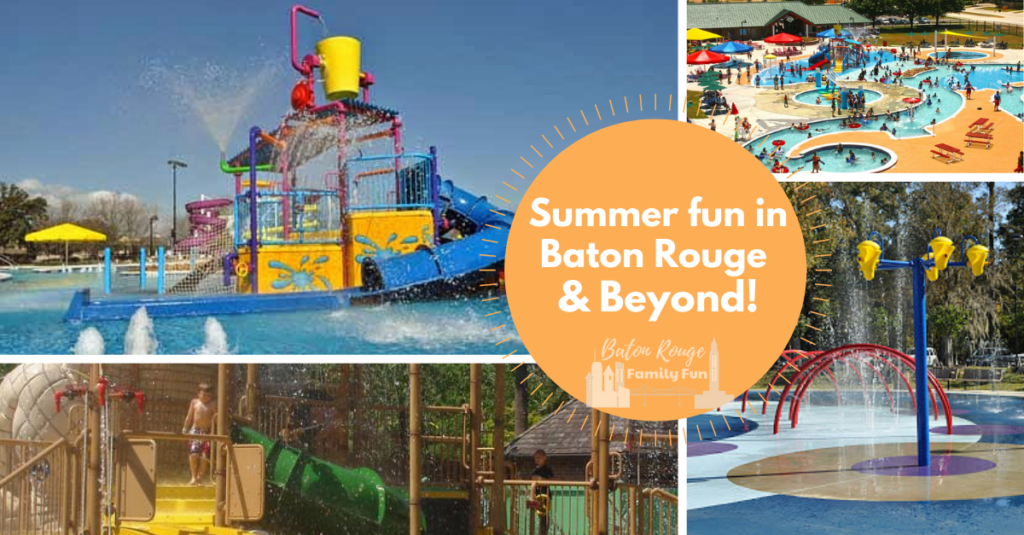 Summer Fun in Baton Rouge
Louisiana is known for its food and live music, but it's extra special with the fireworks on the Fourth! If you're looking for 4th of July parades, festivals, and fireworks – Baton Rouge Family Fun has got you covered! Get out your red, white, and blue and celebrate America's Independence as Southeast Louisiana hosts a variety of events celebrating the Fourth of July — from parades and fireworks to festivals and lake parties starting as early as June 29th!
A comprehensive list of Baton Rouge area splash pad parks, pools, and water attractions.
Blueberry picking can be a fun, delicious, and educational outing with kids. Nothing compares to picking one's own food and seeing where our food comes from. In Louisiana, the picking season usually starts earlier than other parts of the country, and we're blessed to have several options for Blueberry picking near Baton Rouge.
10 fun kids films for $5 or $1 a movie, plus a $1 off coupon for a Movie Snack Pack.
Movies are only $3, and for an additional $3, you can get a kid-sized popcorn and a drink. Usually, a ticket is over $13 making this an incredible deal!
Kids bowl free this summer in participating bowling centers across Louisiana, including Baton Rouge and Gonzales! Select bowling centers around the country are participating in the first-ever Kids Bowl Free program. This program is designed by bowling centers to give back to the community and provide a safe, secure, and fun way for kids to spend time this summer.
Do you know the difference between Tunica Hills and Tunica Falls/Clark Creek? Clark Creek is sometimes called Tunica Falls; hence, Tunica Hills and Tunica Falls are often confused. However, if you're in the mood for chasing waterfalls, trails, and adventure, both parks are worth a visit.
Classes, programs, camps, and events!
Summer fun is in full swing, time to relax and enjoy the lazy days of summer…  but tell that to kids who are bouncing off the walls or singing the boredom blues.  As parents, we want each summer to be more memorable than the last, and with that comes the need for a few new ideas, especially if your child is too young to go to a summer camp. Here are 30 Things To Do in Baton Rouge and beyond that are sure to keep you busy all summer long!
Your guide to summer camps in and around the Baton Rouge area.
The extremely popular Free Swimming Lessons in Baton Rouge are back this summer at BREC! Kids ages 5 to 12 have the opportunity to learn to swim like a fish and take on a skill that will serve them for a lifetime! Mark your calendars and get your kiddo ready to dive into summer!
Beat the Louisiana heat with some Summertime Ice Skating and make some new core memories! 
A summer bucket list doesn't have to stress you out in the quest for a perfect summer. Our summer of fun list will provide ideas on those days when you need help trying to find something to do, use it as a reminder of the many Things To Do In Baton Rouge and beyond.
Feel free to copy, print, and or download our Baton Rouge Summer Bucket List for a summer of fun!
Click here for printable PDF Baton Rouge Summer Fun Printable