Our Mardi Gras Activity Book has every element that makes Mardi Gras fun: trumpets, music, drums, jester hats, king cake, confetti, masks, and more! These 16 worksheets will help preschoolers, kindergarteners, and beyond develop early learning skills with ABCs, numbers, shapes, fine motor skills, handwriting, educational games, and more.
Mardi Gras Activity Book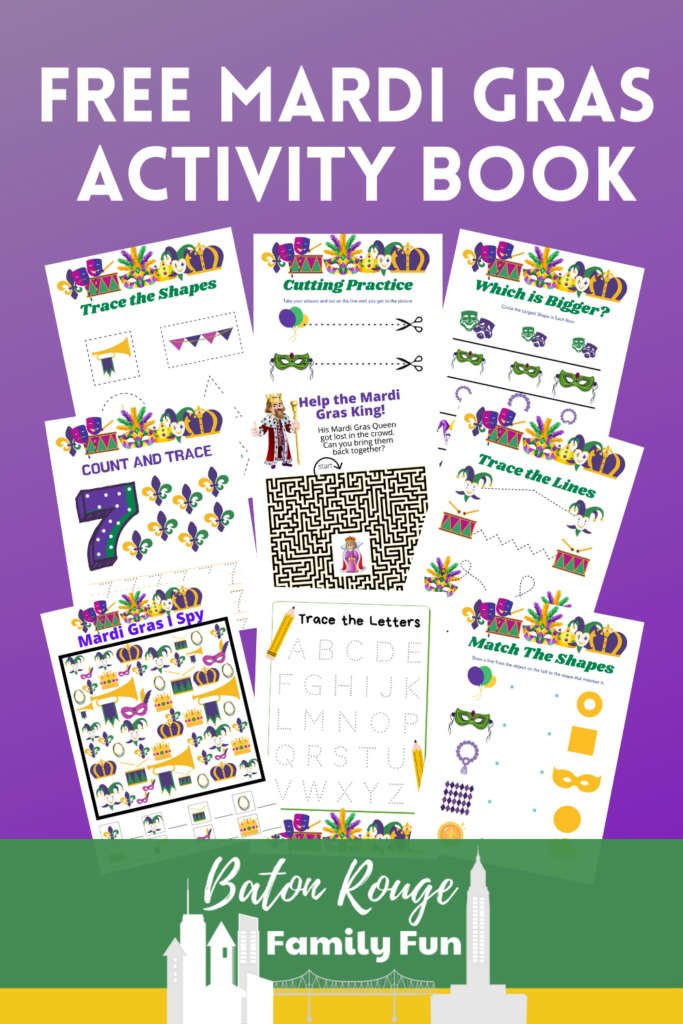 Mardi Gras Activity Book – What's included:
16 Pages
Flashcards / Memory Game
Mardi Gras, I  Spy
Trace the Letters
Trace the Numbers
Mardi Gras King Maze Game
Match the shapes
Count and Trace
Mardi Gras Words
Cutting Practice
Trace the Lines
Trace the shapes
Which is Bigger
Get instant access to our Free Mardi Gras Activity Book Printable – 16 pages of Mardi Gras Fun! 
Please check your Junk Folder for the link
to download the Activity Book!
Mardi Gras History & Facts
What Is Mardi Gras?
Mardi Gras is a Christian holiday that's celebrated the Tuesday before Ash Wednesday, the day that begins the Christian season called Lent. During this season, which lasts until Easter Sunday, Christians are supposed to give up bad habits or fast from certain foods. Mardi Gras literally means 'Fat Tuesday' in French. It is a day (and night) to live it up and enjoy one last day of fun before the discipline of Lent.
History
Originally celebrated in medieval Europe, particularly Italy and France, Mardi Gras was declared a legal holiday in Louisiana in 1875. The first record of a Mardi Gras celebration in the United States is from the early 1700s. Celebrations took place in New Orleans and were more like fancy balls or dances. The carnival atmosphere did not occur until later in the 1700s. The first parades began in the 1800s, and the parade king became a regular symbol of the festivities.
Symbols & Colors
There are many famous symbols that represent this exciting holiday. Many people enjoy a king cake, a sugary dessert that has a plastic baby baked inside. According to tradition, the person who gets the piece of cake with the baby inside will have good luck and prosperity.
The beads in Mardi Gras necklaces are often made in the official Mardi Gras colors of gold, representing power; purple symbolizes justice; and green, which represents faith. You may see people wearing masks in these colors as well.
Why is Early Learning important?
Simply put, a child's early years lay the foundation for all that is to come. In recent years, researchers have learned that the human brain develops the vast majority of its neurons and is most receptive to learning between birth and three years of age. In fact, the intake of new information is critical to the formation of active neural pathways (Shonkoff & Phillips, 2000).
Early education can play a critical role during this important developmental period. Research linking early intervention to both cognitive and socio-emotional gains has fueled the proliferation of early childhood programs since the early part of the twentieth century. The last four decades, in particular, have produced many new practices and principles for use with young children. 
Source: study.com
---
Check out our full Mardi Gras Guide for more Mardi Gras Family Fun, King Cake Guides, and more!