Contrary to popular belief, Mardi Gras can be family-friendly. The festival seems like it was made for children, with floats derived from the depths of the most ingenious imaginations, costumes and masks that express an unending creativity, bold colors and joyous music abounds through parades. And, most importantly, the beads, doubloons and other treats thrown to the crowds from the floats are a child's delight.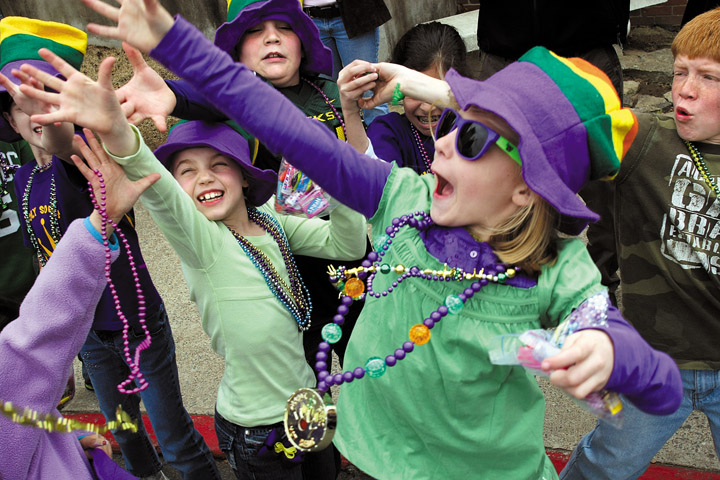 Baton Rouge Moms has put together a comprehensive Family Friendly Mardi Gras Guide with Mardi Gras parades, a printable PDF and tips for parade goers.
Madri Gras Fun Fact: Rex selected the official Mardi Gras colors in 1872 to honor the visiting Russian Grand Duke Alexis Alexandrovich Romanoff, whose house colors were purple, green and gold.
Mardi Gras 2015 – Family Friendly Baton Rouge Area Parade Schedule

KREWE OF JUPITER and JUNO will not parade this year.
The CAAWS Mystic Krewe of Mutts is a family-oriented, fun-filled, parade and promises all a very special day. Mardi Gras colored costumes and pet-sized floats will roll along North Boulevard on Sunday, February 8th at 1:30 p.m. Parade begins at North Boulevard and St. Ferdinand Street, turning North at 8th Street and ending at North Boulevard and Fourth Street.
The CAAWS main booth is located in the new North Boulevard Town Square (near Bus Stop) for registration, information, T-shirt sales, packet pick-up, etc. Bark in the Park activities will be from 10 a.m. – 4 p.m. along North Boulevard, Registration from 10 a.m. – 1 p.m., and Costume Contest at 12 noon, Visit the booths and vendors along North Boulevard for a day full of food, shopping, pet adoptions, information, demonstrations, activities, contests and fun!
Krewe of Artemis "Come Rock 'N' Roll with Artemis" Parade Fri, February 6, 7:00 PM
The Krewe of Artemis 13th Annual Mardi Gras Parade will roll through the streets of downtown Baton Rouge on Friday, February 6th at 7 p.m. Parade begins and ends at the corner of Government Street and St. Philip Street.
The Goddess Artemis was known as the "Mistress of Animals" and the protector of children. The Krewe features a full length New Orleans style night parade and promises an evening of fun for all ages. Join the excited revelers as they line the parade route… Artemis style! Revelers will be treated with themed throws, including the Krewe of Artemis' signature high heeled shoe, along with footballs, tambourines, stuffed animals, float beads and lighted throws.
The Krewe of Mystique de la Capitale welcomes you to the 2015 Mardi Gras Parade as they celebrate 38 years of parading in Louisiana's capital city. We are the city's oldest parading Mardi Gras Krewe and we've shared 38 wonderful years of carnival fun in Baton Rouge. The parade is family oriented and promises fun for all ages. The parade consists of marching bands, 12 to 14 floats that represent the Krewe along with many local businesses, and charitable organizations.
The Krewe of Orion's 16th annual Mardi Gras parade will roll through downtown Baton Rouge on Saturday, February 7th, at 6:30 p.m. This family-oriented parade begins and ends at the corner of Government Street and St. Philip Street. Parade goers will be treated to a lineup of exciting, colorful traditional lighted and tractor-pulled floats. Rollin' with the theme of "Heroes and Villains," each float will be decorated to depict its well known theme. Masked and costumed riders will throw plenty of Orion parade theme medallions, footballs, cups, plush animals, swords, doubloons, lighted throws, and beads. Marching bands, as well as riding and marching units will be among the great sights and sounds at this wonderful parade.
This parade is Baton Rouge's family-friendly evening parade that rolls through the Southdowns Neighborhood the Friday before Mardi Gras each year.
31st Annual Krewe of Good Friends of the Oaks
The 31st annual Krewe of Good Friends of the Oaks Mardi Gras parade will begin and end at the corner of the LA-1 Service Road and Oaks Avenue. Sunday, February 15 at 1:00pm. Laissez les bon temps rouler!
Parade Route: east on Oaks Avenue to Jefferson Avenue, north on Jefferson Avenue to Court Street, west on Court Street to Sixth Street, north on Sixth Street to Louisiana Avenue, east on Louisiana Avenue to Jefferson Avenue, south on Jefferson Avenue to Oaks Avenue, west on Oaks Avenue to LA-1 Service Road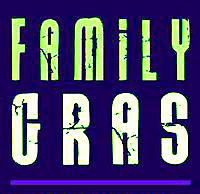 Family Gras 2015 will be Friday, 02/5 – Sunday, 02/8
This celebration of carnival and family takes place on the neutral ground of Veterans Memorial Boulevard across from Lakeside Shopping Center in Metairie, Louisiana.
Entertainment for 2015 Family Gras includes Cowboy Mouth, Amanda Shaw, former Journey member Steve Augeri, former members of the Electric Light Orchestra, Courtney Cole, Blood Sweat & Tears, Wilson Phillips and Montgomery Gentry. Local and regional artists set up in the Art Market, where you can buy their work throughout the whole festival. Flambeau Food Court vendors will be there cooking up Louisiana favorites, like jambalaya, crawfish pasta, muffulettas, pizza and gator-on-a-stick. There will also be local goodies like bread pudding and king cake.
NOLA Mardi Gras
If you are new to Baton Rouge and or Louisiana, the only place you should avoid with kids is the French Quarter. It's best to see the parades when they begin on St. Charles Avenue near Napoleon, since parades can go on well into the night by the end of the parade route. The Garden District are of St. Charles is also family area where you will see many families enjoying the day and planting themselves to see the parades.
The Sunday before Mardi Gras is particularly family oriented, with Thoth parading down Magazine Street and Bacchus rolling later in the afternoon.
The Krewe of Barkus is a delightful dog parade that rolls the Sunday prior to Thoth. It begins in Congo Square and parades through the French Quarter and is remarkable fun for children of any age.
On Fat Tuesday, visitors are encouraged to join the local tradition of masking. Zulu, an African American parade, leads the long day of parades on Fat Tuesday, Mardi Gras itself. Children scramble for the much desired coconuts handed down by float riders.
Mardi Gras 2015 New Orleans Parade Schedule
Mardi Gras 2015 Northshore Parade Schedule
Mardi Gras Bucket List: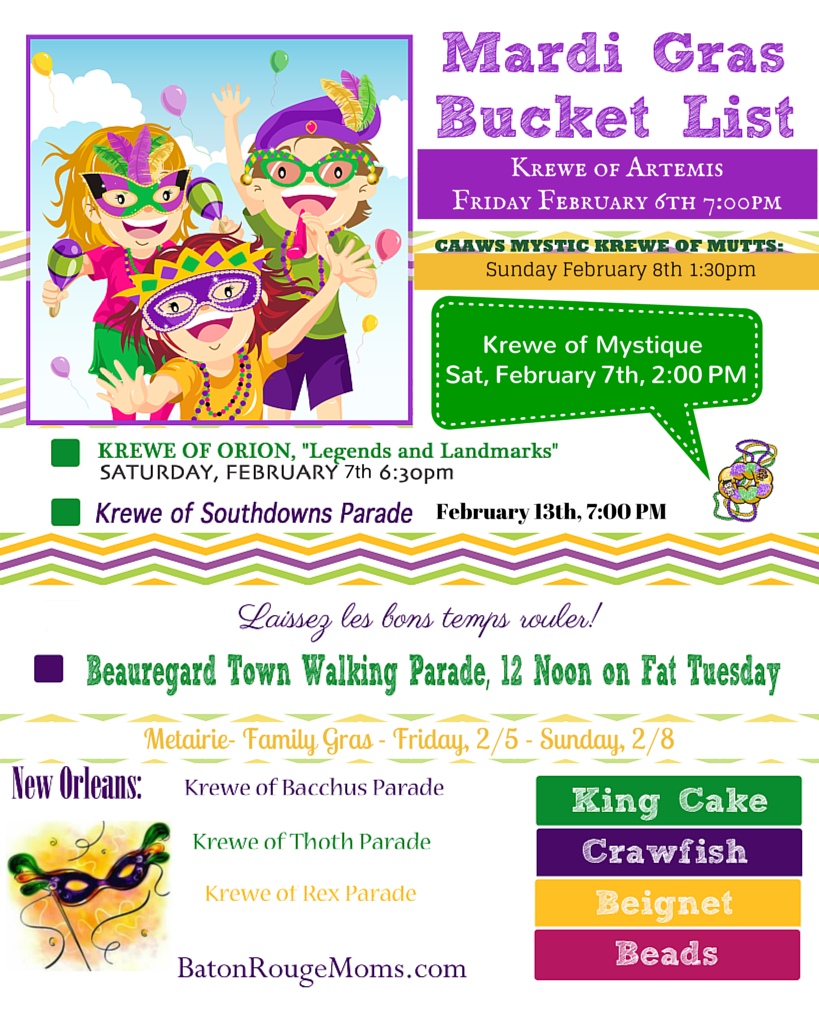 Laissez les bons temps rouler!
Source: New Orleans Metropolitan Convention and Visitors Bureau.