Grab your cameras and your Christmas cheer, and get ready to enjoy the magic of the season. The Festival of Lights, Baton Rouge's oldest holiday tradition, transforms the winter sky into a wonderland on December 2nd from 4-8 pm.
Welcome the holidays with half a million sparkling lights on North Boulevard, a 35-foot Christmas tree, a snow village complete with ice skating, and a visit from Santa Claus himself! Watch as the magic lights up before your eyes with a fireworks show and the annual tree lighting ceremony in North Boulevard Town Square.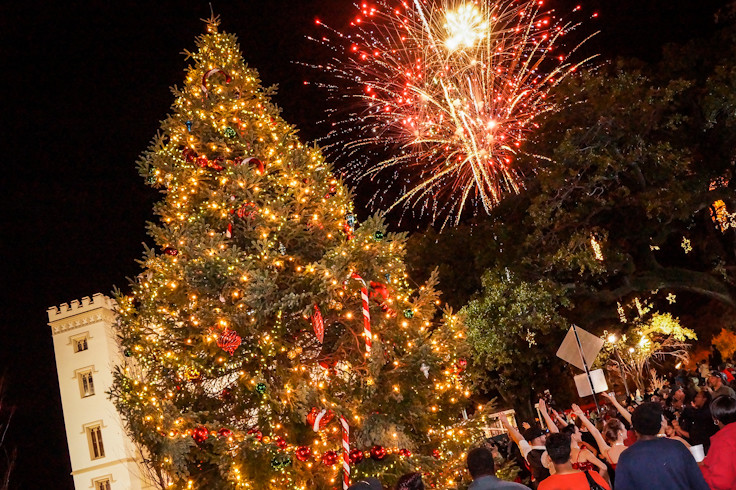 FESTIVAL OF LIGHTS
Skating begins at 4 PM – Ages 5-10 Only
Snow Village begins at 5 PM – Ages 5-15 Only
Snow in Baton Rouge??? Yep, 10 tons of real snow will be ready and waiting for the kids at Repentance Park! Repentance Park is located between the Old State Capitol and River Center. Enjoy Baton Rouge's very own Rockefeller Center-style ice skating rink located on the first floor of the River Center Plaza, where festival-goers can stand on the balcony and watch the children skate around the plaza!
HOLIDAY FILM SCREENINGS – 6:30 P.M. to 8:30 P.M.
From 5:30 p.m. until 8 p.m., you can enjoy screenings of your favorite holiday classics, such as How the Grinch Stole Christmas, Rudolf the Red-Nosed Reindeer, and Frosty the Snowman, at Harley/Vey Theatres.
TREE LIGHTING & FIREWORKS – 6:20pm 
Mayor Broome will countdown the City's Christmas Tree lighting along with half a million sparkling lights on North Boulevard. Experience the magic beneath the 25-foot Christmas tree on North Boulevard and marvel over the elaborate fireworks show on the Mississippi River! While you await the countdown, you can support Louisiana Youth Orchestra by shopping their bake sale, where baked goods, hot chocolate, and popcorn will be available for purchase, or let the kids decorate a personalized ornament to cherish for years to come.
The preferred area for viewing the fireworks will be North Boulevard at Town Square, facing the Christmas Tree and Mississippi River.
BATON ROUGE  SANTA – 6:30 P.M. to 8:30 P.M.
Santa will assist Mayor Broome to countdown the lighting of Baton Rouge's Christmas Tree! Afterwards you are invited to the Louisiana Old State Capitol for a special photo-op and other holiday festivities. Louisiana's Old State Capitol will host their annual "Santa in The Senate" on Friday, Dec. 2nd from 6:30 P.M. to 8:30 P.M.
Guests of the Old State Capitol will have the opportunity to take their photo with Mr. & Mrs. Claus in the old Senate Chamber and then enjoy a Christmas film in the old House Chamber.
Guests are encouraged to bring their own cameras or cell phone to take pictures. There will be arts and crafts for children to partake in and a special treat upon existing the building.
DOWNTOWN HOLIDAY SPIRIT
Downtown Baton Rouge will be in the holiday spirit with tons of activities going on. Most of the downtown churches and museums participate in the evening by having live nativity scenes, giving away hot chocolate, singing Christmas carols, and much more!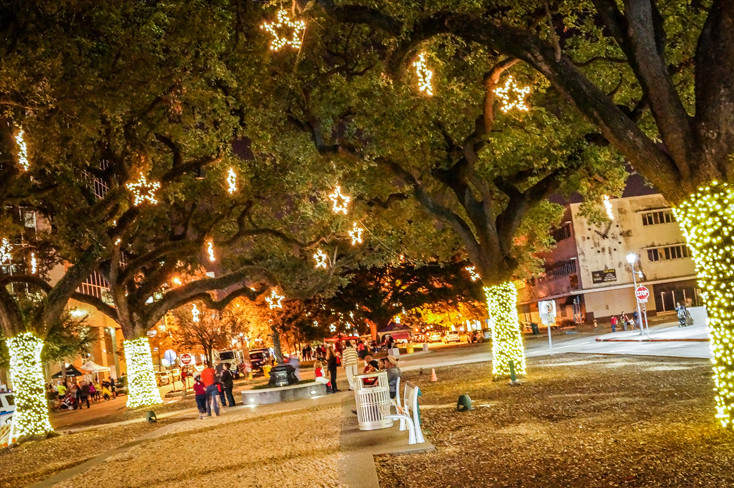 ARTIST VILLAGE
Produced by the Arts Council of Greater Baton Rouge, this year's Artists Village at the Festival of Lights will be located in the Rhorer Plaza Lawn. Over ten local artists will be selling handmade crafts to complete your Christmas shopping list. Along with the artists, the festival will include a bake sale, hot chocolate for sale, and multiple food vendors.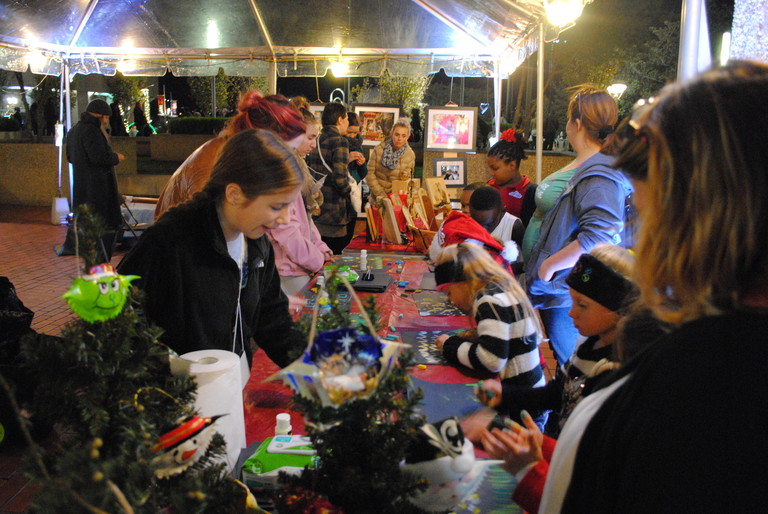 Full Festival of Lights Schedule
Mayor's Stage at Galvez Plaza
Justin Garner
4:15p.m. – 6:00p.m.
Lighting Ceremony and Fireworks
6:00p.m. – 6:25p.m.
"Swing into Christmas" with Ned Fasullo
6:25p.m. – 8:00p.m.
Holiday Fun at North Boulevard Town Square
Experience North Boulevard Oak Alley
See 250,000 Christmas lights!
Bayou Cirque Performers
Experience the magic of the holidays with Live Actors, Krampus, Jack
Frost, Winter Witch, Winter Fairies, Santa's Elves and more!
Kid's Orchestra
Join Kid's Orchestra at Festival of Lights for a live instrument petting zoo.
Touch a real violin, or a trumpet, and learn about all of the opportunities
kid's orchestra has for your student.
Winter Wonderland
Community Stage
4:00p.m. – 8:00p.m.
McKinley Middle Choir, BRCVPA, Woodlawn
Middle Choir, Cangelosi Dance Project, Liberty
High Dance, Creme de la Rouge, EBRPSS
Talented Arts Program, McKinley Middle Magnet
Dancers, Baton Rouge Cheer Academy, Capital
High School Dance, Forest Heights Music
Theatre
Free Ice Skating
4:00p.m. – 8:00p.m.
First Floor Outdoor Plaza
Provided by the River Center.
Ages 5-10 only.
Free Snow Village
5:00p.m. – 8:00p.m.
Repentance Park
Take a turn playing in ten (10) tons of real snow!
Ages 5-15 only.
Free Holiday Shorts
5:30p.m. – 8:00p.m.
EBRP River Center Branch Library
Watch screenings of your favorite holiday shorts
Santa's Gift Shop
4:00p.m. – 8:00p.m.
Rhorer Plaza
Artists from the Baton Rouge Arts Market and
around the region sell unique handmade items
Other Downtown Holiday Fun
Holiday Shopping Event
4:00p.m. – 8:00p.m.
LSU Museum of Art Store (1st Floor), 100 Lafayette Street
Visit the LSU Museum Store for their 18th annual Holiday Shopping
Event! Get 20% off one item (excluding sale merchandise). Free gift
wrap! Shop and enter to win raffle prizes!
Live Nativity
5:00p.m. – 6:00p.m.
First Presbyterian Church Terraced Garden, 763 North Boulevard
Visit the beautiful Terraced Garden for a re-enactment of the birth of
Jesus Christ as told in the Gospels. Featuring a mini petting zoo for the
young ones. Performances are approximately 30 minutes.
Linger after the last performance and experience a Christmas concert
with Michael O'Brien and the Foto Sisters; "The Incarnation of Christ."
Concert will be in the Sanctuary at 7p.m.
Santa in the Senate
Old State Capitol, 100 North Blvd
Join us at the Old State Capitol from 6:30 p.m. to 8:30 p.m. on Friday,
December 2, 2022, for our annual Santa in the Senate event – part of the
Downtown Festival of Lights. Use your own camera or phone to capture
a photo with Santa in the Senate chamber. Enjoy free showings of the
Ghost of the Castle, kid-friendly crafts and holiday movies.
This event is free and open to the public. The castle will be decorated and
the OSC elves will be hard at work to give you and your family a
memorable evening!