Beyond the world-famous airboat and swamp tours offered at McGee's Swamp Tours, they also host special events throughout the year that celebrate our Joie de vie (joy of life)! Christmas-themed tours led by Papa Noël, the Atchafalaya Christmas Swamp Tour, is the perfect way to celebrate the holidays! The family fun doesn't stop with Christmas, as these tours also introduce guests to Louisiana's unique swamp environment and heritage.
Atchafalaya Christmas Swamp Tour
We had a wonderful time on the water this past weekend with Papa Noel! It felt as if you were stepping back in time and slowing down to enjoy the simple things we cherish in the festive season, like bells and carols and good old-fashioned chats with Papa Noel.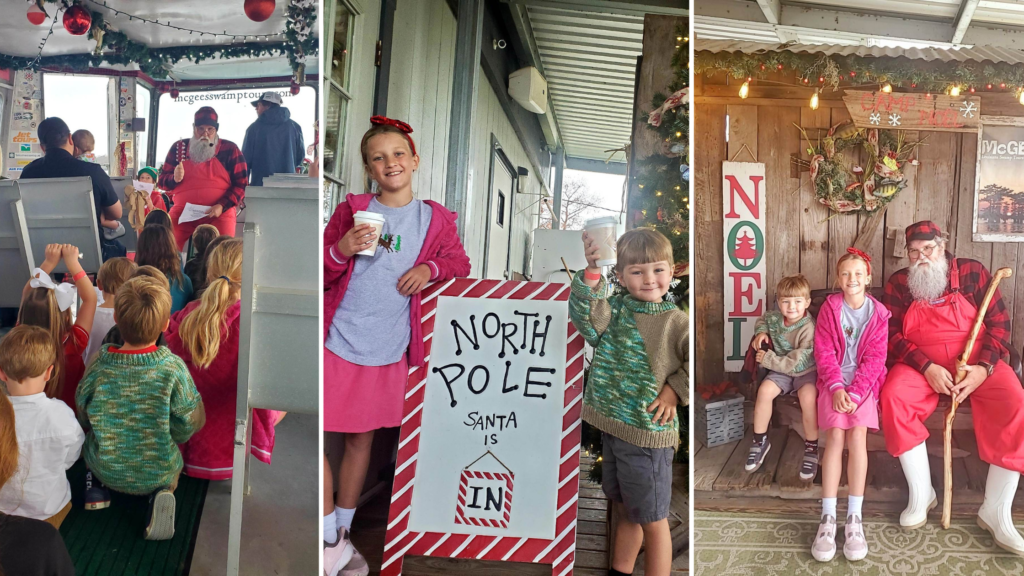 Upon arrival, we were welcomed at the door with a swift check-in; walking into the entry to their gift/snack shop, it is very cozy and filled with a few goodies your kids will want to buy. (come prepared for this!)
Once ready, a short walk to the boat, and we were off for some Christmas fun on the Bayou. Papa Noël welcomed everyone, and the elves served up candy canes, cookies, and informative snippets about the region and the wildlife in the swamp.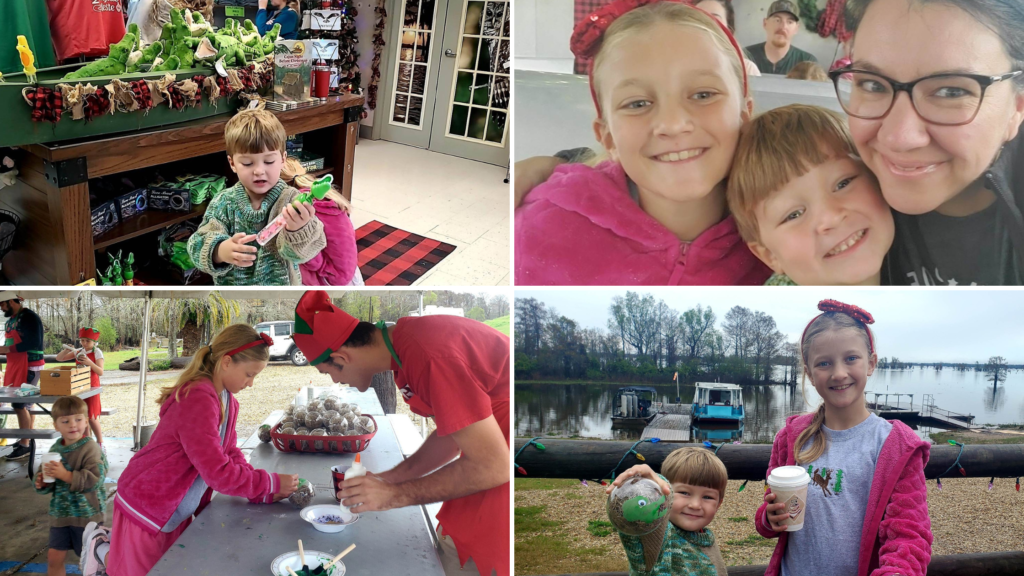 Papa Noël read the story 'Cajun Night Before Christmas' in the 'real way it's meant to be read,' according to my 10-year-old! You can purchase the book in the bookstore and get it signed by Papa Noël himself! The kids sang a couple of Cajun carols, and a surprise visitor was on board, a baby alligator!
If you are looking for traditional fun with your kids, carol singing and bell ringing, and one-on-one chat time with Papa Noël, this is the experience for you!  Sit and look out for a bald eagle or a Santa skeleton (go and see for yourself!) or jingle the bells and sing along.. the choice is yours!
Upon our return, we enjoyed hot chocolate and crafts –  when back on deck after a photo op with Papa Noel, you can make an ornament to take home and hang on your tree and remember the time you went on a memorable swamp tour with your loved ones at Christmas time!
Papa Noël
Around the world Santa Claus has many names. But in a deep, swampy bayou of Louisiana, he's known as Papa Noël. In such a hot and humid place, there can be no sleds or reindeer, so Papa Noël rides the river in a boat pulled by eight alligators.
Papa Noël is headed back to the Atchafalaya Basin for the fifth year! McGee's is again offering swamp tours led by Papa Noël (aka Santa Claus) himself! Alas, the 60-minute tour will share the story of "The Cajun Night Before Christmas."
After each tour there will be family photos with Santa, ornament decorating (with a swamp-theme), hot chocolate, cookies, and candy-canes. All included in the price of your tour!
WHEN:
December – 3, 4, 10, 11, 17, 18, 19, 20, 21, 22 & 23

Tour Departures at 9:00AM, 9:30AM, 11:00AM, 11:30AM, 1:30PM, 2:00PM, 3:30PM and 4:00PM.
WHERE:

MCGEE'S SWAMP TOURS
​1337 HENDERSON LEVEE RD.
HENDERSON, LA 70517
337-228-2384
ADMISSION:
Children and Adults: $25.00

Children (under 2 years): FREE
Roz is a wife and mother of two, who loves traveling and experiencing life to the fullest. Raised in Southern Africa, she has lived in the UK, Thailand, and now the USA. She enjoys camping with her family, exploring new places, and sitting by a campfire. When she is not working, you will find her shouting for her kids on the soccer field, jogging with loud music in her ears, or creating art with her kids.