Summer break is just around the corner, time to relax and enjoy the lazy days of summer… but tell that to kids who are bouncing off the walls or singing the boredom blues. As parents, we want each summer to be more memorable than the last, and with that comes the need for a few new ideas, especially if your child is too young to go to a summer camp. Here are 30 Things To Do in Baton Rouge and beyond that are sure to keep you busy all summer long!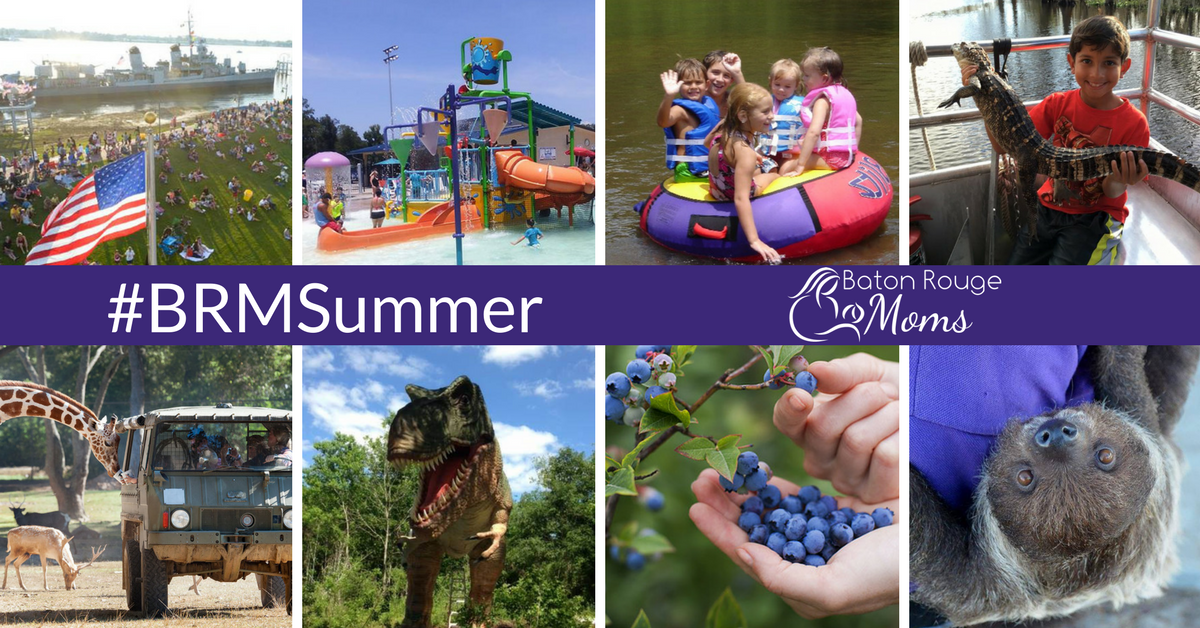 30 Things To Do in Baton Rouge & Beyond This Summer
LSU Lakes – Bike, Picnic, Splash Pad – Between feeding the ducks, the great little bike path, the kids playground, and a little splash pad behind the art gallery this is such a fun little day to have with the kiddos.
Tiki Tubing – Just a hop skip and jump away down the Amite. While you're there grab some grub at Day's Smokehouse & Specialty Meats
Blueberry Picking – There are an abundance of places to do this around the area. Sooner the better before they are all picked over. We love to make Blueberry Scones with a Lemon Glaze with our fresh crop.
Pottery Painting – Brushfire Studios – This is a quaint little studio in downtown Denham Springs. Perfect place to bring the kids. Bonus – they offer some
Water Balloon Fight – This is a summer classic. Want to make it more fun? Add a little food coloring to the balloons and put the kids in white shirts. Just get ready to hose them down.
Young Chefs Academy – This is one of my oldest's favorite places. They have summer programs and fun little classes.
Overtones Music Class – I am so excited about this. We are enrolling the oldest in a lesson and the toddler will start a little class in August.
Tunica Falls – Okay if I am being honest, I am a bit dubious of this one. This seems like a "Am I in good enough shape for this?!" But I supposed there's one way to find out, but if the girls and I disappear, we are probably stuck somewhere hiking…
Louisiana Peach Festival – Okay so maybe this isn't quote the day trip, but it's totally worth the drive to the home of my Alma Mata, Louisiana Tech University (Can I get a "How 'bout them dawgs?" from my peeps?). Happening June 23-24, 2017 in Ruston, Louisiana. Peach ice cream and some of the nicest people you'll ever meet.
Delcambre Shrimp Festival – While we are on the festival beat, this is totally a day trip. You haven't gone Cajun till you go Acadiana. A bit later in the summer this happens August 16-20, 2017. Bring your dancing shoes.
Old State Capitol – This is one of those things I am embarrassed I haven't taken the girls to yet. While you're downtown hit up the Louisiana Art and Science Museum.
Global Wildlife – This is one of the most underrated experiences of my childhood. Letting a giraffe eat out of your hand might be the highlight of your kids summer, and who am I kidding, your's as well.
Myrtles Plantation Tour – My oldest is very into mystery and more. One day her and I will have a slumber party here, but till then a day tour is on the agenda. On your way home do yourself a favor and stop at Chloe's in Zachary for a snowball.
WWII Museum – I don't really know that this needs much introduction or a reason why. Pair this with
Louisiana Children's Museum – Until Baton Rouge opens up their fabulous place this is one of my fondest childhood memories.
Audubon Zoo / Cool Zoo – I will spare you the song, but they do all "ax for you." So don't let those animals down. When you're there, it's totally worth the "pop" bracelet that gets you admission into the Cool Zoo and unlimited rides on the train and carousel.
Audubon Aquarium of America's & Audubon Butterfly Garden and Insectarium – What kid doesn't want to touch a urchin and eat crickets.
Write and Illustrate a Children's Book – Because after all these big adventures you are going to need some time at home.
T-Shirt Totes at EBRL – The East Baton Rouge Parish Library has so many little classes and fun projects for all ages. Check out their event calendar and enjoy!
Michael's – Michael's has some amazing little classes and fun summer programs for kids and adults of all ages. Cost of supplies and you are good to go!
Dinosaur Park Henderson – I have heard amazing things and this summer we intend to find out for ourselves, they sat that this park uses

amusement park management system

so I have big expectations!
Livingston Parish Library – Just a little hop next door and there are so many fun programs form Spingeneering to Toddler Dance (wiggle) classes.
Baton Rouge Ballet is touring around the parishes to a library near you!
Dig a Garden – There is no greater joy than watching my kiddos play in the dirt. It´s pretty much like teaching a class of

gardening for beginners

, except it´s very fun with your kids. I am quite positive my plumbing pipes do not agree, but it doesn´t matter, I have to install new pipes with Watertite Plumbing & Heating Bristol so they can have all the fun the want. Letting the kiddos grown and harvest their own veggies is the best way to inspire them to eat them.
Make a Nana recipe from scratch – No box mixes here, just some love, wooden spoons, and old family recipes.
Lemonade Stand – The earliest form of entrepreneurship at its south Louisiana finest.
Barnhill Preserve in Ethel – (sloths…nuff said) hands-on animal encounters and programs!
Aqua Pards Water Park –One can never get enough water fun during the summer heat!
Cajun Pride Swamp Tour – take a unique and educational journey back to the early days of Louisiana bayou and swamp explorations on this authentic Louisiana swamp eco-tour.
#BRMSummer
You can follow our Summer adventures on Instagram just search #BRMSummer for more Things To Do in Baton Rouge. Use the hashtag to share your summer adventures and have a chance at winning Gift Cards and prizes throughout the summer!! Each Friday we will do a #BRMSummer roundup on Instagram to share what other moms are doing in to keep the boredom blues at bay!
Save
Save
Save
Save
Save