March is Trisomy Awareness Month, and World Down Syndrome Awareness Day is March 21, and it just so happens our lives were changed by a trisomy condition this month last year. Most people have 23 pairs of chromosomes, resulting in 46 total chromosomes total. However, a trisomy disorder is where a person has a full or partial extra chromosome on most or all of their cells, making it 47 chromosomes in total.
Down Syndrome Awareness – Meet Crew
Some of the most common trisomy disorders are Trisomy 21, Trisomy 18, and Trisomy 13. These chromosomal disruptions can lead to various health issues, ranging from mild to severe, mild to severe cognitive abilities and physical abilities, and sometimes not compatible with life. This year we are lucky to have a very special reason to celebrate this month and World Down Syndrome Awareness Day, and it's all because of my little boy, Crew, who has Trisomy 21.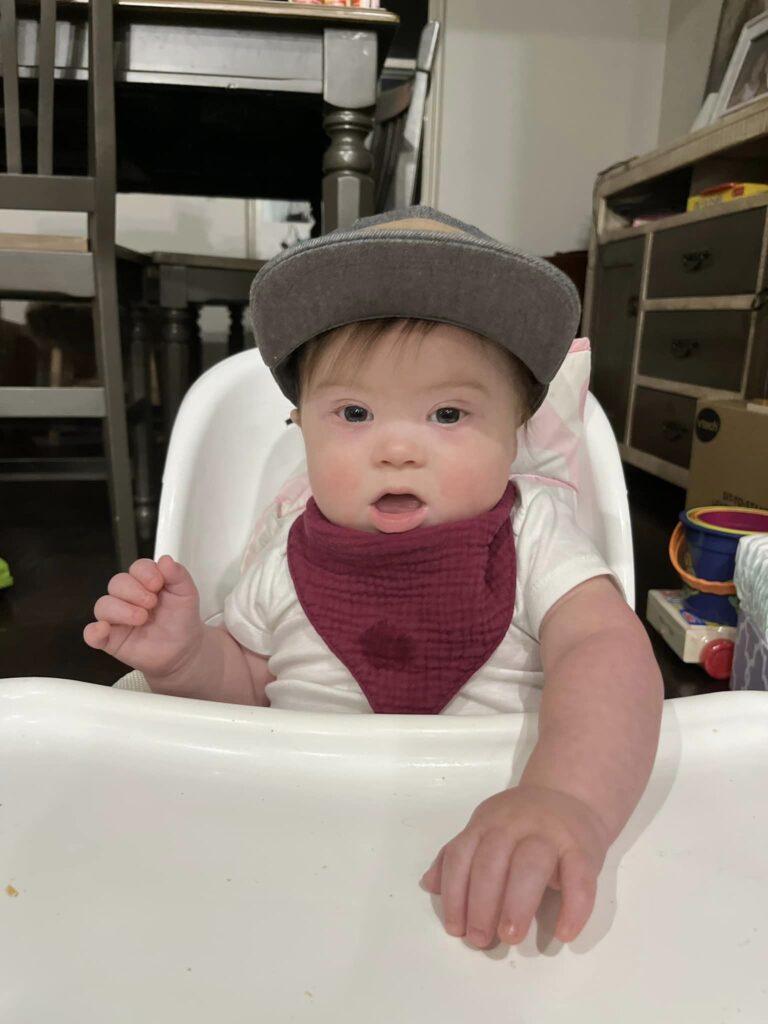 Crew is our 5th baby, the sweet rainbow baby after two devasting miscarriages and his two beautiful sisters, Charlee (age 9) and Collyn (age 5). He was the baby we didn't know that we needed to complete our family.
We met with maternal-fetal medicine and were told that he showed "soft markers' on an ultrasound for possible Down syndrome, but the only way to know for sure was to do genetic testing. We chose not to do any testing because we had already made the decision to carry our baby to full term and trust in the Lord that he would be healthy, with or without Down syndrome. We knew that there was a 50/50 chance our son would have Down syndrome, and we would find out for sure on the day he was born.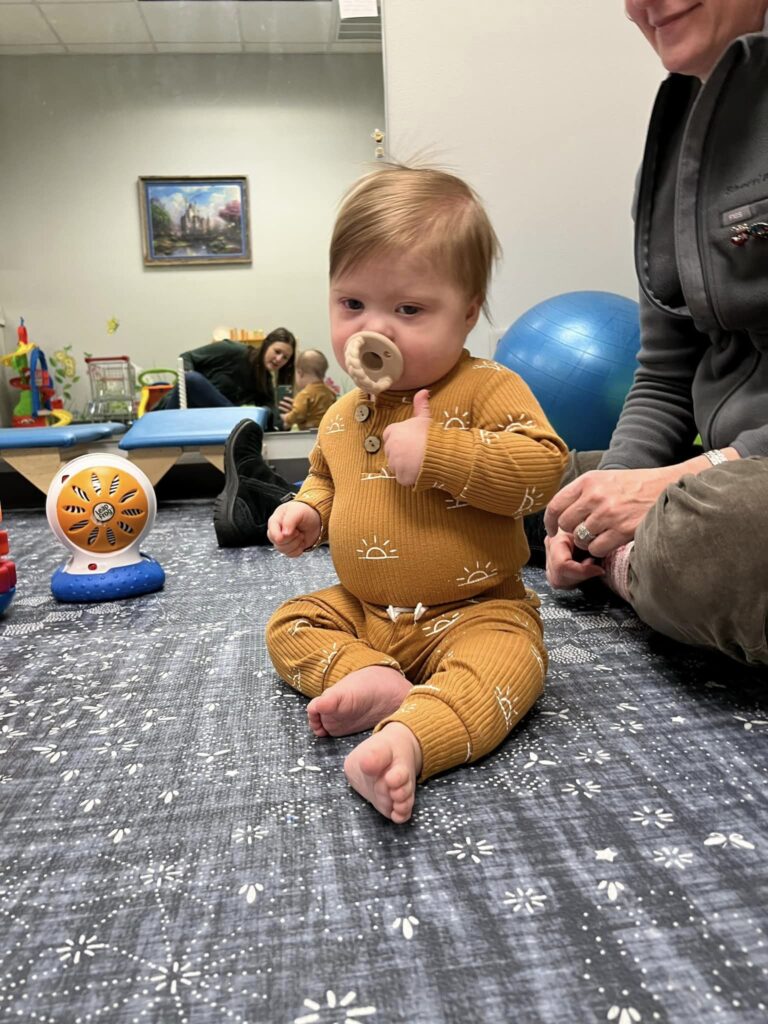 Crew was born on March 23rd, just two days after World Down Syndrome Day, a few weeks early, but a healthy 7.2 pounds. I knew he had Down syndrome immediately when I laid eyes on him, and he was the most beautiful boy; he was my answered prayer. He was breathing and crying, and that was the sweetest sound. He was the baby we prayed for, healthy, for the most part. They took him for a full cardio work- up and determined that he had a couple of holes in his heart, and that bought us a week stay in the NICU. This is pretty common for Down syndrome babies and to varying degrees. Usually, about 50% of babies born with Down syndrome also have major cardiac complications, and some need surgery right away.
After the year that we have had with Crew, with some scary medical issues that aren't even related to Down syndrome, as crazy as that is, we are ready to celebrate Trisomy Awareness Month and World Down Syndrome Day!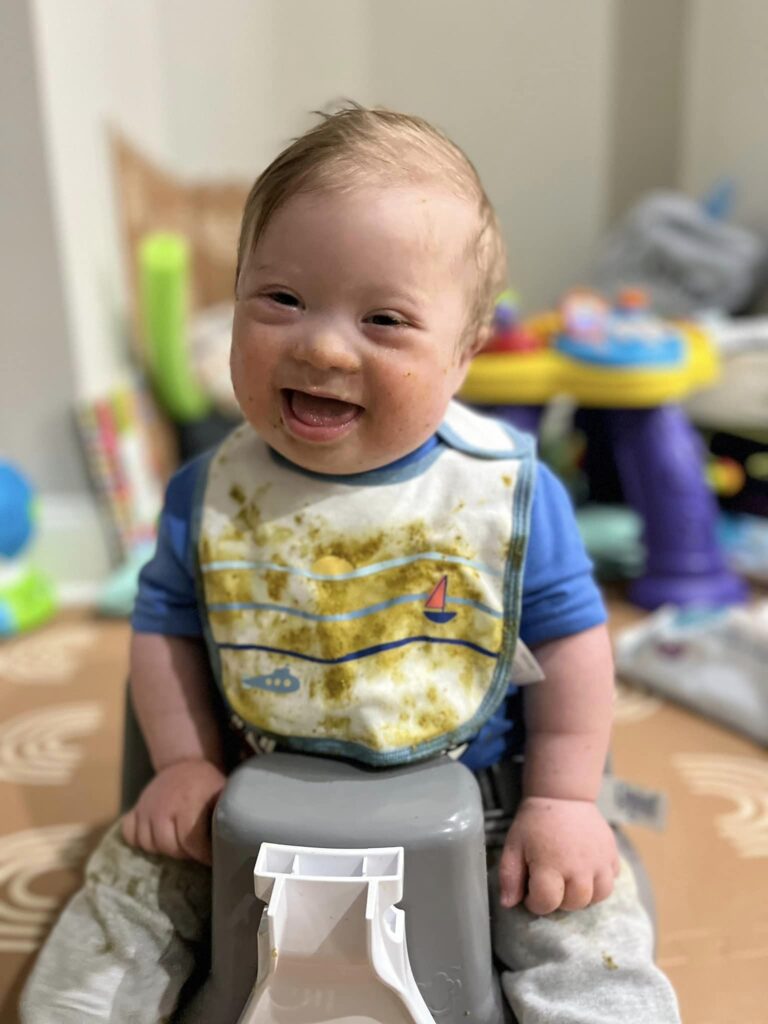 Here are some facts from The National Down Syndrome Society, and some are just from my heart:
There can be a full or partial extra copy of chromosome 21 – this extra genetic material is what causes characteristics that are normally associated with Down syndrome.
There are three types of Down syndrome – trisomy 21 (nondisjunction), which is the most common (95%) and the type that Crew has; translocation (4%) and mosaicism (1%).\
Down syndrome happens to people of all walks of life, all races and economic levels.
Some of the most common physical traits of Down syndrome are low muscle tone, called hypotonia, small stature, an upturned slant to their eyes and a single deep crease across their palms, called a palmer crease. However, every person with Down syndrome is different and has their own unique characteristics. Any one person can have all of the major characteristics to varying degrees or show none of these physical traits.
The life expectancy for a person with Down syndrome has increased significantly, from just 25
years old in 1983 to 60 today! I would like to think this has to do with the level of care and awareness that is happening now.
People with Down syndrome can have fulfilling and productive lives with the help of educational programs, loving families devoted to their wellness and growing their abilities, access to good healthcare and positive support from their community, family and friends.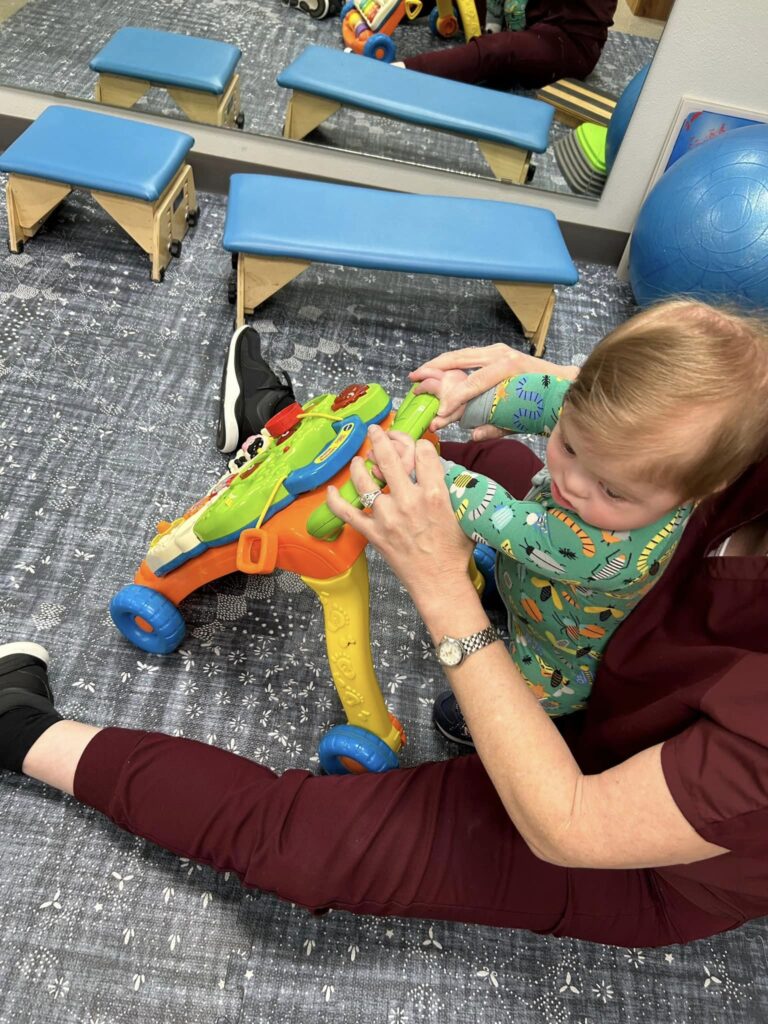 While these are some of the most common facts about Down syndrome, I have realized they don't define my son. These traits and characteristics don't change the fact that our whole family loves him tremendously. These things do not define us, as his loved ones, either. Crew is so much more than what you can see on the outside. This past year was one of the hardest for our family. He has absolutely rocked having Down syndrome. He was meeting his milestones and growing and thriving until Infantile Spasms knocked the wind out of our sails around six months.
This halted his progress and basically took him back to being a 3-month-old, all over again. These spasms took his smile, his bright eyes, his voice, and deteriorated his muscle tone. But God – as of now, Crew is 2 months seizure free and beginning to thrive again. He has found his voice, his smile, and is laughing and catching up on the physical "inchstones" that he has missed. For this, I have to give a huge shout-out to all of Crew's "crew", my parents for taking care of him daily, his occupational therapist, physical therapist, speech therapist, special interventionist, pediatrician, neurologist, and all of our friends and family.
With the year we have had, I have my own list of Down syndrome facts that I want everyone to know!
Tenacity – Crew has fought through having seizures and the medicine to fix his brain and continued to push through every therapy session like a champ. He does therapy four times a week, on top of multiple doctor visits every week. I can count on one hand how many weeks he didn't have an appointment of some sort (it's less than four weeks of his entire life).
Heart – The outpouring of love, support, and unfailing prayers for my little guy and my family is beyond words. I could never sum up how God has moved during this past year. Loved beyond measure.
Brave – Crew is so brave, and he just continues to push through the hard days. Crew has had probably close to 100 doctor visits in his first year of life. He has had more procedures than I care to remember, and we still aren't done, but he's teaching us every day that with God on your side, you can face anything.
Determined – He has continued to progress throughout all of this. He has grown and shown us how strong he is. He has shown us that he will figure out a way to get things done and prove doctors wrong. I will forever be proud of him for this.
So, these are just a few things I see when I look at my son. I see his beautifully shaped eyes, and I see the palmer crease in his hands and the sandal toe on his feet. But I also see so much love in his sweet smile and how his eyes light up when he sees his sisters. I see from week to week how determined he is to finally crawl. I see how intently he watches our mouths, just trying to get a word out. I see how loved he is by his grandparents, aunts and uncles, and especially his cousins. I see how he's shaped me to be a better mom, guided by Christ and the Holy Spirit; because his health was out of my hands and I couldn't fix him, I had to trust that God would. This is the awareness I want others to see. We can all see the physical traits and the common characteristics but there is so much more to people with Down syndrome. My hope is to show people to see past those common things and see things like heart, determination, strength, and love in our Down syndrome community.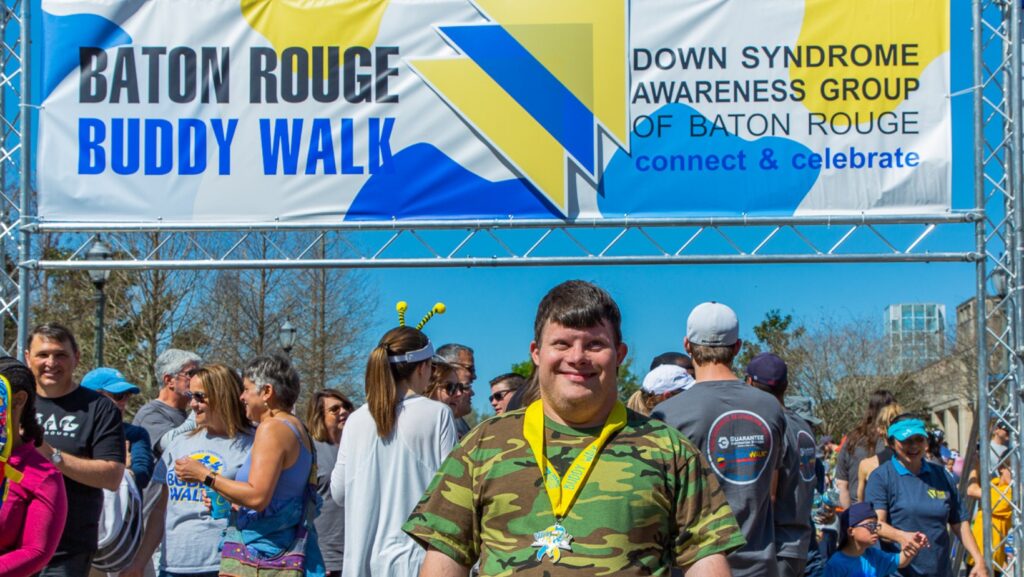 We have a wonderful support system in Baton Rouge, called DSAG (Down Syndrome Awareness Group of BR) that hosts events for the children and families of the Down syndrome community in Baton Rouge and surrounding areas, and the annual Buddy Walk is a huge fundraiser for them. The Buddy Walk is coming up on March 25, 2023, at the A.Z. Young Park from 9:00 am to 1:00 pm, with the walk starting at 11:00. If you want to get involved and meet other Down syndrome families, this would be a great place to start. This event is for everyone! There will be entertainment, food, drinks, dancing, and more! Come out and support this much deserving community and see what all Down syndrome has to offer. Here is the link to the event: https://www.ds-stride.org/dsagbuddywalk. If you aren't able to participate but want to donate, it would be greatly appreciated.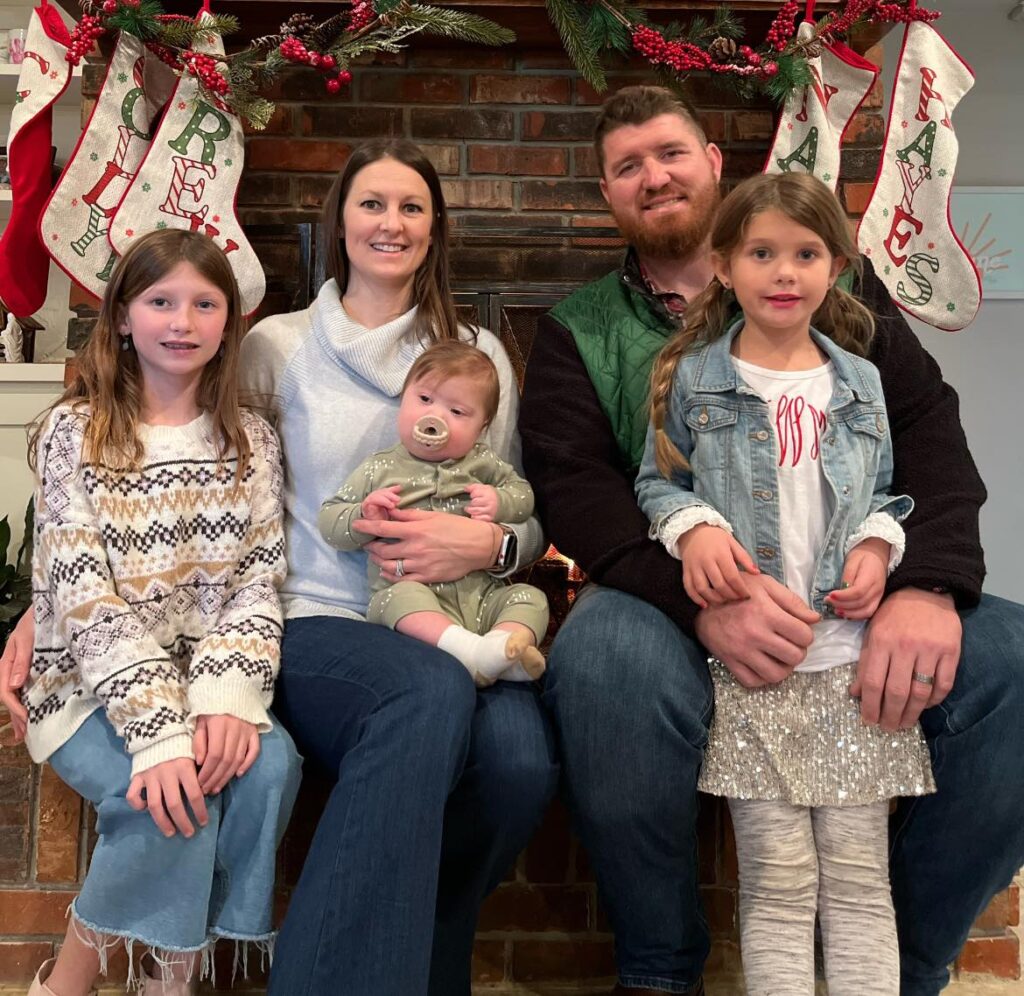 Hi, my name is Jessica Walker, and I have lived in Central, LA, for most of my life. I am a Jesus lovin' wife of 12 years and mom of 3, and also work full time! My girls are 9 and 5, and my son is 1. We are a very active family; from dance and cheer and tumble to theater and musicals, we stay on the go! We like to be involved in our community by participating in different events through our church, school, and Central chamber events, basically anything that supports Central schools and sports. As a family, we enjoy spending time with the rest of our family, outside when we can, listening to live music, watching my nephews play baseball or football, or just taking in what Baton Rouge offers.  Our lives took a detour we weren't expecting last year when our son was born with Down syndrome. However, we have embraced all that this diagnosis has given us with as much grace as possible while learning all the new things along the way. I am an open book and ready to answer any questions about Down syndrome or any of his other medical issues. In my downtime, I love to read and research, work out and soak up the blessings we have received along the way!