Trick-or-treaters can get a lot more than free candy this Halloween. A Halloween costume is also the ticket to a smorgasbord of free and cheap meal deals and goodies for kids of all ages at many locations in Baton Rouge and beyond! Plus, who has time to cook dinner on Halloween night??? Below you'll find our list of Kids Eat Free or discounted offers as well as deals on Halloween in Baton Rouge. As always, we do recommend calling to confirm before you head out to the restaurant of your choice.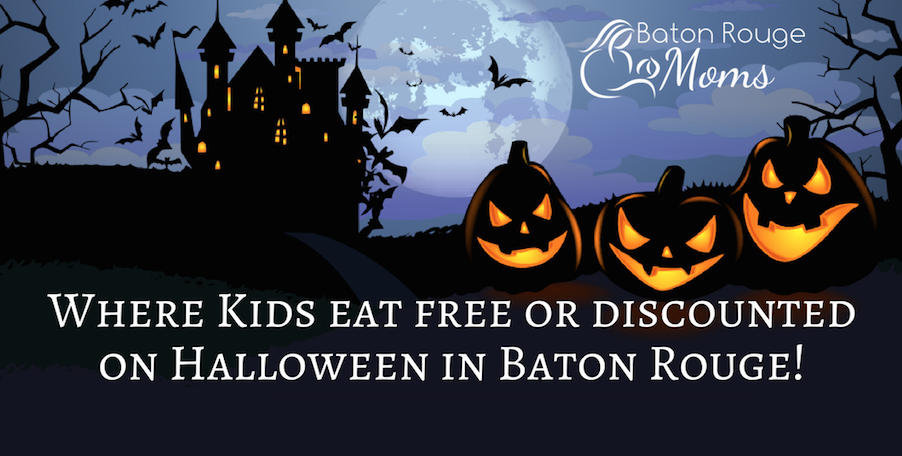 Kids Eat Free Halloween Edition
Applebee's Neighborhood Grill
Applebee's is offering a Kids Eat Free special on Halloween. Families who dine-in at their local Applebee's restaurant Oct. 31 will receive two free kids' meals with the purchase of each adult entrée. The offer is good for children 12 and younger. They can choose entrees off of the Applebee's Kids' Menu, including a side dish, and juice, milk or chocolate milk. Check with your closest location.
Chipotle
From 3 p.m. to close Halloween, it's Boorito time. Go to any participating Chipotle in costume and get a burrito, bowl, salad or order of tacos for $4. Visit www.chipotle.com to find a location near you.
McAlister's Deli
Kids 12 and younger in costume get a free meal with the purchase of an adult meal. Up to two kids meals with the purchase of an adult entrée. A list of participating locations is posted on McAlister's Facebook events page.
International House of Pancakes
Through Nov. 3 from 4 to 10 p.m. daily, kids 12 and under get a free kids meal entrée with each purchase of an adult entrée. Visit http://www.ihop.com for a location near you.
Sonic
Corn dog lovers can enjoy 50-cent dogs-on-a-stick all day on Halloween, Oct. 31. Visit www.sonic.com to find a location near you.
Joe's Crab Shack
Get a free kids meal with the purchase of an adult entrée on Halloween with a coupon posted at www.joescrabshack.com/halloween.
Whole Foods Market
Through Nov. 5, Prime members get 50% off all frozen pizzas.
Chuck E. Cheese
Kids get 50 free tickets when they stop in wearing their Halloween costumes and play All You Can Play. Learn more at www.chuckecheese.com.
Main Event Entertainment
Trick-or-treating throughout the center and a FREE $10 video gameplay for each guest dressed in costume.
Kids Eat Free in Baton Rouge at These Locations on Thursday
We always recommend calling the location to confirm!!
Piccadilly
Children 12 and under eat for $1.99 11am to 4pm