Contrary to popular belief, Mardi Gras can be family-friendly. The festival seems like it was made for children, with floats derived from the depths of the most ingenious imaginations, costumes, and masks that express unending creativity, bold colors, and joyous music abounds through parades. And, most importantly, the beads, doubloons and other treats thrown to the crowds from the floats are a child's delight. It's that time of year and we have your full Baton Rouge Mardi Gras Parade Schedule below!
Mardi Gras 2023 is Tuesday, February 21.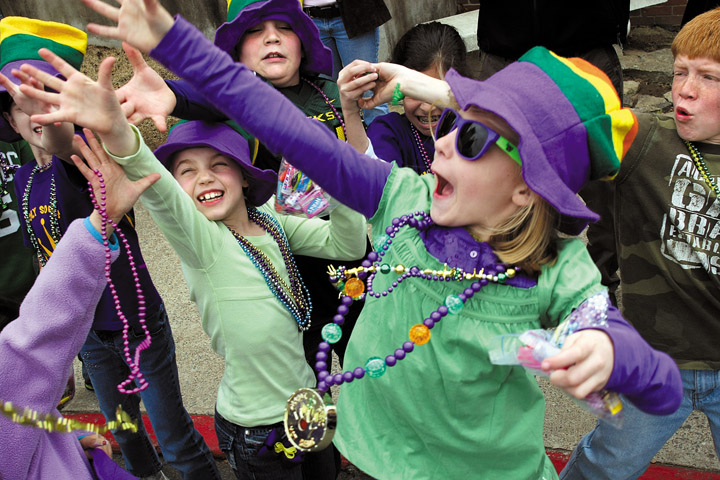 Madri Gras Fun Fact: Rex selected the official Mardi Gras colors in 1872 to honor the visiting Russian Grand Duke Alexis  Alexandrovich Romanoff, whose house colors were
purple, green and gold.
2023 Baton Rouge Mardi Gras Parade Schedule:
Please check the individual parade organizations' websites for updated details.
Krewe of Oshun
Saturday, February 4th, 12:00 PM – 6:00 PM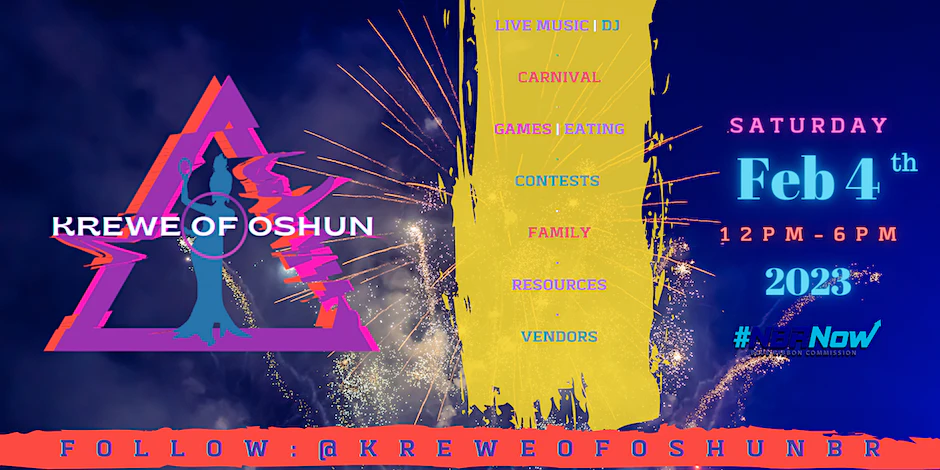 Parade will roll along Howell Boulevard. Festival will be held at BREC's Scotlandville Parkway Conservation Park.
The parade starts on Harding Boulevard at Pembroke Street, west to Scenic Highway (U.S. 61), south to 72nd Avenue, and west to Howell Boulevard. The festival runs from 2 p.m. to 6 p.m., with live music, carnival games, eating contests, vendors and family resources. For more information on the parade and festival, click here.
---
North Boulevard Town Square
Join CAAWS,  the theme is Jurassic Bark: An Adventure 43 Years in the Making. All proceeds will fund our spay/neuter programs.
CAAWS signature annual fundraiser is the Krewe of Mutts Festival (which includes Bark in the Park, vendors, food trucks, pet contest, and the Mystic Krewe of Mutts Mardi Gras Parade). It's a dog-gone good day filled with family friendly fun activities, food, shopping, a doggy costume contest and the main event – an entertaining and adorable waling parade with families can dress up their dogs, decorate floats, and strut through downtown.
10 a.m.-4 p.m.—Bark in the Park in North Boulevard Town Square (check out local vendors)
11 a.m.—Baton Rouge Police Department K-9 Demonstration; Galvez Plaza stage
12 p.m.-1 p.m.—Dog Costume Contest; Galvez Plaza stage
1:30 p.m.—Parade lineup along North Blvd.
2 p.m.—Parade rolls (see map)
Food: All Star Catering Food Truck, City Gelato, Fleur Delights
Music: DJ Mike Larry
---
Krewe of Artemis
Friday, February 10th, 
7:00 PM to 9:00 PM
Starting on River Road near the Raising Cane's River Center, the parade proceeds along River Road, turning right at Hollywood Casino to 3rd Street, then 4th, left on Main, right on 9th, left on Laurel, left on 6th, left on Convention, and left on River Road back to the River Center.
The Krewe of Artemis will roll through the streets of downtown Baton Rouge on Friday, February 10, 2023
at 7:00 p.m. Join the excited revelers as they line the parade route while joining in the festivities and
experiencing Baton Rouge Mardi Gras… Artemis style!! Revelers will be treated with themed throws, including the Krewe of Artemis' signature High Heeled Shoe, along with footballs, light up tambourines, stuffed animals, float beads and lighted throws.
---
This family-friendly parade begins and ends at the intersection of River Road and St. Philip Street, next to the Raising Cane's River Center. The route traverses much of Downtown Baton Rouge.
Celebrating 45 years of parading in Baton Rouge! Come out and see the oldest Mardi Gras Krewe that is family-oriented and fun for all ages. For additional information visit  https://krewemystique.com. 
---
The Parade route starts at the intersection of St. Phillip Street and River Road and ends at the Raising Cane's River Center.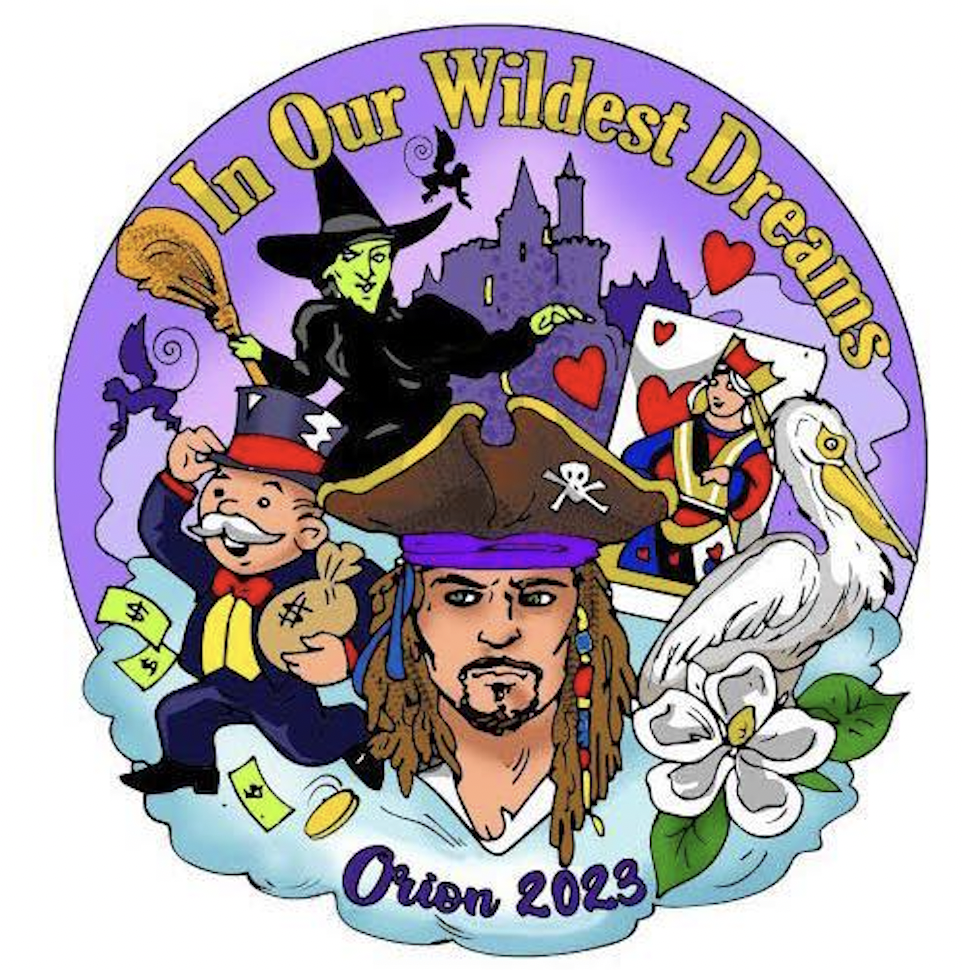 The Krewe of Orion's 24th annual Mardi Gras parade in downtown Baton Rouge will once again take place on Saturday, February 11, 2023, at 6:30 PM with the theme of "In Our Wildest Dreams".
Parade goers will be treated to a line of exciting, colorfully-lighted, and tractor-pulled floats. On the floats, masked and costumed riders will throw plenty of themed parade medallions, Krewe of Orion signature footballs, lighted throws, and beads. Marching bands, dance groups, and marching units (all of 20 members or more) will be among the great sights and sounds at this wonderful family-oriented parade.
The parade ends as it runs into the Raising Cane's River Center Exhibition Hall where our Masquerade is held.
---
The ½ mile parade will begin by the Challenger's Field parking lot and follow the walking path in the park.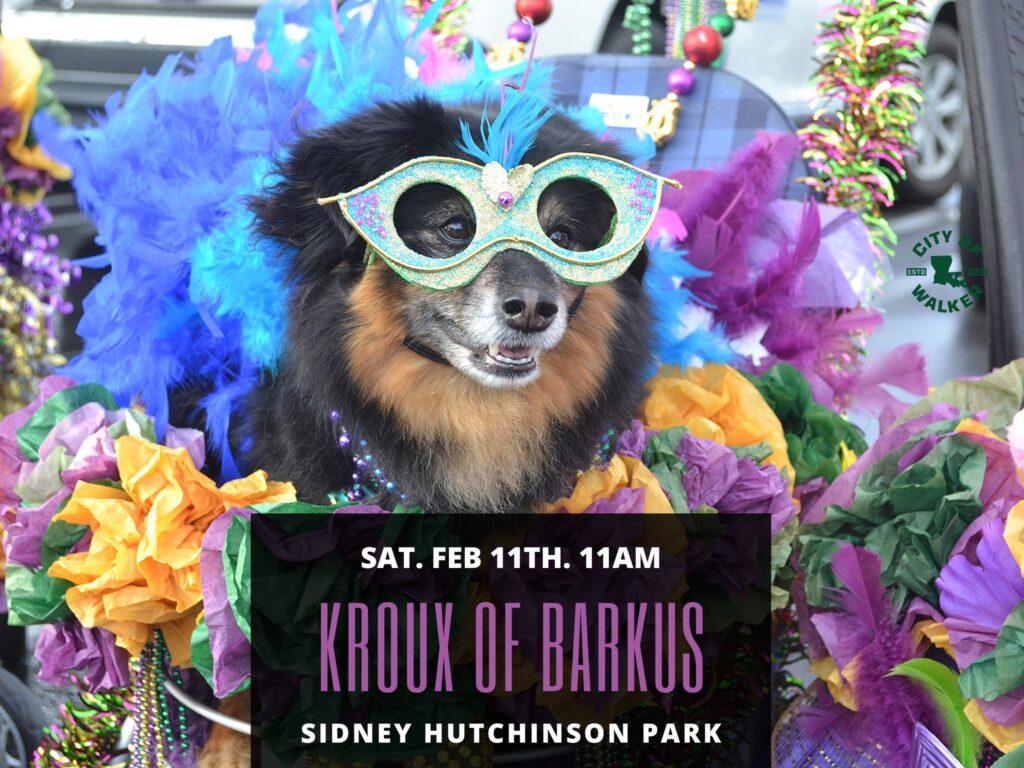 Farmer's/Vendor Market: 10am to 3pm
Pet Registration: 10:30am
Pet Parade: 11am
Zumba Demostraton: 12:30pm
Live Music: 1:00pm to 3:00pm
The ½ mile parade will begin by the Challenger's Field parking lot and follow the walking path in the park.
This year's parade will by lead by its Grand Marshall, Bayou; owned by Chris and Holly Reed and Mike and Laurie Mason. Bayou was the #1 competing Giant Schnauzer throughout 2021, winning the 2021 AKC National Best of Show Champion Title.
Bark in the Park will continue until 3pm. The activities will include live Cajun/Zydeco music with the Band Nouveaux and the Xpress Train, a Zumba demonstration, Line Dance instruction, Market and Food vendors, and pet themed booths, including a professional photographer for pet portraits.
All proceeds will benefit the Walker Animal Shelter.
---
Saturday, February 11th at 3:00 PM
Begins at DSHS, travels down Range and turns right on Veterans. Free concert before AND after the annual parade!!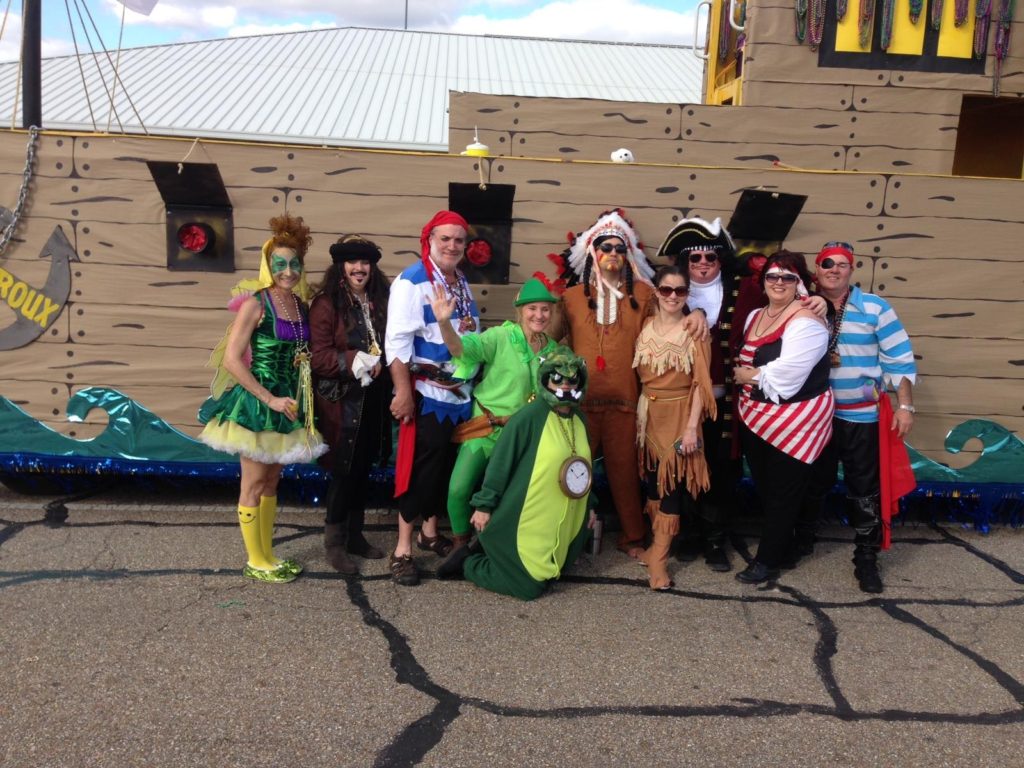 ---
The parade starts at the intersection of 19th Street and North Boulevard and ends at the intersection of North Boulevard and Foster Drive.

Mid City Gras is always the Sunday before Mardi Gras on North Boulevard, a road connecting North and South Baton Rouge.
Gonzales, La | Parade Route Begins on Irma Blvd and Ends at the corner of Hwy 44 and Hwy 30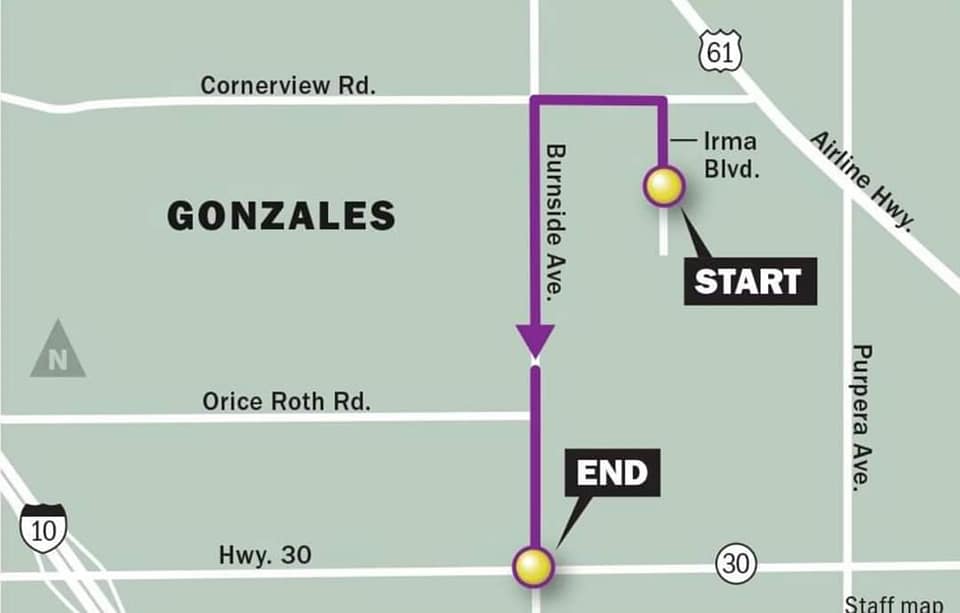 ---
Southdowns neighborhood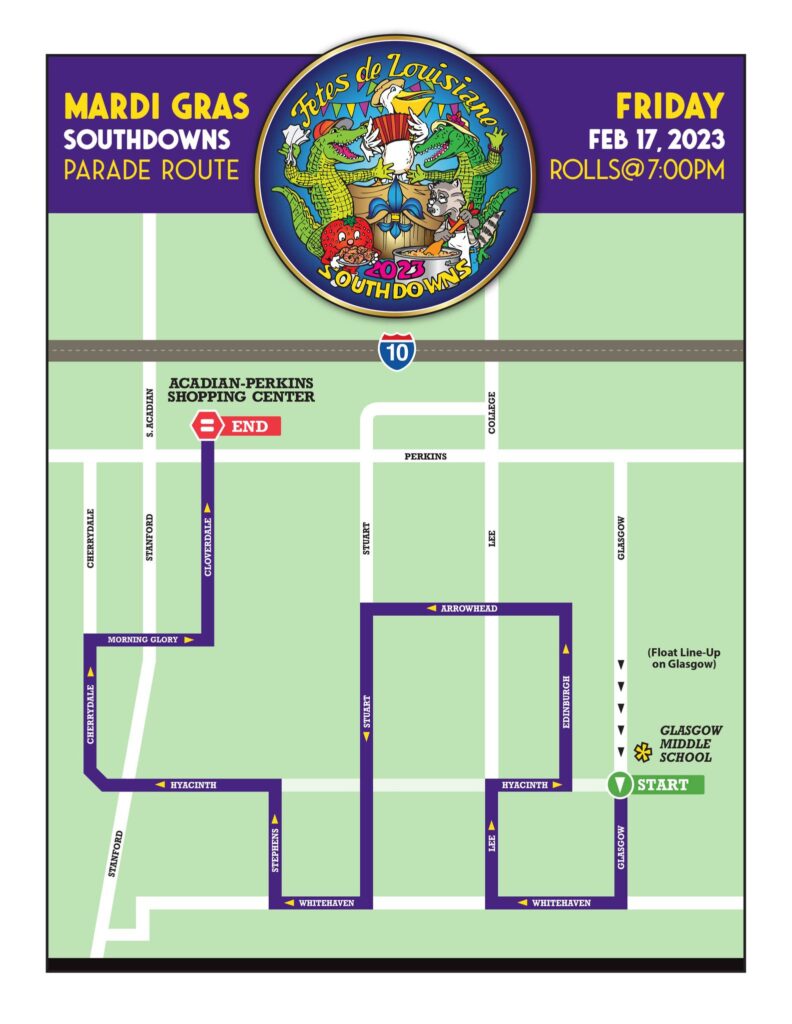 The 36th Krewe of Southdowns Parade, "Fetes de Louisiane", rolls at 7PM.
Children and pets are welcome.
Attendees are asked not to park on the parade route itself.
Off-route parking will be available.
The parade route begins at Glasgow Middle School, across Stanford Avenue to Cherrydale Avenue and ends at Perkins Road. The Krewe of Southdowns is Baton Rouge's first, and most unique, family-friendly night Mardi Gras Parade. Join them on February 17th, 2023, rain or shine, in the Southdowns neighborhood for our 36th annual parade. It's showtime! For more information, visit our website at www.southdowns.org
---
Port Allen
The west side's only nighttime parade. Lighted throws, street parties, family fun! The 38th Krewe of Good Friends of the Oaks Mardi Gras parade will begin and end at the corner of the LA-1 Service Rd and Oaks Ave. The parade route is as follows: east on Oaks Ave to Jefferson Ave, north on Jefferson Ave to Court St, west on Court St to Sixth St, north on Sixth St to Louisiana Ave, east on Louisiana Ave to Jefferson Ave, south on Jefferson Ave to Oaks Ave, west on Oaks Ave to LA-1 Service Rd.
This year's theme is Rockin' Thru the Ages! And we are gonna rock the streets of Port Allen.
---
Saturday, February 18th, 10:00 AM to 7:00 PM
Free Family Friendly Annual Mardi Gras Festival held in North Blvd Town Square, Downtown Baton Rouge. Enjoy a whole day of live music, art, and great food. The event will showcase live bands and Krewes, with a Vendor Village, art exhibits, food and more.
Baton Rouge Family Fun is your Family Friendly Mardi Gras Headquarters!