Get ready for cooler days, pumpkins, adorable costumes, and the best fall events! We're excited, and we know you are too. Keep coming back as we update our Baton Rouge Pumpkin Patch & Corn Maze Guide with more details as we receive them. Explore our top spots in Baton Rouge and beyond to find your ideal pumpkin, make cherished fall memories, and enjoy a hayride or two
This post will be updated as new events are listed; check back for more Baton Rouge Family Fun!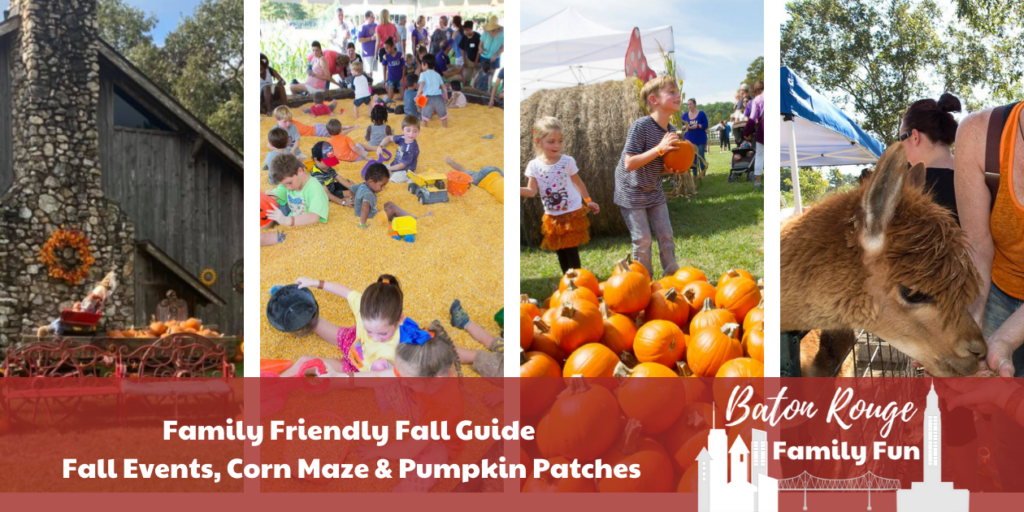 While every effort has been made to ensure this information is accurate, we encourage you to contact the patch directly to verify that all details are correct and have not changed. Please let us know if you have information on a Pumpkin Patch or corn maze that we missed!
2023 Pumpkin Patch and Corn Maze Guide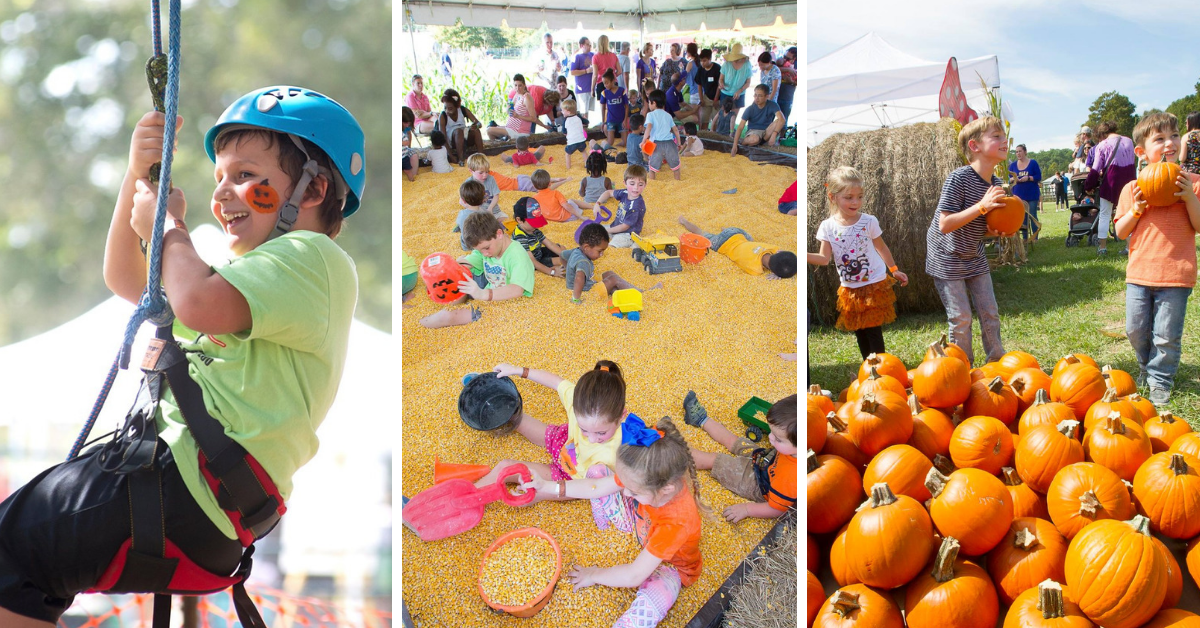 Corn Maze Saturday
A 2-HOUR Corn Maze experience will allow you to traverse the maze, meander through the sunflower fields, ride a hayride and pick satsumas with the ones you love. Other activities include climbing the hay mountain, petting farm with Goula Paradise Farm, make your way through the mini hay maze, take a pic' and pick-a-pumpkin in the pumpkin patch, and more!
WHEN:
October 7, 8, 14, 21, 28
WHERE:
Burden Museum & Gardens 4560 Essen Lane
SESSION TIMES:
Morning | 9 – 11 a.m.
Midday | Noon – 2 p.m.
Afternoon | 2:30 – 4:30 p.m.
ADMISSION:
$15 per person and free for children two and younger. This year's tickets are pre-sale only and will not be offered at the gate. All ages must have a ticket to enter. Tickets are limited.
---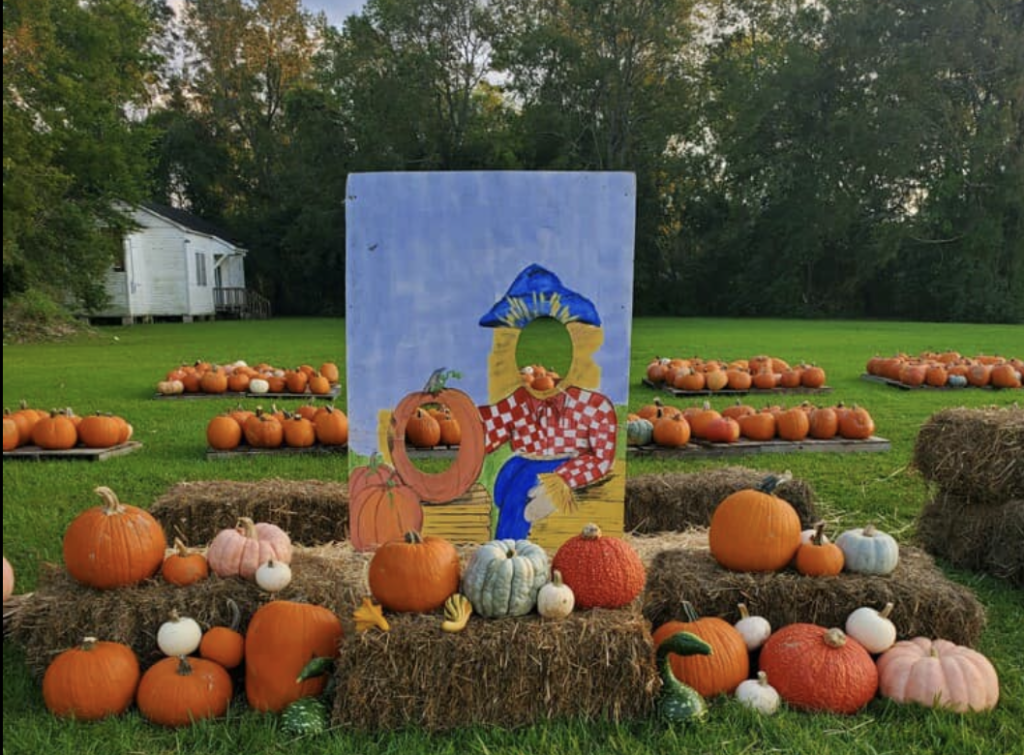 Family fun in a safe environment. The Pumpkin Patch is the largest mission project at JUMC – there will also be photos ops for the family. All net proceeds are distributed to local missions, plus help fund the youth mission trip. Last year they were able to donate thousands of dollars – all because of the volunteers willing to work the patch. Plus, with the Kick-Off event, new people can experience JUMC.
WHEN:
October 5th
WHERE:
10328 Jefferson Highway, Baton Rouge, LA 70809  Back of Lot.
SESSION TIMES:
WEEKDAYS 11AM TO 6pm
SATURDAYS 9AM TO 6pm
SUNDAYS 12PM TO 6PM
ADMISSION:
Free – pay for your pumpkin
---
Pop-up Pink Pumpkin Patch at Baton Rouge General

The pop-up pink pumpkin patch is coming! Visit Baton Rouge General Medical Center to get your free pumpkin – one per person – while pumpkins last! Two locations this year… and be sure to get your #Protectyourpumpkins T-shirt!!
WHEN:
Always a surprise pop up in October
WHERE:
Mid City Campus 3600 Florida Blvd. and Bluebonnet Campus 8585 Picardy Ave.
ADMISSION:
Entry and pumpkins are free. "Protect your pumpkins" T-shirts will be available for purchase. Proceeds go toward Pennington Cancer Center.
---

Opening Date TBA!!! It is located off of Magnolia Beach in Denham and is the perfect spot for a fall photo backdrop. It's not a pumpkin patch per se, but it's everything you want in a "pumpkin patch." Adorable photo ops, excellent quality in fancy pumpkins, carving tools, seasonal flowers, festive T-shirts, and fall decor. 
WHEN:
Closed for 2023
WHERE:
6834 Magnolia Bridge Road Denham Springs, LA 70726
ADMISSION:
Free – pay for your pumpkin

---
Ascension Parish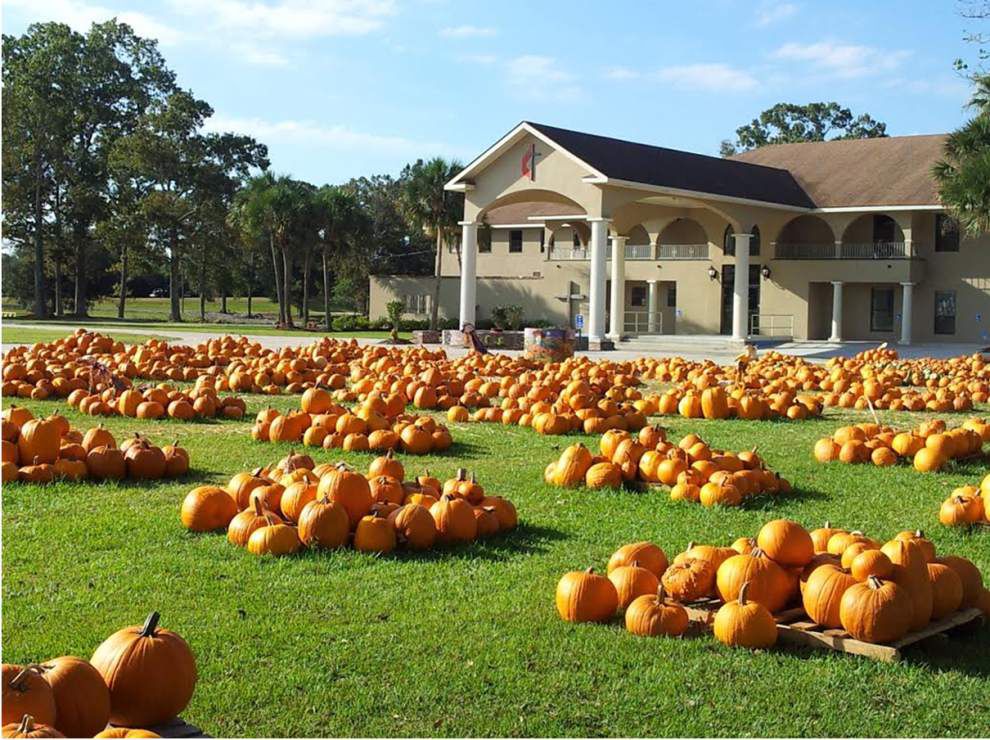 The
NewSong On Old Perkins Road
 Community Church pumpkin patch, at the corner of Old Perkins and Bluff Road in Prairieville, will be open
September 25th.
Pumpkins of all shapes and sizes, as well as various types of gourds from the Navajo Tribe in Northern New Mexico, will be available for purchase.
Jellies and salsas from the United Methodist Children's Home will be for sale.
There will be a photo booth and other photo opportunities around the patch (no paid photography!).
Free hayrides are available on the weekends.
Morning field trips for area schools include storytime, hayrides, crafts, and pie-sized pumpkins. All proceeds go to church missions.
NewSong will also host a FREE Fall Festival on Saturday, October 28th, from 4:00 pm – 7:00 pm. Live music, hayrides, delicious food, face painting, inflatables, games, crafts, learn more:
https://bit.ly/NewSongPumpkinPatch
WHEN:
Now through Saturday, October 31st.
WHERE:
18465 Old Perkins Rd, Prairieville, LA 70769
SESSION TIMES:
Monday – Friday 9am – 6 pm
Saturdays – 9am – 6pm
Sundays – 12pm – 6pm
ADMISSION:
Free – pay for your pumpkin
---
Livingston Parish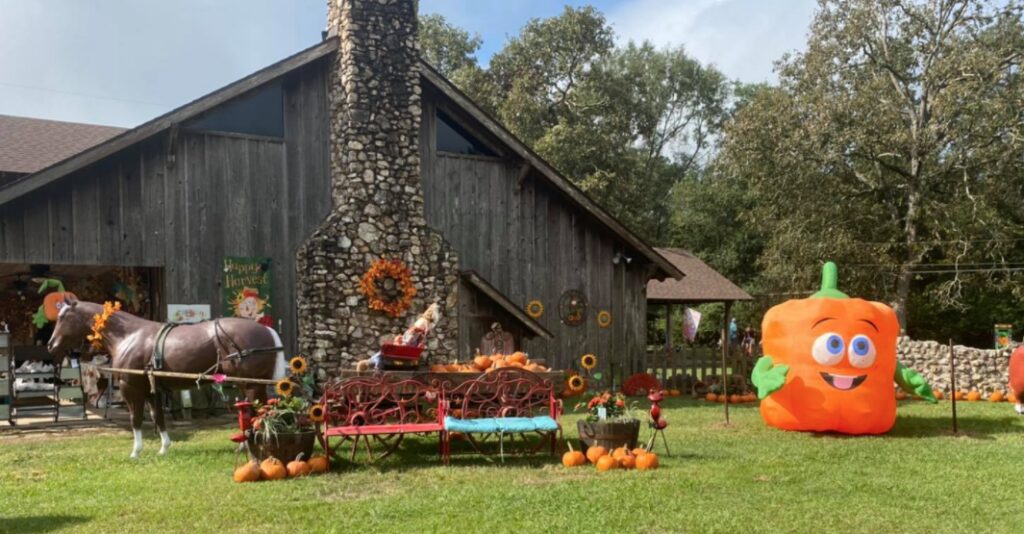 Pick a Pumpkin from the field – Activities include zipline, Jumping Pillow, Tunnel Slide, Face Painting, Duck Racing, Pedal Tractors, See Cotton, Growing, Hay Maze Milk a Cow Roll Down the Hill Catch Mrs. Heather telling how pumpkins grow Merry go round Play Horse Shoes Nature Trail Lots of places to take pictures Weigh & Measure your pumpkin, Bring a Picnic Lunch, Paint a pumpkin (weekends only)
WHEN:
September 23– November 5, 2023
WHERE:
31458 La 43 Hwy, Albany, LA 70711. Phone: 225-567-3493
Directions: From I-55 take exit 32 then left toward Wardline Rd, drive 2 miles then turn right onto Lee Hughes Rd, drive 0.9 mile then turn left onto Lee's Ln.
SESSION TIMES:
Daily 9:00am – 4:00pm
ADMISSION:

Kids (newborn & up): $10 per child CASH ONLY
Adults with children/child free
Adults without kids: $10
---
East Feliciana Parish
Barn Hill Preserve's pumpkin patch will be going on every weekend in October! Guests will participate in fun Fall related activities and get to experience the beauty of the preserve. They will have activities ranging from animal shows, hayrides, face painting, and mini animal encounters to picking pumpkins out of the patch.
  Tour zoological park
  Petting Zoo
Kangaroo Walkabout
 Fall Games
Free small pumpkin from the patch
Tractor Rides
  Face Painting
  DINOSAUR Shows
WHEN:
Every Saturday/Sunday from September 24th- October 30th
WHERE:
Barn Hill Preserve 11342 LA-955, Ethel, LA 70730 – 225-286-3003
SESSION TIMES:
Saturday's & Sunday's 10:00 a.m. – 2:00 p.m.
ADMISSION:
$25
---
Tangipahoa Parish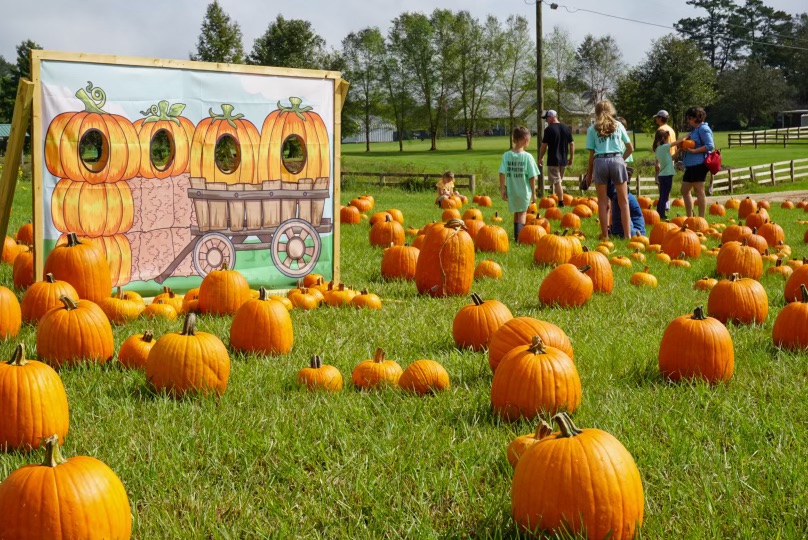 Pumpkin picking/patch weekends only start last week-end of Sept goes through October (well sell pumpkins varies sizes) Experience The Farm Life. Our experience offers a moment with nature that many have never experienced. Activities are hayrides, corn maze, train rides, 3 story tower with slide, feeding goats, a huge bounce pad, duck races, and many more fun activities.
WHEN:
Now Open
WHERE:
51211 Narretto Rd,Loranger,LA 70446
SESSION TIMES:
​
Saturday 9AM – 5PM
Sunday 9AM – 5PM
***last admission sold 1 hour prior to close***
ADMISSION:
$10 per person
---
St. Helena Parish

Cajun Country Corn has been farming food and fiber for over 30 years. They started their corn maze in 2000 and have been doing it ever since. In addition to the regular maze, they open up a portion of the maze on Friday and Saturday nights for haunting. Other spooky attractions include the haunted trail, board maze, and zombie paintball. You can also enjoy the pumpkin blaster, corn cannon, and other farm attractions while you are there. Pine Grove, LA – 7 Acres
WHEN:
October 14th – November 19th
WHERE: The maze is located 1 mile east  of 42360 (Napa Auto) in Pine Grove and five miles west of 35999 (Bear Creek Western Store) in Montpelier, LA
SESSION TIMES:
​
Saturday 10AM – 7PM
Sunday 11AM – 6PM
***last admission sold 1 hour prior to close***
ADMISSION:
$15 per person
​(3 years and under free)​
Admission includes:
Unlimited access to the following activities- Corn Maze, Train rides, Jump Pad, Spiderweb crawl, Corn Crib & Slides
Additional activities included with admission- Water bottle cannon- 2 shots; Tennis ball cannon- 2 shots; Friendly fire- 2 visits
---
Beauregard Parish

Pumpkins, 40+ attractions, a 12-acre maze, farm animals and so much more are awaiting your visit!  Includes a corn maze, jumping pillow, photo ops, animal barrel train, wagon rides, dirt mountain slide, animal barn, tasty eats, and rubber duck races. CM Farms has something special planned for each weekend.
WHEN: September 30th – November 29, 2023
WHERE: 252 CM Farms Road, Dry Creek, LA 70637 (337) 328-8916 – About 2.5 hours from Baton Rouge
SESSION TIMES:
Saturdays in October 10 am-5 pm
Saturdays in November 10 am-5 pm
Sundays 12-5 pm
ADMISSION: Ages 3+ $18.95 – Online Discount
$22.95 at gate.


Baton Rouge Family Fun will always bring you the best in Family Friendly events in Baton Rouge and beyond. This post will be updated as new events are listed; check back for more Baton Rouge Family Fun!