After being canceled two years in a row due to the coronavirus pandemic, one of New Orleans' most favorite music festivals, NEW ORLEANS JAZZ & HERITAGE FESTIVAL, is coming back in 2022! See the incredible 2022 lineup below.
Mamas, did you know Jazz Fest has a Nursing Station?? Yep, they do! A dedicated area for mothers to pump or nurse is located on the west side of the Grandstand on the third floor. Patrons can follow directional signage to the location. In addition, changing stations are located in the women's restrooms on the 1st floor of the Grandstand.
New Orleans Jazz & Heritage Festival 2022 Lineup and Announcement Video
General admission tickets include access to all performances on the day of use, as well as the wide variety of food and beverages available for purchase, art exhibits, crafts booths, and much more.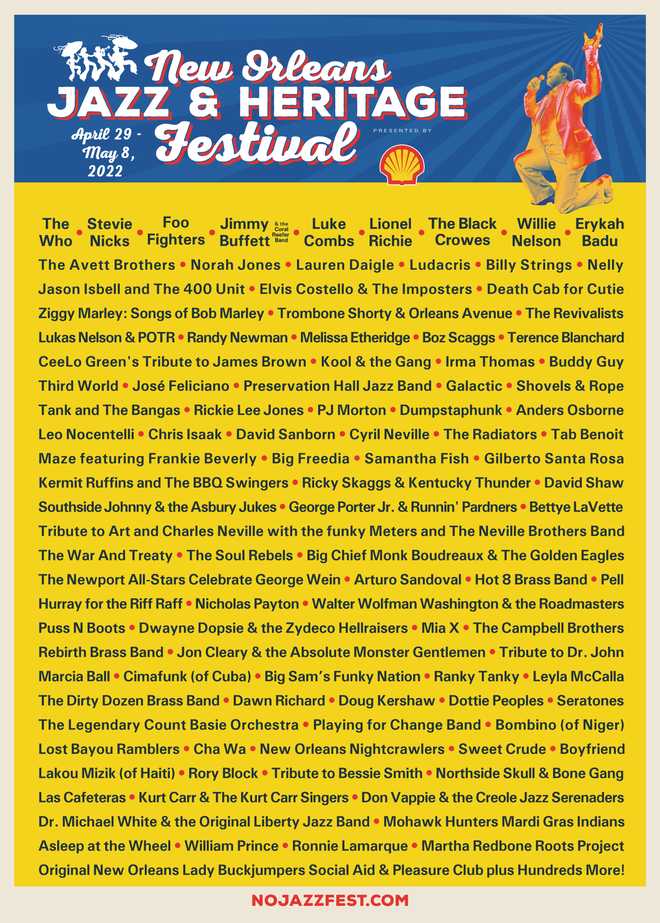 In April of 1970, Mahalia Jackson, often called the greatest gospel singer, returned to her hometown to appear at the first New Orleans Jazz & Heritage Festival.
While attending the Louisiana Heritage Fair in Congo Square (then known as Beauregard Square), she and Duke Ellington, who also appeared at the event, came upon the Eureka Brass Band leading a crowd of second-line revelers through the Festival grounds.
George Wein, the producer of the Festival, handed Ms. Jackson a microphone; she sang along with the band and joined the parade… and the spirit of Jazz Fest was born.
This spontaneous, momentous scene—this meeting of jazz and heritage—has stood for decades as a stirring symbol of the authenticity of the celebration that was destined to become a cultural force.
From the very beginning, the New Orleans Jazz & Heritage Festival was envisioned as an important event with great cultural significance and popular appeal. The Festival was the culmination of years of discussions and efforts by city leaders who wanted to create an event worthy of the city's legacy as the birthplace of jazz.
WHEN: April 29, 2022, April 30, 2022, May 1, 2022, May 6, 2022, May 7, 2022, May 8, 2022
LOCATION: Fair Grounds Race Course and Slots, A Churchill Downs Co.
1751 Gentilly Blvd., New Orleans, LA 70119
EVENT HOST: New Orleans Jazz & Heritage Festival & Foundation, Inc.
ADMISSION PRICE: Starting at $70
MORE INFO: (504) 410-4100 • Visit Event Website
Inspired by the spirit of Mahalia Jackson and the Eureka Brass Band back in 1970, the New Orleans Jazz & Heritage Festival continues to celebrate the culture of Louisiana with the combined fervor of a gospel hymn and the joy of a jazz parade.