Last October, Baton Rouge Moms had the pleasure of hosting a craft table at
10/31 Consortium's
Family Friendly Baton Rouge Halloween Town. One of my favorite views was watching the kids all decked out in Halloween costumes running
the Lil' Pumpkins Race. A great time was had by all participants and this year's race events are just around the corner!! Be sure to join us for the Pumpkin Pi 3.14 Mile Race and Tough Pumpkin Challenge and stay a spell to enjoy Halloween Town with the kids! Baton Rouge Moms will be hosting a fun Halloween craft and handing out candy again this year, be sure to stop by and say hi!

This is no ordinary 5k. This 3.14 mile long race on the Mississippi River Levee (by the USS Kidd) is exactly 200 feet longer than a 5k. And, it is Baton Rouge's only Halloween costume race! Take the Tough Pumpkin Challenge and run "the pi" while holding a pumpkin! All participants will receive a finisher's medal. A special medal will be awarded to those completing the Tough Pumpkin Challenge. Additional prizes will be awarded by age group.
**Pumpkin Pi 3.14 Mile Race and Tough Pumpkin Challenge immediately following the Lil' Pumpkins Race.
WHEN: Saturday, October 28 at 8 AM – 11 AM
WHERE: Levee Green on River Road in Downtown Baton Rouge
PACKET PICK UP
Thursday, October 26 from Noon to 7 p.m.
Violet Lotus Studio
4213 Government Street, Baton Rouge, LA 70806
RACE DAY SCHEDULE
7:00 a.m. – Late Packet Pick Up / Late Registration / Gear Check Opens located at the 10/31 Consortium tent
7:30 a.m. – Prerun Stretch led by Cecily Criscoe Patin of Radiant Life Yoga and Wellness located on the MS River Pier (the paperclip)
7:55 a.m. – National Anthem (main stage)
8: 00 a.m. – Lil' Pumpkins 1 Mile Fun Run** / Halloween Town Opens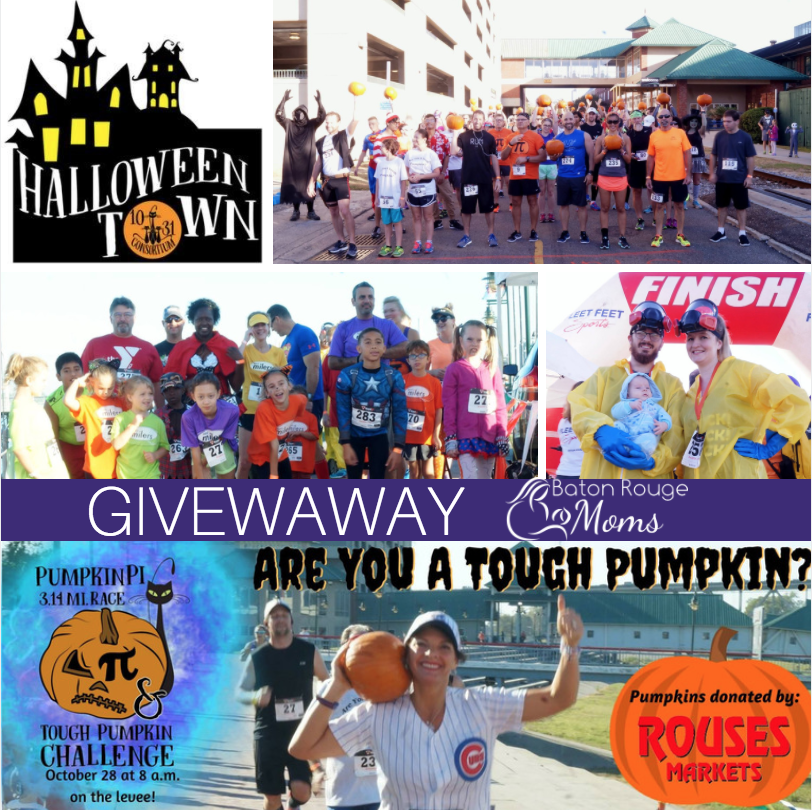 The following two tabs change content below.
Baton Rouge Family Fun
Baton Rouge Family Fun is the premier online destination for families in Baton Rouge. Our goal is to connect and encourage Baton Rouge families online via our website and our social media channels by providing up to date information on family-friendly local events, parenting help, services, and resources.
Latest posts by Baton Rouge Family Fun (see all)