Louisiana is known for its food and live music, but it's extra special with the fireworks on the Fourth! If you're looking for 4th of July parades, festivals, and fireworks – Baton Rouge Family Fun has got you covered! Get out your red, white, and blue and celebrate America's Independence as Southeast Louisiana hosts a variety of events celebrating the Fourth of July — from parades and fireworks to festivals and lake parties starting as early as June 29th!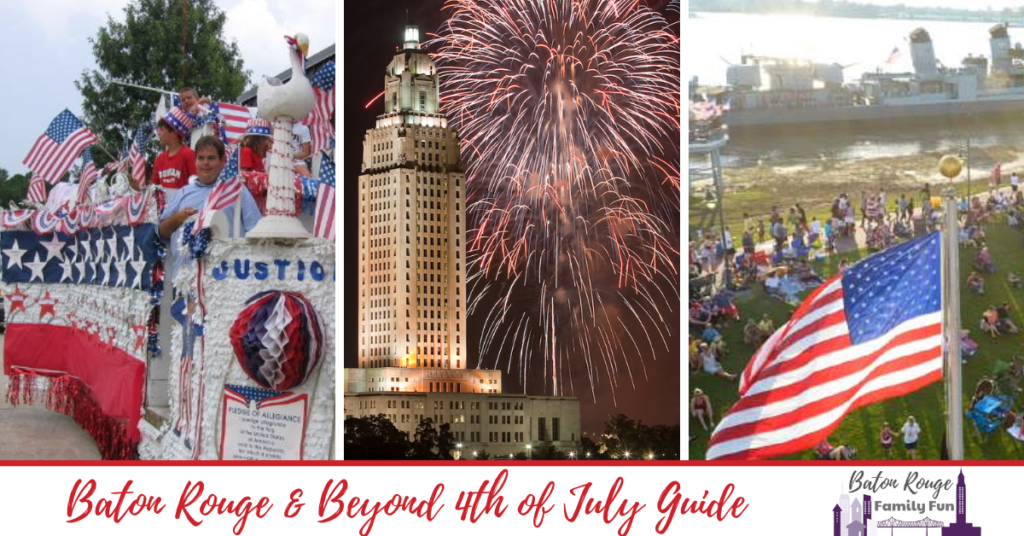 Where to watch 4th of July Fireworks in Baton Rouge and beyond – plus 4th of July parades, festivals, boat parades, food, and family fun!
Baton Rouge Fourth of July
---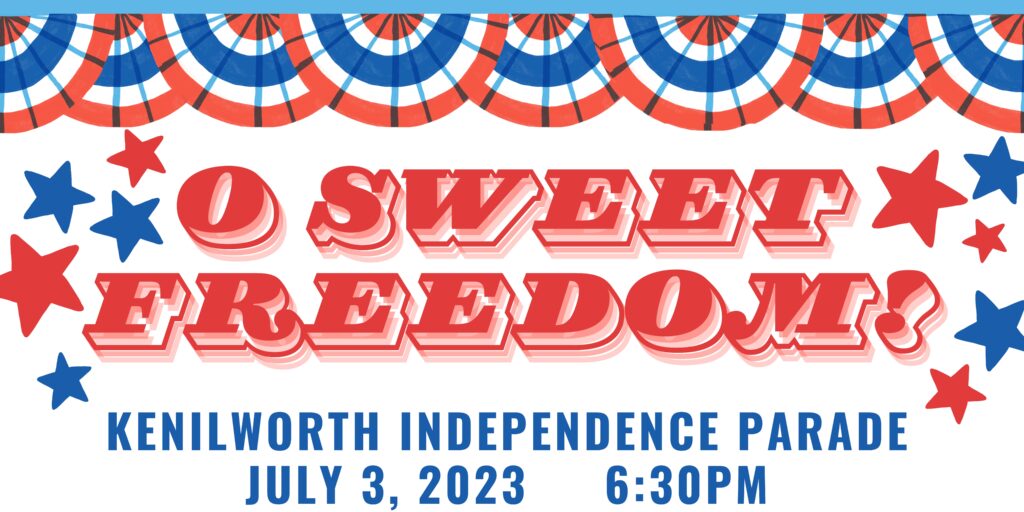 The 2023 parade is scheduled to roll at 6:30 pm on Monday, July 3rd. It lasts about an hour and rolls as long as weather permits. The route begins and ends at Kenilworth Science & Technology School on Boone Drive.
WBRZ's Fireworks on the Mississippi
Tuesday, July 4th
9 pm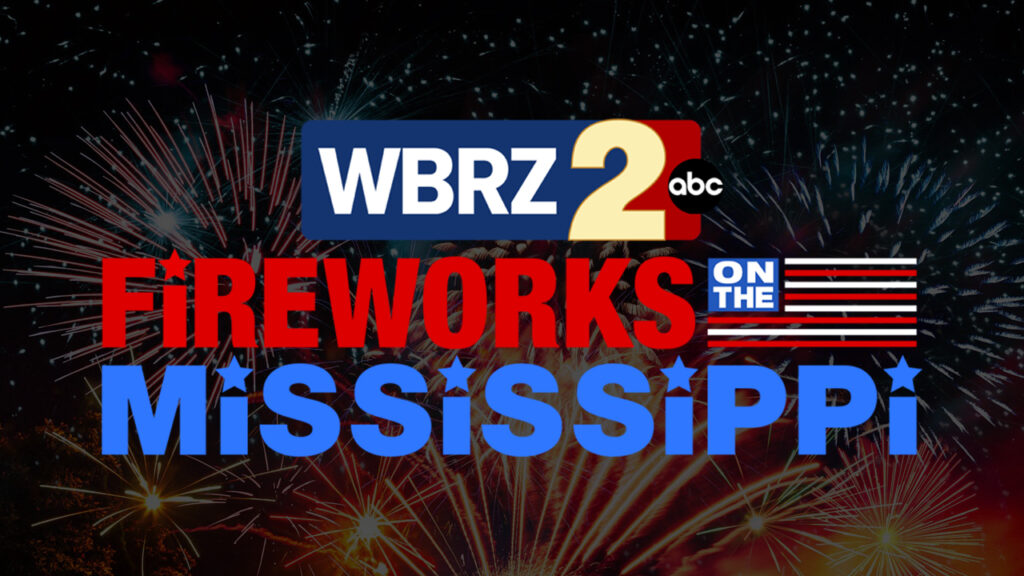 The 4th of July Spectacular is back! The Manship Family and WBRZ provide the fireworks to celebrate America's Independence. It is a great celebration and tradition for all.  Stay tuned for more details regarding music and other festivities.
DOWNTOWN PARKING INFORMATION
Looking for tips when parking in downtown Baton Rouge? Check out the Fourth of July parking map or navigate your way through Baton Rouge using the interactive map.
---
July 4th Fest
Tuesday, July 4th
5 pm – 10 pm
Old Ferry Landing
198-100 S. River Road


70767

Port Allen

,

LA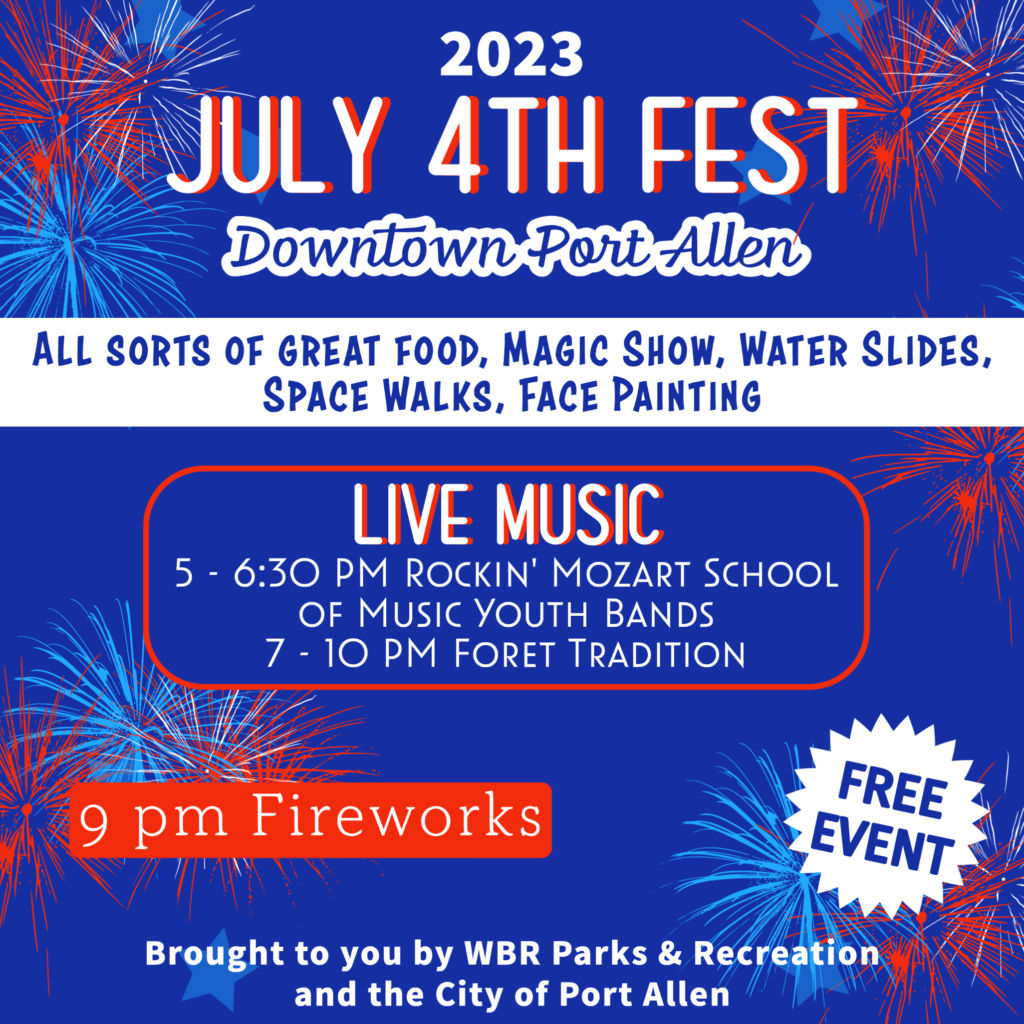 Enjoy great food, live music, and fireworks for the 4th of July! The 4th of July fest will take place in Downtown Port Allen. This FREE event is open to the public.
Live Music: 5-6:30pm Rockin' Mozart School of Music Youth Bands & 7-10:00pm Foret Tradition
Fireworks will start at 9pm
Activities: Magic Show, Water Slides, Space Walks, and Face Painting!
---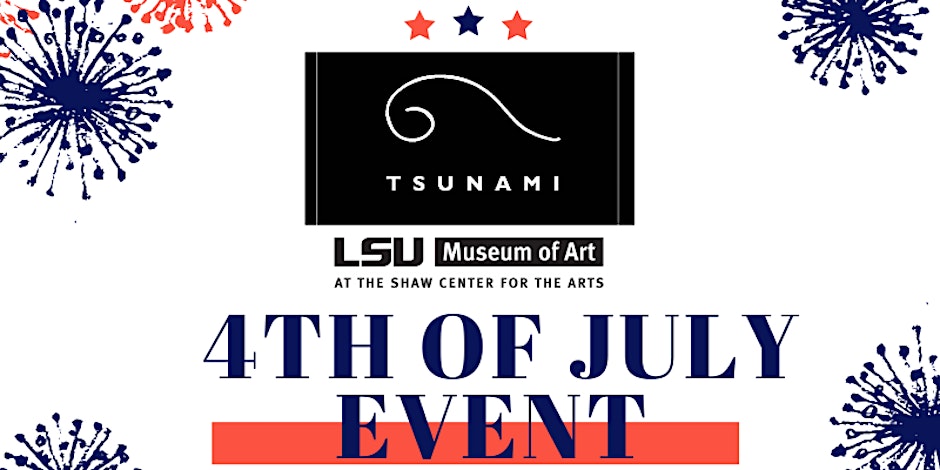 Support Art and Celebrate! The LSU Museum of Art will be hosting its 18th annual Fourth of July Celebration on the 6th floor of the Shaw Center for the Arts. Enjoy fireworks, dinner by Tsunami, and music! Tickets required and final sale. CLICK HERE TO BUY TICKETS BEFORE THEY SELL OUT! Proceeds support the museum.
Tuesday, July 4 from 7-10 PM
6th floor Shaw Center for the Arts (100 Lafayette St Baton Rouge, LA)
use the link to buy tickets on eventbrite
---
Baton Rouge Concert Band 4th Of July Concert
Tuesday, July 4th
7:00 PM – 8:30 PM – FREE to the Public
The Main Library at Goodwood

7711 Goodwood Blvd.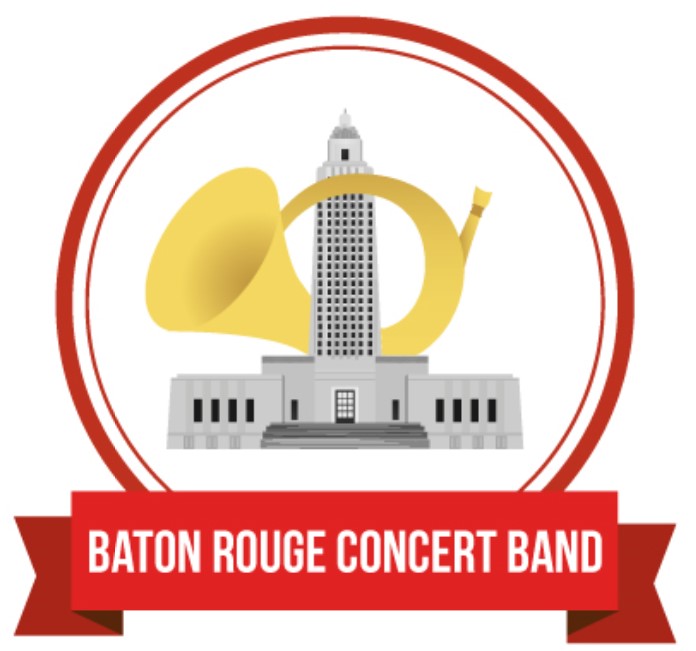 Join the Baton Rouge Concert Band at the Main Library at Goodwood on Tuesday, July 4 at 7 p.m. for a red, blue, and white-hot selection of patriotic music, marches, Big Band, and other Americana music to celebrate our nation's independence. Wear your red, white, and blue; bring your flags; and don't forget your water, 'cause it's not just the music that will be hot.
---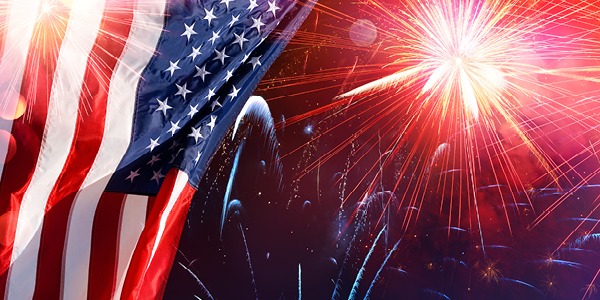 TUESDAYS, JULY 4
Fireworks show begins at 9pm
8pm – 12am
Free to the public
Featuring Capital City Soul
Must be 21 to enter.
7pm – 10pm
$20 cover
Featuring Geaux DJ
Must be 21 to enter.
7pm – 10pm
Free to the public
All ages welcome.
Gonzalez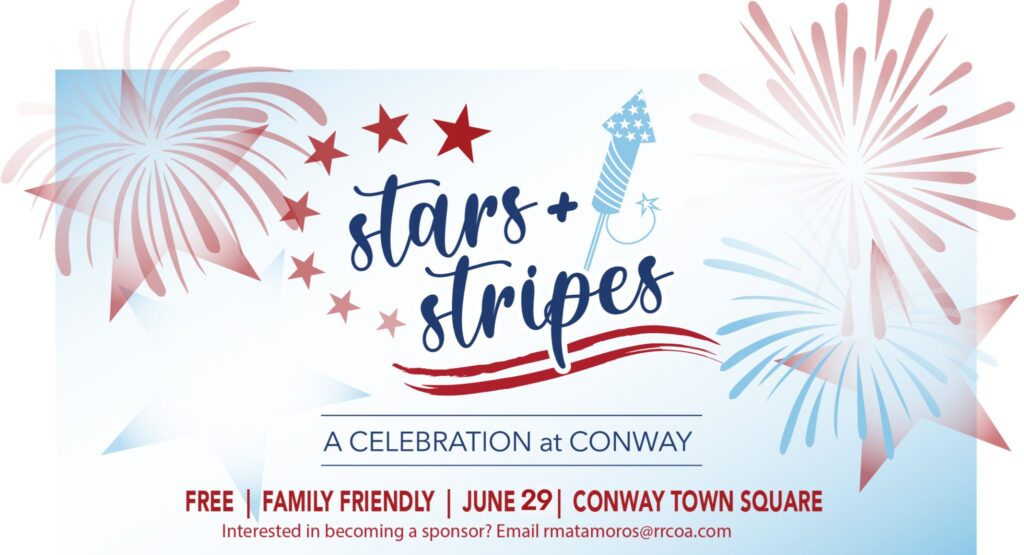 Celebrate independence at Conway Development's annual Stars & Stripes event in Gonzales, LA on Thursday, June 29th.
This family-friendly, FREE event will include kids activities, live music by the Lauren Lee Band, and a magical fireworks show. Food and drinks will be available for purchase.
---
Walker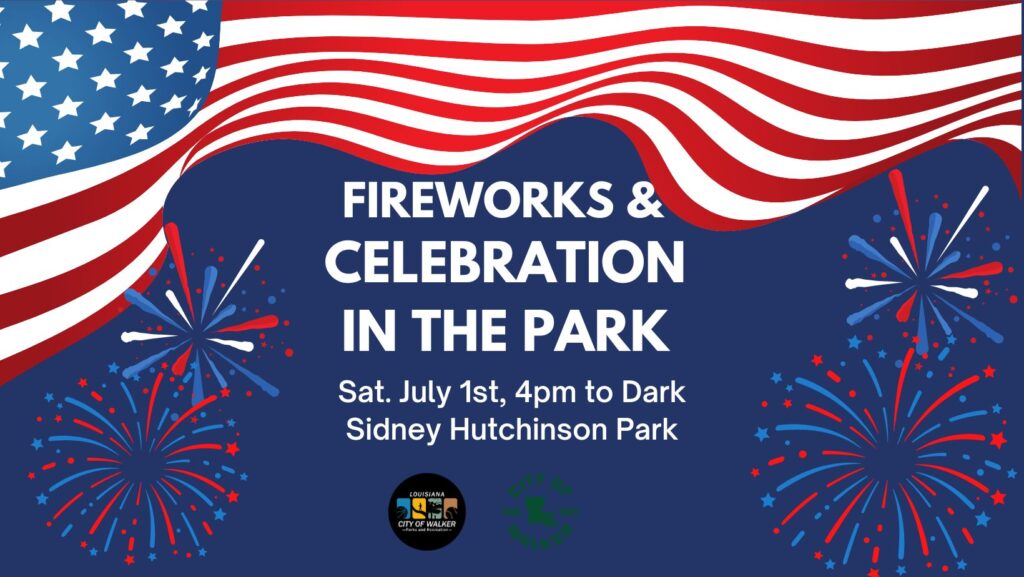 The City of Walker and its Parks and Recreation Department is hosting a family friendly, fun filled day at Sidney Hutchinson Park. There will be a Farmer's Market, Food Trucks, Live Music by the I-10 Bound Band and DJ KJack, Corn Hole Tournament, BBQ Cookoff, Pie Bake Off, lots of games and inflatables, and a Children's Village sponsored by local churches. The day will end with a fireworks show choregraphed to music.
---
Central
Freedom and Fireworks
Saturday, July 1st
4:00 pm
Settlement at Showcreek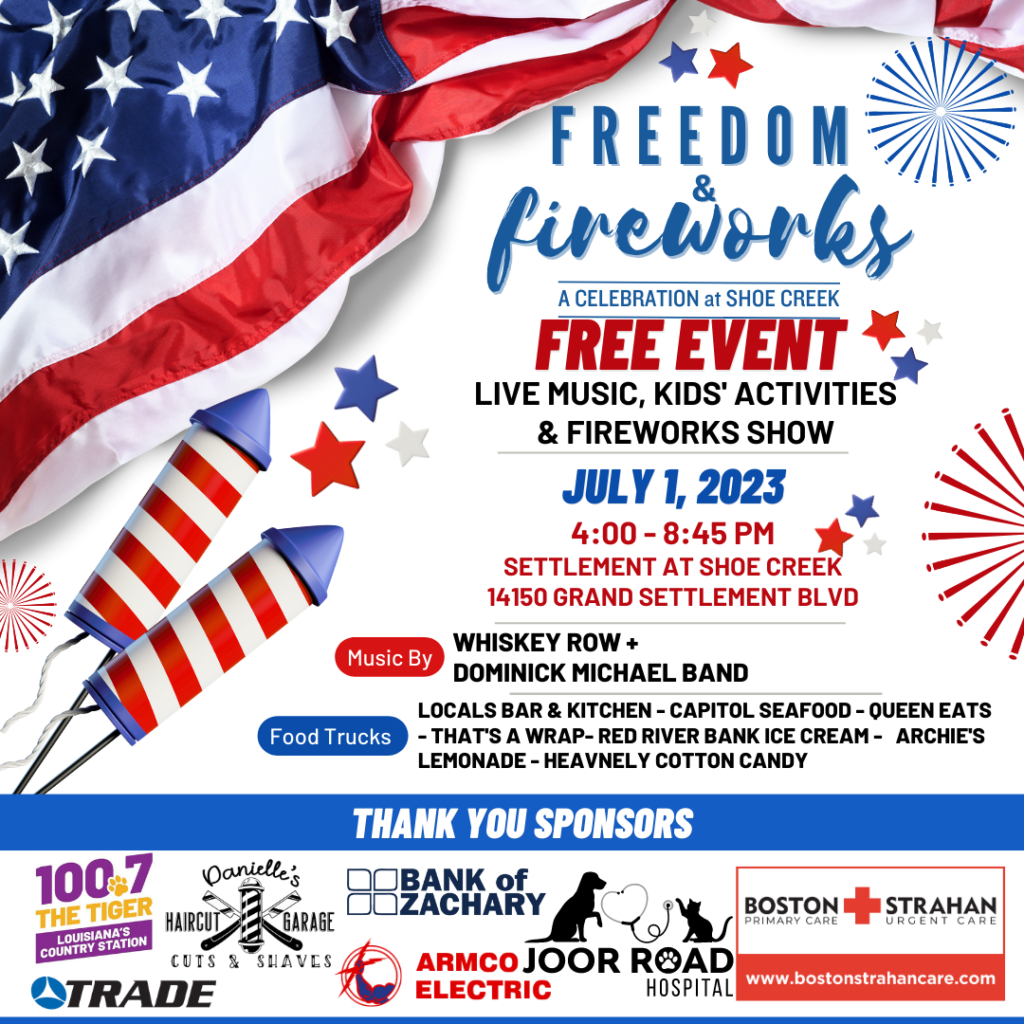 Date: July 1st
---
Orleans Parish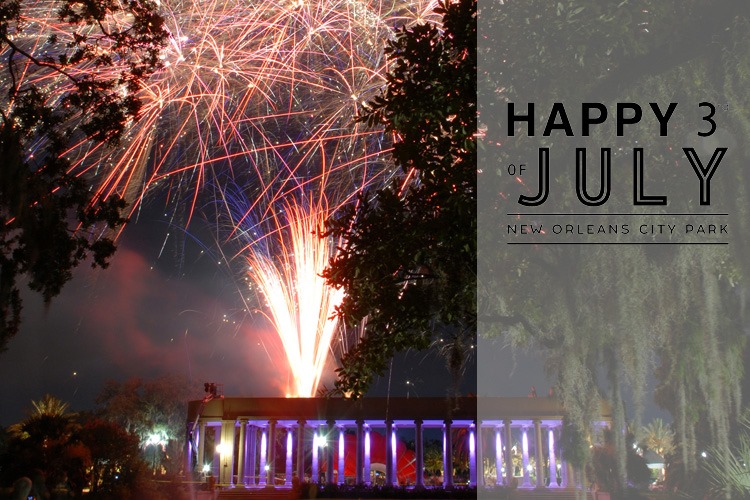 Free community concert and fireworks display! The festivities begin at 7:15pm with the national anthem, followed by a patriotic program featuring the Marine Forces Reserve Band. The evening culminates with fabulous fireworks atop the Peristyle at 9pm. Carousel Gardens Amusement Park and Storyland will be open 3-9pm.
Friends of City Park Members enjoy exclusive access to City Putt restrooms for the number of individuals allotted in your membership level. All members need is proof of active membership.
---
Jefferson Parish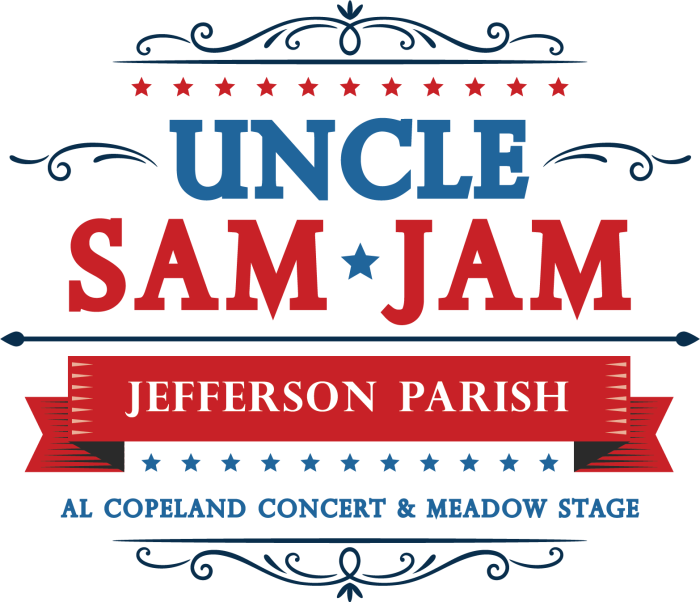 Celebrate Independence Day at beautiful Lafreniere Park in Metairie at Uncle Sam Jam! Each year, festival-goers look forward to live music, delicious food and great company!
Uncle Sam Jam is a FREE festival featuring top local and national acts and a fireworks show to close out the night. 
The concert meadow and its sprawling 155-acre green space is an ideal setting to celebrate the July 4th holiday.
---
Iberville Parish
July 4th Hometown Celebration
Tuesday, July 4th
3:00 pm to 9:00 pm
PLAQ. COMMUNITY CENTER & PAVILION
57845 FOUNDRY ST., PLAQUEMINE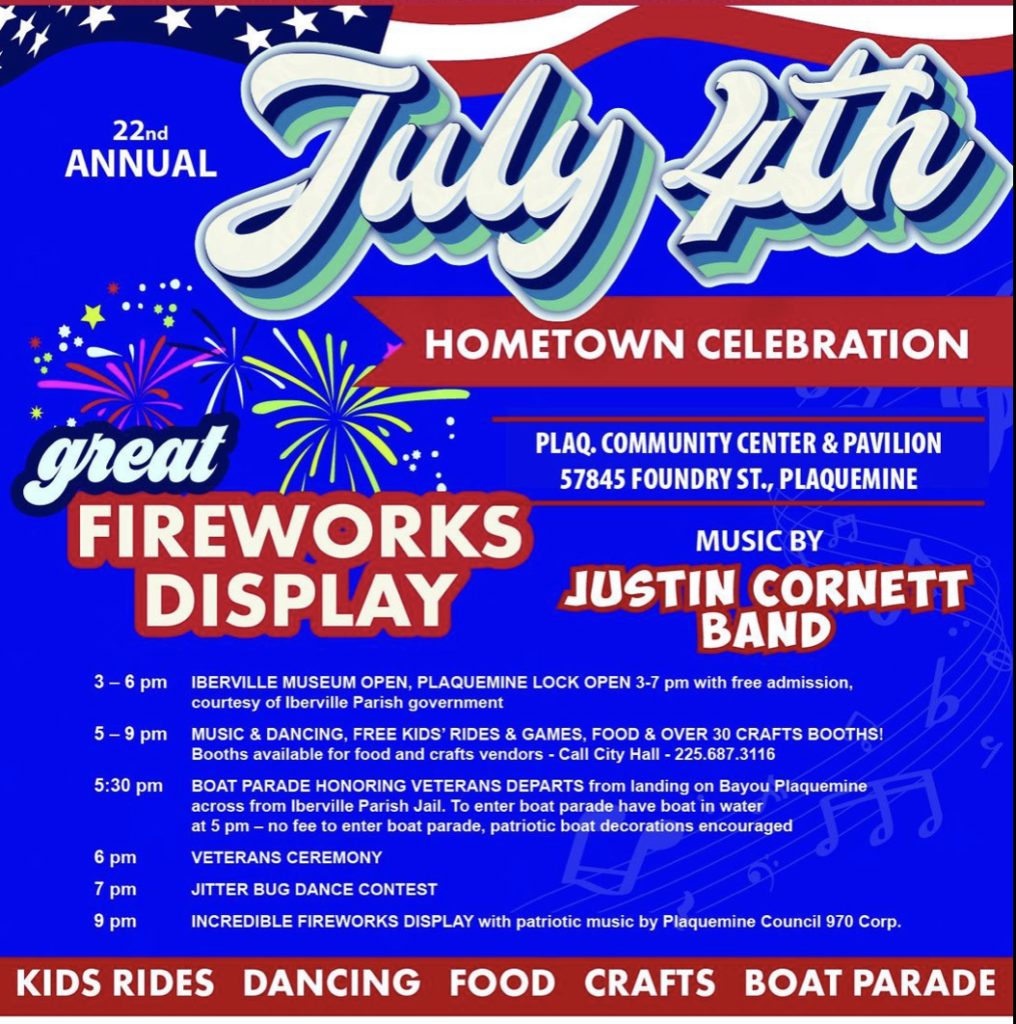 The City's annual July 4th Hometown Celebration, set for Monday, July 4th, includes a fun patriotic boat parade and fireworks.
---
Pointe Coupee Parish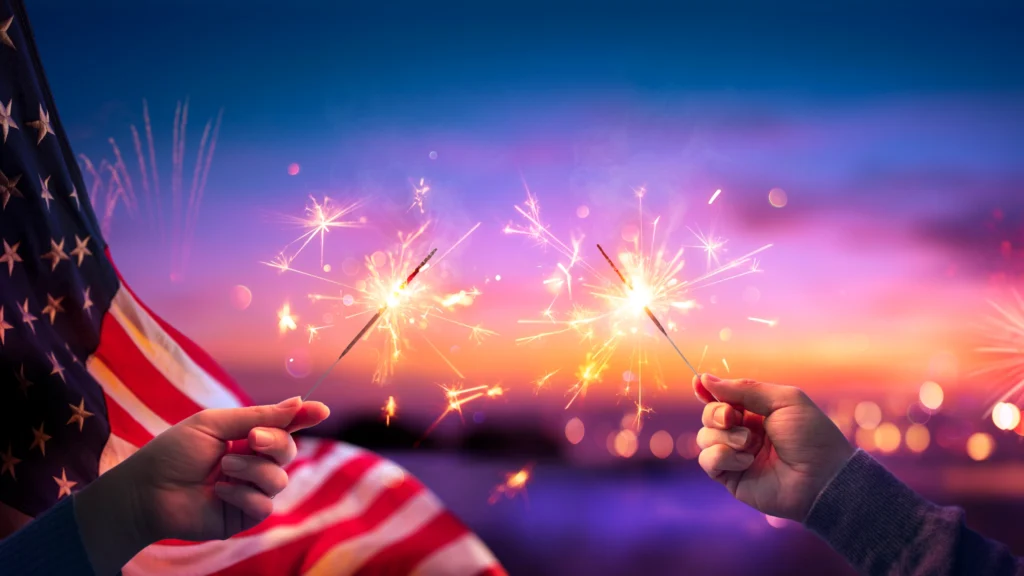 The City of New Roads Independence Day celebration will be on Sunday, July 2, downtown on False River!
---
St. Mary Parish
Lake Jam
Saturday, July 1st
11:00 AM – 5:00 PM
Lake End Park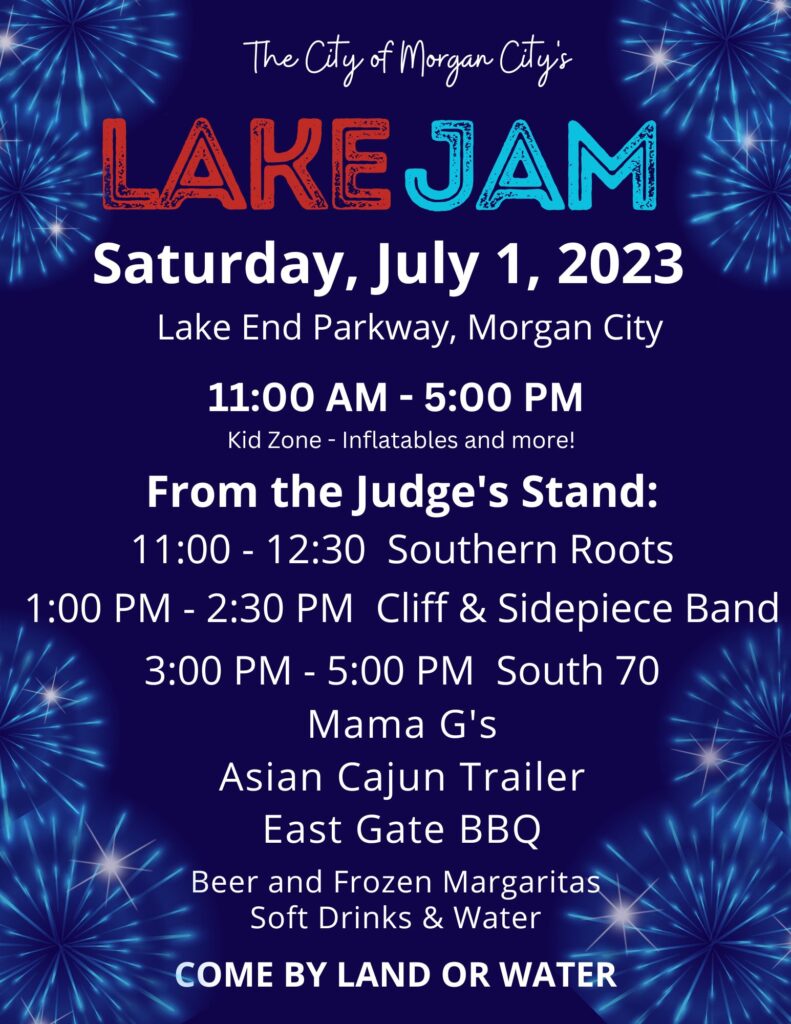 Join the 4th of July Lake Jam on Lake End Parkway! Bands playing from the Judges' Stand, food vendors, and activities for the kids.
Come by land or water!
---
St. Tammany Parish
Mandeville
Light Up The Lake
Monday, July 3rd
6:00 PM
Mandeville Lakefront – Stage at Coffee and Carroll Sts.

Lakeshore Drive between Coffee and Carroll Streets, Mandeville, LA 70448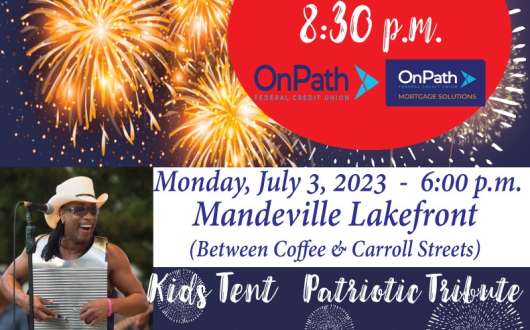 The City of Mandeville will celebrate Independence Day by lighting up Lake Pontchartrain on the Mandeville lakefront at its 9th Annual "Light Up the Lake" celebration, Monday, July 3, 2023. The event is free and open to the public.
The celebration features a patriotic tribute, live music by Rockin' Dopsie, Jr., a kids tent, photo booth, and a brilliant fireworks show to close the night.
Food trucks will open at 5 p.m. Entertainment starts at 6 p.m. and fireworks begin at 8:30 p.m. Fireworks, sponsored by On Path FCU and Mortgage Solutions, will be launched from a raised barge for great viewing all along the lakefront.
Guests are invited to picnic in the lakefront park beginning at 10 a.m. No glass bottles or charcoal grills are permitted. The entertainment stage is located in lakefront park between Coffee and Carroll Streets.
---
Slidell Heritage Festival
Saturday, July 1st
4:00 PM to 11:00 PM
Heritage Park
1701 Bayou Lane, Slidell, LA 70458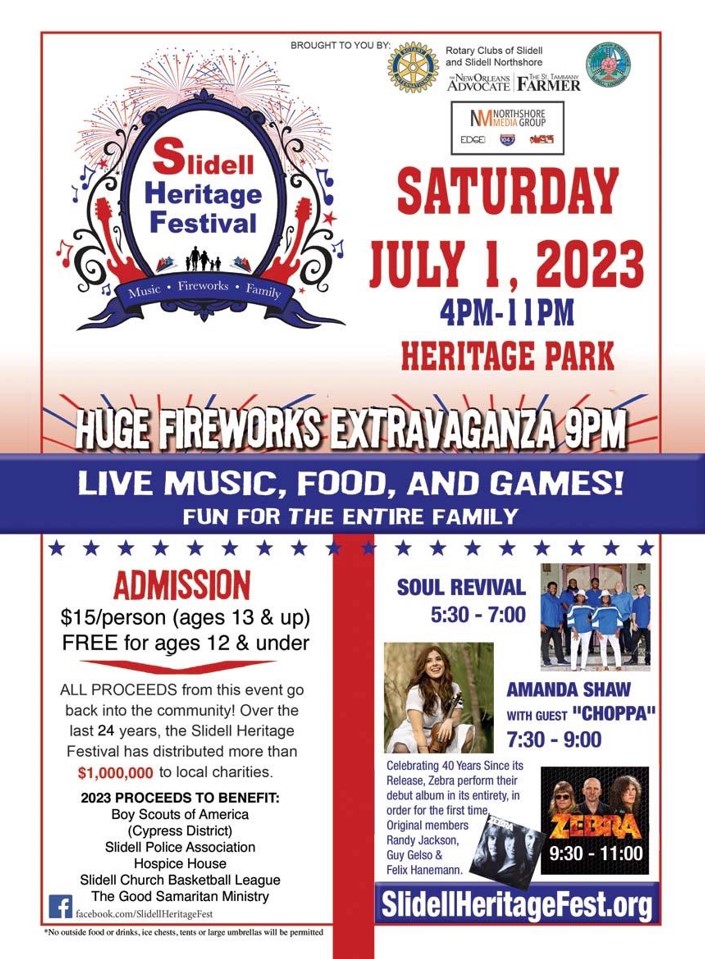 Join the Slidell Heritage Festival 2023 on Sat Jul 01 2023 at 4:00 PM in the beautiful location of 1701 Bayou Lane, Slidell, LA 70458. This in-person event celebrates the cultural heritage of Slidell, Louisiana, with a variety of activities for all ages. Come and enjoy live music from local artists, indulge in delicious food from different vendors, and participate in fun games and competitions. Take a stroll through the arts and crafts section and marvel at the talent of local artisans. The festival also offers a kid's zone with exciting games and activities that will keep the little ones entertained. Don't miss out on this amazing opportunity to experience the essence of Slidell's heritage. Mark your calendars and bring your friends and family for a day of fun, food, and music!
This event is hosted by the Rotary Club of Slidell and the Rotary Club of Slidell Northshore in conjunction with the City of Slidell. ALL PROCEEDS from this event go back into the community.
Over the last 24 years, this event has distributed more than $1,000,000 to local charities!
---
Abita Springs 4th of July Celebration
Tuesday, July 4th
2:00 PM to 9:00 PM
Abita Springs Trailhead Park
22044 Main St., Abita Springs, LA 70420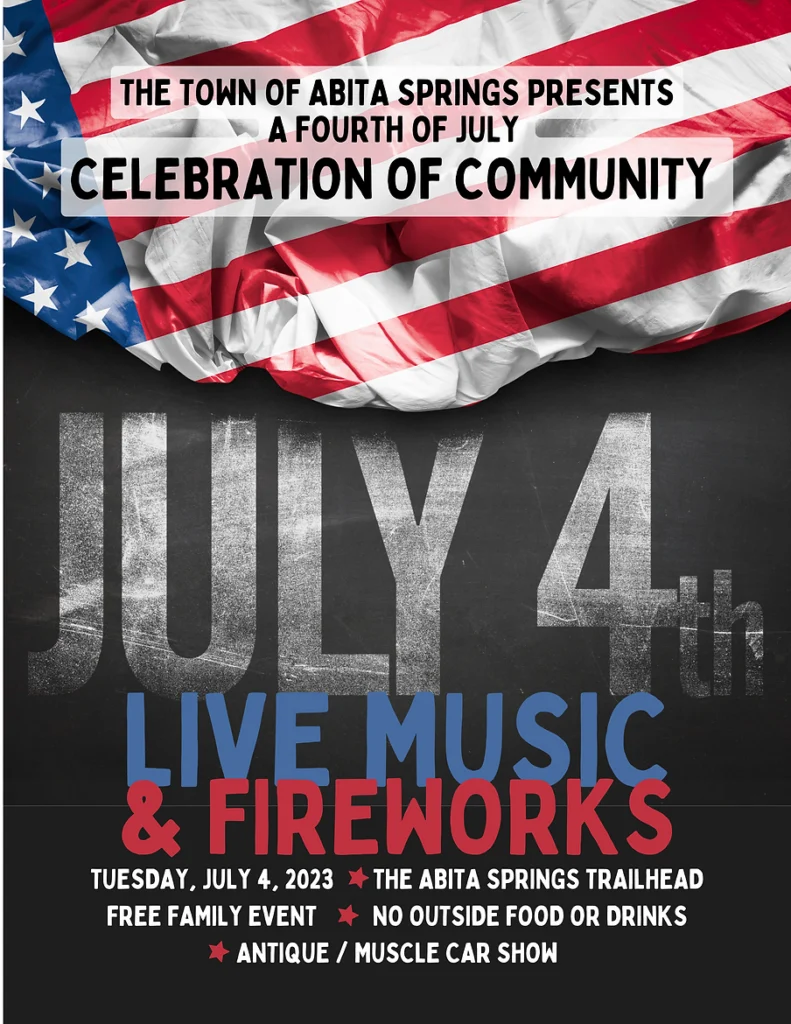 Bring your chairs, blankets, family and friends to the Abita Springs Trailhead Park on Monday, July 4th for their 4th of July Celebration! 2:00 PM to 9:00 PM at the Abita Springs Trailhead for a fun-filled day of live music, a car show, food trucks, and some of your favorite market vendors!
---
Sparks in the Park
Saturday, July 1st
5:30 PM to 9:00 PM
Bogue Falaya Park 213 Park Drive, Covington, LA 70433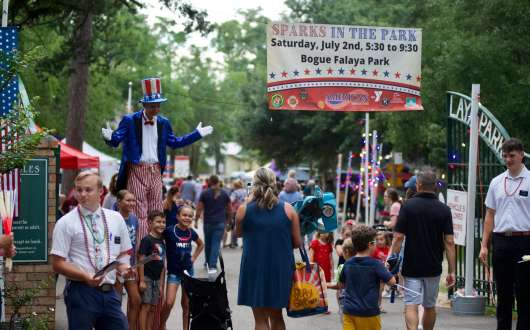 Bring your lawn chairs and blankets to Covington's Bogue Falaya Park on Saturday, July 1st for the annual "Sparks in the Park", a free festival with loads of food, fun and music for all ages to celebrate America's Independence Day.
The evening starts at 5:30 p.m. and ends with a bang with fireworks at dusk, when the Covington Concert Band will perform patriotic sounds cued to the fireworks for a breathtaking experience for all the senses. Other entertainment will be announced as the event nears, including plenty of activities for the kids and vendor booths offering unique gift items and homemade goods.
Picnics and beverages are welcome, but you may want to leave the cooler at home, because there will be plenty of food and drinks on hand with local food trucks offering a variety of cuisine, and Kiwanis of Covington will sell concessions and host a hot dog eating contest. The Rotary Club of Covington will keep the crowd hydrated with lemonade and water, and the Covington Business Association will have wine aplenty to buy.
---
Vermilion Parish
Erath 4th of July Celebration
June 30, 2023 – July 4, 2023
Erath – Fair address 
Corner of Edwards and Broadway Erath LA 70533

Parade, water fights, carnival rides, live music, pageants, food and a large fireworks display on July 4th beginning at 9 pm. Since 1936, Erath, Louisiana has hosted a unique Cajun celebration of the birth of The United States of America. Admission to the fairgrounds is free.
---
Lafayette and St. Martin Parishes
Broussard Independence Day Festival 
Tuesday, July 4
5:00 pm – 9:30 pm
Broussard Sports Complex at Saint Julien Park
701 Saint Nazaire Road Broussard, LA 70518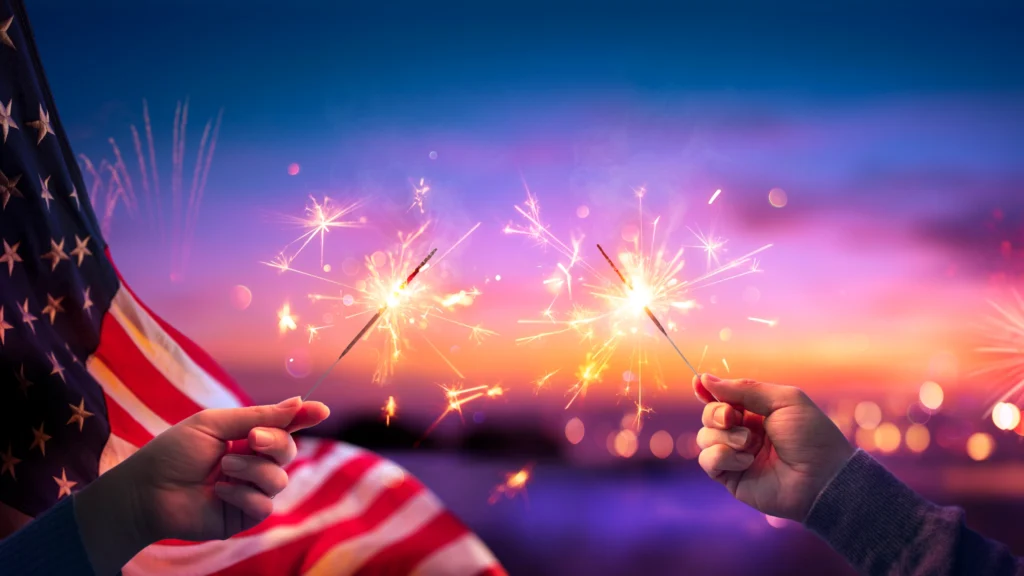 Join the City of Broussard and the Broussard Chamber of Commerce on July 4th! 18th Annual Fireworks Show happening over St. Julien Park on Tuesday, July 4th. Gates open at 5:00 pm, and we will have our traditional event that includes activities for the kids, a DJ, and live music by Louisiana Red for everyone to enjoy! The Fireworks Show will begin at 9 pm!
---

Celebrate Independence Day with us on Monday, July 3rd at the Youngsville Sports Complex, presented by Lafayette Roofing & General Contractors LLC! This free and family friendly event begins at 5pm and ends at 9pm.  Live Music by Ray Boudreaux, The Good Dudes, School of Rock, & DJ RV.  Plus, kids' activities, pop up vendors, food and beverages for sale and the night will conclude with a massive fireworks display!  Please leave your ice chest at home. Food & Beverage concessions will be available.
There's something for everyone to celebrate this year's 4th of July! Enjoy a Baton Rouge Fourth of July or venture beyond for a fun, safe, and Happy Fourth of July with your family!

Due to weather and other unforeseen factors, firework details can and do change. Please visit the original links and check with coordinators before promising a firework show to your family! Baton Rouge Family Fun can't be held responsible for inaccuracies, typos, changes, human error, clouds, thunderstorms, or meltdowns from tired children who have stayed up too late to watch the fireworks. (We will, however, commiserate with the meltdowns. We'll be dealing with them too!)