It's a party!! BREC's Baton Rouge Zoo is celebrating 49 wild years – complete with a birthday cake and fun for the whole family! Join the celebration at Zippity Zoo Fest, BREC's annual spring festival, and birthday celebration! Families can enjoy a Children's Village, Entertainment Stage, EdZoocation Station, Face Painting, Birthday Cake, Keeper Chats, and Special Animal Enrichments throughout the day!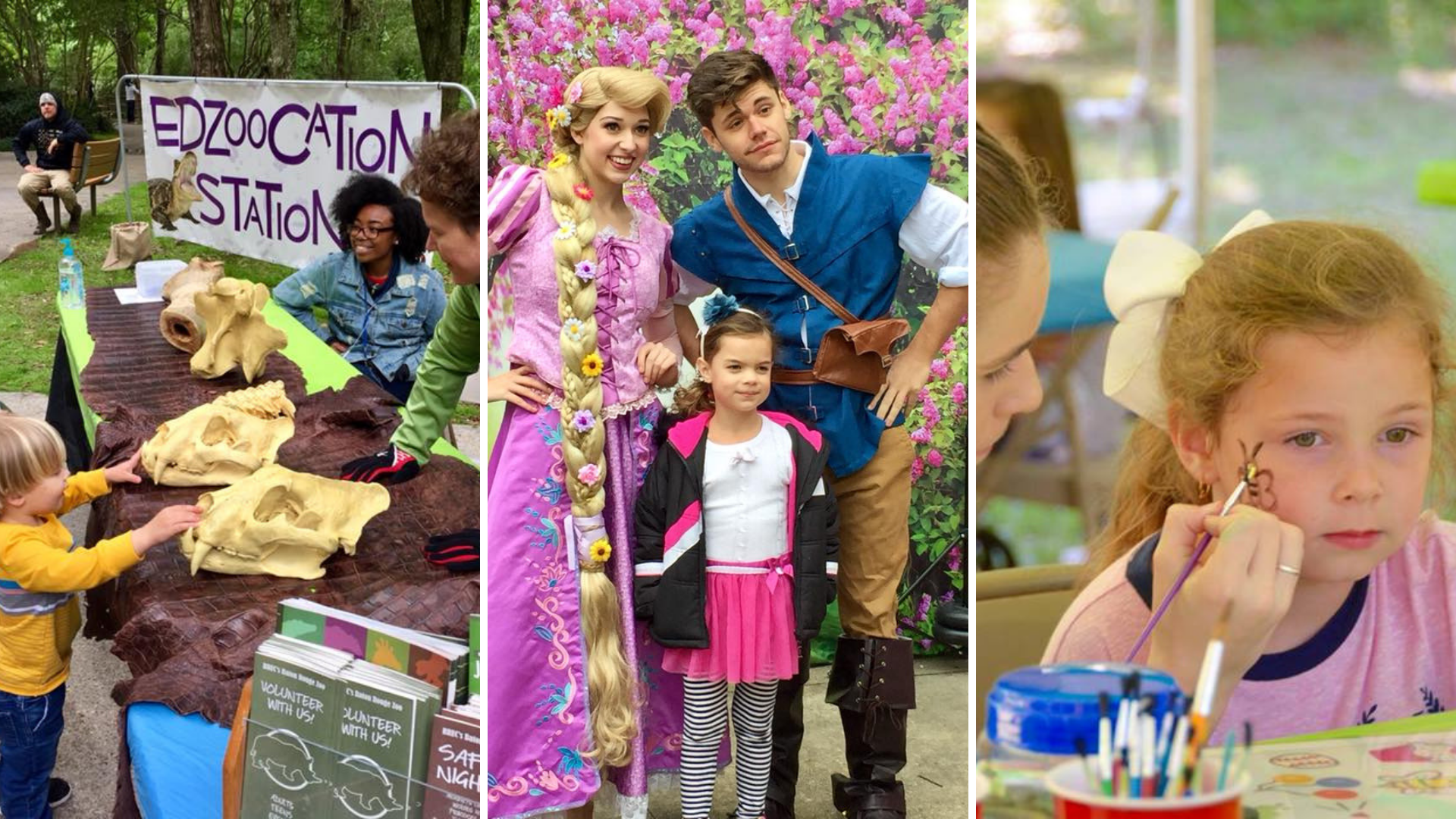 Zippity Zoo Fest will be held Saturday, Apr. 6 and Sunday, Apr. 7. from 9:30 a.m. to 5 p.m. Regular admission prices apply.
***GIVE BACK*** Support the Junior League of Baton Rouge's Diaper Bank by bringing any unused, disposable diapers to Zippity Zoo Fest and be entered to WIN a Friends of the Zoo Household Membership!
ZIPPITY ZOO FEST ACTIVITIES & SCHEDULE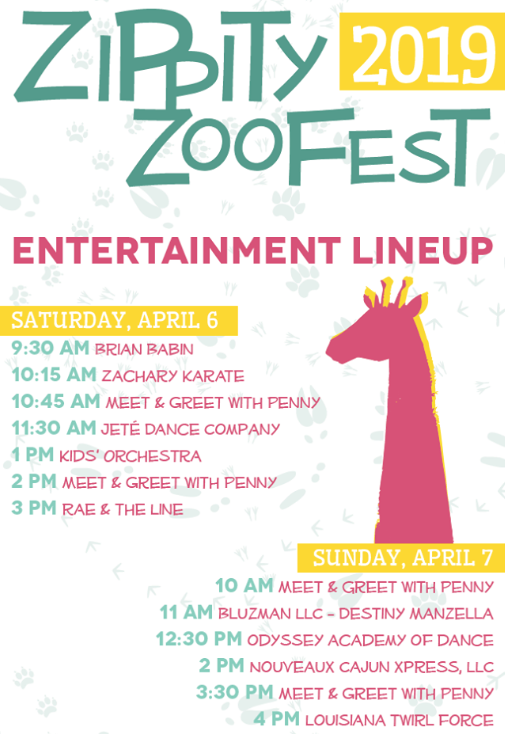 Children's Village
Our Capital One Pavilion is transformed this weekend into a free Children's Village with giant inflatables! Parents watching their children can also enjoy the adjacent Entertainment Stage and seating area under the pavilion.
Entertainment Stage
Located next to our Children's Village, enjoy the talents of groups from across the area, as well as local bands. If your band or group is interested in performing at Zippity Zoo Fest, please email membership@brzoo.org.
EdZooCation Station
Stop by the EdZooCation Station for fun and learning! At EdZooCation Station, adults and children alike will enjoy a variety of interactive games to help learn about animal facts, animal conservation and pollination. You'll also get to meet some of our education department's animal ambassadors!
Keeper Chats & Animal Enrichments
Hear from our Zoo Keepers, ask questions and learn how we care for our animals daily. At select chats, watch our animals enjoy a special Zoo birthday treat, while you enjoy a piece of free Zoo birthday cake!
Face Painting
What could be more fun than spending the day with tigers, bears and flamingos? Having one painted on your face! Visit our face painting station to experience the Zoo in style. $1 per face painting.
Photo Contest Winners Gallery
Visit our education building (located toward the back of the Zoo, next to the Galapagos Tortoise/Flamingo Exhibit) to see the WINNERS of our photo contest. Sponsored by The Advocate, the photo contest is open to photographers of all ages and experience levels. Winners will be announced at Zippity Zoo Fest, and their printed photos will be on exhibit, gallery-style, throughout the 2-day event. We will also electronically display all photo submissions.
AAZK Booth
Visit the Baton Rouge Chapter of American Association of Zoo Keeper (AAZK). This year at Zippity, AAZK is raising money for Bowling For Rhinos, their national philanthropy. Stop by to talk with our Zoo Keepers, learn about the amazing things they do for rhinos and take your chance at their ring toss game. $1 per try; all proceeds benefit AAZK philanthropy projects, continuing education and professional development.
Lagniappe
With the support of our partner organizations around the city, the Zoo will be filled with various activity booths! If your organization is interested in hosting an activity booth at Zippity Zoo Fest, please email info@brzoo.org.