Do you know the difference between Tunica Hills and Tunica Falls/Clark Creek? Clark Creek is sometimes called Tunica Falls; hence, Tunica Hills and Tunica Falls are often confused. However, if you're in the mood for chasing waterfalls, trails, and adventure, both parks are worth a visit.
Tunica Hills
As the mom of a young, very active boy, I wake up most weekends brainstorming what sort of adventures we can get into together. We both love the smell of the great outdoors, so when I brought up the idea of a hike, his attention was instantly piqued.
A little over an hour from Baton Rouge
Tunica Hills Wildlife Management Area is a little over an hour's drive from Baton Rouge through the beautiful historic town of St. Francisville. A bit of a hidden treasure, it's a perfect day in nature for energetic explorers with miles of hiking trails through an upland hardwood forest that blankets the Tunica Hills.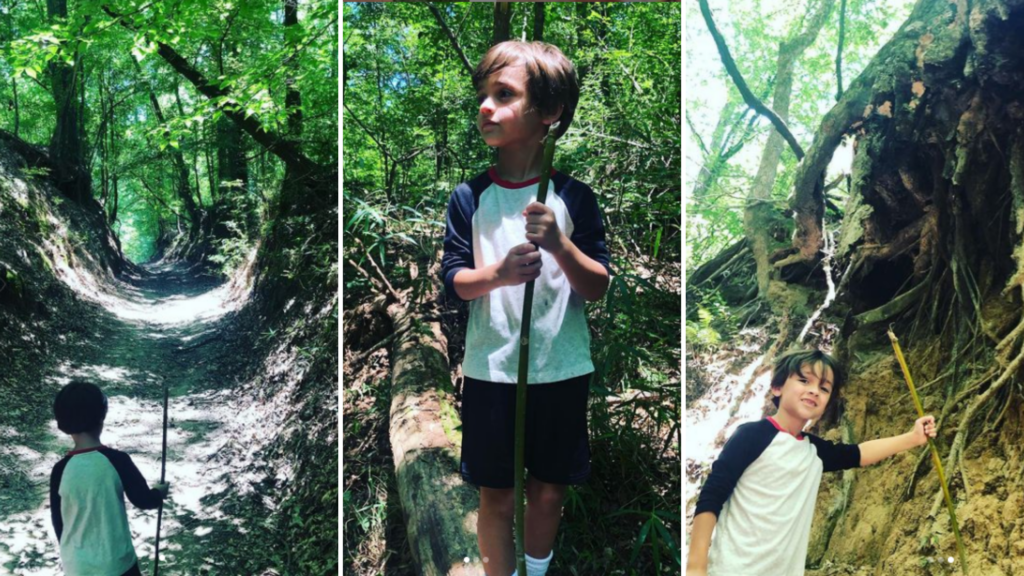 As you make the turn onto Old Tunica Road and start the ascent, you can feel an instant drop in temperature as the altitude increases. If available, I highly recommend an SUV or truck since access to the trails is a bit bumpy once you enter the park area. Parking is a bit tricky at some of the trailheads and having 4-wheel drive is a plus. On the main road, there are several trails to choose from.
Take Tunica Hills Trail C for the kiddos
I decided on the trail with the least foot traffic, which happened to be Trail C; I later found out it was an excellent trail to start with, especially if you have kiddos in tow. If you don't have hiking boots, wear a pair of tennis shoes that you don't mind getting a little muddy. The terrain has some downed trees and a few steep inclines and declines, so having proper footwear is a must!
We hiked for about 2 miles before we turned back as it was pretty muddy from recent rainfall. It was exciting to climb over some smaller trees that had fallen across the path and test our balancing abilities! If you take a quick water break, mid-trail, you will notice several spots where you will see some very big drop-offs.
Things to Know Before You Go from Louisianatravel.com
You'll find a nature trail with designated hiking trails accessible from Old Tunica Road on the South Tract, but don't expect overdeveloped trails. Check out this Tunica Hills map for boundaries, designated camping area, check station locations, and trail locations. You can only camp at the designated camping area on Parker Road, and only tent-only camping is permitted.
All visitors must use self-clearing permits for all activities on Wildlife Management Areas (WMA). Get your free permit at check station kiosks on the WMA. Additionally, all WMA visitors ages 16 to 59 must possess either a valid Louisiana hunting/fishing license, or Wild Louisiana Stamp. Licenses can be purchased from any hunting and fishing license vendor in the state, as well as over the phone (1-888-765-2602) or online.
Clark Creek / Tunica Falls
The majestic Clark Creek Natural Area in southwestern Mississippi is one of the Magnolia State's most beautiful outdoor treasures. Comprising more than 700 acres, it is highlighted by some 50 waterfalls, from 10 to 30 feet in height.  Clark Creek Natural Area is just over the Louisiana state line in Mississippi, at 366 Ft Adams Pond Rd, Woodville, MS 39669.
Clark Creek Admission
A day use entry fee of $2.00 per person is charged for use of the park – Cash only on the honor system. Five years of age and under are free.
Bathrooms
Amenities available on site include a restroom and water fountain at entrance of the park.
Waterfalls? In Mississippi?
The Clark Creek Natural Area protects more than 700 acres of pine and hardwood forest amid a landscape of steep-sided bluffs, rolling hummocks, and trickling waterfalls. There are about 4.5 miles of primitive and improved trails that visit some of the park's waterfalls and heritage trees. Visitors discover a variety of colorful migrating and resident birds; invertebrates; poisonous snakes; a rare land snail; the Federally endangered Carolina magnolia vine; and the State endangered fish, the Southern redbelly face.
What to pack in your backpack:
Small first aide kit
Bathroom kit (there are no bathrooms on the trails)
Snacks
Water
Sunscreen
Bug spray
A change of clothes
A bag for muddy or wet clothes
Binoculars
Large bamboo stick to ward off any unwelcome reptilian visitors.
Most of the trail was well shaded, but if you stopped for too long, the horseflies were ready and waiting to take nibbles when they could. All in all, the scenery and the drive up to the trail were a much-needed break from our everyday activities! No cell phone service – so a great way to unplug.
My name is Evangeline 
Pug

liese but all my favorite people call me 

Lene

(Lee-knee). I am an as-needed nurse with Ochsner's BR OB/GYN department. I'm also an independent advocate with an organic farm-to-table CBD company out of Wilmington, NC. I am a single mom and am passionate about helping others and their family on their journey to better wellness. https://

lene

pug.greencompassglobal.com