{Sponsored}
Mike the Tiger, the famed live Bengal Tiger serves as the graphic image of LSU, he is loved by children and adults alike, in Baton Rouge and beyond. It's that time of year, we're all scratching a summer itch for some SEC football and if there is one thing Baton Rougeans love, it's all things LSU. There's a new book series, That's Not Our Mascot, that allows parents to share the joy of reading and their love for SEC football with their children. Take your little one on a fun adventure through LSU campus as you head out to find LSU's beloved Mike the Tiger….

Mike the Tiger is missing! Can you and your child find him before the big game? Take a trip around the LSU campus looking for Mike. Along the way, you might even run into some other mascots from around the conference who are just as lost as Mike. Mike the Tiger is Our Mascot takes you through LSU's campus where you will see major landmarks such as Mike's Tiger Habitat, the Parade Grounds, Alex Box, Memorial Tower and, of course, Tiger Stadium. You'll also learn about some of LSU's special traditions such as the Golden Girls, sliding down the Indian Mounds, and singing "Hey Fighting Tigers."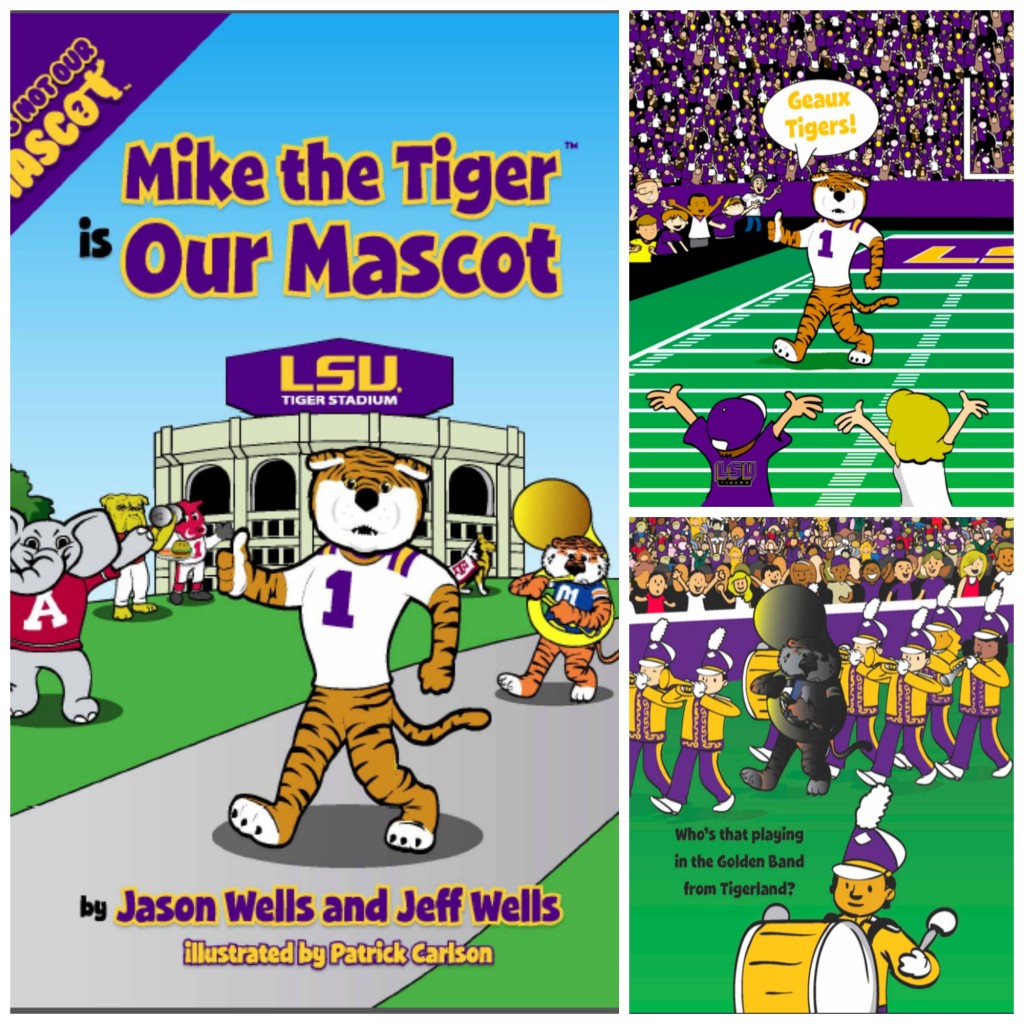 The authors of the book, Jason Wells and Jeff Wells, are identical twins born in Huntsville, Alabama. Jason and Jeff prove just how divided families can be over SEC rivalries. Jason attended the University of Alabama, while Jeff went to Auburn University. They both enjoy returning to their respective alma maters every chance they get to watch their teams play. While Jason says "Roll Tide" and Jeff says "War Eagle", they both have a passion for SEC sports. Their passion eventually led them to create a children's book series entitled, That's Not Our Mascot. This series enables them to share their SEC passion and introduce children to the landmarks, traditions, and mascots of all the schools of the SEC.
The That's Not Our Mascot series includes 14 individual books for each of the SEC schools and mascots. Each book is unique to the individual school and its mascot, but also includes all the mascots from the other 13 SEC schools. As graduates of SEC schools themselves and parents of young children, they have combined the adults' school spirit and pride in the SEC with their kids' love for their mascots in a unique way. Their series is officially licensed by the SEC and each individual school and is published through Mascot Books, a publisher of collegiate licensed books. Check out Mike the Tiger is Our Mascot and the other 13 titles in the That's Not Our Mascot series at www.thatsnotourmascot.com!
You can also find That's Not Our Mascot on Facebook and Twitter!
Buy It!
We have a special coupon code for Baton Rouge Moms readers – type TNOM for 15% off.
You can purchase your own That's Not Our Mascot book on the website www.thatsnotourmascot.com. We know it's summertime and your not ready to hear about the holidays, but keep this in mind as a Christmas gift for your little LSU fans.
Win it!
Enter to win Mike the Tiger is Our Mascot or one of the other 14 books in the series…
Please use the Rafflecopter widget below to enter this giveaway. The only required entry is that you "Like" That's Not Our Mascot on Facebook via the widget. To increase your odds, complete the extra entry options on the Rafflecopter.
a Rafflecopter giveaway
Disclosure: This is a "sponsored post." The company who sponsored it compensated BRM via a cash payment, gift, or giveaway. Opinions expressed herein are that of the author and are not indicative of the opinions or positions of the sponsor.