Today, 22% of children in America live in poverty. This means one out of five children likely does not have the resources they need to thrive. Millions of children do not have the basic resources most of us take for granted like oral care items, personal care products, school supplies, warm clothes, books and more. Of the 12 parishes in and around Baton Rouge, the number of school children living in poverty ranges from 43 percent to an astounding 93 percent of the population.
Another fast fact…
This year, Baton Rouge ranked 3rd worst city when it comes to allergies and pollen count. Did you know that antihistamines that are given to battle allergies often cause "Dry Mouth," a lack of saliva in the mouth. Saliva prevents infection by controlling bacteria and fungi in the mouth. When we don't produce enough saliva, our mouth gets dry and increases a person's risk of gingivitis and tooth decay. More reason children need to take care of teeth if they suffer from allergies and take antihistamines.
Every year students in the United States miss more than 51 million hours of school due to dental-related illness? In fact, tooth decay is the most common chronic childhood disease, and if left untreated, it can affect children's ability to eat, speak, learn, and play.
Healthy teeth and gums are important to a child's overall health. Dental disease is the most common disease of childhood, it's also very preventable! In essence, the mouth is a window into the health of the body. As parents, it's our responsibility to not only make sure our children are healthy from head to toe, but to be the best example we can be for our children. They will do what they see us do. But what about the children in our community that can't afford the basic necessities to stay healthy, as mentioned above?
Colgate donated $100,000 of oral care products to help children in need, and we can all help too!
SIMPLE Giving is a Champions for Kids program that makes it simple for us to help kids in OUR community. To help children stay healthy and avoid missed school days, Champions for Kids teamed up with Colgate for a SIMPLE Giving program to spread the importance of healthy oral care habits.
This SIMPLE Giving program collected donations of toothbrushes, toothpaste and hand soap at our local Walmart, and this week, school district representatives are picking up the donations to benefit the local community.
All of the donations go to children the school district where the participating Walmart store is located. The SIMPLE Giving program from Champions for Kids offers us a tangible way to give back to our community.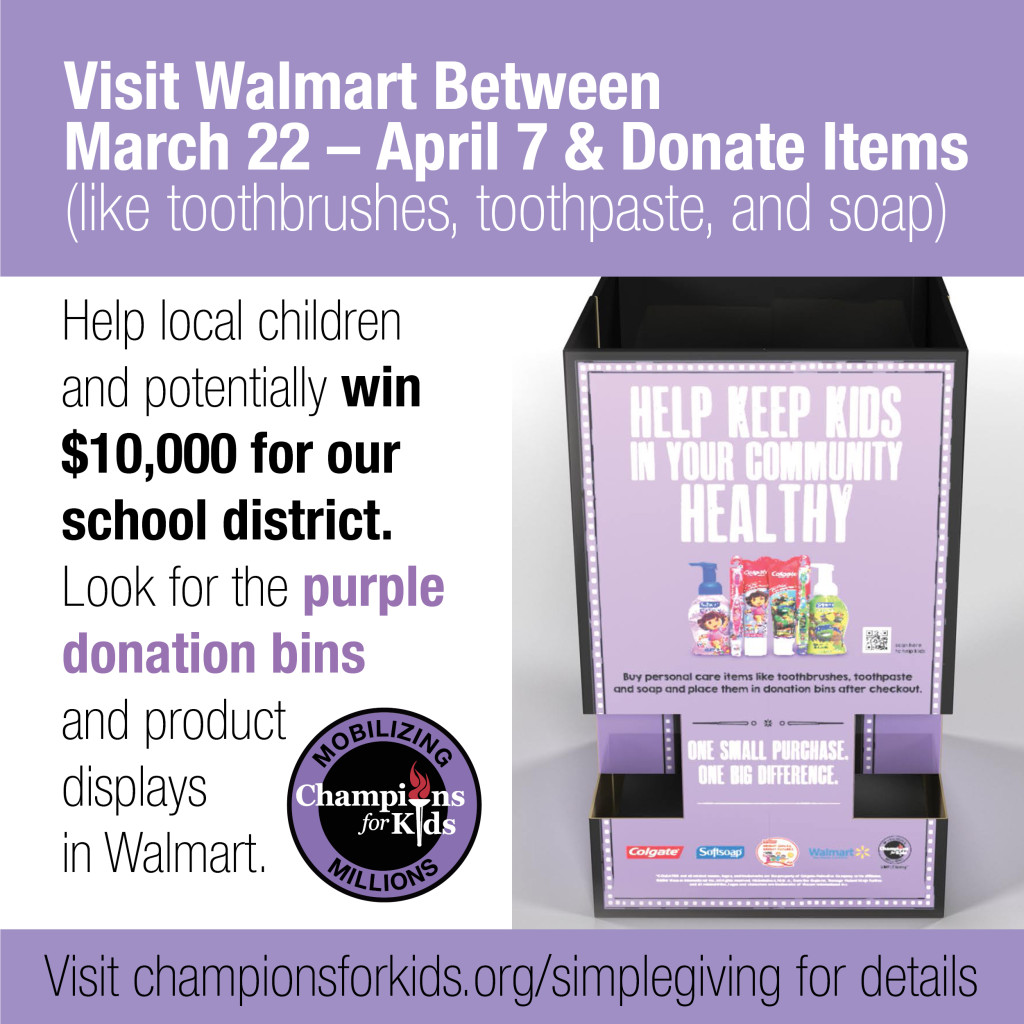 Here are a few ways to help the children in our great state!
What are some other ways that we can give back to the children in our community?
"BRM participated in this program on behalf of Champions for Kids and The Motherhood. All opinions are our own."