We had the pleasure of attending the soft opening of the newest Chicken Salad Chick opening in Denham Springs! It was everything we hoped it would be and more! Thanks to everyone who joined to try the menu, visit the restaurant and experience the amazing service firsthand!! Chicken Salad Chick is THE place for chicken salad lovers to rejoice! They've taken this Southern favorite to a whole new level with over 12 flavors of chicken salad served from in a number of waves from salads, crackers, and croissants to sandwiches!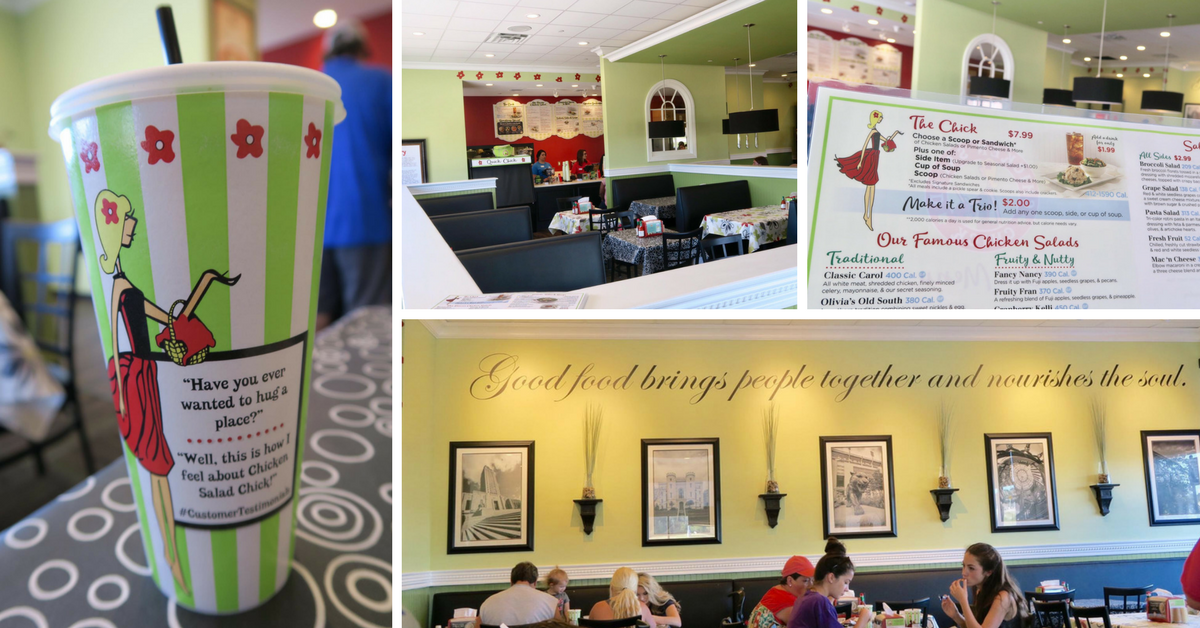 The Chicken Salad Chick concept, born in Auburn, Ala., was established in 2008 in the kitchen of founder, Stacy Brown. When Stacy discovered that the local county health department would not allow her to continue making and selling her delicious recipes out of her home kitchen, she overcame that obstacle by launching her first restaurant with the business expertise of her future husband and fellow founder, Kevin Brown. Together, they opened a small takeout restaurant, which quickly grew; the company now has more than 65 restaurants across the Southeast.
Here's a sneak peak of our Instagram Live coverage of the soft opening. Be sure to attend the grand opening tomorrow and enjoy a week of giveaways!!
Chicken Salad Chick Denham Springs Grand Opening Festivities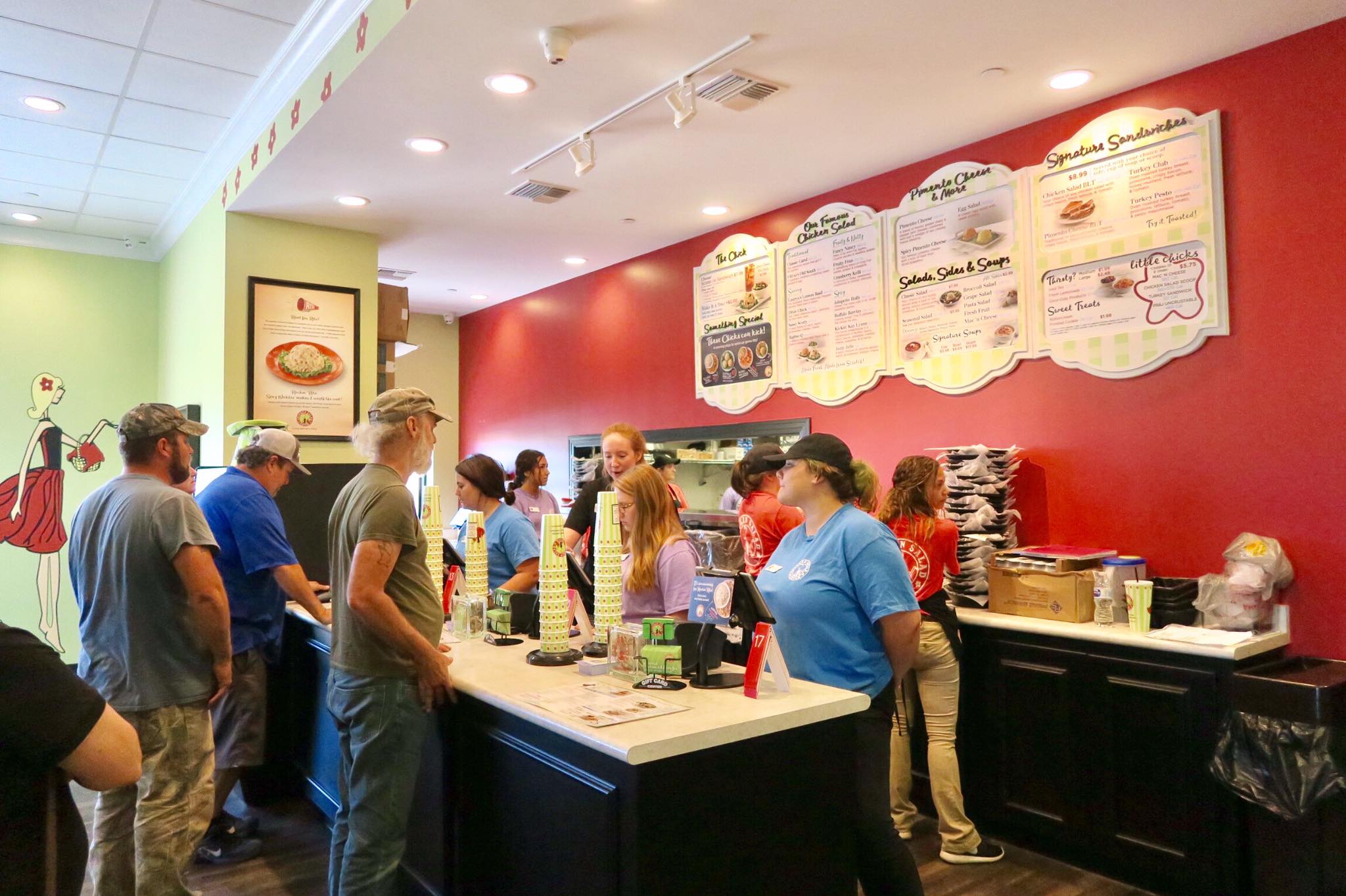 GRAND OPENING – 10/4: The First 100 Guests receive FREE CHICKEN SALAD CHICK FOR A YEAR! The first guest receives a Large Quick Chick of chicken salad per week, the next 99 receive a Large Quick Chick of chicken salad per month!
During grand opening week, guests will enjoy southern hospitality through giveaways and specials at the new restaurant.
*Must make a Chick purchase to receive reward
*Must be 16 years of age
*Must Download Craving Credits App
*Redemption will start 10/9
THURSDAY – 10/5: Thirsty Thursday! Our First 100 Guests to purchase a Chick Special receive a Free Large Drink and a Chick Koozie!
FRIDAY – 10/6: Our First 50 Guests to purchase two Large Quick Chicks receive a Free Large Chick Cooler!
SATURDAY – 10/7: Our First 100 Guests to purchase a Chick Special receive a Free Scoop Card for their next Chick visit!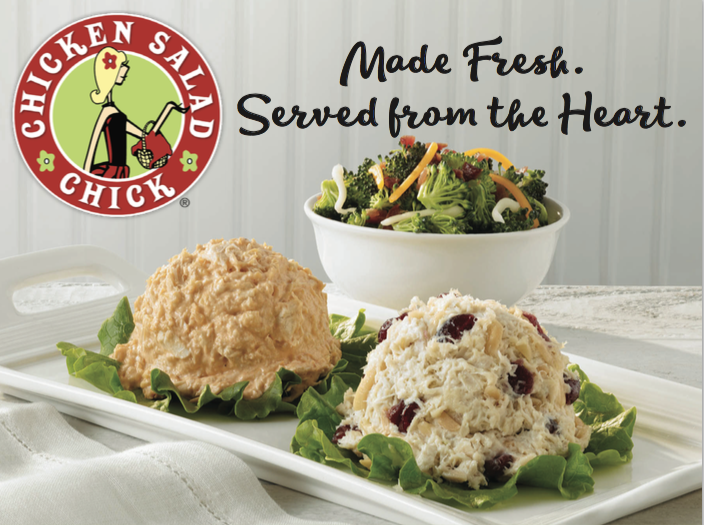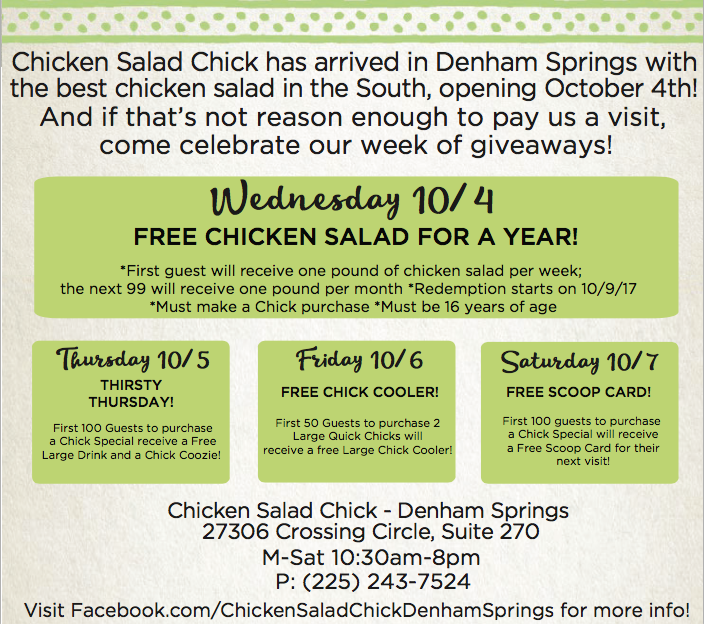 About Chicken Salad Chick
Chicken Salad Chick puts an edgy twist on a Southern classic, offering guests a "custom fit" chicken salad experience, with over a dozen original flavors to choose from, as well as gourmet soups, flavorful side salads and freshly-baked desserts. Chicken Salad Chick serves southern style chicken salad with heart and strives to spread joy, enrich lives and serve others every day. Today, the brand has more than 65 locations across the Southeast and has currently sold 146 franchises to be developed across the states of Alabama, Florida, Georgia, North and South Carolina, Tennessee, Louisiana and Texas. Visit www.chickensaladchick.com to learn more!