"Ask the Experts" is a series on Baton Rouge Family Fun where local experts share their thoughts, opinions and answer questions relating to health, wellness, parenting and living in Baton Rouge. This week on Ask the Experts, Smith Shanklin Sosa, fellow Baton Rouge parents, are sharing a few Summer Travel Safety Tips.

Summer and road trips go together like peas and carrots.  Traveling during these high traffic times can be dangerous and it is important to be extra cautious when sharing the road with large trucks and buses.  Even though truck drivers are well aware of the dangers their vehicles present to other passenger vehicles, I can guarantee that this mama is not going to trust my family's safety to another driver.  As a personal injury attorney, I have seen beautiful vacations turn tragic on highways and interstates.  Follow my top 3 Summer Travel Safety Tips and put your family and yourself in a better position to avoid tragic accidents.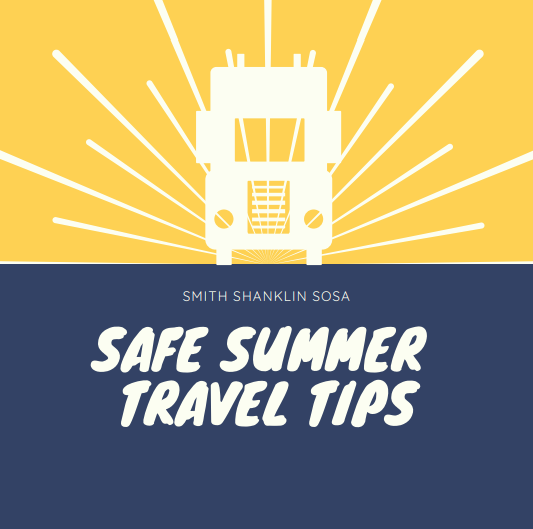 Summer Travel Safety Tips
Be Aware of the "No Go Zones"
Large trucks and buses have huge blind spots as shown in the below photo.  It is best to spend as little time as possible in these "No Go Zones".  If you have a feeling that the driver of a large truck or bus does not see you, make some noise and honk that horn.  I know that horns can make you feel like your yelling at the other drivers on the road, but I personally have avoided my fair share of accidents by letting my horn rip.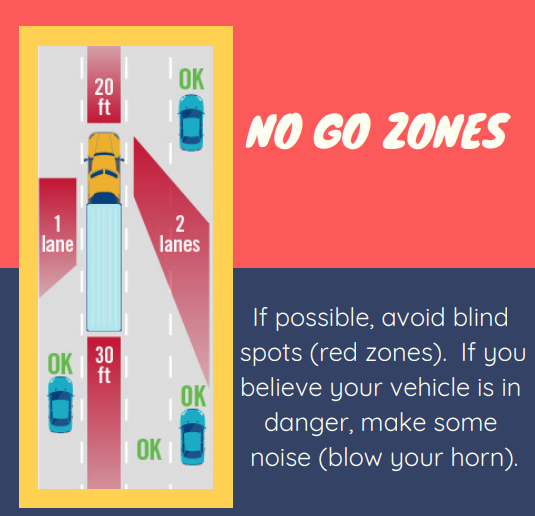 Safe Passing
Make sure you can see the driver in the vehicle mirror. If you do not see the driver, it is best to assume he/she cannot see you.  When passing a truck or bus, make sure the truck or bus is visible in your rearview mirror before you pull in front giving extra space.  If possible, it is a good idea to avoid passing trucks and buses when you are traveling downhill.  These big trucks and buses take longer to stop and you do not want to be on the receiving end of their failure to slow down.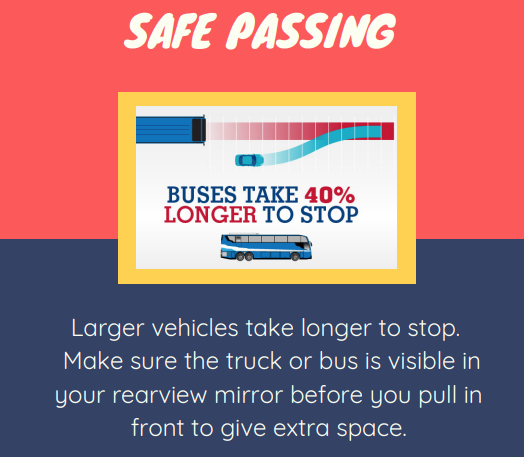 Avoid Wide Turns
Buses and trucks make wide turns.  Be aware that these trucks usually have around a 55-foot turning radius.  A lot of times truck/bus drivers will swing wide to accommodate this turning radius and you want to avoid them swinging into your vehicle.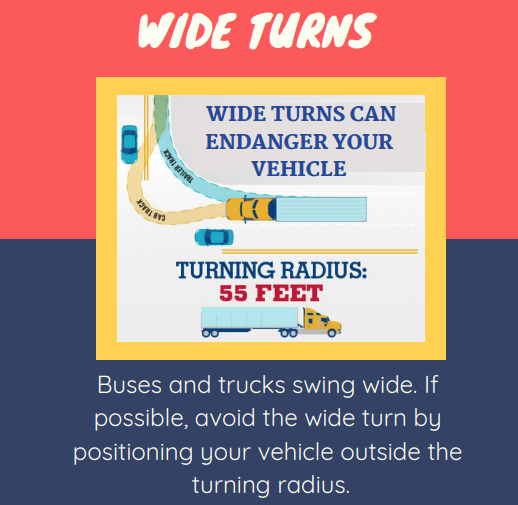 Disclaimer: The purpose of this site is to share BRM's experiences with food,  fitness, health, and life as well as opinions from some of our local experts. This content is for informational purposes only and isn't a substitute for professional medical advice.  When it comes to your health or the health of your child, please be sure to contact your physician.