Pelican State Credit Union is excited to host the Pelican Pays Fest on Saturday, March 26, from 10 a.m.- 3 p.m. at their new branch location on 2675 O'Neal Lane. This family-fun festival is completely FREE and open to the public. The festival will commemorate the opening of Pelican's second location in Baton Rouge by kicking off the spring season with the community.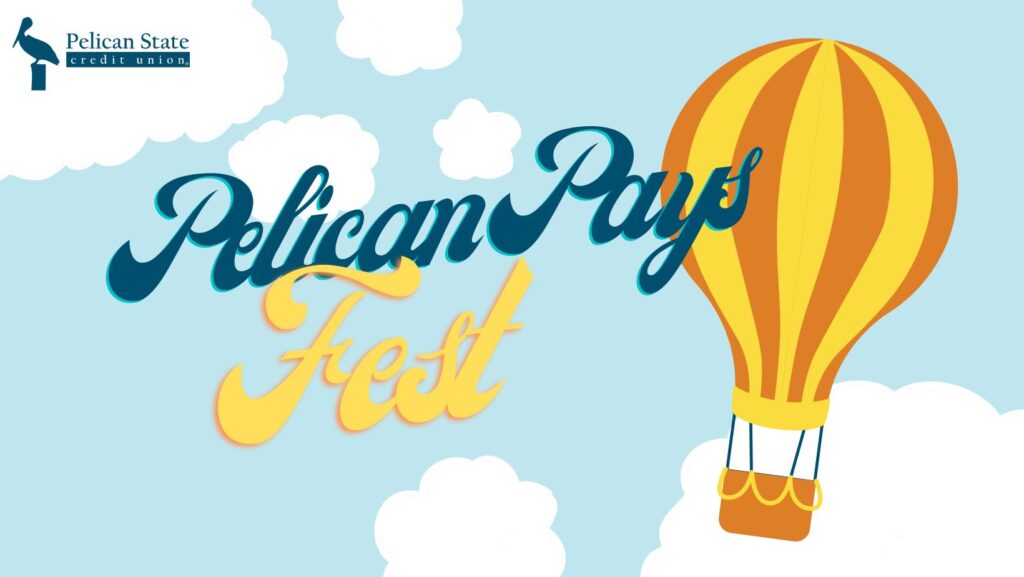 Pelican Pays Fest – Baton Rouge Spring Family Festival
Bring the whole family to enjoy an assortment of fun activities, including hot air balloon rides, a Ferris wheel, a petting zoo, carnival food, a pet adoption, face painting, and balloon twisting.
The Pelican Pays Fest will also feature live performances from local bands and school groups. Families will get to meet Petey the Pelican and the Easter Bunny, who will each make a special appearance.
It pays to be a member of Pelican! All current and new Pelican State Credit Union members will have a chance to grab cash from our money machine at the branch from 10 am -1 pm.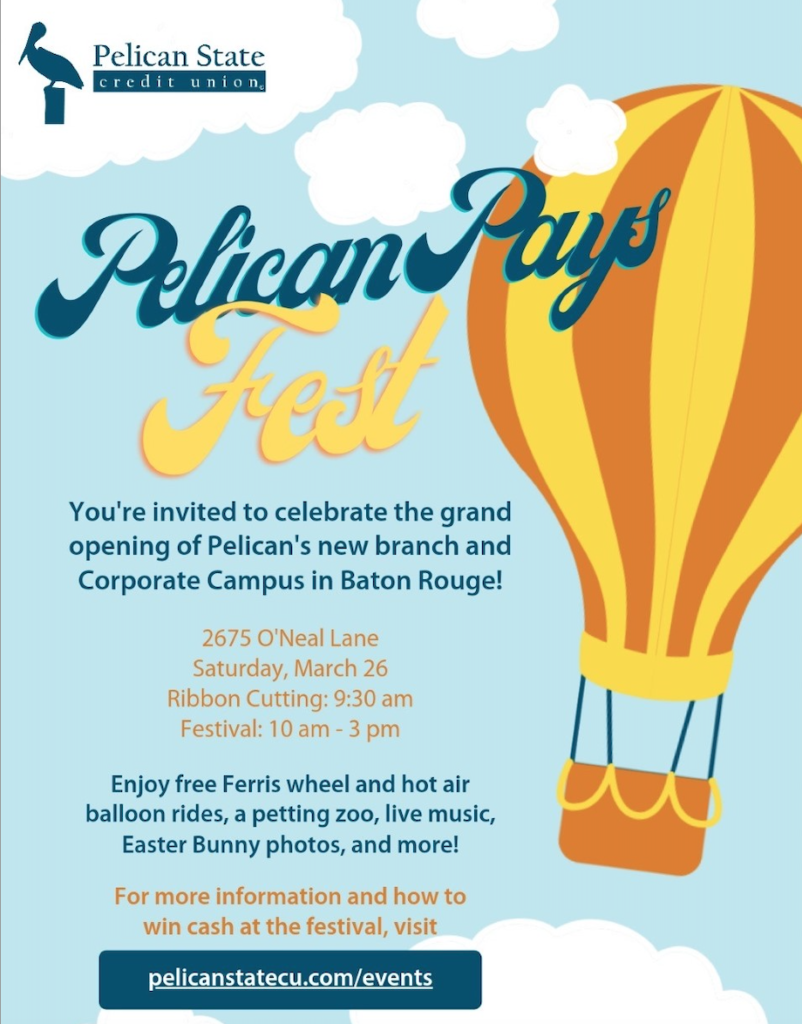 "We moved into this new location during 2020, but we have not been able to celebrate due to the pandemic. We are so thankful for our members and staff who make our growth possible each day, and we want to take this time to give back and show appreciation for them and the community," shared Pelican CEO Jeffrey K. Conrad.
The branch will have staff available to assist any attendees with opening accounts for kids and adults until 1 p.m.
In addition to the festival, Pelican celebrates the community throughout the year by hosting surprise Pelican Pays events, where they "pay it forward" by covering community members' purchases at locally-owned restaurants throughout the state.
For over 60 years, Pelican has been dedicated to helping Louisiana residents find financial freedom and has since grown into the largest state-chartered credit union in Louisiana, now serving over 65,000 members nationwide.
WHERE:
2675 O'Neal Lane Baton Rouge, LA 70816
WHEN:
Branch Ribbon Cutting Ceremony: 9:30 am
Outdoor Festival: 10 am – 3 pm
ADMISSION:
FREE
Don't miss out on this fun and free event! Learn more here: www.pelicanstatecu.com/events