Top Box Foods Louisiana (TBFLA) is a nonprofit organization committed to making fresh, healthy food affordable and accessible for all. Every time you shop with Tob Box Foods, you directly contribute to building a more equitable and localized food system. TBFLA provides year-round access to fresh, affordable produce, frozen meats, seafood, and poultry.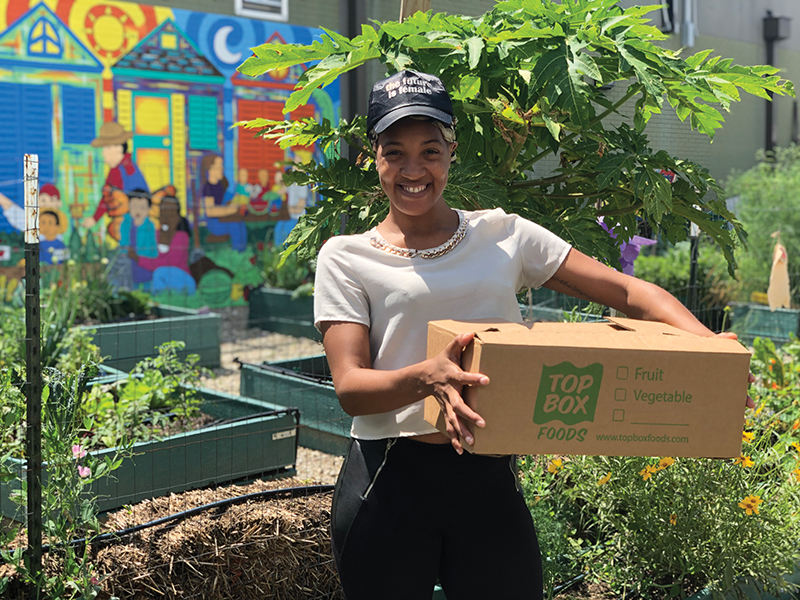 About Top Box:
Top Box is a community-driven nonprofit that creates access to healthy and affordable food. We offer fresh produce and other healthy groceries, support community partners in hunger and nutrition initiatives, and promote the development of a more sustainable food system. Anyone in Baton Rouge can get Top Box grocery boxes delivered FREE right to their door!
How it works:
Placing an order is easy! Visit www.topboxfoods.com or call (504) 304 – 2319 to shop our fresh, affordable produce, frozen meats, seafood, poultry, and local items. Place your order by 11 PM Sunday to get your boxes Monday, and by 11 PM Wednesday to get your boxes Thursday. All items can be paid for with EBT or credit/debit, and we even have a 50% off discount every time you use an EBT card! Discounts will be applied when payment is taken at your door. On delivery day, we will text you with live updates and a tracking code, so you never miss a delivery.
Top Box history:
In 2012, Chris and Sheila Kennedy established Top Box Foods' flagship location in Chicago.
Top Box Foods Louisiana (TBFLA) launched in New Orleans in 2013 with one mission: to make healthy food accessible and affordable for all. Since 2018, TBFLA has increased access to fresh and affordable foods in Baton Rouge in collaboration with the Geaux Get Healthy initiative, a project of Mayor Sharon Broome's citywide health and wellness program, Healthy BR.
Ready to place an order? Visit our website to start shopping!