Our Baton Rouge Family Fun weekend guide is a round-up of all the best events happening this weekend and things to do near you. No shortage of things to do in Baton Rouge with your family!
Events are subject to change, be sure to check events are as scheduled before heading out. 
Never miss our Weekly Top 5 Family Friendly Events – subscribe to get our Top Picks in your inbox each Thursday!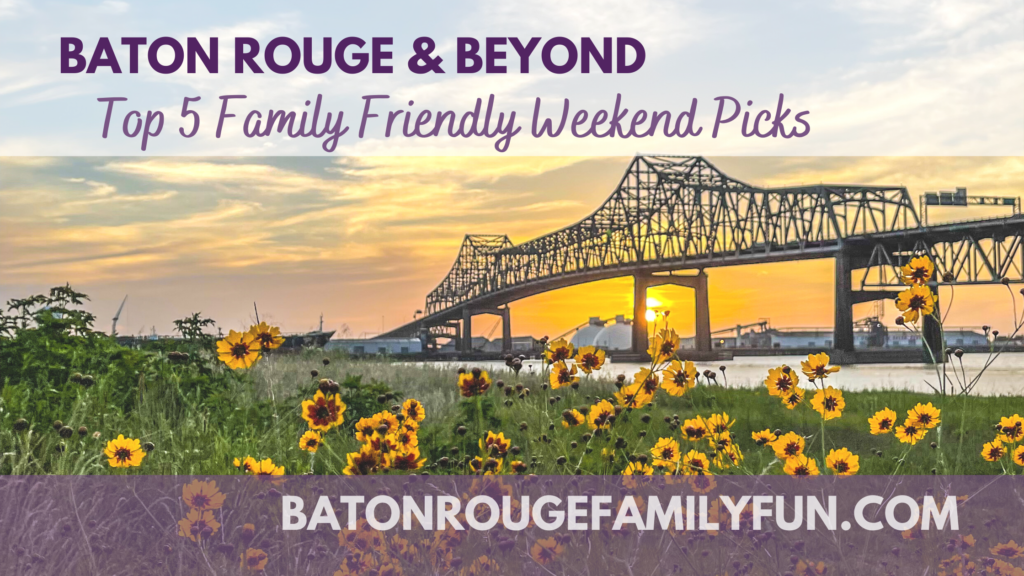 Things to do this weekend in Baton Rouge
Our Top 5 Picks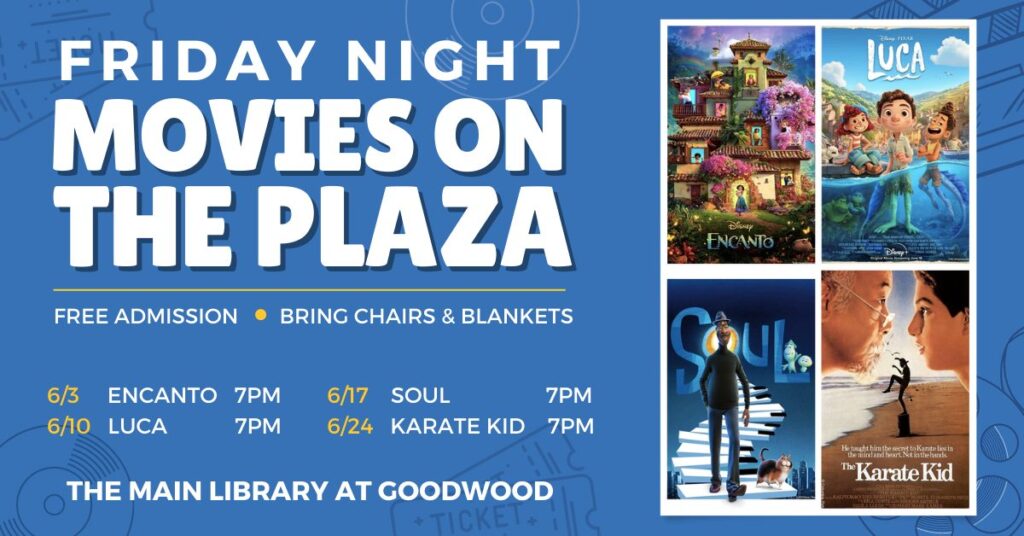 Friday, June 24th, 7:00 PM
Main Library at Goodwood
7711 Goodwood Blvd Baton Rouge, LA 70806

Enjoy the last Movie on the Plaza of the summate with The Karate Kid!  The Main Library at Goodwood will play the movie on the Outdoor Plaza for the whole family to enjoy! Bring your picnic blankets or lawn chairs! This event is FREE!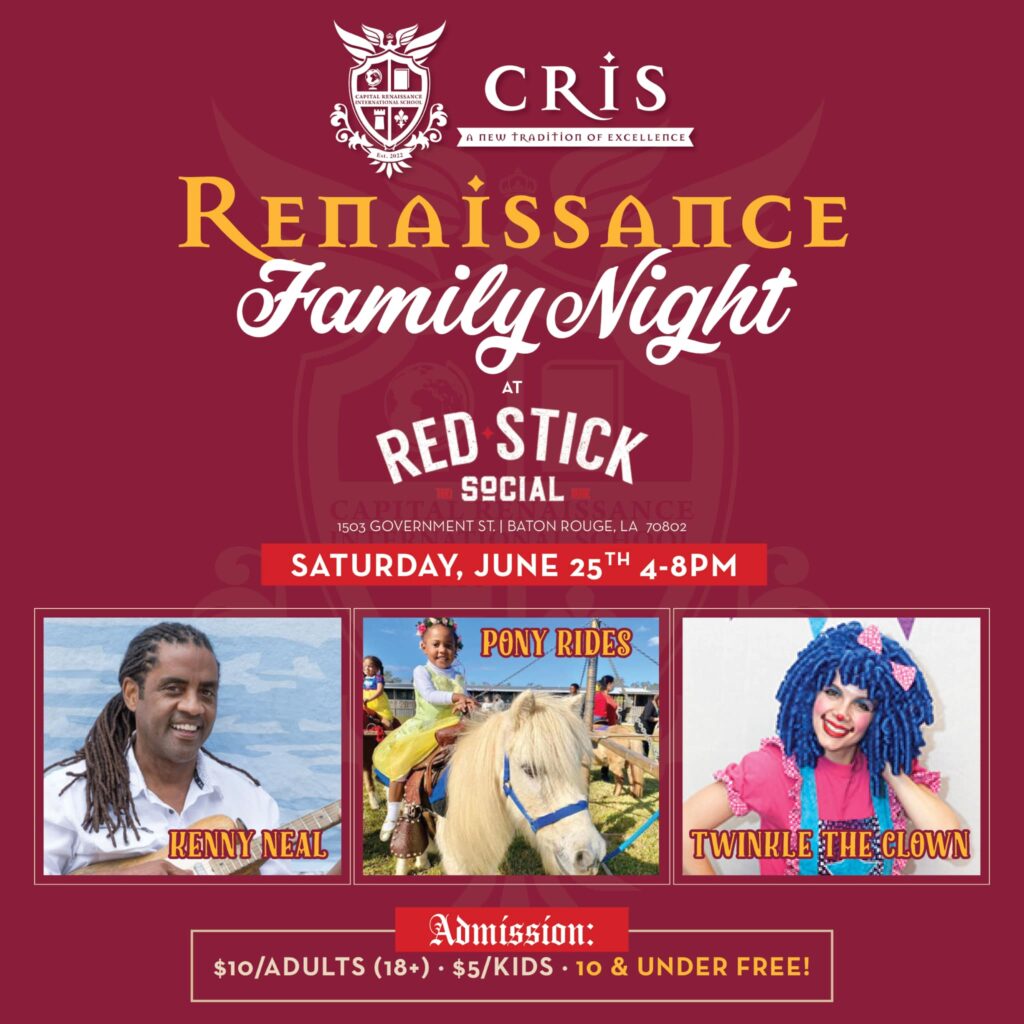 Saturday, June 25th, 4:00 PM – 8:00 PM
1503 Government St, Baton Rouge
The inaugural Capital Renaissance International School Renaissance Family Night benefits the NEW language immersion education program in Baton Rouge. This exciting event features live entertainment by legendary blues artist Kenny Neal and various fun activities for the kids, including miniature pony rides, face painting, balloon art, jump house, food & drink, and MORE! $10/ADULTS (18+) • $5/KIDS – 10 & UNDER FREE!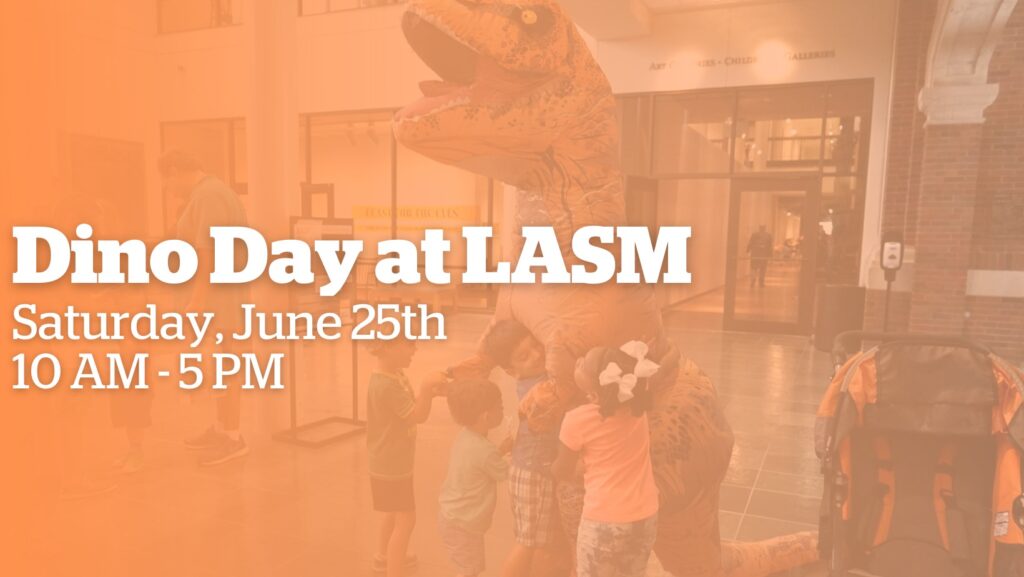 Saturday, June 25th, 10:00 AM – 5:00 PM
Louisiana Art & Science Museum
100 River Road South Baton Rouge, LA 70801

Get ready for a colossal good time: Dino Day returns this year on June 25th!
Gather your favorite humans for a roaring good time! We will have hands-on activities from 10 AM – 2 PM, LPB's Dinosaur Train playing in the Adalie Brent Auditorium, and dinosaur-themed shows in the Irene W. Pennington Planetarium all day! Also, be sure to meet Jason, the authentic Triceratops skull generously on loan from Raising Cane's & The Graves Family.
All activities & shows are included in general admission; members are free!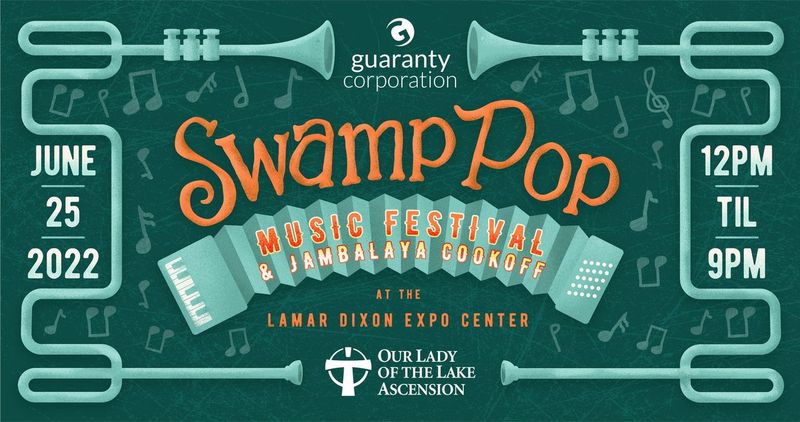 Saturday, June 25th, 12:00 PM – 9:00 PM
Lamar-Dixon Expo Center

100.7 The Tiger & Our Lady of the Lake Ascension presents the Swamp Pop Music Festival and Jambalaya Cook-off Saturday June 25th from 2-9 pm at Lamar Dixon in the REV Building (Formerly Eatel Building). Doors open at 12pm. Don't miss some of the best Swamp Pop bands in Louisiana: Tet Dur, Mike Broussard & The Night Train, and Jamie Bergeron & The Kickin' Cajuns hosted by Roland Doucet & The Tiger Team.
Cutting a rug works up an appetite, so make sure you grab a delicious bowl of jambalaya from the Jambalaya Cook-off sponsored by Mike Ward's Liberty Safes in partnership with the Jambalaya Festival Association. All proceeds from the cook-off will benefit the Alzheimer's Services of the Capital Area, just $5 a plate!
*Kids 12 and under get in free
*Tickets are $25 in advance & $30 at the door
Doors open at 12noon
Line Up:
2:00 PM-4:00 PM – Donald Babin Tet Dur
4:00 PM-6:00 PM – Mike Broussard & Night Train
6:00 PM-8:00 PM – Jamie Bergeron & The Kickin' Cajuns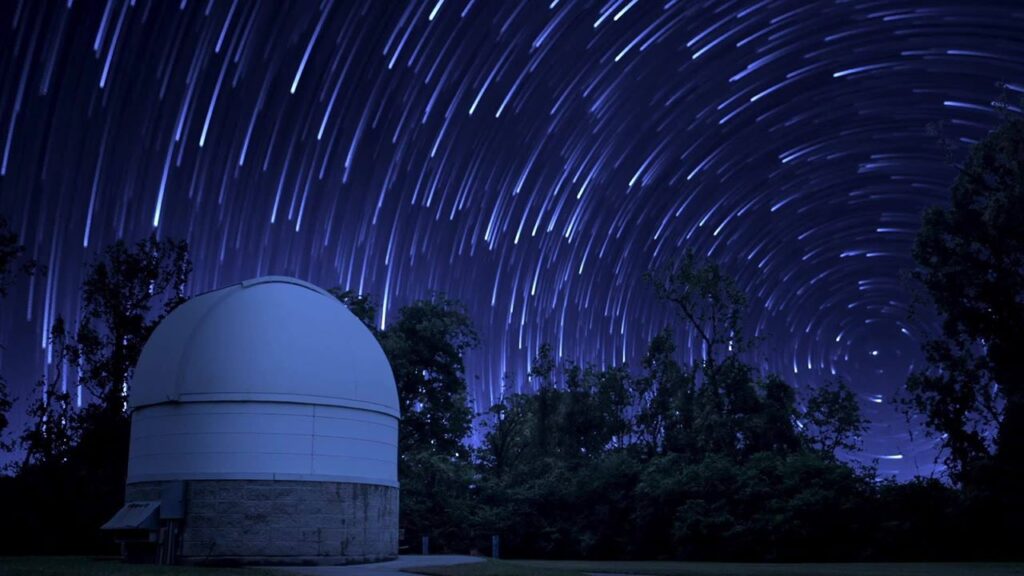 Saturday, June 25th, 2:00 PM – 10:00 PM
Highland Road Park Observatory
13800 Highland Rd Baton Rouge, LA 70810

FREE / All Ages: The Baton Rouge Amateur Radio Club will take part in an exciting nationwide emergency exercise. Temporary stations will be set up at HRPO as BRARC joins similar clubs across the continent in an exciting emergency exercise. Some clubs use strictly battery power and solar power. Some clubs use low power outputs (five watts or less) to make contact with other stations all over North America.
Field Day is a twenty-four-hour endurance session of skill and suspenseful fun for parents and kids alike. How many North American sections can the club members contact before time runs out? HRPO patrons will only be allowed on the property from 2:00 pm to 10:00 pm on Saturday, 25 June. 
The entire eight hours there will be…
a display of modern and vintage amateur radio equipment
an area to practice Morse code
a GOTA station allowing non-licensed visitors to contact another state
From 3:30 pm to 5:30 pm solar viewing will take place.
From 6:00 pm to 8:00 pm, the Train Like an Astronaut course will be open.
Sometime during the event, the operators may attempt to contact the International Space Station.
Tag us in your family fun on social @batonrougefamilyfun on IG.
Visit our Summer Guide for more Summer Family Fun!