BREC's Baton Rouge Zoo is excited to be able to offer their Zooper Birthday Parties again! The Zoo has made the appropriate modifications to be in compliance with Louisiana's Open Safely Guidelines. Meanwhile, the Zoo has made certain to keep the fun & excitement of a party at the Zoo intact while keeping guests, employees, and animals as safe as possible.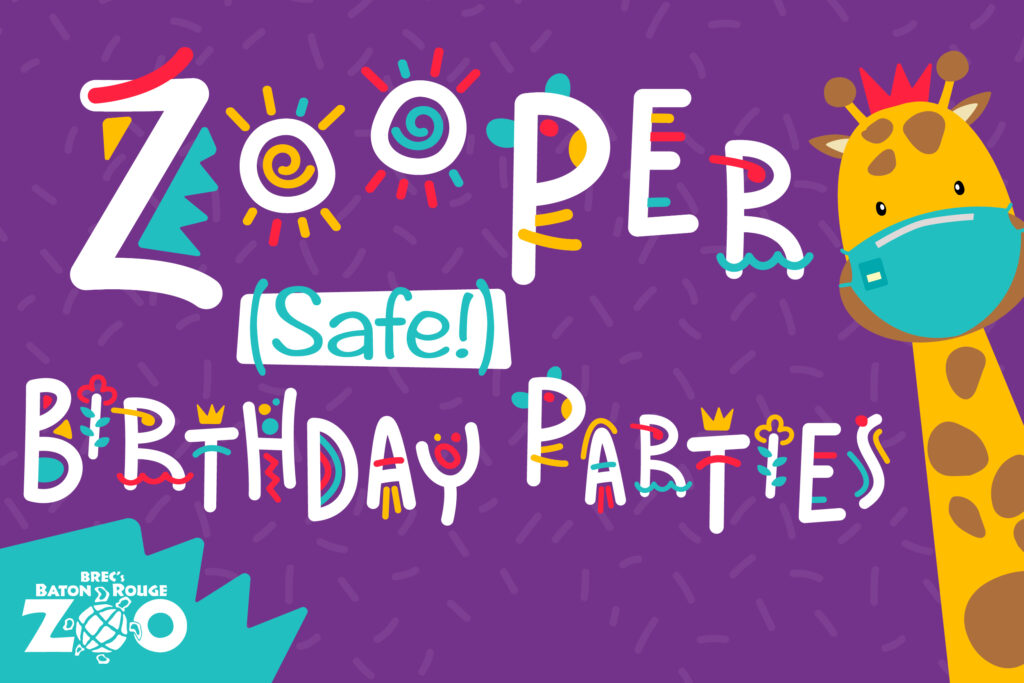 Zooper Birthday Parties
Zooper Safe Party Package includes:
All-day Zoo access
Private Party hosted under the Capital One Outdoor Pavilion for 1.5 hours with private restrooms & ceiling fans •
Party Host (Gloved & Masked)
Animal themed decorations & tableware •
Birthday cupcakes, ice cream cups, and punch •
Individually wrapped crafts for children to make and take home
The host will bring 3 ambassador animals that could include: Armadillo, Owl, Tarantula, Tenrec, Snakes, Hedgehog, Lizards, Guinea Pig and more.
To book your Zooper Safe Birthday Party, click here: brzoo.org/visit/birthdays
BREC's Baton Rouge Zoo is a place where people connect with animals, including tigers, giraffes, rhinos and alligators. The world-class Realm of the Tiger, Flamingo Cove, Giants of the Islands, Safari Playground, L'aquarium de Louisiane, and KidsZoo exhibits offer fun and education for all ages.
Zooper Birthday Parties FAQ:
Q: What precautions are being taken to secure my family's health and safety during the pandemic?
A: All party staff will wear gloves and masks for the duration of your party. The Pavilion will be regularly cleaned before and after each party. All tables and chairs will be socially distanced. All food will be served to guests to limit any crowding at service tables.
Q: Will my guests have to wear a mask during my party?
A: Per the Open Safely Louisiana Guidelines, masks are required of guests and staff during special event rentals under the Pavilion, unless they are eating or drinking. Children ages 8 and under are not required to wear a mask, per these same guidelines. While out exploring the Zoo, face coverings are not required, unless entering interior buildings, such as the Gift Shop and Restrooms.
Q: How do I schedule a party?
A: To schedule a party, visit our website at www.brzoo.org and complete the registration form under the birthday party tab or call the Zoo Guest Services Department at 225-775-3877 option 3.
Q: How early should I schedule a birthday party?
A: Zooper birthday parties are very popular. It is advisable to schedule your party as early as possible to reserve your preferred date and time. You should schedule at least two-four weeks prior to your party.
Q: When do I pay for my party?
A: A $60.00 deposit is due at the time you book your party. The balance is due the day of your party. The party host will calculate your balance due at the end of your party.
Q: Where do my guests go when they arrive at the Zoo?
A: Your guests should check in at the main admissions gate located at 3601 Thomas Road. They will be given wristbands and directions to the Party Pavilion. Your guests may enter the Pavilion area 5 minutes prior to your party start time.
Q: Is the birthday child and his/her family included in the count?
A: Yes, there is a party fee for each person attending the party.
Q: Can we stay longer than 1 ½ hours at the zoo?
A: Yes, you and your guests have all day access to the zoo; however, once you exit the Pavilion area, this would be a self-guided tour.
Q: What happens if it is raining?
A: The Zooper birthday parties are held rain or shine. Please dress accordingly for the weather. The Party Pavilion is an outdoor, covered structure with ceiling fans for guests' comfort, and private restrooms.
Q: Can I bring a cake and/or food?
A: You may bring your own cake, but you cannot bring additional food into the Zoo. If you wish for your child to blow out birthday candles, an individual cupcake will be provided by the Zoo to do so for the health and safety of the remaining guests that wish to have cake. Cake will be cut and served by masked and gloved Zoo staff.
Q: Can I bring party favors?
A: You may bring party favors. Balloons and whistles are prohibited for the safety of our animals.
Q: Do I have to pay for my guests that are members of Friends of the Baton Rouge Zoo?
A: There is a party fee for everyone attending the party. The party fees are not a benefit of Friends of the Baton Rouge Zoo.
Q: Can I bring a piñata?
A: We do not allow piñatas which must be broken with a stick. Should you want to bring a pull string piñata, you must let your Guest Services representative know the week prior to your party.