We took our first beach trip to Destin with our 9 ½ month old, Charlee Mae, this past weekend taking advantage of the vast range of offerings we could find in travel options. We stayed for 4 nights in a condo with my family, including another 10 1/2 month old.  Overall it was a great trip and both of the kiddos ended up enjoying the beach, which I am extremely thankful for because I had nightmares of Charlee not caring for the beach and us having to stay in the condo for 5 days.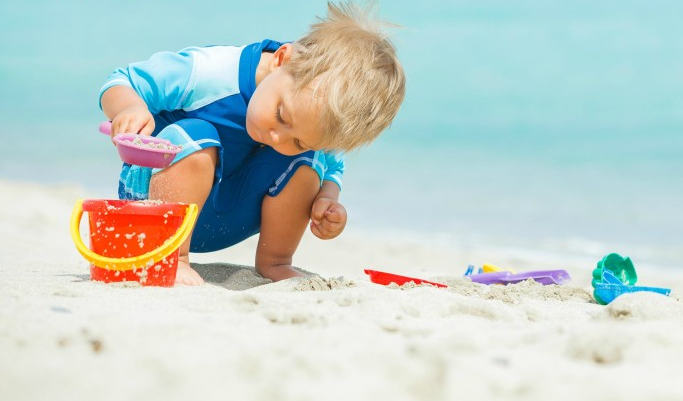 Tips for a Successful Trip to the Beach
Here is the list of things that worked and didn't work for us:
We brought an old, cheap one that I found in my in-laws garage. It did the trick and would probably use it even if Charlee was walking. It helped with trips back and forth to the room and it was rated highly at Baby Stroller Center.
Swim Diapers / Baby Wipes / Regular Diapers / Clothes
I used the Huggies Little Swimmers and didn't have any issues with them. They were just the first ones that I saw on the shelf. I brought a pack of the normal baby wipes, as well as regular diapers. I packed the diapers and an extra set of clothes and a light blanket for nap time. I packed a hooded towel and a hooded cover-up in case of a change in weather.
Charlee will only keep her LSU baseball cap and the batting cage turf on the longest and didn't want to keep a sun hat on so I made sure to get one with a strap and I put the straps behind her ears and she didn't mess with it. Same thing goes with the sunglasses, she wouldn't keep them on and I didn't have a strap.  That's a must have for next time.  As far as sunscreen went, we tried Aveeno Baby Continuous Protection, SPF 55; it's printed on the bottle: mild as water, fragrance free with soothing oatmeal and Pediatrician recommended, which are some of the reasons why I chose this brand, but it didn't work for us. I know there is a lot going on with babies and sunscreen right now and I should have done my own research but I asked my pediatrician about it before we left and she only said not to use the spray kind. But I found that after I put it on Charlee, her eyes started watering and it only got worse throughout the day, which eventually led to a trip to Urgent Care (she wouldn't open her eyes and was crying and we thought she had sand/sunscreen in her eyes so we rushed to the after care clinic) Thankfully she was fine and it didn't effect her the rest of the trip.  The next day we used Banana Boat Baby. We used the lotion on her face and head and the spray on her body with no issues. We are going back to the beach in September and I will do more research, I also want to contact Watersports Rentals to rent a Jet-Ski for next time.
Battery Operated Fan / Air Pump
We didn't need a fan  because there was a good breeze every day and it was never too hot. We used the air pump to blow up the kiddie pools/floats/toys after we got down to the beach. It is easier to carry floats not inflated.
A kiddie pool is a must have for babies because it kept them cool and entertained and contained. We sat the pool on the sand in the shade, so they were out of the sun pretty much all day. Our kiddos weren't able to get out on their own so they played in the pool most of the time.  We had the guys bring up water from the gulf in buckets to fill the pool up. It took a couple of trips but it was worth it.  I brought some beach toys and some water toys from home. The biggest hit was foam bathtub letters and koozies – who would have thought?! We used the Swimways Baby Spring Float Activity Center with canopy in the pool and it was perfect.
This is a miracle worker! You simply cover the sandy area and let it sit a minute and then you can literally brush the sand off without any scratching or pain. You will be covered in white baby powder but it will wash off with a splash of water. I used this with Charlee for diaper changes and it worked great. She never had any chaffing or issues with sand.
We were very fortunate to have great, cool beach weather and babies that loved being at the beach and in the water. I am looking forward to going back later this summer.
We'd love to know, what beach tips, tricks and or products worked or didn't work for you?