If you're heading to the shore with the family this summer, you will want to read on for some mom-approved tips, hacks, and products that will make Beaching with Baby a breeze! You won't want to head to the beach without these beach essentials for toddlers and babies!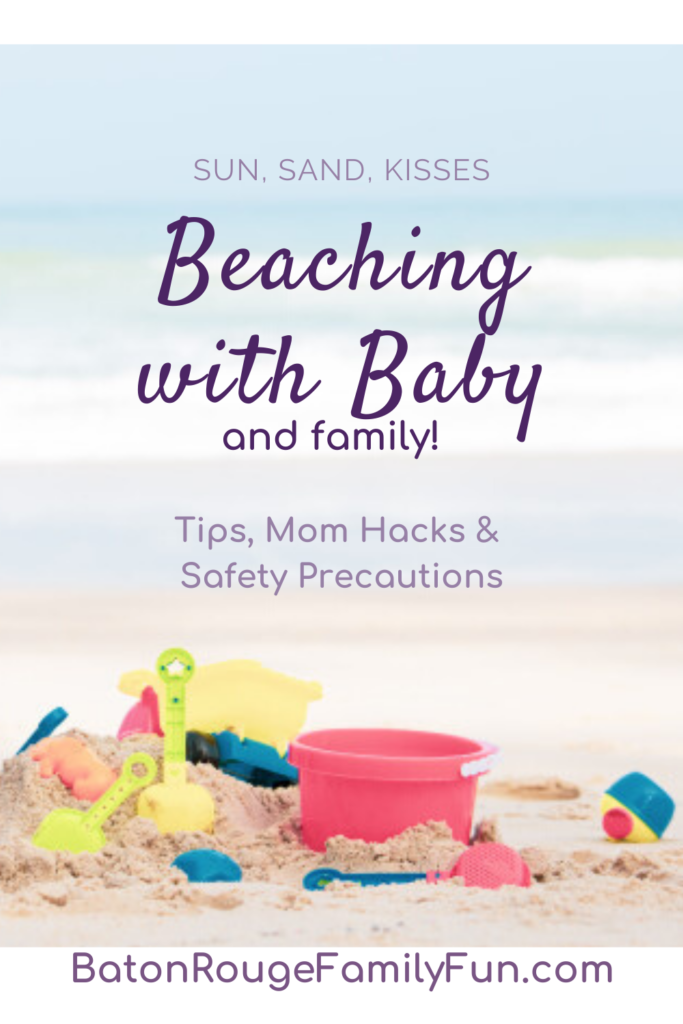 Beaching with Baby: Tips for a Successful Trip to the Beach
Here are some fabulous tips for Beaching with Baby from a mama who recently had a first-hand experience!
Umbrella Stroller
We brought an old, cheap one that I found in my in-law's garage. It did the trick and would probably use it even if the baby was walking. It helped with trips back and forth to the room.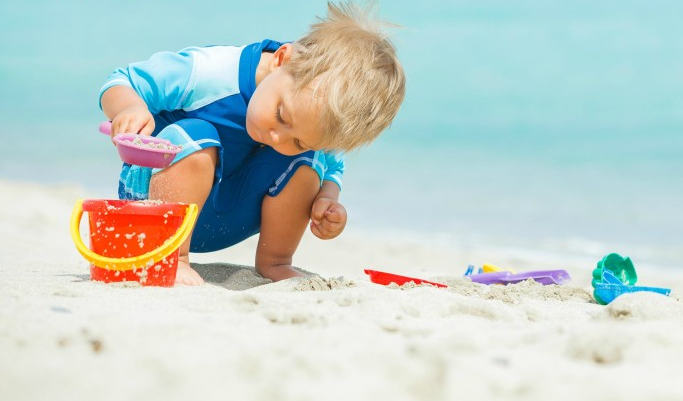 Swim Diapers / Baby Wipes / Regular Diapers / Clothes
I used the Huggies Little Swimmers and didn't have any issues with them. They were just the first ones that I saw on the shelf. We brought a pack of normal baby wipes, as well as regular diapers. I packed the diapers and an extra set of clothes, and a light blanket for nap time. I packed a hooded towel and a hooded cover-up in case of a change in weather.
Sun Protection
I saw this fabulous Mom Hack on Facebook, and it's a game-changer! Use a beauty blender to apply sunscreen on the face!
Set an SPF timer
Set a timer on your phone so you know when it's time to reapply sunscreen to your child and yourself. Make sure you cover sensitive exposed spots like the tips of the ears and back of the neck. Set another timer to remind you both to drink liquids so you don't get dehydrated. Check out our favorite sunscreens for babies and toddlers.
Hats with Ties
In addition to sunscreen, sun hats with ties are a beach must-have with kiddos. Our favorite hat is the  SwimZip Kid's Sun Hat – Wide Brim UPF 50+ Protection Hat for Baby, Toddler, Kids. With ADJUSTABLE HEAD AND CHIN STRAPS – Both the head strap and the chin strap are adjustable to easily create the best fit possible with a breakaway chin strap that helps prevent choking. Side venting keeps heads cool. Wide brim for optimal protection.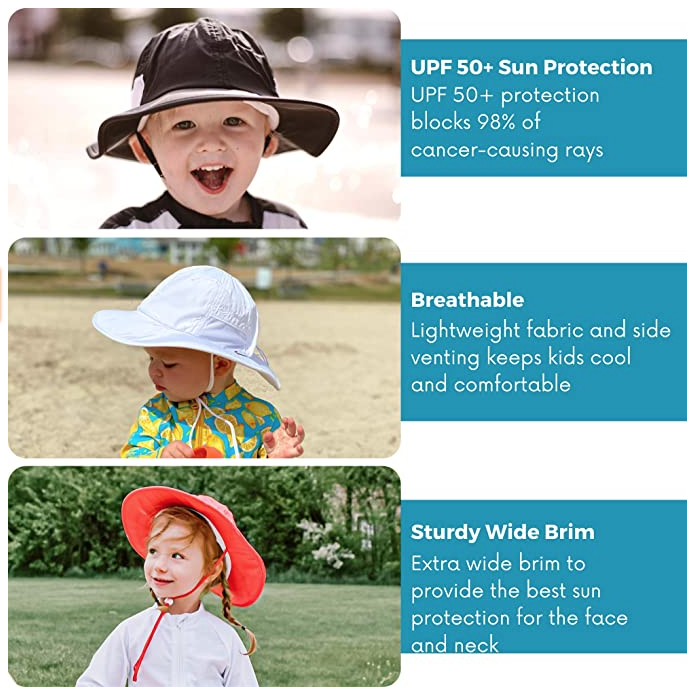 Battery Operated Fan / Air Pump
We didn't need a fan because there was a good breeze every day and it was never too hot. We used the air pump to blow up the kiddie pools/floats/toys after getting down to the beach. It is easier to carry floats not inflated.
Entertainment
A kiddie pool is a must-have for babies because it kept them cool and entertained, and contained. We sat the pool on the sand in the shade, so they were out of the sun pretty much all day. Our kiddos weren't able to get out on their own, so they played in the pool most of the time.  We had the guys bring up water from the gulf in buckets to fill the pool up. It took a couple of trips, but it was worth it.  I brought some beach toys and some water toys from home. The biggest hit was foam bathtub letters and koozies – who would have thought?! We used the Swimways Baby Spring Float Activity Center with a canopy in the pool, and it was perfect.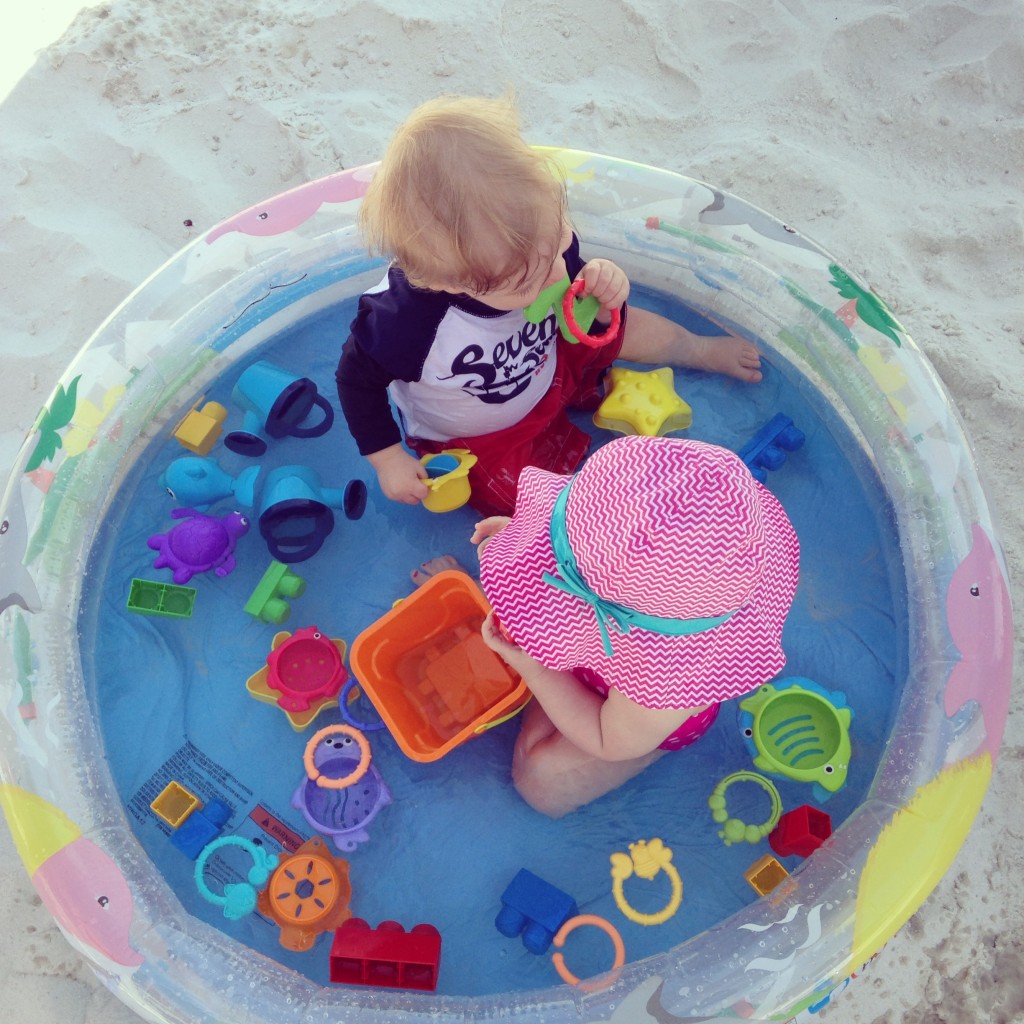 Shades and Covers for rest and naps
A small tent for the kiddos or baby to get out of the sun is also a great item to bring to the beach. Our favorite is the Pacific Breeze Easy Setup Beach Tent.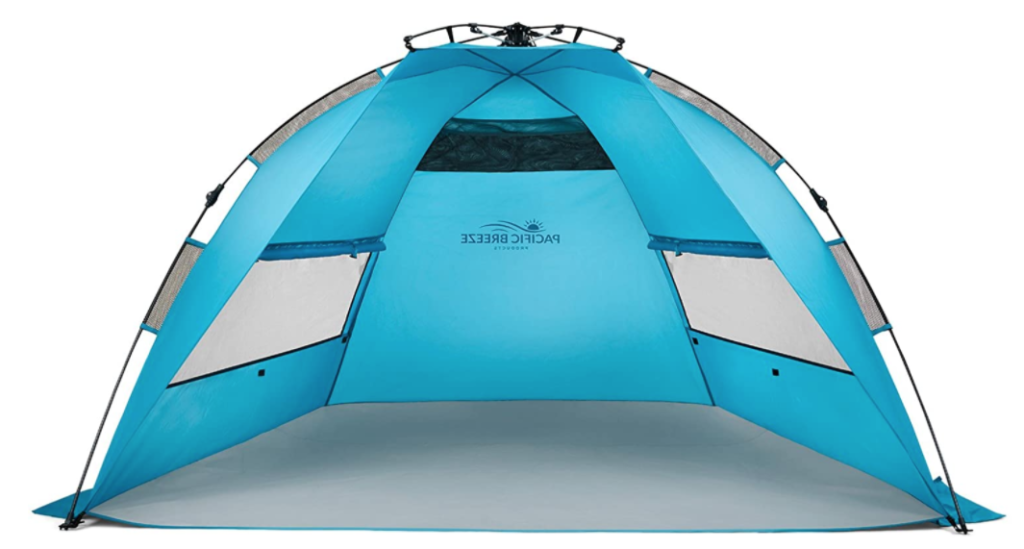 Another option for the baby is this small SUNBA YOUTH UPF 50+ Sun Shelter Baby Travel Crib with Mosquito Net.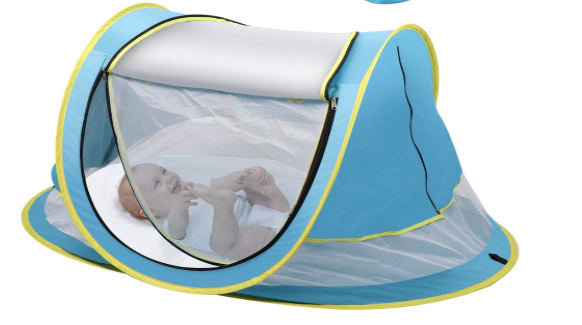 Baby Powder
This is a miracle worker! You cover the sandy area and let the powder and let it sit for a minute, brush the sand off and the result is no scratching or pain. However, you will be covered in white baby powder, thankfully, it will wash off easily.
Most importantly, make some new memories with the fam and enjoy soaking up the sun, the sounds, and the breeze of the salty air! 😉
Waterproof bags
When you're done swimming, you'll want somewhere to put your wet clothes. Babygoal Wet Dry Bags are especially nice because they have two compartments- one for wet clothes and one for dry.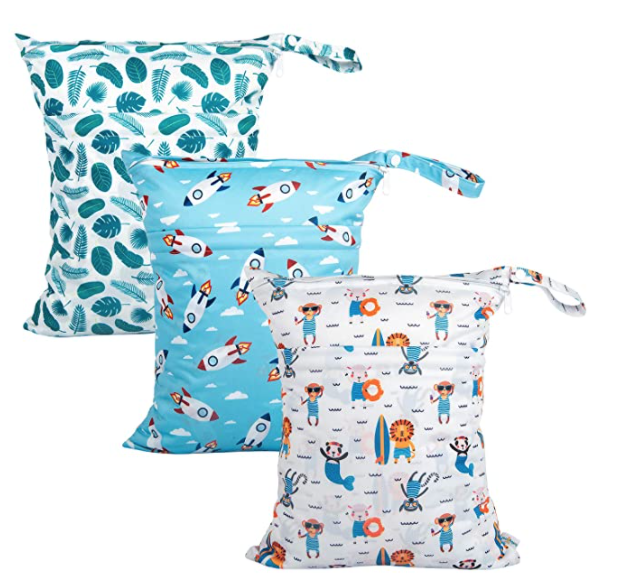 We'd love to know what beach tips, tricks, and or products worked or didn't work for you?
Follow the conversation on Facebook! 
This post may contain affiliate links. We may be compensated if you make a purchase through our links.