The Hope Shop, operated by Hands Producing Hope, is thrilled to announce the opening of its new location on Government Street, marking an exciting chapter of growth and expansion. The move brings an expanded retail space, doubling the store's capacity to showcase an even broader range of fair trade and handmade items that empower communities and support sustainable practices.
Formerly nestled behind Circa 1857, The Hope Shop's new address is now 3115 Government Street, conveniently located beside DIY Disco and adjacent to Elsies Plate and Pie. This strategic positioning ensures that The Hope Shop remains a focal point of the thriving Baton Rouge community, offering patrons easy access to its unique collection of impactful products.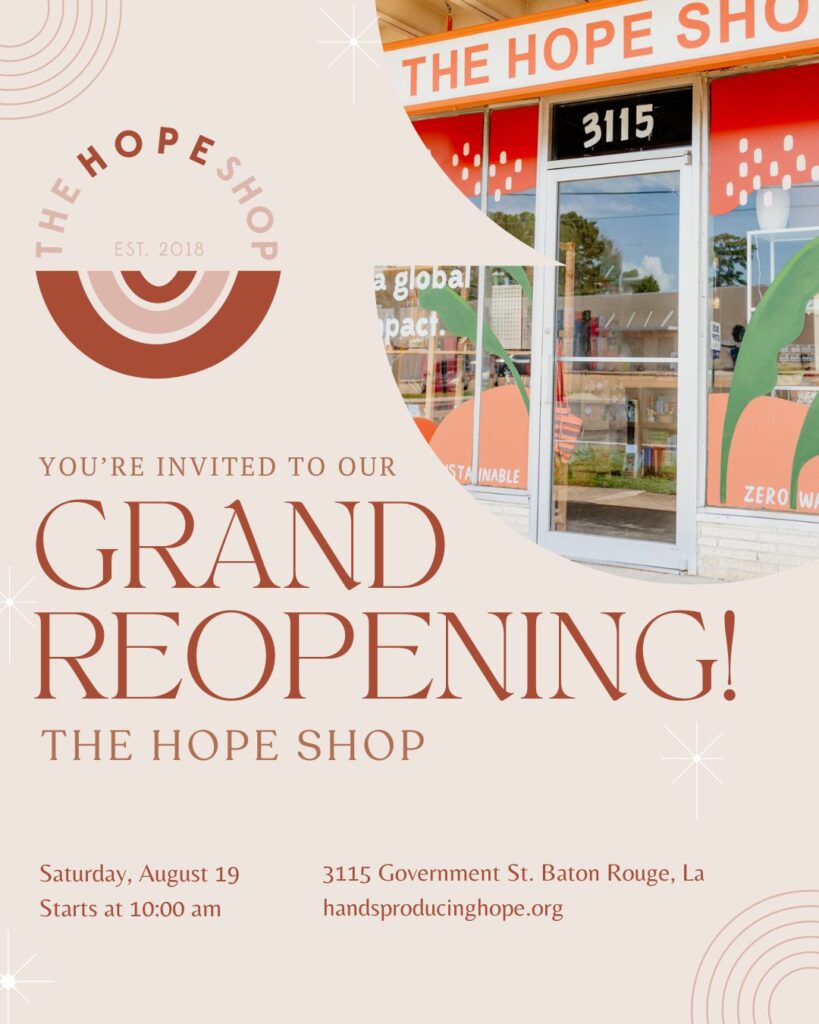 As the sole fair trade store in Baton Rouge, The Hope Shop takes immense pride in its commitment to supporting ethical and sustainable craftsmanship from its local and global partners. Shoppers can explore an extensive array of goods, including curated home decor, exquisite jewelry, luxurious bath and body products, eco-friendly paper goods, charming children's items, and stylish apparel. Every purchase at The Hope Shop has a positive impact, as customers contribute to the betterment of artisans' lives and the environment.
"We are thrilled to unveil our new location on Government Street, which not only allows us to double our retail space but also strengthens our connection to the Baton Rouge community," said Rebecca Gardner, Founder of The Hope Shop and Hands Producing Hope. "With an enriched collection of fair trade and sustainable products, we are excited to continue our mission of uplifting artisans and promoting ethical consumer choices."
The Hope Shop Expands and Opens New Location on Government St
The Hope Shop's grand opening celebration is scheduled for Saturday, August 19, from 10:00 AM to 6:00 PM. The event promises an immersive shopping experience, exclusive promotions, product samples, giveaways, and an opportunity for patrons to engage with the passionate team behind the store's success. Following the grand opening, regular store hours will be Tuesday to Saturday, 10:00 AM to 6:00 PM, and Sunday, 11:00 AM to 5:00 PM.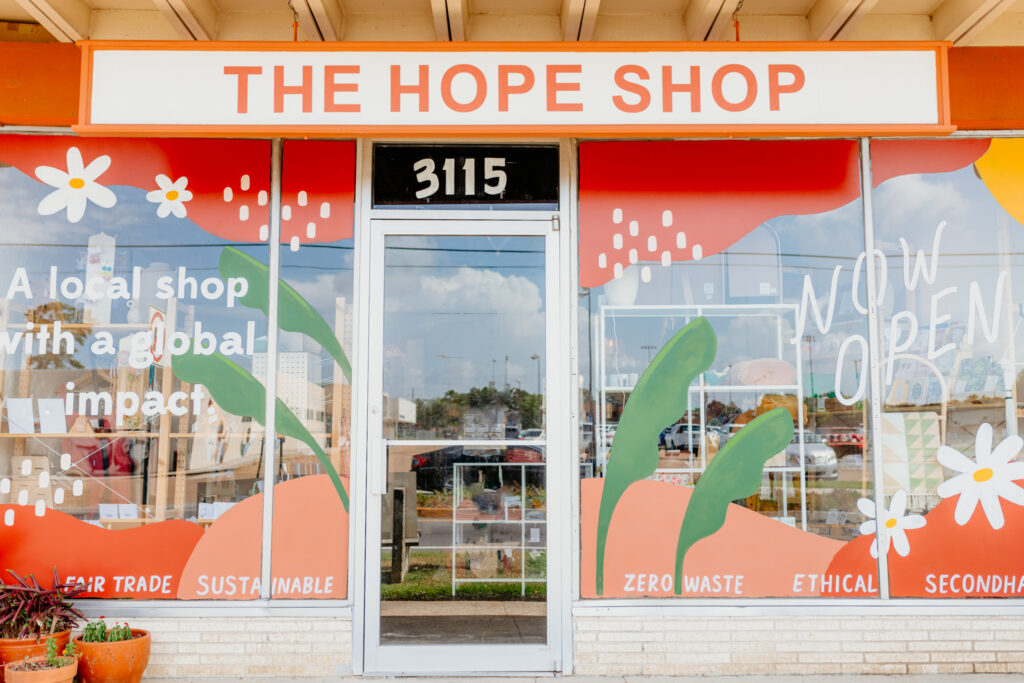 This expansion represents The Hope Shop's unwavering dedication to supporting artisans around the world and offering Baton Rouge residents a meaningful and uplifting shopping experience. As the store embarks on this new journey, it invites the community to join in the celebration and explore the beauty of fair trade and sustainable living.
Fair Trade
Sustainable
Zero Waste
Ethical
Second Hand
For more information about The Hope Shop and its offerings, please visit www.handsproducinghope.org or contact rebecca@handsproducinghope.org.
About The Hope Shop:
The Hope Shop, operated by local nonprofit Hands Producing Hope, is Baton Rouge's premier fair trade store, committed to empowering artisans and promoting sustainable living. Many goods in the shop are crafted by the women in Hands Producing Hope's programs (located in Baton Rouge, Costa Rica, and Rwanda) and all the other brands they carry follow fair trade principles and many are sustainably made as well. With an expanded retail space on Government Street, The Hope Shop offers an exquisite collection of fair trade and handmade items, spanning home decor, jewelry, bath and body goods, paper goods, children's items, and apparel. Every purchase at The Hope Shop makes a positive difference by supporting artisans and fostering a more ethical and sustainable world. Customers can also shop all their goods online at handsproducinghope.org.