Join the Pride-Chaneyville Branch Library in celebrating their 13th Annual
 Community History Festival, The Sportsman's Life, on Saturday, April 
22, 10 a.m.-2 p.m. The whole family will enjoy a day of FREE country fun, 
food, games, crafts, and entertainment. Activities will include rodeo roping, 
a bouncing bullpen, archery, basketball arcade, virtual reality headsets, 
electronic reel fly fishing, football toss, boxing bags, face painting, balloon 
animals, storytimes, artesian BBQ and hot sauce cooking demos, and much 
more!
13th Annual Community History Festival: The Sportsman's Life!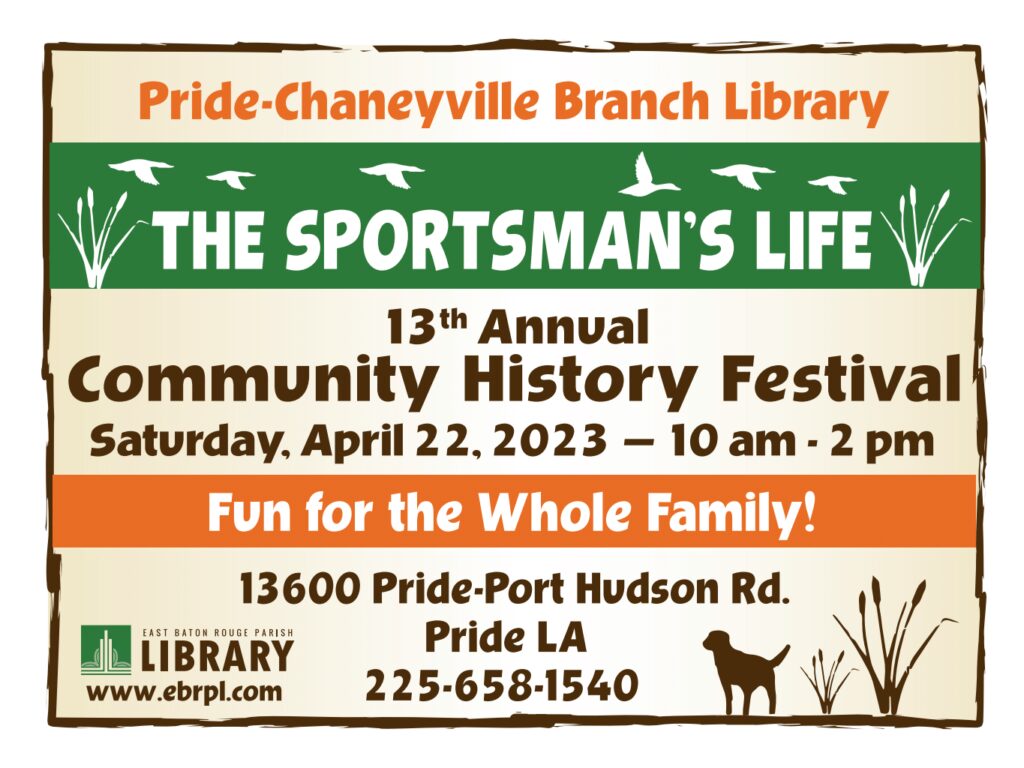 There will be guest speakers, including an author talk and book signing 
with famed chef Philippe Parola on his new book Can't
 Beat 'Em, Eat 'Em! 
followed by a tasting of delicious invasive game gumbo! You can purchase a
 copy of his book at 
http://cantbeatemeatem.us/
and have it signed at the festival
. 
Various artists and craftsmen will participate, along with local vendors 
who will have homemade and handcrafted items available for purchase. The 
Louisiana Lagniappe Dulcimers and the Upbeats will provide music for the 
event. The ever-popular old-fashioned Cake Walk will be held every hour! The Library
 will have everything from local professional athletes meet and greets, oral 
histories, boy scouts, Dept. of Wildlife and Fisheries, LSU's Renewable and 
Natural Resources Department, local hunting, fishing, sports, rodeo booths, 
and more! 
Take a step back in time, revisiting the storied past of the Pride-
Chaneyville area. They will be harking back to the old days, celebrating the sportsman's
 life throughout our area, and passing down the sportsman's wisdom to
 the current day. For more information, call 658-1540.