Strawberry picking can be a fun, delicious, and educational outing with kids. Nothing compares to picking one's own food and seeing where our food comes from. In Louisiana, the picking season usually starts earlier than in other parts of the country, and we're blessed to have several options for berry picking near Baton Rouge.
We've listed several fruit-picking farms below; while some of these Strawberry picking farms are not close, they are within an hour or two and would make a fun day trip with a new city to explore. Time to get some dirt on your hands and fresh fruit in your buckets!
Good to Know Before You Go: Please be sure to call the farm before heading out, so many variables can affect your outing. Berry ripening, Weather, Berry availability, etc.
What to Bring: Prepare for a trip to the farm like you would a day at the park. With very little shade in the berry patches, you'll want to bring hats and sunscreen. Wear full feet-covering shoes, no flip-flops or the sort; those pesky Louisiana ants will get you every time! Bring baby wipes and a change of clothes for the littles; you never know what blueberry shenanigans the kids will get into.
Open Saturday, March 4, and Sunday, March 5
Open 9-5 both days. Only pay for what you pick. No admission!
Founded in 1926, the family-run Landry-Poche Farm in Holden is in the heart of Louisiana's strawberry farming region of Tangipahoa and Livingston parishes.
Visiting  Landry-Poche' farms is like taking a step back in time. There's a fruit stand on site where you can buy bushels of strawberries already picked, or you can pay $12 a bucket and pick your own. There were rows and rows of strawberries to pick from, and it doesn't take long to fill your bucket.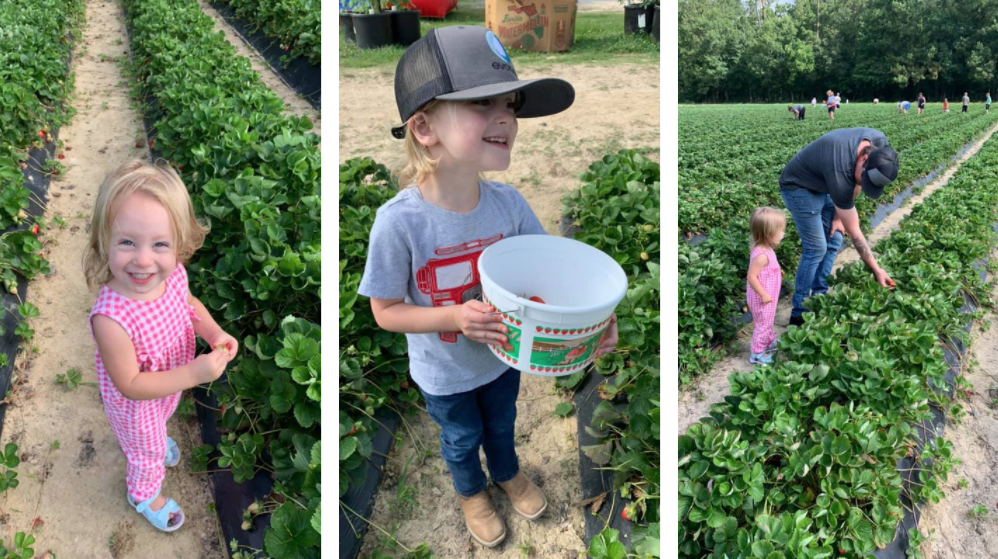 The farm also sells breads, jams, and fresh veggies. We munched on the yummy strawberries, and I made strawberry sangria with all the berries we had leftover. It was a great little getaway, and I totally suggest y'all going to check them out and support local farmers.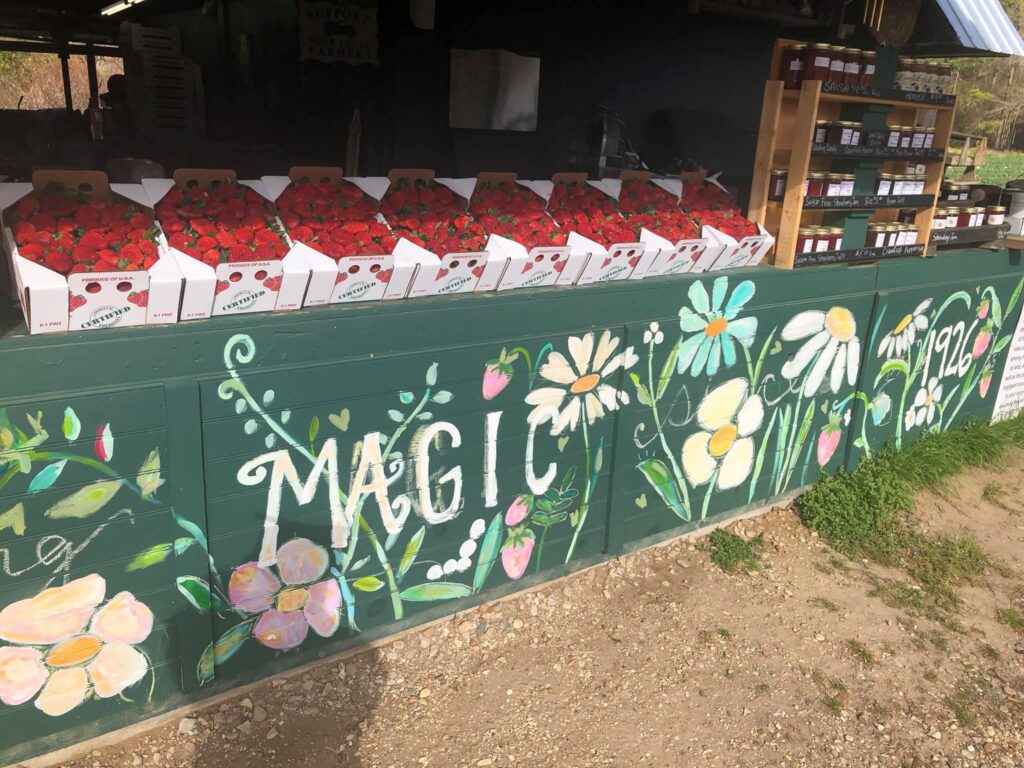 Where: Landry-Poché Farm, 29955 Richardson Drive, Holden, LA 70744
When: March 4th
More info: http://www.landrypochefarm.com/
---
Open Friday 3/3/23 -Sunday 3/5/23 for picking!
9am-3pm
 ****THE PLAYGROUND IS OPEN****
Pick your very own farm-fresh strawberries! Collect and eat or take em' home. Children actually walk through the Strawberry Patch and pick their own strawberries!
Kids (newborn & up): $9 per child CASH ONLY
Adults : $ 3
Birthday Parties: $110 (up to 10 children)
$9 (per child after that)
Learn how a strawberry grows
Face and Hand Painting
Zipline
Tractor Races
Picnic Area
Bouncing Race Horse
Jumping Pillow
Where: 31458 LA Highway 43, Albany
When: Open every day until Mother's Day, 9:00 am to 4:30 pm
More info: 567-3493
---
Blahut Strawberry Farm
Open: April through May, Monday to Friday from 9 am until 12 pm. Directions: Blahut Farm is located off I-12; exit 32 (Albany-Springfield) three miles south of the interstate. Crops are usually available in April, May. Strawberries are placed in gallon, souvenir bucket while picking and will be taken home. Tickfaw State Park is only 5 minutes from Blahut Farm and is perfect for picnicking.
Where: 24980 Fayard Road, Springfield
When: TBA
More info: 294-5073
---
Pick-your-own orchard with fruits grown throughout the year. Pick and purchase blueberries, peaches, kumquats, satsumas, persimmons, strawberries, and others. Selling pick-your-own strawberries by appointment ONLY. Please call (337) 380-3795 to make an appointment.  https://www.facebook.com/DanielAnnasOrchard/
Where: 5116 North Freetown Rd New Iberia, LA 70560
When: By Appointment Only – Late March
More info: (337) 380-3795
After Berry picking – Caring for Berries
Store unwashed berries in containers or gallon-sized zip-top bags layered with paper towels. Refrigerated berries will last about two days. Frozen blueberries can last from season to season or beyond, do not wash berries for the freezer. THEY MUST BE DRY BEFORE FREEZING; you can wash before use. Serve at room temperature after washing with a spray of cool water. Whole berries can be frozen in zip-top freezer bags for jams, smoothies, and homemade ice cream. Add berries to cereal, smoothies, or snacks straight from the refrigerator or freezer. Berries are fat-free, low in calories, and have fiber, vitamin C, and disease-fighting antioxidants. We know you'll enjoy blueberry picking near Baton Rouge & Beyond!
---
Blueberry picking near Baton Rouge & Beyond
Check out our Blueberry Picking Guide for blueberry farms near Baton Rouge and beyond!