Back to school…three words that represent great joy to parents who are ready to get back to routine and bring great anguish and "pain" to kids who aren't quite ready to give up their summer freedom. In order to ensure a smooth transition from the fun and less structured summer into a new school year, I think it is important as parents to take the time to talk to our children about their worries and concerns going into the fall semester.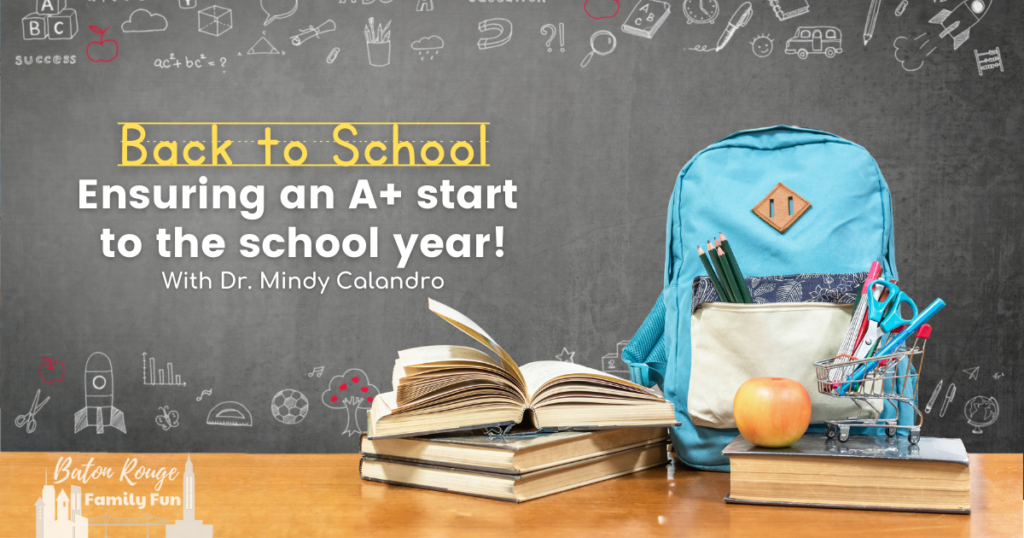 Back to School: Ensuring an A+ start to the school year
Back to School – Ask Questions
The question could be as simple as, "Is there anything you are worried about for this school year?" I know in my office when I ask this question, I have had many a parent be surprised by the answer their child might give. When we know what our children are worried or afraid of, it makes us, as parents, better equipped to give them the guidance they need to maneuver through the unchartered waters of a new school experience happily and successfully.
Back to School – Set Expectations
I encourage parents to teach children to view school as their job—what better time to start teaching children about work ethic than from the very beginning of school. As parents, we should set expectations for our children in regards to their "job" performance, and if these expectations are not met, then they should be held accountable.
Now, the expectations, as well as the consequences, will, of course, vary by age, but even the youngest child should understand that they should strive to be the best they can be at their job. Even my son, who is starting Pre-K 3, knows that mommy and daddy expect him to listen to his teacher, follow directions, and be a good friend to his classmates. If he doesn't achieve these things, he doesn't get to read books at night (his favorite pre-bedtime activity).
These expectations are established from the get-go so that there is no confusion about the "job description."
Back to School – Establish a good rapport with your child's teacher
I also encourage all parents, but especially the parents of elementary-aged children, to establish a good rapport with their child's teacher. After all, the reality is that in many cases, their teacher will spend more time with them during the weekday than we will.
It is crucial to make sure there are channels of communication that exist between parents and teachers, and these should not be one-way avenues. Parents should feel comfortable bringing up concerns to teachers, just as teachers should be respected when they bring concerns back to parents.
A partnership between teacher and parent is vital to helping children achieve success in the classroom which often translates to increased self-confidence in kids.
Stay positive
So as everyone heads back to school, establish those expectations, let them know their "job description," and then make sure your voice as a parent is a positive one with excitement, support, and encouragement for the upcoming school year.
As kids make the trek up the ladder to reach those expectations you have set, make sure they know you are their biggest cheerleader and will always be behind them to catch them when they stumble, to give extra little pushes along the way, and to celebrate all of their achievements all from a place of unconditional love.
"Ask the Experts" is a series on Baton Rouge Family Fun where local experts share their thoughts, opinions and answer questions relating to health, wellness, parenting, and living in Baton Rouge.

Disclaimer: The purpose of this site is to share family resources and Baton Rouge Family Fun's experiences with food, fitness, and health as well as opinions from some of our local experts. This content is for informational purposes only and isn't a substitute for professional medical advice.  When it comes to your health or the health of your child, please be sure to contact your physician.