The people of Southwest Louisiana know how to take care of themselves, and each other. Once in a while, though, hurricanes and floods require them to reach out for a little help to recover. Local and national volunteers and aid groups are providing resources, food, shelter, and more to those who have been affected by Hurricane Ida and its aftermath.  We've put together a list of Hurricane Ida Relief organizations directly helping those impacted by the storm.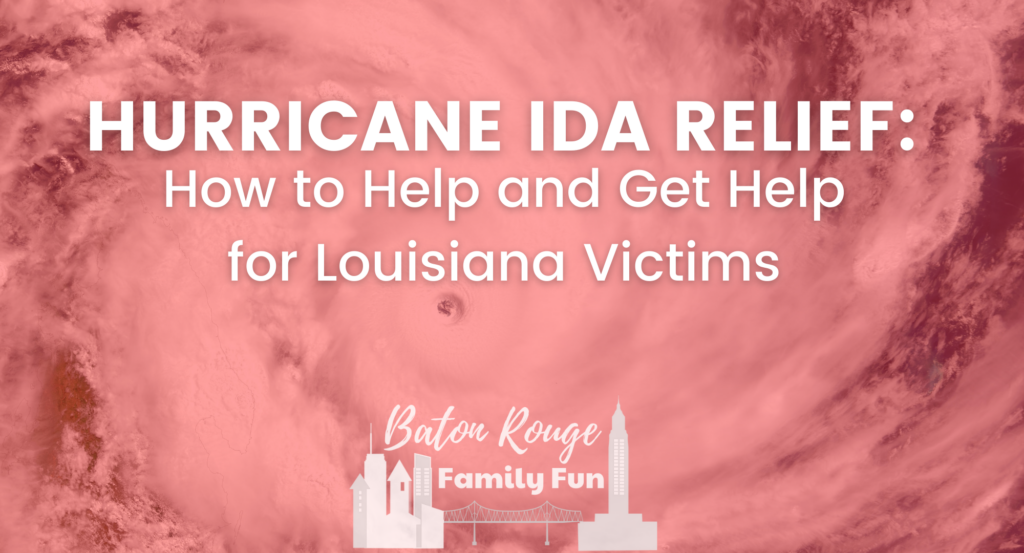 Hurricane Ida Relief – How You Can Help or Get Help:
Local Relief
Baton Rouge Food Bank  With community support, we have served the hungry in our 11 parish service areas for more than 30 years. The food bank needs volunteers to help with mobile distribution, sorting, and packing. Register here. If you are in need of food, please visit the Hurricane Ida Mobile Distributions Locations.
Three O'clock Project Three O'clock Project is coming to Baton Rouge, East Jefferson, and Belle Chasse to distribute FREE shelf-stable meals for any child 18 and under. Each box will contain 7 days of healthy supper and snacks. Please visit their Facebook page for details and DONATE if you are able!
Bethany Church: Bethany is focusing our finances and manpower on feeding thousands of displaced people and helping to muck out flooded homes and churches. They are partnering with organizations to make efforts more efficient.
BREC With school out, BREC is starting free emergency camps for children in East Baton Rouge Parish. You can register at brec.org/emergencycamp.
The Church in Livingston Parish (26490 S. Frost Rd.) has been giving out food boxes and serving hot meals while supplies last. The Church is located on the corner of Highway 63 and Highway 42 in Livingston.
True Light Baptist Church (3836 North Street) has been handing out supplies.
Baton Rouge Area Foundation Relief  Organizations in Louisiana are pretty good at taking care of our people. Once in a while, though, storms like Hurricane Ida stretch their resources. Your one contribution to the Foundation's Disaster Relief and Recovery Fund will help many organizations provide water and food, medicines and shelter to people across South Louisiana.
Second Harvest Food Bank – Feeding South Louisiana: Serves South Louisiana, has prepared more than 3,500 disaster-readiness food boxes with items like rehydration drinks and nutrition bars, as well as bottled water. It also maintains cooking equipment that can be transported to heat prepared meals. Donations of bottled water and cleaning supplies are welcome. Volunteers can apply to help, but donating money is the most efficient way to assist the aid effort.
Volunteer Louisiana is asking for donations and volunteers to aid in Hurricane Ida's recovery efforts. Find donations opportunities here and volunteer opportunities here. Volunteer Louisiana also works with other non-profit agencies to help in recovery efforts.
Culture Aid NOLA has set up an impromptu cooking hub at the Howlin' Wolf nightclub in New Orleans using thawing food from the freezers of restaurants experiencing power outages. The meals will be distributed to people in need, said Julie Pfeffer, a director. It needs volunteers, trucks, and takeaway containers.
All Hands and Hearts prepared for Ida by stationing its disaster assessment and response team in Beaumont, Texas. Its volunteers will enter areas affected by the storm when they can, meeting initial needs that will probably include chain-saw work to clear debris and trees, roof tarping, mucking and gutting flooded houses, and sanitizing homes with mold contamination.
Bayou Community Foundation works with local partners in Terrebonne Parish, Lafourche Parish, and Grand Isle in coastal southeast Louisiana. It has set up an Ida relief fund.
FEMA FEMA is providing many different types of help to Hurricane Ida survivors. Different types of assistance may be activated as we work with our state partners to identify needs. One of the available forms of assistance right now is Critical Needs Assistance, which can provide a one-time award of up to $500 to eligible survivors. Housing assistance is also available to eligible survivors.
To be eligible, survivors need to be residents of a parish that was included in the federal disaster declaration, and need to first apply for assistance at DisasterAssistance.gov, through the FEMA app, or by calling (800) 621-3362.
Learn more about FEMA assistance for housing and other needs and what to expect after applying for assistance.
National Organizations
The Salvation Army: Your donation helps keep The Salvation Army on the front lines, buying meals, drinks, snacks, and other critical commodities desperately needed by survivors and rescue workers.  For more information, visit  www.disaster.salvationarmyusa.org.  Or if you or someone you know needs to talk, please call our emotional & spiritual care hotline at 1-844-458-HOPE (4673).
Catholic Charities USA: Your support helps people through the immediate aftermath and continues helping them as they work through the long process of recovery. 100% of donations go to relief efforts through this link.
Save The Children: Save the Children invests in childhood – every day, in times of crisis, and for our future. In the United States and around the world, we give children a healthy start, the opportunity to learn, and protection from harm. By transforming children's lives now, we change the course of their future and ours.
Southern Baptist Disaster Relief – Meets the urgent needs of communities in crisis, from serving food to volunteers in rebuilding communities.
Direct Relief USA: Direct Relief offers prescription drugs and other medical supplies to those who need them in emergency situations and works with clinics and primary care doctors to ensure that people are able to get what they need when they need it.
Samaritan's Purse : Samaritan's Purse is deploying staff members and one of our Samaritan's Purse U.S. Disaster Relief units to Lake Charles, Louisiana, in the aftermath of Hurricane Laura.
We will continue updating this list daily as we receive news of more ways to help and assist the victims of  Hurricane Ida. If you know of resources, aid, or distribution sites, please contact us with more info.