Football season is just around the corner; we're ready for tailgating with family and friends, Tiger Band marching down Victory Hill, LSU cheerleaders, the unparalleled energy of the crowd inside Tiger Stadium and of course singing the LSU Fight Song at the top of our lungs!
With college football season starting in a few months, some universities are tightening up security with a new clear bag rule. LSU has adopted the "GEAUX CLEAR!" bag policy to be implemented for the upcoming college football season. We're hoping the new policy will speed up checkpoints and provide a safer environment for all fans.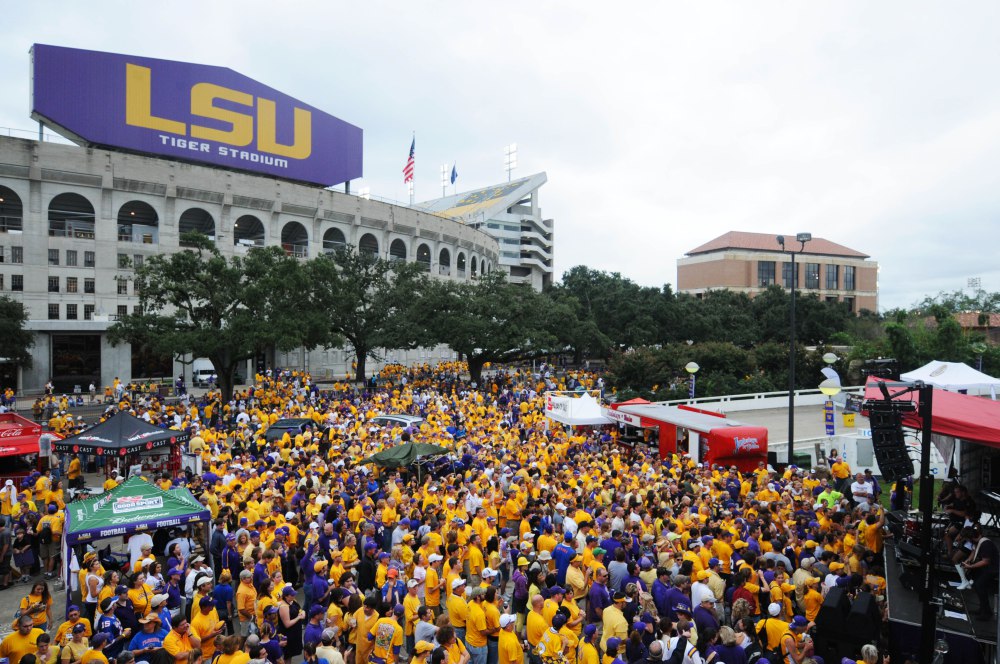 NEW 2016 Tiger Stadium Policies
LSU Tiger Stadium Backpacks and Bags Policy:
GEAUX CLEAR! Only CLEAR tote bags smaller than 12″ x 6″ x 12″ will be allowed into Tiger Stadium and all other LSU Athletic venues. One-gallon clear plastic bags and/or small handheld clutch purses (approx. the size of a person's hand) will also be allowed to enter. All backpacks regardless of size are prohibited and any bags larger than 12″ x 6″ x 12″, clear or non-clear will be strictly prohibited. Exceptions will be made for approved medical needs and diaper bags (with baby). All bags will be subject to search and inspection.
Reason: Due to national and global events, security officials have deemed backpacks and large bags as heightened security threats. LSU Athletics is dedicated to enhancing fan safety and security measures and the use of clear bags is a recommended best practice throughout the industry.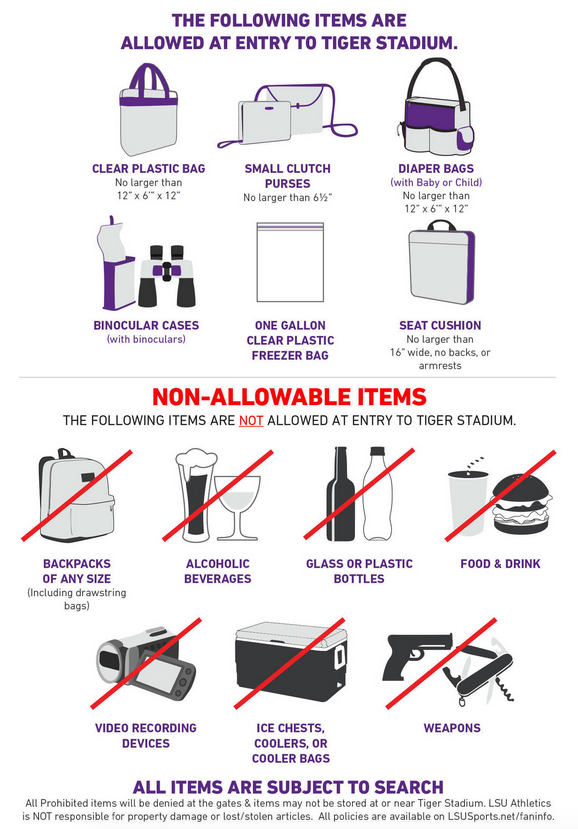 Recommendation:
LSU recommends fans only bring what is absolutely necessary with you to LSU Athletics venues – phone, wallet, money, credit cards, car keys. Please leave all unnecessary items at home or in your vehicle. Backpacks and bags may not be stored at the gates or outside of the venue – any unattended bags will be confiscated and removed immediately (all items will be discarded). LSU Athletics is not responsible for the care or security of any items left unattended.
Cameras Policy:
Cameras are permitted in Tiger Stadium for both fans and working news media. All photos taken in Tiger Stadium must be for editorial or personal use only and may not be used for advertising, promotions or other trade purposes, or any other commercial or promotional endeavor, without the permission of LSU. Contact the LSU Office of Finance and Administrative Services at (225) 578-3386 with any questions.
Reason: The sale of images with current student-athletes is against NCAA rules and can risk the eligibility of LSU student-athletes. Additionally, any commercial use of photos of Tiger Stadium, campus landmarks or identifiable campus elements is prohibited without the prior written approval of the University.
Thankfully, we have a few stylish options to take the place of our bags on game day. The two clear totes can be found at collegefootballstore.com and the envelope purse can be found at sportsunlimitedinc.com. Lucky for three LSU fans, we are giving away all three purses!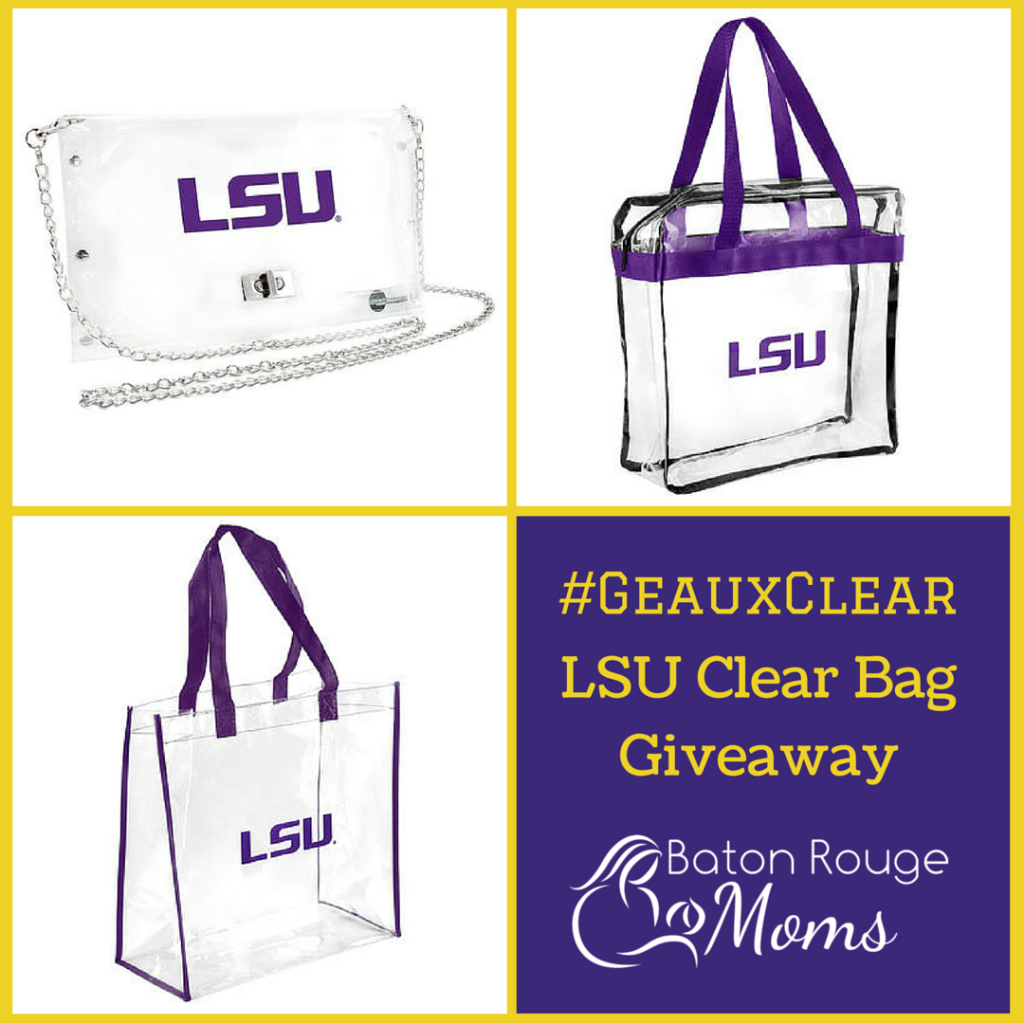 GIVEAWAY: We are giving THREE Clear LSU Bags (pictured) Enter via the Rafflceopter widget below and be sure to enter on our Facebook and Instagram pages too!
a Rafflecopter giveaway
CLICK HERE to see all of the in-stadium policies for Tiger Stadium
.