Just in time for summer, by now you're all probably familiar with the hottest new toy to hit Louisiana, the Lil Bit Crawfish Boil Set. Envisioned and born here in Louisiana by New Orleans businessman, Steven Forster, the Lil Bit Crawfish Boil Set has sold more than 5,000 play sets, and they're on back order for the next eight weeks. I think it's safe to say the Lil Bit Crawfish Boil Set is on fire!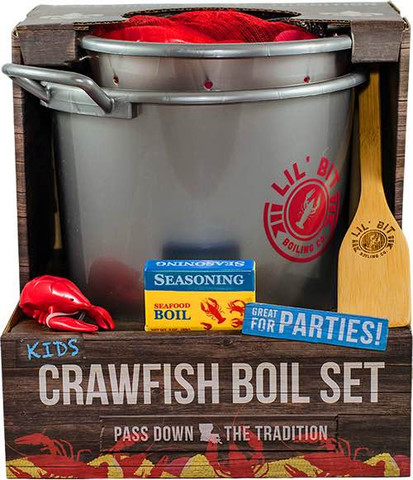 News segments, articles and online media coverage of Steven Forster and the Lil Bit Crawfish Boil Set have flooded the interwebs and with good reason. It's not just adorable but it passes on a tradition that Louisianans hold dear, the earlier we can pass it on the better!
The Lil Bit brainstorm came about in 2014 at a friend's crawfish boil when Forster's three young sons, ages three, five and eight, wanted in on the boil action. The host of the crawfish boil provided the boys with a stew pot and a wooden spoon and a light went off for Forster.
"I've been watching my boys play with this set for over a year. They were my little test group, so when daddy was bringing prototypes home to try to find which size pot, play with the crawfish, if those claws break off, they were my control group," said Lil Bit Crawfish Boil Set creator Steven Forster.
"It's such a huge part of being from the South, everything revolves around food and drink around here, so to see our kids try to take on that tradition and watching them play with it and pretend to be grownups, where they're boiling crawfish. It's all based on tradition," said Steven's wife Kellie.
Baton Rouge's own, Giggles, has been pre-selling the Lil Bit Crawfish Boil Set with great success! Emily Guidroz, owner of Giggles Toys & Candy, was thrilled when Stephen reached out to her about the Lil Bit Crawfish Boil Set. "We are always looking for new and unique toys and gifts for children. As soon as I saw it I knew it would be hit! It is such a creative idea and is perfect for all of the bayou babies in our town!" As of today, Giggles has pre-sold more than 100 crawfish sets.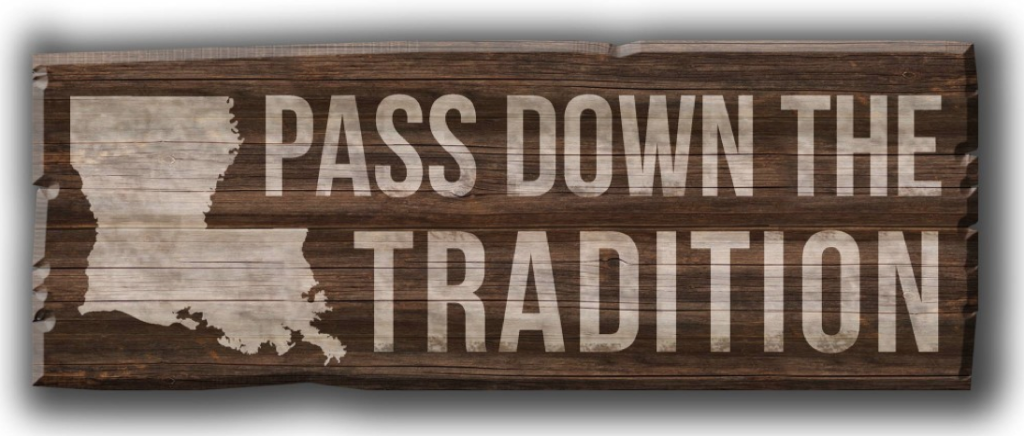 It's a tradition soaked in family, friends and cayenne pepper that we pass down from generation to generation. Now you can share this tradition with your little chef as you boil side by side, creating memories that will last a lifetime.
GIVEAWAY:
We have partnered with Giggles Toys & Candies and Lil Bit Crawfish Boil Set to giveaway not one but TWO Lil Bit Crawfish Boil Sets! Simply log in to the Rafflecopter giveaway widget below and enter with multiple entries to have a chance at winning a Lil Bit Crawfish Boil Set!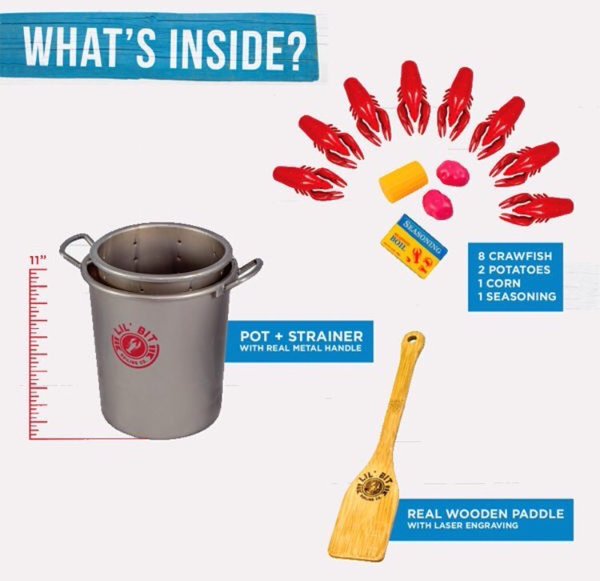 Lil Bit Crawfish Boil Set includes a 2.5 gallon kettle, a sieve, eight crawfish, two potatoes, one ear of corn, a toy box of seasoning and a wooden stirring paddle. Retails for $34.95 at Giggles!

a Rafflecopter giveaway
Learn more about Lil Bit Crawfish Boil Set on their website
lilboil.com
and
Facebook
. Check out Giggles on their
website
and on
Facebook
and be sure to visit the store o
n Perkins Road between Bluebonnet and Siegen at The Settlement at Willow Grove.
Sources: lilboil.com, WGNO, Nola.com
Disclosure: This is a "sponsored post." The company who sponsored it compensated BRM via a cash payment, gift, or giveaway. Opinions expressed herein are that of the author and are not indicative of the opinions or positions of the sponsor.