The start of the new year is supposed to represent a clean and healthy slate. But for many, it will be the beginning of a week of nose-blowing and phlegm-hacking, as cold and flu symptoms are expected to peak during the first week of 2016. Experts at WebMD predict the 2015-16 cold and flu season will spike in early January, with the Atlantic, Southeast and Midwest regions set to experience the highest levels of cold and flu symptoms in the country.
It actually started early at our home as we have a house full of sick kiddos. As we head into the season of yuck, we hope the following tips, remedies and information will be found helpful to you!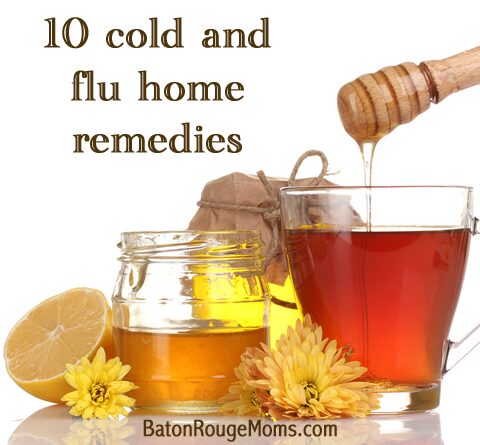 10 Cold and Flu Home Remedies:
Drink plenty of fluids to help break up your congestion. Drinking water or juice will prevent dehydration and keep your throat moist. You should drink at least 8 to 10 eight-ounce glasses of water daily. (Limit drinks with caffeine because they act like a diuretic and may dehydrate you.) Drink hot liquids. Hot liquids relieve nasal congestion, prevent dehydration, and soothe the uncomfortably inflamed membranes that line your nose and throat.
If you happen to be up in the middle of the night with a child that is coughing relentlessly, congested and miserable, let them inhale steam to ease the congestion and drippy nose. Sit in the smallest bathroom you have with a shower running hot water and fill the room with stream. Of course, a room humidifier will can also do the job. If you are the one battling the flu, take a long, hot shower!
Get your rest! Staying warm and resting when you first come down with a cold or the flu helps your body direct its energy toward the immune battle. This battle taxes the body. So give it a little help by lying down and bundling up.
Sleep with an extra pillow under your head or sleep elevated in a chair. This will help relieve congested nasal passages.
Peppermint tea is laced with nutrients that help the body fight off illness. It also can act as an expectorant, helping the body to cough up mucous.
Try thyme! Thyme is great when the mucous membranes are stuffed, the head aches, and the body is hot with fever. Cup your hands around a mug of thyme tea and breath in the steam. Make thyme tea by adding 1 teaspoon dried thyme leaves to 1 cup boiling water. Let steep for five minutes while inhaling the steam. Strain the tea, sweeten with honey and slowly sip. Please note: honey is not intended for use by children under 12 months of age.
I have heard wonders of the use of essential oils to fight colds and flu. I have not tried them but it is something I would like to educate myself on.
Cinnamon can help with congestion by stirring 1/2 tsp of cinnamon powder into hot herbal tea.
Coconut oil can help alleviate symptoms and even shorten the duration of the cold. Melted into tea or a broth, coconut oil can gently soothe a sore throat and ease coughing in addition to boosting immunity and fighting the virus directly.
Take lots of Vitamin C to boost immune system and increase the number of white blood cells.
Do you have a favorite, tried-and-true home remedy? Please share with us in the comments below!
[yumprint-recipe id='14']
When to call the doctor:
For your child
Call 911 or other emergency services if:
Your child has severe trouble breathing. Signs may include the chest sinking in, using belly muscles to breathe, or nostrils flaring while your child is struggling to breathe.
Call your doctor now or seek immediate medical care if your child:
Has a fever with a stiff neck, a severe headache, or a rash.
Is confused, does not know where he or she is, or is extremely sleepy or hard to wake up.
Has trouble breathing, breathes very fast, or coughs all the time.
Has signs of needing more fluids. These signs include sunken eyes with few tears, dry mouth with little or no spit, and little or no urine for 8 or more hours.
For you
Call 911 or other emergency services if:
You have severe trouble breathing.
Call your doctor now or seek immediate medical care if you:
Have increased trouble breathing.
Have a fever with a stiff neck or a severe headache.
Feel extremely sleepy or confused.
sources: www.doctoroz.com, webmd.com, www.naturalnews.com
Disclaimer: I'm not a doctor, registered dietitian, or fitness expert. The purpose of this site is to share our experiences with food, fitness, and life. When it comes to your health, fitness, parenting, please be sure to do some research or contact your physician.