With no Mardi Gras parades, Louisiana has had to get creative in an effort to not give up our most celebrated Louisiana holiday. This year, the floats are parked. First, House Floats and now we have 'Floats in the Oaks', a once in a lifetime opportunity for visitors to view iconic floats from various Mardi Gras krewes all in one place and it will give our region the opportunity to experience a part of Mardi Gras during this historic year. Families can safely participate in a parade-type event, by viewing stationery floats from their cars. Participants are encouraged to wear Mardi Gras costumes and decorate their cars.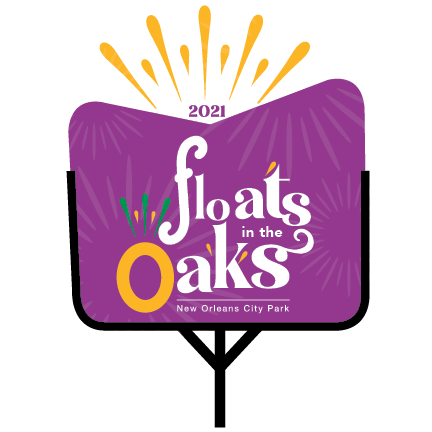 Krewes: Rex, Zulu, Bacchus, Hermes, Thoth, King Arthur, Argus, Alla, Morpheus, Iris, Pygmalion, Mid City, Tucks, Femme Fatale, Babylon, Proteus, Centurions, Druids, Carrollton. Kern Studios, Rizzuto and Company, Ducote Designs, and PFJ Floats will assist with the transportation of parade units. More 'Floats in the Oaks' krewe are being added daily!
When:
Thursday, February 4th through Sunday, February 14th
Weekdays 5pm -10pm and Weekends 1pm – 10pm
Where:
2 Friederich Ave. New Orleans 70124 :: Click here for a map to find the entrance. (There is only one entrance, turn off Wisner to enter the line for the driving tour event)
Pricing:
Tickets for 'Floats in the Oaks' and Add-On experiences are limited and all tickets must be purchased in advance and online only.
Saturday – Sunday: 1 pm to 5 pm – $10 per car
Monday – Sunday: 5pm to 10 pm – $20 per car
Grandstand Experience Add-On – $15 per person
Park Parade Pack – $12 (pack made for 2 people)
Floats will be lit up at nighttime. Vehicle height cannot exceed 11 feet. No limos, mini-buses, bikes, or pedestrians are allowed on the route. 8 people per vehicle. Everyone participating must be in a seatbelt.
Tickets on sale now: Click here to purchase tickets