Recently someone asked me how I balanced it all. How I get it all done. I run my photography business from my home, have a 5 month old, and am a stay-at-home wife/mom. How do I take care of all this? Obviously, the questioner hadn't seen what was behind my office door, what my hair and face looked like, and all those tears that I had cried the day before. I never intended to hide things, but sometimes you have to fake it until you make it, I guess.
With a new baby, life changes. I'm no longer able to sleep until whenever I want on Saturdays. Or any other day for that matter. I have a little boss man who is pretty demanding about what I do in a day. When he's not asleep, I try to spend intentional time with him. I might be crawling on the floor, reading, or just making silly faces. I don't want to one day look up from my phone and see that he's grown up without actually being there.
So how do I take care of everything I need to? I created a SIMPLE little schedule so I can complete the things I need to. This schedule is pretty much written in the clouds so I don't get frustrated or upset if things change and nothing gets done. In the end, laundry isn't THAT important.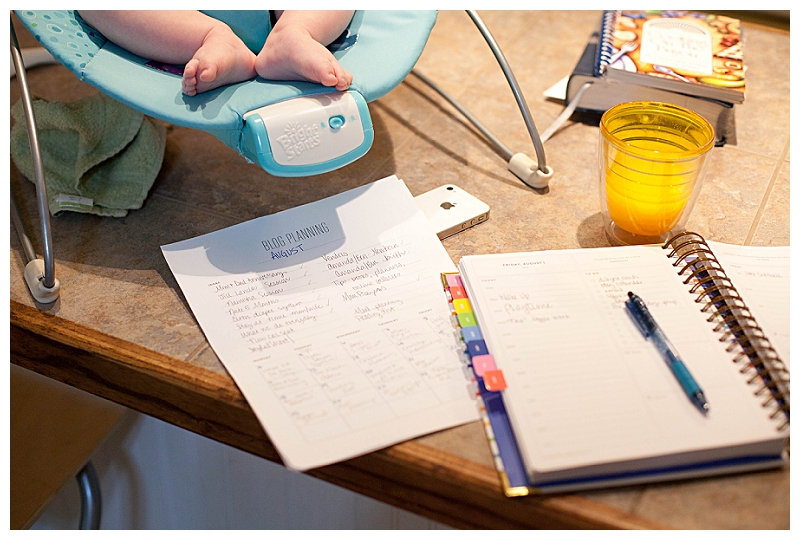 My (Chores) Schedule
Mondays – Dust, vacuum, mop, trash
Tuesdays – Bathrooms.
Wednesdays – Catch up on anything left from Monday & Tuesday
Thursdays – Bedrooms, sheets, clean fridge & kitchen, trash
Fridays – Yard/outside work, Office work, family time
Saturdays – Family time
Sundays – Church, naps, prep for week
Every day – Pick up as I go.
Laundry – No set day. If it needs to be done, I do it. Typically something around here needs to be washed daily so I start my washing machine in the morning and go from there
Dishes – As needed. Not perfect but we try to do this so we don't get behind
Dogs – Bathed every 2 weeks, water bowls filled every Monday, blankets washed every week
Photography – Shoots scheduled in the afternoons/evenings. Office work during naps and when I can. Typically try to get things done as soon as possible. I get images to clients in less than a week so I have to make time for that.
Food/Meals – I've started meal planning twice a month. We don't stick to a real schedule for this but it gives me options and gives me the correct groceries for those options.
When do I do these chores? Simple….whenever I can. I have done them throughout the day, during baby naps, while wearing the baby, whatever works.
It's been all about balance and just surviving for the last 5 months. I look forward to days when we have more of a routine, but that might be a little too boring. Maybe.
What about you, how do you tackle chores throughout the week? Do you have a schedule or do you "fly by the seat of your pants?"