Are you looking for family fun on a lazy Sunday in Baton Rouge? Good news: The first Sunday of every month is free admission day at many of Baton Rouge's most popular attractions! Here are a few places you can visit on your first free Sunday.  Check out the exhibitions, collections, hands-on galleries, interactive performances, summer group programs, educators, tours, and inspiring shows.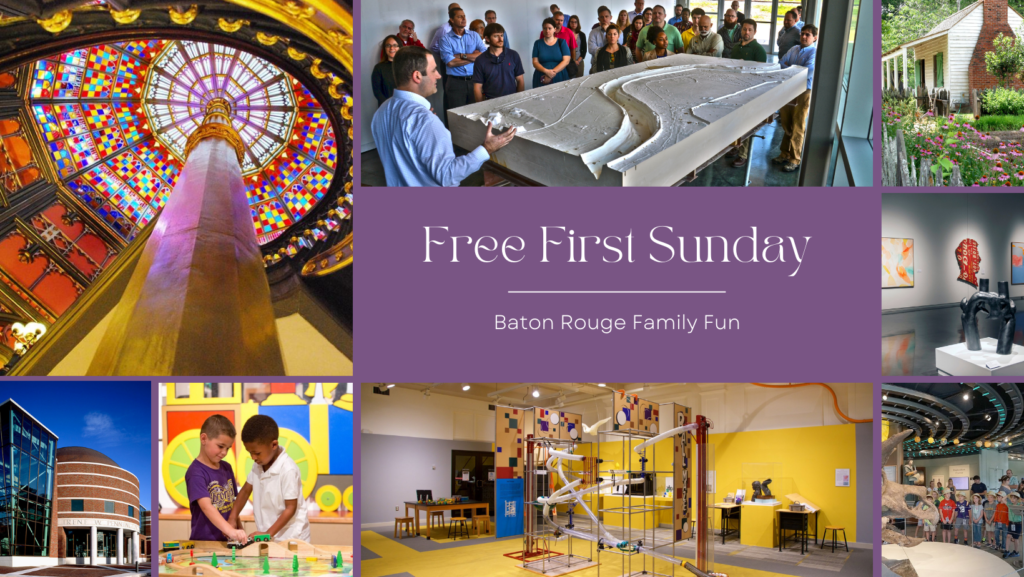 *Museum participation is subject to change. Please call the attractions to confirm or with any questions.
Free First Sunday Participating Museums
Louisiana Art & Science Museum

: The Louisiana Art & Science Museum is a great place to spend a Sunday afternoon. You can explore the museum's art galleries, planetarium, and interactive science exhibits. Plus, there's a cafe where you can grab a bite to eat.
The Louisiana Old State Capitol: The Old State Capitol is open to the public for free, year-round, not just on First Free Sunday. Recently renovated, the Old State Capitol features a museum and preserved chambers for guests to inspect. A detailed Huey P. Long exhibit is one of the highlights of a visit.

Capitol Park Museum: Explore Louisiana's diverse and colorful history at Baton Rouge's Capitol Park Museum for free on the first Sunday of each month, with special hours from 1 pm–4:30 pm. From Louis Armstrong to Huey P. Long, from Mardi Gras to fais-do-do, and from the nation-building commerce of the Mississippi River to the life-sustaining bounty of the Gulf of Mexico, the Capitol Park Museum provides a panoramic exploration of the most vibrant state in America.

The LSU Museum of Art at the Shaw Center for the Arts: Tour the LSU Museum of Art to see more than 6,500 pieces of art from around the world. The most extensive collections of art in the South, with a plethora of sculptures, photographs, and paintings.
LSU Center for River Studies at the Water Campus: Visitors are invited to explore the award-winning coastal-themed exhibit space and river model at the LSU Center for River Studies for FREE on the first Sunday of each month from 1:00 – 5:00 p.m.The Center's interactive exhibit space offers opportunities for guests of all ages to learn more about the history of the Mississippi River, Louisiana's disappearing wetlands, and ongoing coastal restoration projects across the coast. CPRA staff will be on-hand throughout the day to lead discussions and answer questions. You'll also have the chance to attend a unique educational presentation using world-class projector equipment on the river model.
Magnolia Mound: Magnolia Mound, a nationally accredited museum and historic site, sits on sixteen acres shaded with ancient live oaks and magnolias. Built circa 1790 by John Joyce, who purchased the property from James Hillin, it is the oldest documented structure in Baton Rouge. One of its noted residents in the 1800s was Armand Allard Duplantier, a former captain of the Continental Army under Marquis de Lafayette. Magnolia Mound believes that in retelling its history it is important to also tell the hard stories of our past, remembering the lives of the enslaved whose skills help to build not only our historic buildings but our state and our country.
Children can learn about daily life on a Louisiana plantation from the 1790s to the 1820s, Louisiana history, and more.
*Museum participation is subject to change. Please call the attractions to confirm or with any questions.
These are just a few of the many attractions you can visit on your first free Sunday in Baton Rouge. Be sure to check each venue's website for hours and other details. Enjoy your day out and take advantage of this great opportunity to explore Baton Rouge without spending a dime!