The summer weather has been HOT, and everyone is ready for cooler days. As temps start to decline a tad, it's the perfect time for outdoor family fun, and Mrs. Heather's Pumpkin Patch is the perfect way to kick off the Fall season.
Some of you, like me, may have seen tons of families pick strawberries on this farm back in the spring and have been wanting to check it out! Here's a glimpse at a previous trip and what you can expect this year.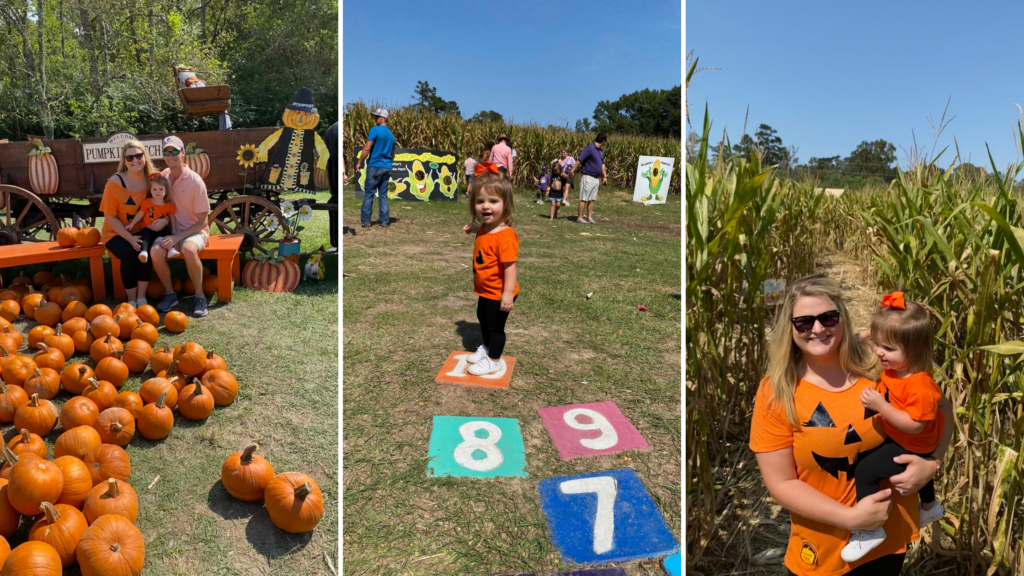 Mrs. Heather's Pumpkin Patch 2023
Admission for adults with children is free, and for children are $10 per child, which includes activities and a pumpkin for each child to bring home. Adults without children will also have a great time, and tickets are $10 per adult without a child.
The farm has almost every activity you can think of, and for an older child, I imagine you could spend hours there. There was a giant jumping pillow, many varieties of swings, hopscotch, a corn maze, tunnel slides, zip-lining, seesaws, face painting, and pumpkin painting.
There were also plenty of photo opportunities… on haystacks decorated for fall, and cutouts throughout the property.

Mrs. Heather's Pumpkin Patch Activities:
Pick a Pumpkin from the field
Zip line
Jumping Pillow
Tunnel Slide
Face Painting
Duck Racing
Hay Maze
Pony Hop
Play in our fun Corn Maze
Spider Web
Nursery Rhymes
Bean Bag Game
Seesaws
Learn about bees
Milk a Cow
Roll Down the Hill
Learn how pumpkins grow
Merry go round
Visit with cartoon characters
Hopscotch
Indian Tee Pee
Nature Trail
Lots of places to take pictures
Weigh & Measure your pumpkin
Bring a Picnic Lunch
Pictures with Spookley
Paint a pumpkin (weekend only)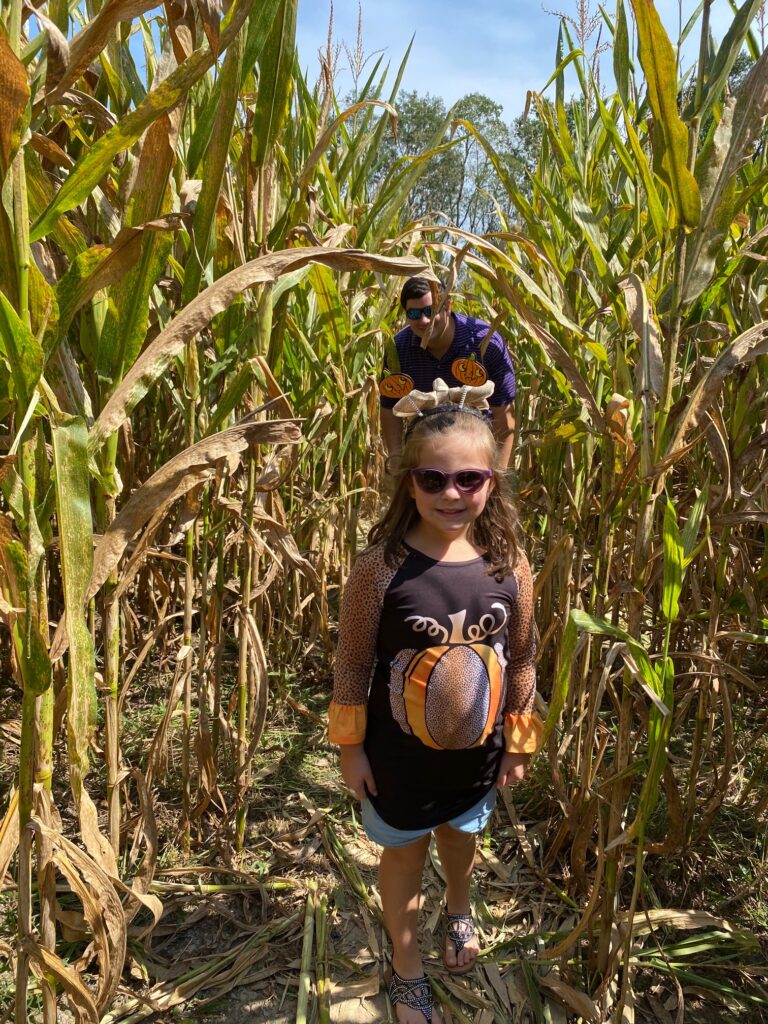 I have seen pictures and talked to some friends who visited Mrs. Heather's Pumpkin Patch on a weekday, and it was incomparable in crowd size. It looked like they had the farm to themselves! I think if we went back, I would plan for a weekday.
Since our daughter is on the younger side and couldn't do all of the activities, we stayed for about two hours which was plenty for her. If I had older children, I would suggest packing drinks, snacks, and even lunch. We saw some families having picnics on the property, and it seems as though you are allowed to bring in ice chests, wagons, chairs, etc, for a full day of fun.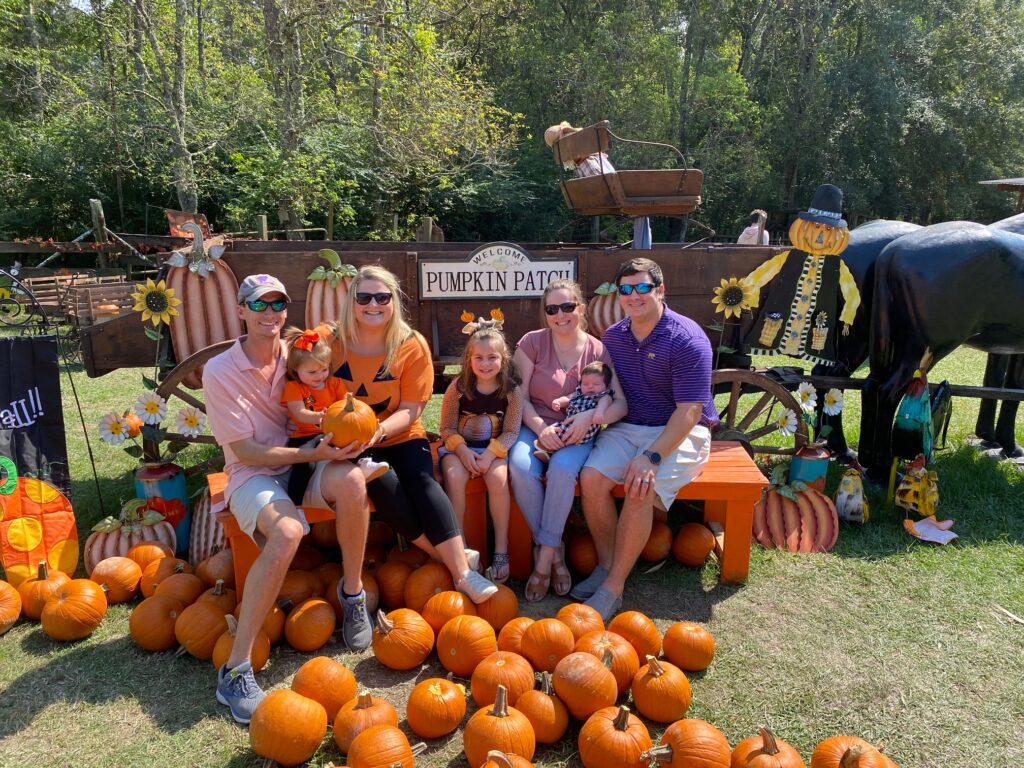 Mrs. Heather's Pumpkin Patch is open 7 days a week!
WHEN:
September 23– November 5, 2023
WHERE:
31458 La 43 Hwy, Albany, LA 70711. Phone: 225-567-3493
Directions: From I-55 take exit 32 then left toward Wardline Rd, drive 2 miles then turn right onto Lee Hughes Rd, drive 0.9 mile then turn left onto Lee's Ln.
SESSION TIMES:
Daily 9:00am – 4:00pm
ADMISSION:

Kids (newborn & up): $10 per child CASH ONLY
Adults with children/child free
Adults without kids: $10
Put on some festive outfits and make the quick 50-minute drive to Hammond when Mrs. Heather's Pumpkin Patch opens on September 24th!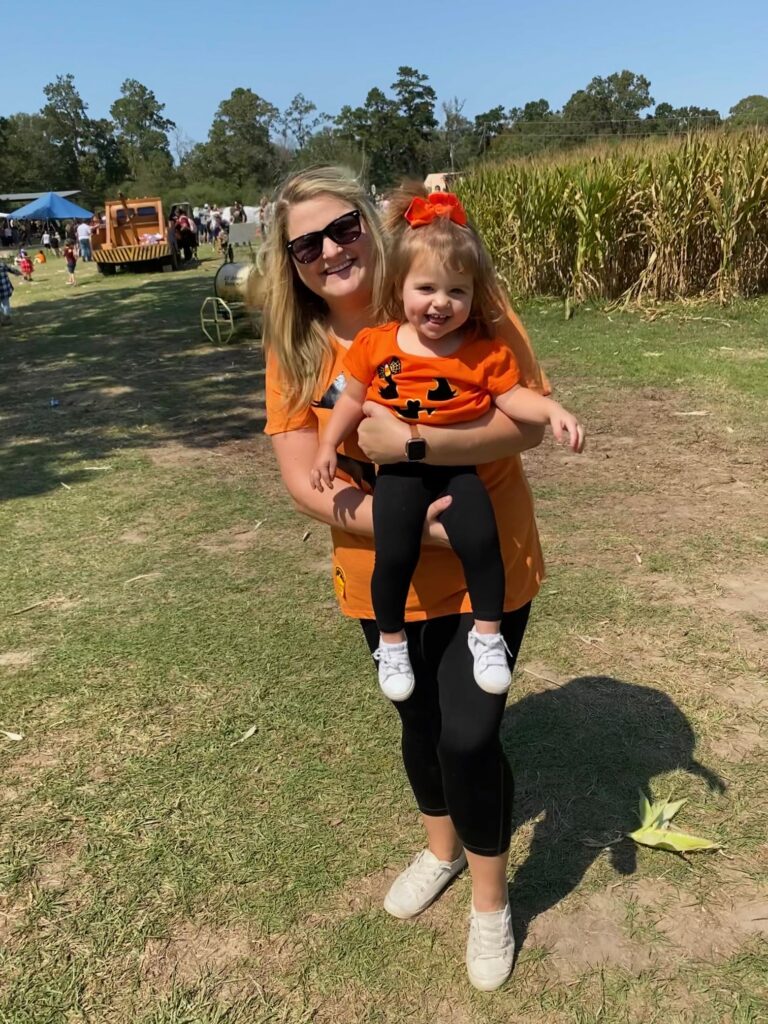 Christy was born and raised in Mandeville, came to LSU to study PR, and after meeting her husband and finding a job she has stayed in Baton Rouge ever since! She's a stay-at-home-working-mom to two girls who she loves watching grow and learn each day. In her free time, Christy, her husband Harold, and Lucy enjoy being outside, trying new restaurants, traveling, and finding any excuse to decorate the house, cook, and have friends over.