Christmas in Baton Rouge is our family's favorite time of year; there are plenty of family-friendly activities for everyone to enjoy! Whether you're looking for a Christmas parade, holiday-themed performance, Santa visit, ice skating, or lights displays, there's the cornucopia of holiday-themed programs and Christmas events in the Capital City throughout the season.
Thanks to Refinery Counseling Center for sponsoring this year's Holiday Events Guide.

Refinery Counseling Center was founded in 2022 with a heart to bring mental health counseling to the modern world. Far-removed from the sterile and stigmatized counseling experience, they provide elite boutique counseling services for children, teens, college students, adults, couples and families. Their hope is that your experience at Refinery would be one of excellence.
While every effort has been made to ensure this information is accurate, we encourage you to contact the display directly to verify that all details are correct and have not changed. 
This guide will be updated as new events are listed; check back for more Baton Rouge Family Fun!
CHRISTMAS EVENTS IN BATON ROUGE
---
DECEMBER 10TH 5-8 PM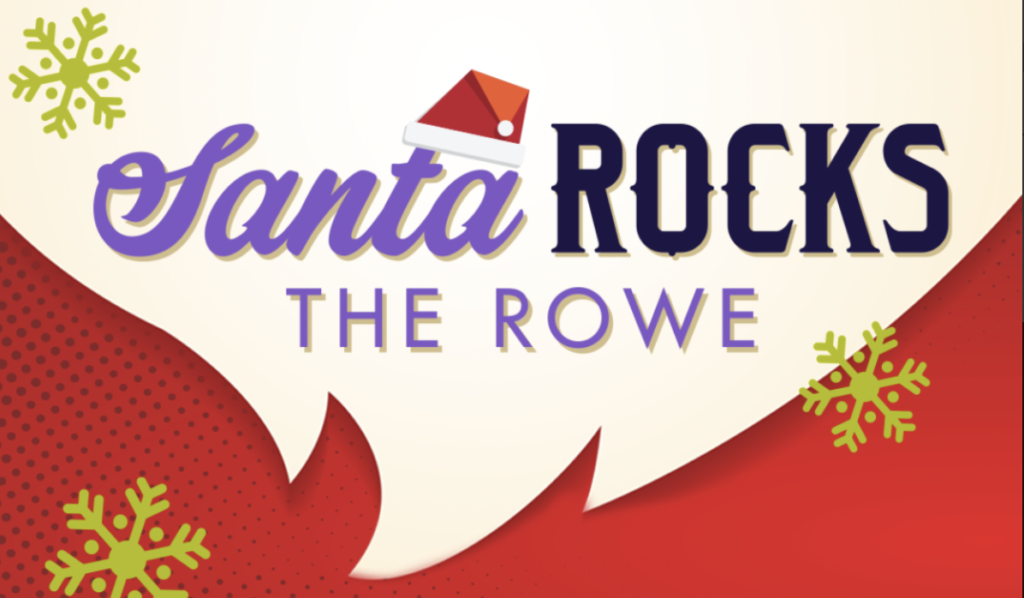 Join us on Saturday, December 10 from 5pm-8pm for Perkins Rowe's annual Santa Rocks the Rowe event! They'll have paid photos with Santa, live music, face painting, letters to Santa with Baton Rouge Family Fun, games, and more! This event is free and open to the public.
---
NOV. 25 – DEC 30 5:30 PM TO 8PM

Zoolights is a mile-long trail through the Zoo with more than 50 illuminated display sculptures of animals and traditional holiday displays. Once again, the Zoo is partnering with The Greater Baton Rouge Food Bank to bring more impact & excitement to Zoolights. Every guest presenting non-perishable food items (minimum of one per person) during the hours of Zoolights, will receive a 50% discount from the regular admission price. All food donations will go directly to the Greater Baton Rouge Food Bank.
DATES: November 25 – December 30 Closed Christmas Eve & Christmas Day Admission gates open 5:30 p.m. to 8 p.m. Zoo grounds close at 9 p.m.
---
NOVEMBER 27TH 12-5 PM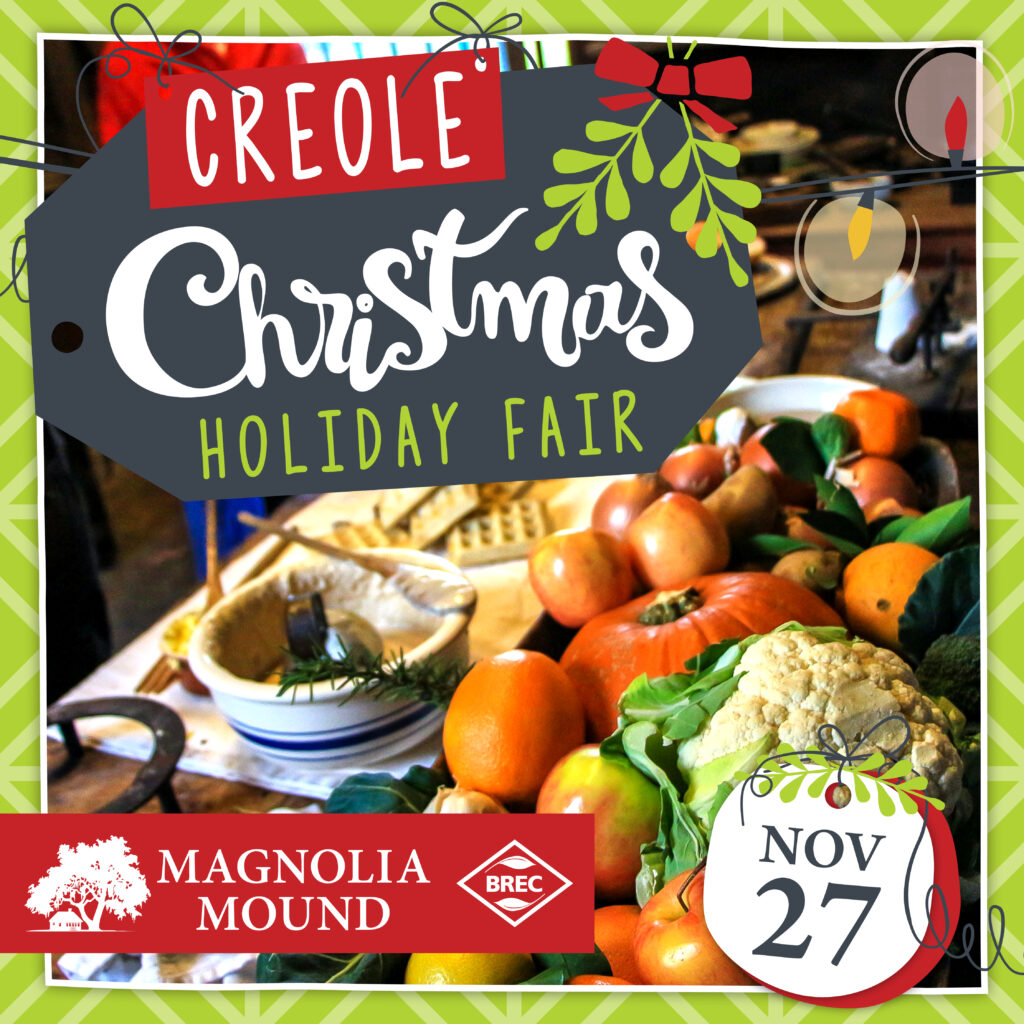 Magnolia Mound Plantation – Creole Christmas is an annual event featuring seasonal decorations in the historic house, traditional songs in French and Spanish sung by local school children, period demonstrations, folk crafts and the annual bonfire to welcome Papa Noel. DATE: Sunday, Nov 27, 2022 12:00 PM – 5:00 PM
---
DECEMBER 1ST, 3RD, 4TH, 9TH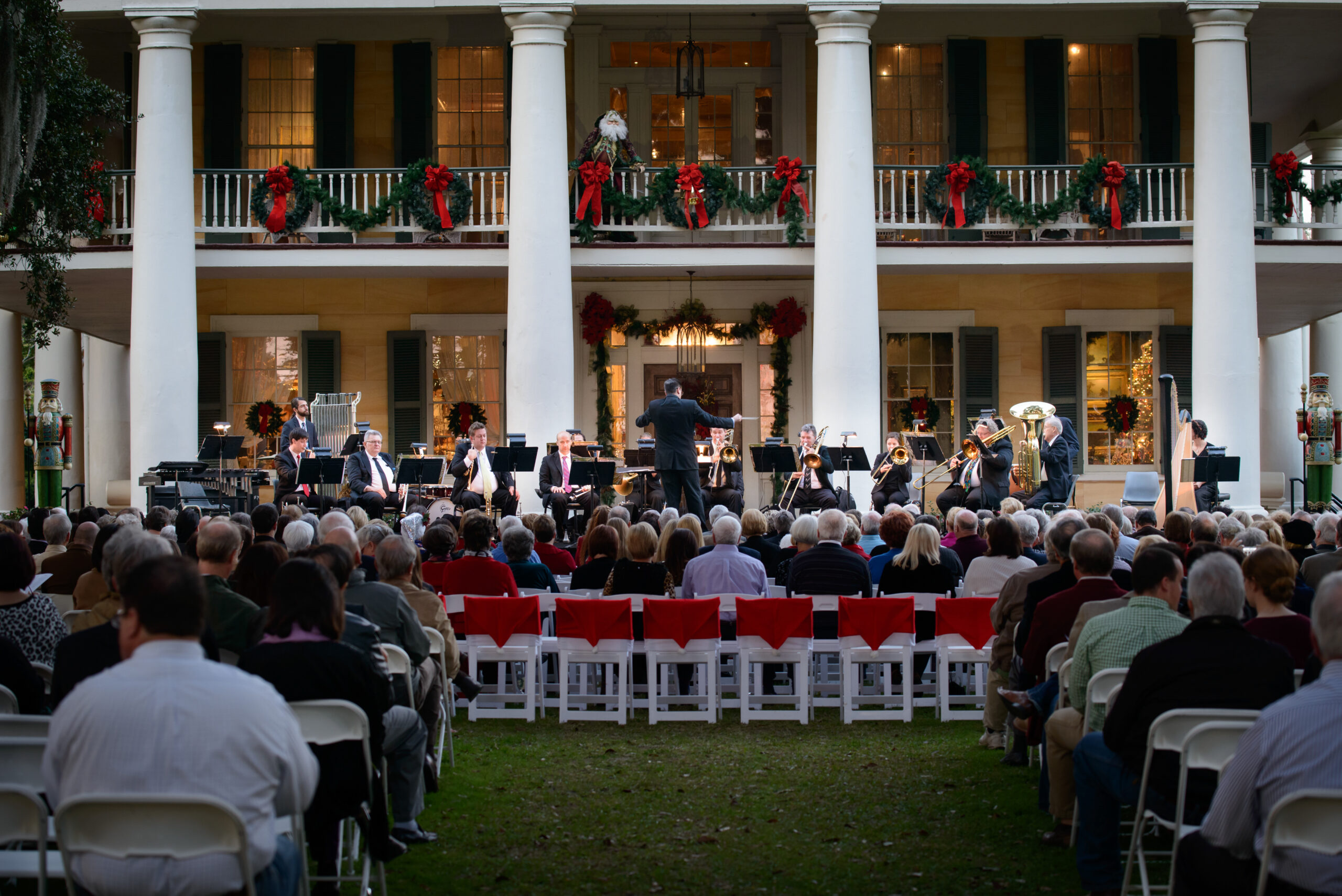 Chamber Series – Holiday Brass -December 1st
Holiday Brass – Whimsical Alley – December 3rd
Holiday Brass – Houmas House – December 4th
Holiday Brass – Hemingbough – December 9th
---
DECEMBER 2ND 4 – 8 PM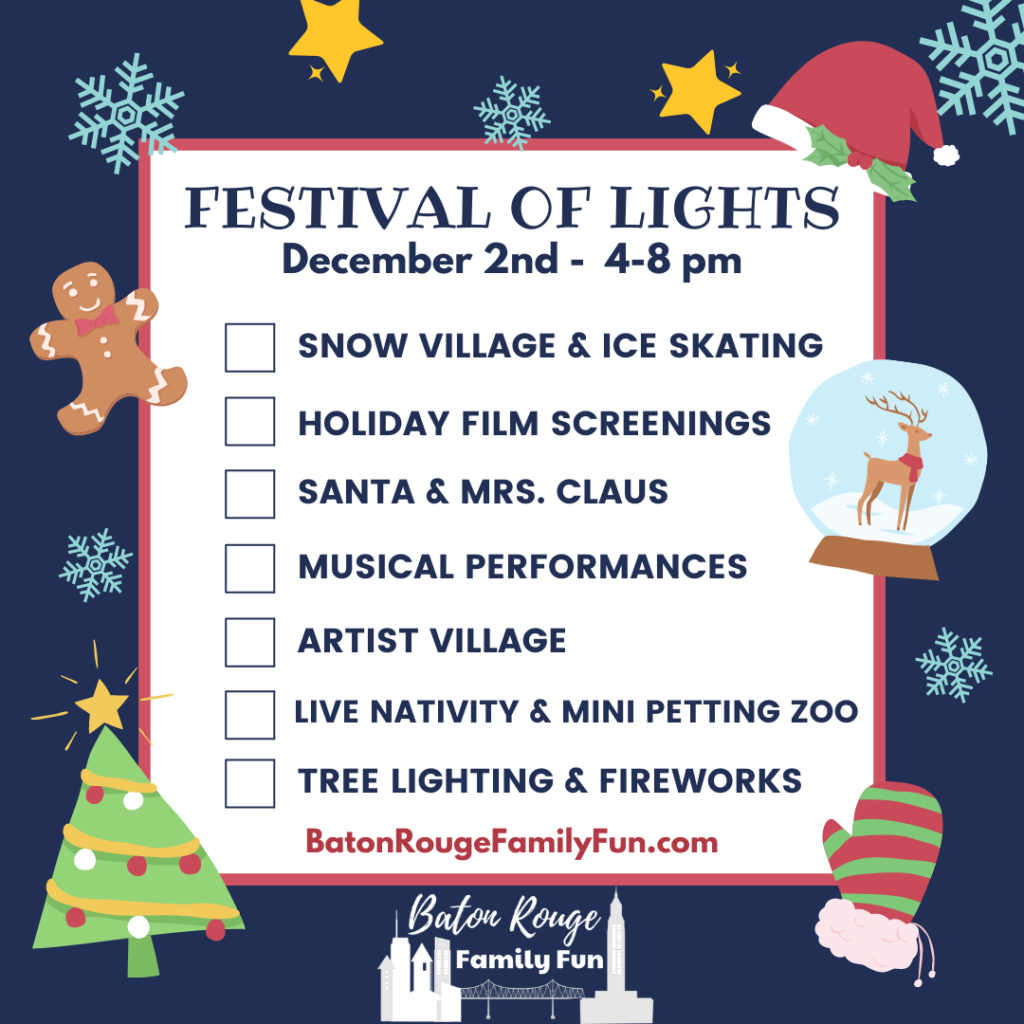 Enjoy an evening under downtown's historic oaks to commemorate Baton Rouge's oldest holiday tradition. Transforming the winter sky into a wonderland, the Mayor will light North Boulevard with half a million sparkling lights. Experience the magic beneath the 35-foot Christmas tree in Town Square. DATE: FRI 2nd DEC | 4:00PM – 8:00PM
---
DECEMBER 2ND 6-8 PM
North Sherwood Forest Community Park – Drive thru the holidays at BREC's Selfies with Santa. Each car will receive prepackaged holiday activities, snacks and reindeer food! Santa will also be available to take selfies with you and your family from the safety of your own car. This event is free and open to all ages and abilities. DATE: Friday, Dec 2, 6:00 PM – 8:00 PM
---
DECEMBER 3rd 11 AM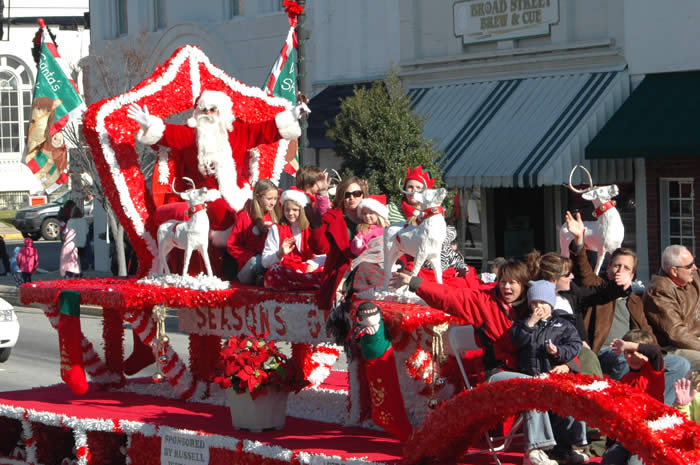 Hosted by the Broadmoor Residents' Association.
Parade rolls promptly at 11:00 am.
• This is an outdoor event and the parade will roll as long as weather conditions permit.
• The parade route begins at Broadmoor High School parking lot (on Goodwood Blvd), east onto Goodwood Blvd, through the S curve, then north on Woodhaven St, then west on S. River Oaks Dr., then south on Cora Dr., then east on Goodwood Blvd back to the Broadmoor High School parking lot. The parade route is about 1.9 miles in length.
In addition we are asking both participants and attendees to bring a non-perishable food item(s) for donation. All the food items collected will be given to the food pantry immediately after the parade and then distributed to those in need by S.E. Ministries.
For information on the Broadmoor Christmas Parade (including the parade route map), check the 'Parade' section of the website at
http://www.broadmoor-br.org
---
DECEMBER 4TH 10- 5 PM

Ring in the Holiday season with a 19th century Louisiana celebration at the LSU Rural Life Museum.  Decorations with natural trimmings representative of special times of long ago will be displayed throughout the museum's grounds.  Seasonal activities such a musical groups, demonstrating artisans, open-hearth cooking, storytellers, and costumed re-enactors will be present during this event. A complete list of activities and musical performances will be available soon. Children ages 0-3 will be admitted at no charge.  For everyone else, the cost is $10.00 per person. Admission: $10.00 per person. This event will conclude with a bonfire and a visit from Papa Noel! DATE: Sunday,  December 5,  10:00am until 5:30pm
---
DECEMBER 10TH 1-5 PM
Come and celebrate the holiday season with us! Join us as we celebrate at Let it Sneaux. There will be live entertainment, free photos with Santa, smores, hot chocolate, and so much more! So come out and enjoy a day filled with family fun entertainment. DATE: Friday, Dec 10, 1:00 PM – 5:00 PM
---
DECEMBER 10TH 5:30PM
The Annual Cortana Kiwanis Downtown Christmas Parade will roll through Downtown Baton Rouge on December 10th at 5:30 pm. Every year, more than 70,000 people watch the parade live and thousands more enjoy it on television through the holiday season. The Parade is a celebration and a great way to connect with the community. The parade is open to everyone. Typically the parade includes about 80 entries. These entries are a mix of marching bands, celebrities, dance troupes, non-profit organizations, and local businesses in seasonal themes. DATE: December 10th at 5:30 pm
---
DATES: December 16th – January 3rd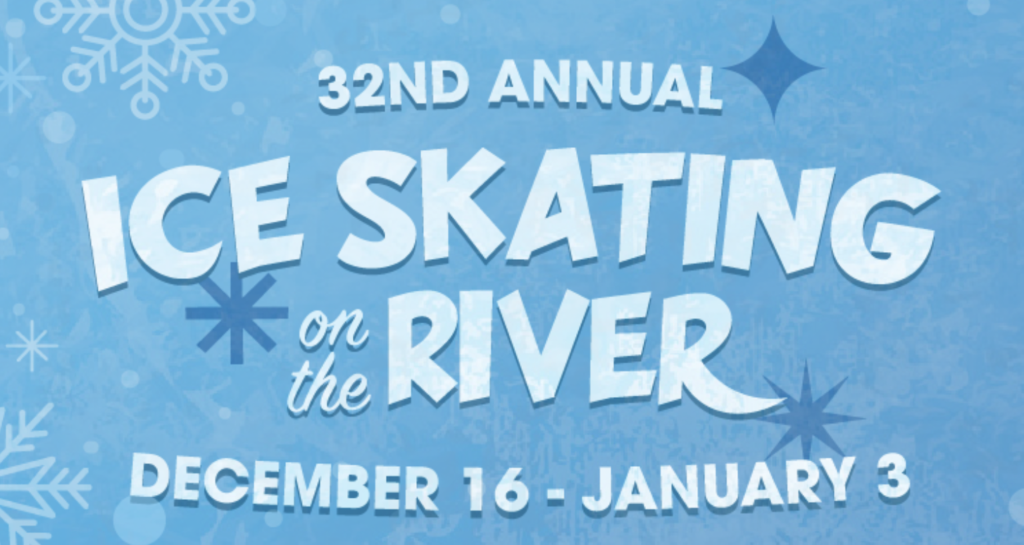 One of our family's favorite Christmas events in Baton Rouge… The Raising Cane's River Center will once again magically transform into a "Winter Wonderland" just in time for you to create your holiday memories. Ice Skating on the River is an annual holiday tradition that will kick off December 16th. A fun-filled holiday event for all ages, Ice Skating on the River will have 75 minute sessions nearly every day.
DATES: December 16th – January 3rd
---
DECEMBER 17TH & 18TH 2 PM & 6 PM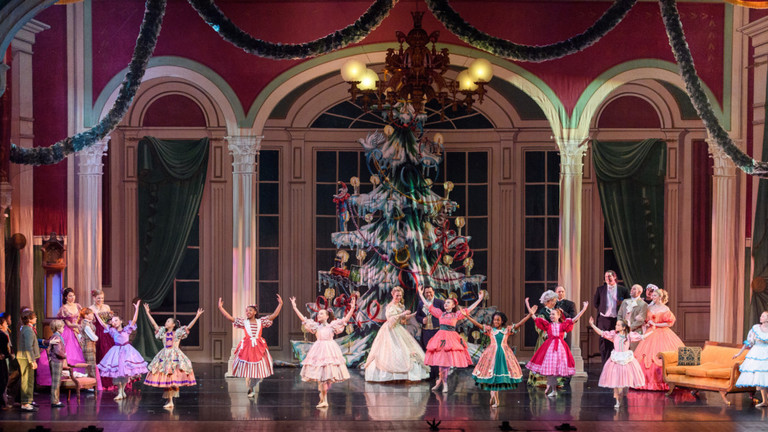 Baton Rouge Ballet Theatre's annual holiday production, The Nutcracker – A Tale from the Bayou is finally returning to the stage in its traditional home, the River Center Theatre of the Performing Arts. It has been three years since the Company has been able to perform on the stage where it feels most comfortable, so our return to live performances on our "home stage" will truly be a celebration! We will again be joined by the Baton Rouge Symphony Orchestra, so don't miss this magical celebration of the holiday season, where you'll be enchanted by the beautiful choreography, fun magic, and lush scenery and sets by Nels Anderson.
DATES: December 17-18, 2022 at 2:00 and 6:00 p.m. each day.
---
36th Annual Christmas in Central Parade
Celebrate Christmas in the City of Central at the 34th Annual Christmas Parade!
From Joor & Hooper to Joor & Lovett
Dates: TBA
---
DECEMBER 18TH4:30pm

Celebrate Hanukkah with a hot latke bar, menorahs, dreidels, and more hosted by Chabad of Baton Rouge. Children can get their faces painted and play festive games and enjoy strolling performers. The event is free to the public at the steps of the State Capitol.
DATE: December 18th 
---
Holiday Events Beyond Baton Rouge
NOVEMBER 24 – JANUARY 1ST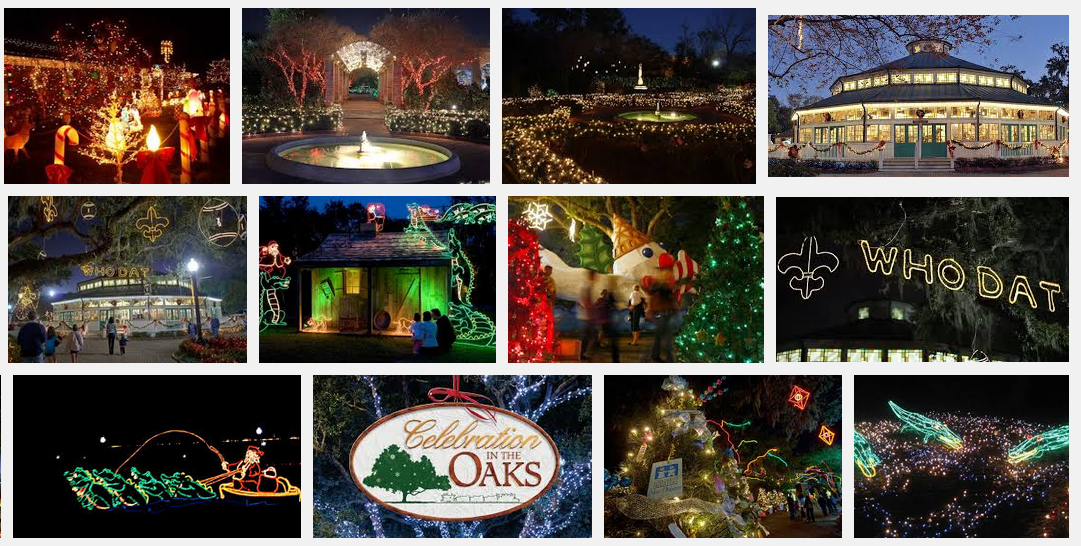 Celebration in the Oaks in City Park is one of the most spectacular holiday lights festivals in the country. This beloved annual celebration is fun for all ages and has become an enduring holiday tradition for families, who come to Celebration in the Oaks to ride the train or carousel every year. Visitors are treated to a wide range of attractions, from light displays to the walkways lined with dozens of Christmas trees decorated by local school groups. Perennial favorites include the two-mile train ride through glittering light exhibits, the animated Cajun night before Christmas display, and of course, New Orleans' iconic snowman Mr. Bingle. DATES: November 24  – January 1, 2022
(closed December 24th and 31st)
---
DECEMBER 2ND – 30TH
Lafreniere Park sparkles for the holidays with millions of twinkling lights and displays! Constructed with over 10 million LED lights, this year's new exhibit is an interactive Christmas tree. Elaborate decorations, artificial snow, and festive lighted displays illuminate Lafreniere Park and include themes such as Star Wars, Marvel & D.C Comics, Minions, Disney Princesses, a pirate ship and so much more.
The 36th Annual Christmas in the Park will be held nightly at Lafreniere Park beginning on Friday, Dec. 2, -Dec. 30th
---
DECEMBER 21ST – 30TH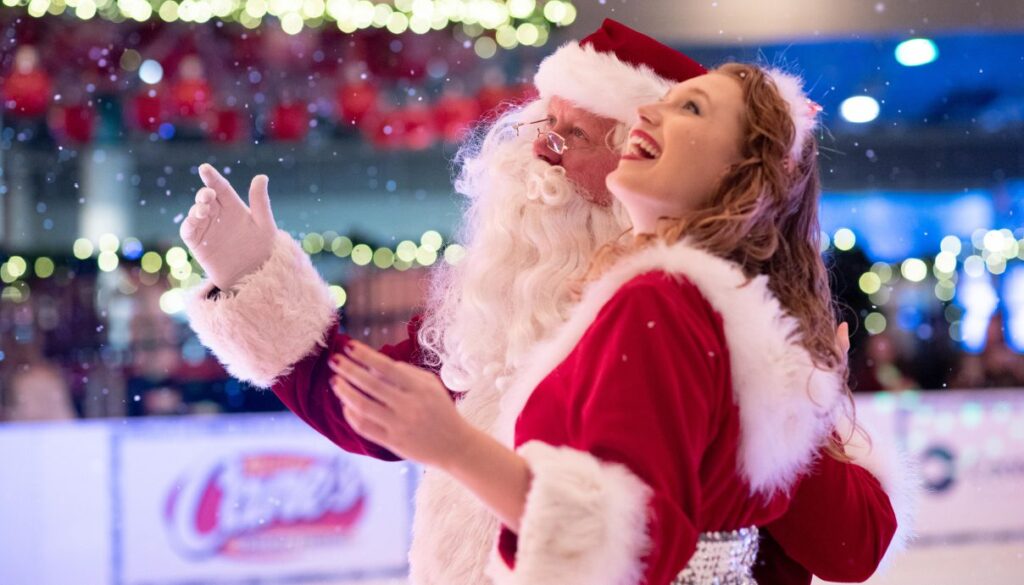 NOLA ChristmasFest, a dazzling, family-friendly seasonal event, offers your group the perfect opportunity to get into the holiday spirit, make a little joy, and spread a little cheer. Experience a real indoor ice skating rink, ice slides, carnival rides, Santa and friends, Gingerbread houses, decorated trees and more! Convenient parking nearby. In 2021, this event is open for 12 days (closed on Dec. 23 and 24) with two sessions per day – a morning timed entry and an evening one. Space will be limited for each timeframe so be sure to make your plans early! Tickets go on sale late summer 2021. DATES: December 21ST –  30TH
---
December 2 – December 18
Each year in November and December, the streets and buildings in Rivertown from the railroad tracks to the river are adorned with dazzling lights and displays. The festivities culminate in Kenner's Heritage Park located at the center of the district and open every day and evening. There, visitors can wander through and view the festival displays, shop local food and craft vendors, find a unique gift, take a photo with Santa or catch a song or dance performance by community churches and school groups.  Children revel in the sudsy "snow" that blankets the park throughout the evening and a special holiday-themed musical laser light show plays in the Planetarium theater right across the street.  You're sure to catch some holiday cheer in Rivertown.​
Traditionally, the lights and decorations in Rivertown can be enjoyed nightly beginning in late November and running through the month of December.
Vendors, activities, and performances in the Christmas Village are planned every Friday, Saturday and sunday evening from 5:30 pm to 8:30 pm in Kenner's Heritage Park at 2015 Fourth Street. Admission and parking are free.
Address: 2015 Fourth Street, Kenner, LA
---
December 3rd  6:00 PM- 8:00PM
The plantation comes to life during the holidays, as it shows off its seasonal decorations as if it were 1821. Costumed guides accompany the visitor on a trip into the past through the candlelit Oakley House. Take a taste of chestnuts roasting on an open fire, have a cup of wassail or just enjoy the yearly Christmas dance or listen to live period music.
---
DECEMBER 2, 3, 4
Nothing says Christmas to an excited child more than a parade, especially a safe small-town one like St. Francisville's popular Christmas in the Country parade the first Saturday each December, complete with marching bands and decorated floats, Santa resplendent in his sleigh. Millions of tiny white lights trace soaring Victorian trimwork and grace gallery posts to transform the entire town into a veritable winter wonderland for Christmas in the Country, as special activities throughout the extensive National Register-listed downtown Historic District provide fun for the whole family at this celebration of the season, a joyful alternative to mall madness. View the full schedule of events here. DATES: DECEMBER 2, 3, 4TH
---
DECEMBER 2 – 23

LARC's Acadian Village hosts its 23 night Christmas festival fundraiser annually in December to benefit LARC, a local 501c(3) non-profit organization benefiting persons with intellectual and developmental disabilities.
Admission is $9.00 for ages 3 and above online,$8 at Acadiana Shop Rite locations & $10.00 at the gate.
Noel Acadien au Village features half-a-million lights, including the fully lit Chapel, NEW ANIMATIONS, lighted holiday displays, live entertainment, carnival rides, local cuisine, photos with Santa, holiday shopping in the Christmas Store and much more! All proceeds directly benefit LARC's Acadian Village and the residential, vocational, and community supports and services at LARC. DATES:
---
DECEMBER 16, DECEMBER 17, DECEMBER 18
Christmas in the Park. Moncus Park. 5:00 pm – 10:00 pm. Celebrate the season with a CHRISTMAS event that will have live music, as well as separate activities for kids. Visit the link for a full live music lineup. MoncusPark.org/Christmas.
Christmas in the Park
Friday, December 16 | Saturday, December 17 | Sunday, December 18
Teddy Bear Tea
Saturday, December 17
Mistletoe & Mystery Brunch
Sunday, December 18
Christmas Movies & Caroling
Wednesday, December 21
DATES: December 16, 17, 18, 21
---
DECEMBER 9, 10, 11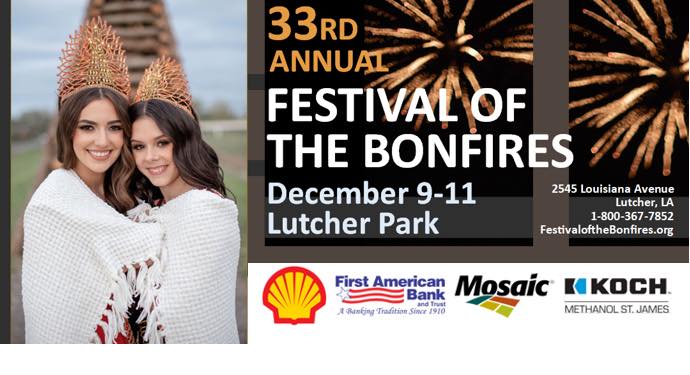 CHRISTMAS ON THE RIVER…CAJUN STYLE! Enjoy great food, live entertainment, crafts, Santa's Very Merry Forest and carnival rides throughout the weekend. Each night will be highlighted with a single bonfire lighting! Come out and experience a prelude to the famous Christmas Eve Bonfires: A tradition unique to St. James Parish and all the world!! LOCATION: Lutcher Recreational Park Lutcher Avenue- La HWY 3193 Lutcher, LA 70071 DATES: December 9, 10, and 11
---

A weekend trip or long day trip with lots of driving along with lots of memories made.

The Louisiana Holiday Trail of Lights has existed for nearly 30 years to enhance the holiday experiences for locals, visitors, and group tours. The trail spans I-20 and I-49 in north Louisiana and incorporates Shreveport-Bossier, Minden, Monroe-West Monroe, Natchitoches, and Alexandria/Pineville.
Festivities generally start in mid-November and run through the New Year. Some of the popular and recurring events include shopping/dining/entertainment at the Louisiana Boardwalk Outlets in Shreveport-Bossier, Fasching Festival in Minden, shopping and dining in Antique Alley in Monroe-West Monroe, Festival of Lights in Natchitoches and the Christmas parades in Alexandria/Pineville.
The Louisiana Holiday Trail of Lights can be experienced in one day or a week with each day totally unique and special. The cities are all within driving distance of one another, making the tour a convenient hour-long trip from any one city to its neighboring city. Visitors are encouraged to see the brilliant lights, dine at the local restaurants, dance at the festivals, shop, and play in all of the eight festive cities. DATES: Begins November 10th
---
NOVEMBER 19 -JANUARY 6TH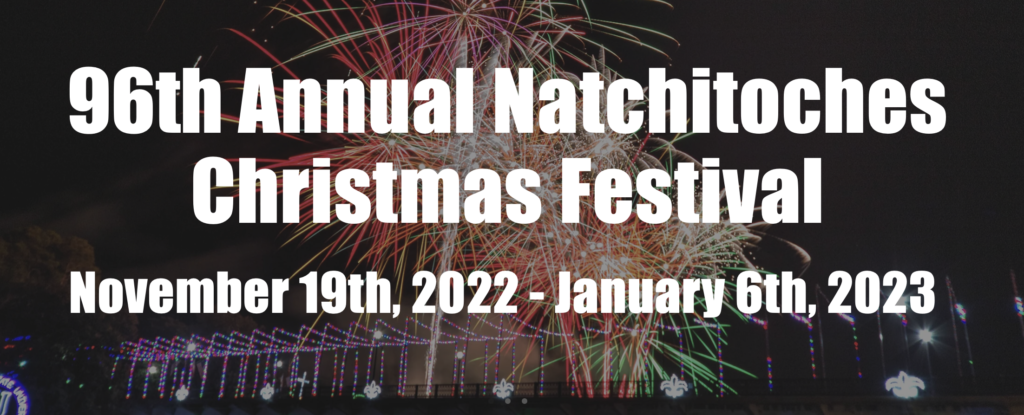 Named after a Native American tribe, Natchitoches (pronounced Nack-a-tish ) is the oldest permanent settlement in the Louisiana Purchase Territory. Since 1927, they are home to one of the oldest community-based holiday celebrations in the country. Starting as a one-day festival, the Natchitoches Christmas Festival has evolved into a six-week long Christmas Season. The Christmas Season begins on the Saturday before Thanksgiving and concludes on January the 6th, the Epiphany. Over 300,000 lights and 100 plus set pieces are on display every night at dusk. Celebrate the Christmas season in Louisiana's oldest city. Enjoy our daylong festival filled with music, entertainment, arts and crafts, food vendors, and our famous firework show choreographed to holiday music over Cane River Lake. DATES: November 20th to January 6th
---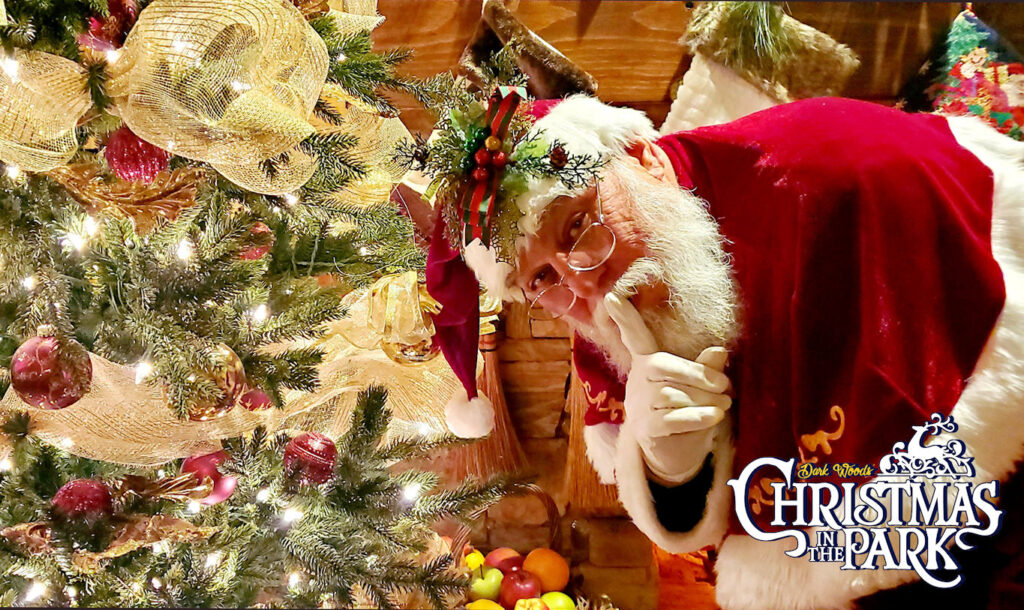 Dark Woods Adventure Park is pleased to announce the Holiday dates and times for our Dark Woods' Christmas In The Park special event.
From strolling the woods twinkling with light displays to sitting next to a fire-pit and making s'mores discover what makes Christmas in the Park an environment that is filled with love, family, and a true Christmas spirit that is truly in the heart of Natchitoches Parish. DATES: Open Select Nights November 26th – December 25th
Our Christmas events in Baton Rouge guide will be updated as new events are listed; check back for more Baton Rouge Family Fun! If we've missed an event, please email us and we will get it added asap! 
While every effort has been made to ensure this information is accurate, we encourage you to contact the patch directly to verify that all details are correct and have not changed.