As a family, we have learned so much culturally from our move to America. One of the things I have loved embracing is the holidays here and the traditions surrounding them. Fall is when all the pumpkins come out, and sweater weather and gumbo making is in full swing.
There are specific experiences that each season here offers, and having our children be a part of these new traditions is very exciting. There is something magical in having so many wonderful memory-making traditions and times with your children; so much joy is shared in these moments!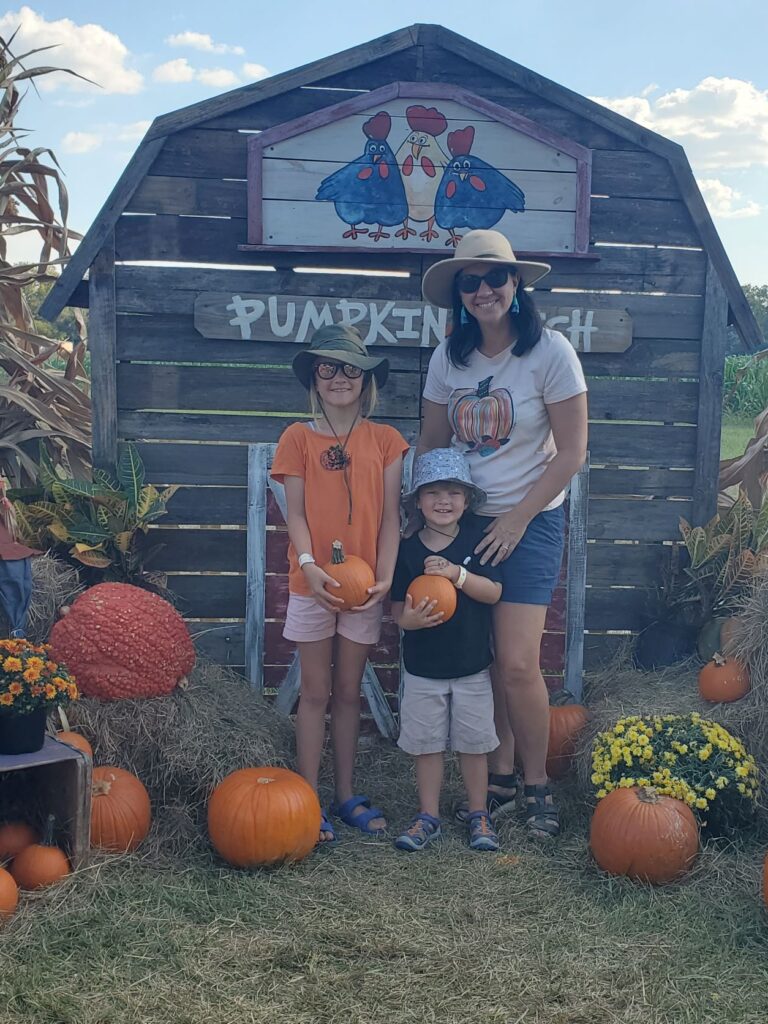 Corn Maze at Burden
Annually we carve pumpkins (well… mostly, my hubby does all the work,) organize Halloween outfits, and go to a pumpkin patch as our 'must-do' traditions. We found our favorite pumpkin patch fall fun day at the LSU Botanical gardens, and this year was our third year. Some activities have remained, and new ones have been added, but each time we have come away after a fun day out, soaking up the incredible feeling of fall being in the air and fun being the only thing on the agenda.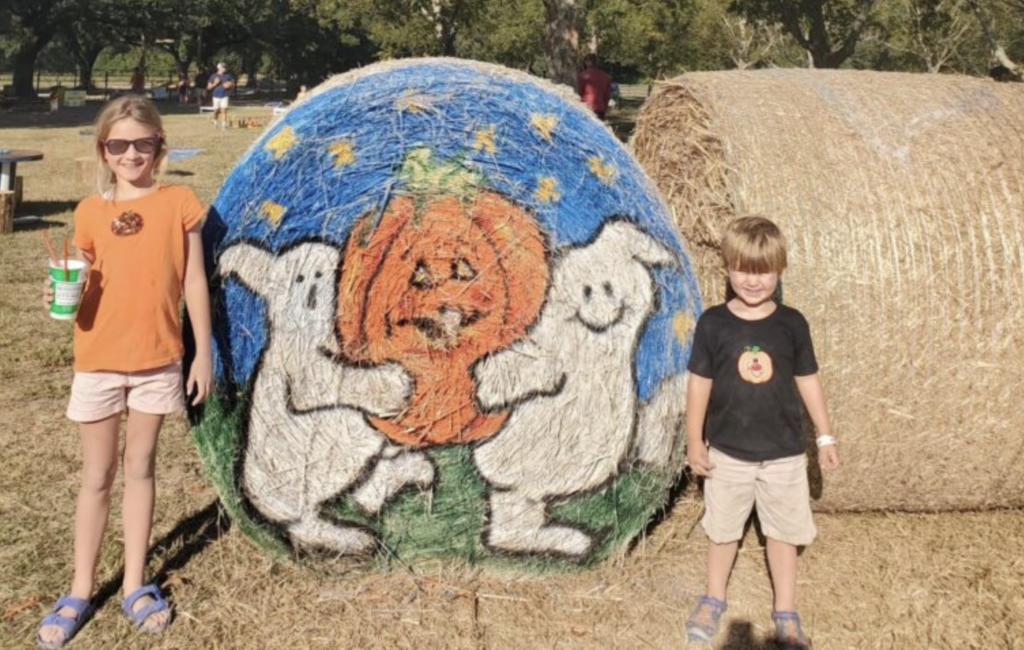 Where Is It?
The Corn Maze at Burden is held at the LSU AgCenter Botanic Gardens in Baton Rouge. The setting is scenic, with the flowers and plants as a backdrop. The farm fall feeling is there in abundance. So if you are looking for a day of fall fun, this is the perfect spot for it in the city.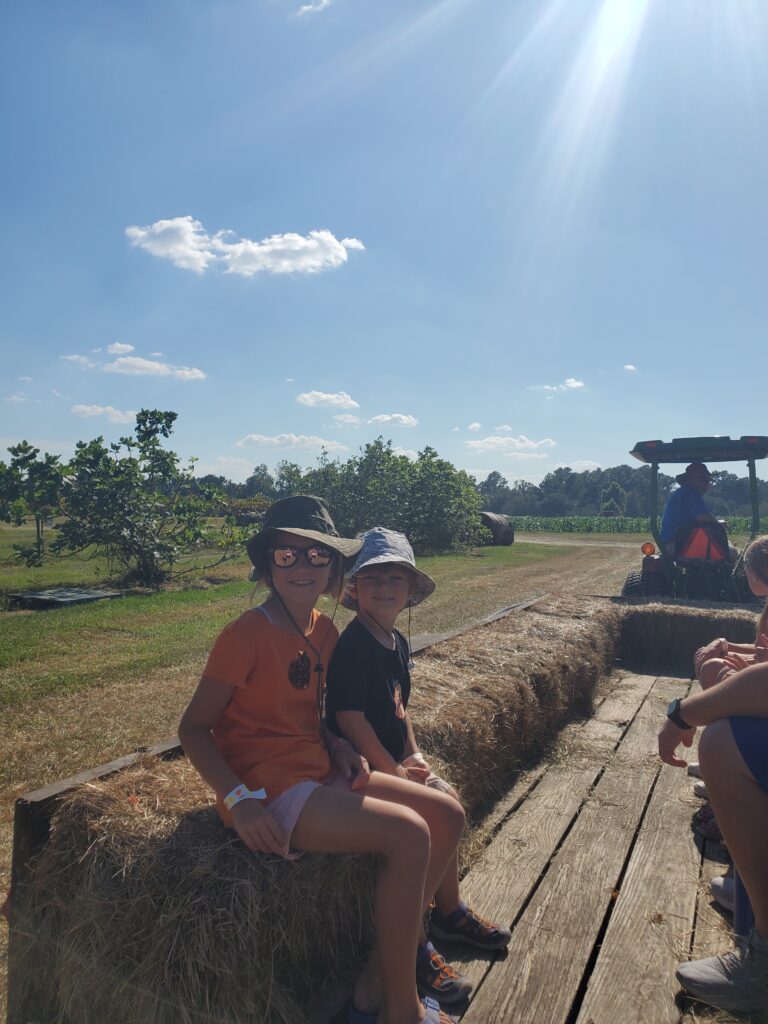 What Is There To Do At The Corn Maze at Burden
Cornmaze
Parents will appreciate that this Cornmaze is not the longest or most difficult and the patchy spots are perfect for both big and little kids. The characters that are spotted along the way add to the fun.
Spook-tactular Playground
The spider web is back and just as much fun for kids of all ages. Being low to the ground makes it so easy for the little ones to climb on. You may spot a green dragon made of painted tires to climb on and there are two closed slides near the entrance.
Petting Zoo
Animal lovers unite! Bring a couple of dollar notes to buy some food as you enter the area and let your kids feed and pet the goats, cows, and Llamas. A hand washing station is there for your convenience once the kids have had their fill of fun.
Hay Mountain
Climb to the top of a hay mountain and take a photo with the American flag at the top!
Hay Ride
This is my favorite! The hay ride stops for you to hop off and pick satsumas. You can ride or walk a short distance back. Watching the kids pick and eat the juicy satsumas fresh off the trees is priceless. Sunflowers are weather dependent.
Corn Crib – This could be an activity to keep my kids busy for the entire two hours! It's huge and such sensory fun… lots of digging, jumping, and crawling to be done. Do yourself a favor and dig your feet in too!
Temporary Tattoo Parlor
Let the kids put a tattoo on by themselves!
Picnic area with local food vendors
Freshly popped corn, gelato, or snowballs with drinks and water for sale to quench thirst and curb hunger.
Pumpkin Patch
Choose your perfect pumpkin to take home and decorate and take a photo at the adorable photo op station.
What To Know Before You Go
Offered every Saturday of the month of October in 2-hour time slots
Morning 9-11am, Midday Noon-2pm, Afternoon 2.30- 4.30pm, Night maze on 29 October only at 6-9pm
Buy a $15 ticket per person and free for children 2 and under here: https://lsuagcenterbg.ticketspice.com/corn-maze
Make a toilet stop at the Burden Museum and Gardens Visitor Information office before entering to park.
No pets allowed.
Bring a few dollars in cash for a snack, or some feed for the petting zoo.
Wear comfortable shoes which you don't mind getting dirty.
Pack water, sunscreen, and hats.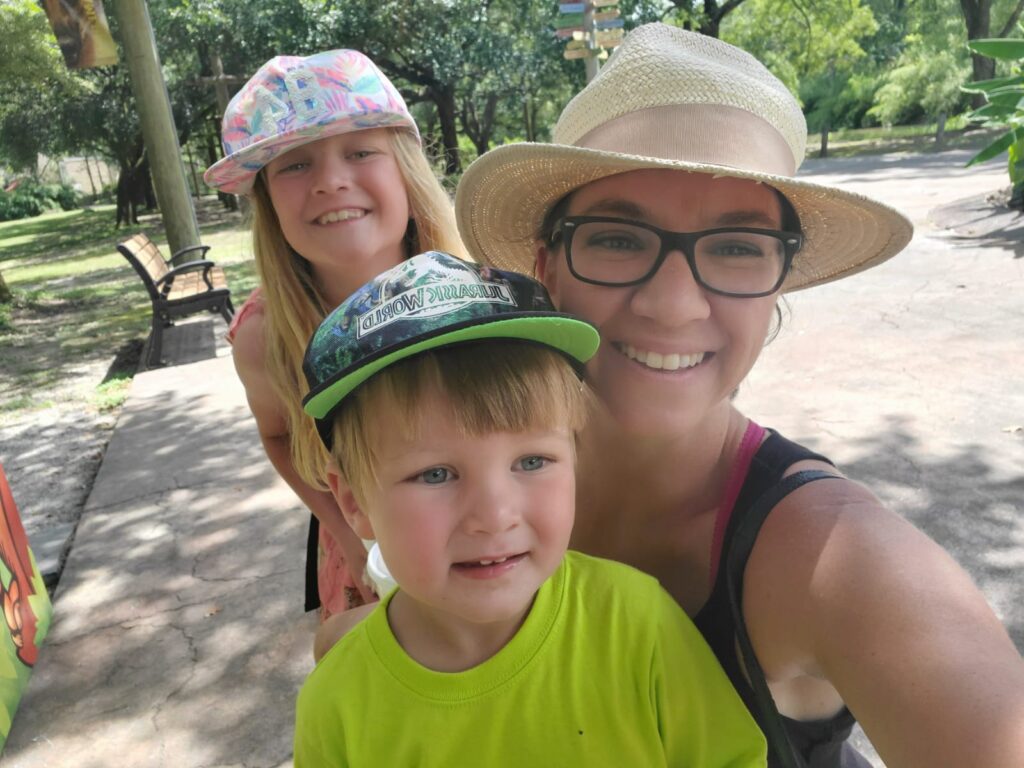 Roz is a wife and mother of two, who loves traveling and experiencing life to the fullest. Raised in Southern Africa, she has lived in the UK, Thailand, and now the USA. She enjoys camping with her family, exploring new places, and sitting by a campfire. When she is not working, you will find her shouting for her kids on the soccer field, jogging with loud music in her ears, or creating art with her kids.