As Memorial Day weekend approaches, we have the opportunity to honor the brave men and women who have sacrificed their lives for our country while embracing the joyous summer spirit and the cherished tradition of family gatherings. It's a time to pay homage to our heroes and celebrate the season of sunshine and fun.
Here are our Top 5 Memorial Day weekend picks!
Events are subject to change, be sure to check events are as scheduled before heading out.
Memorial Day Weekend in Baton Rouge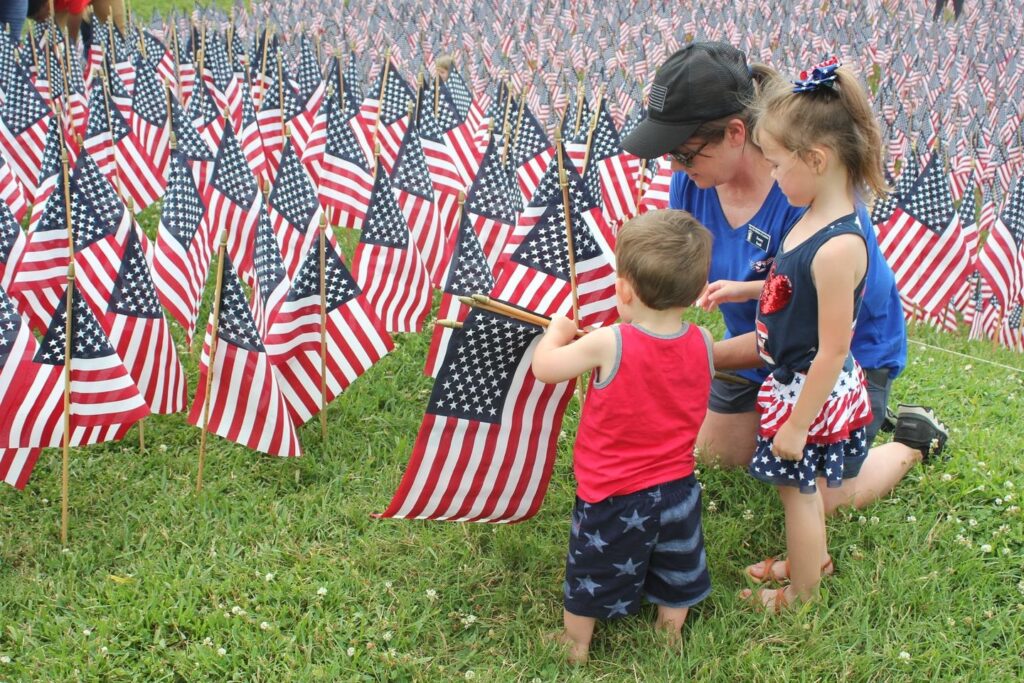 Saturday, May 27th, BSM and volunteers will be planting 11,000 American flags and reading the names of the fallen from 9/11 to the present day.
The flags will be carried in by the For Our Fallen organization which consists of active and former military members. Please line the street in front of the State Capitol @ 7:30am to Welcome the Heroes Hump carrying the flags.
The opening Ceremony will begin @ approximately 8:30 am followed by the planting of the flags. The public is encouraged to attend. Seating for the ceremony is very limited. Please bring your lawn chairs. It's a great experience for your children and grandchildren!!
Flag pick up will be on June 3rd at 8:00 a.m.
Memorial Day Festival
May 27th + 28th
PARDS North Park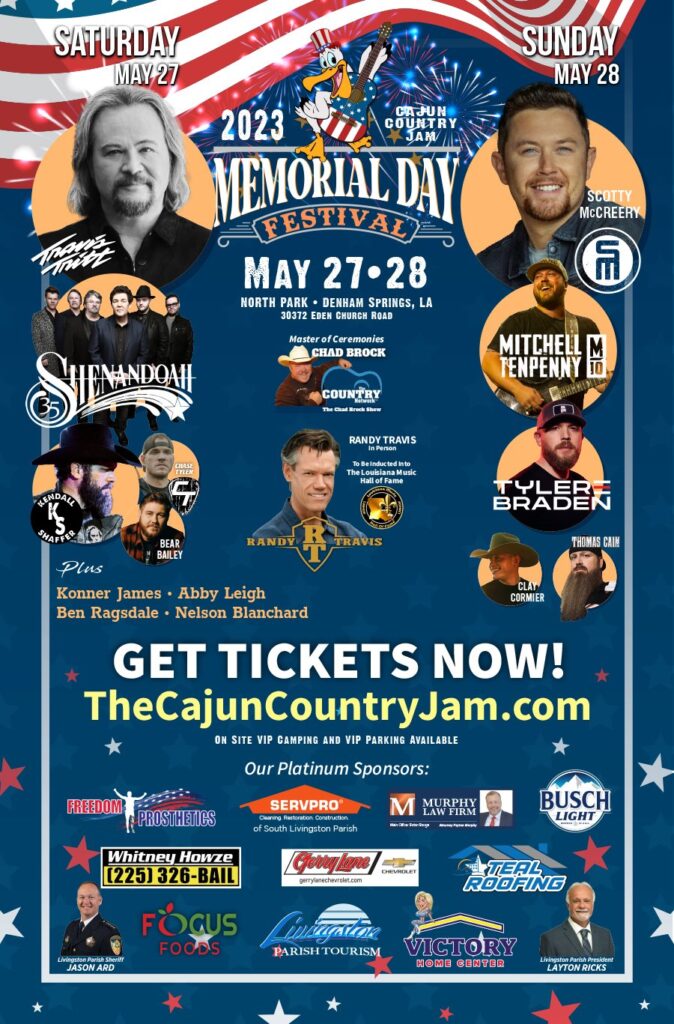 TWO days. TWENTY artists.
Travis Tritt, Scotty McCreery, Mitchell Tenpenny, Tyler Braden, Shenandoah and MORE at CCJ Memorial Day Festival on May 27th + 28th! Get tickets:
www.thecajuncountryjam.com
Use promo code TEXASCLUB for $20 off tix!
Adult & Kid friendly festival – children over 5 must purchase and have a wristband. Children 5 and under are admitted free without a wristband but must be accompanied by an adult.
The Jambalaya Festival Association, chartered in 1967, invites you to mark your calendar for the 56th Annual Jambalaya Festival to be held in Gonzales from May 26-28, 2023.
A weekend of delicious food, great music, and fun experiences the whole family will enjoy.
 The festival features World Champion Jambalaya, live music and entertainment, carnival rides, and so much fun it takes three days to get it all in.
Location: 219 South Irma Boulevard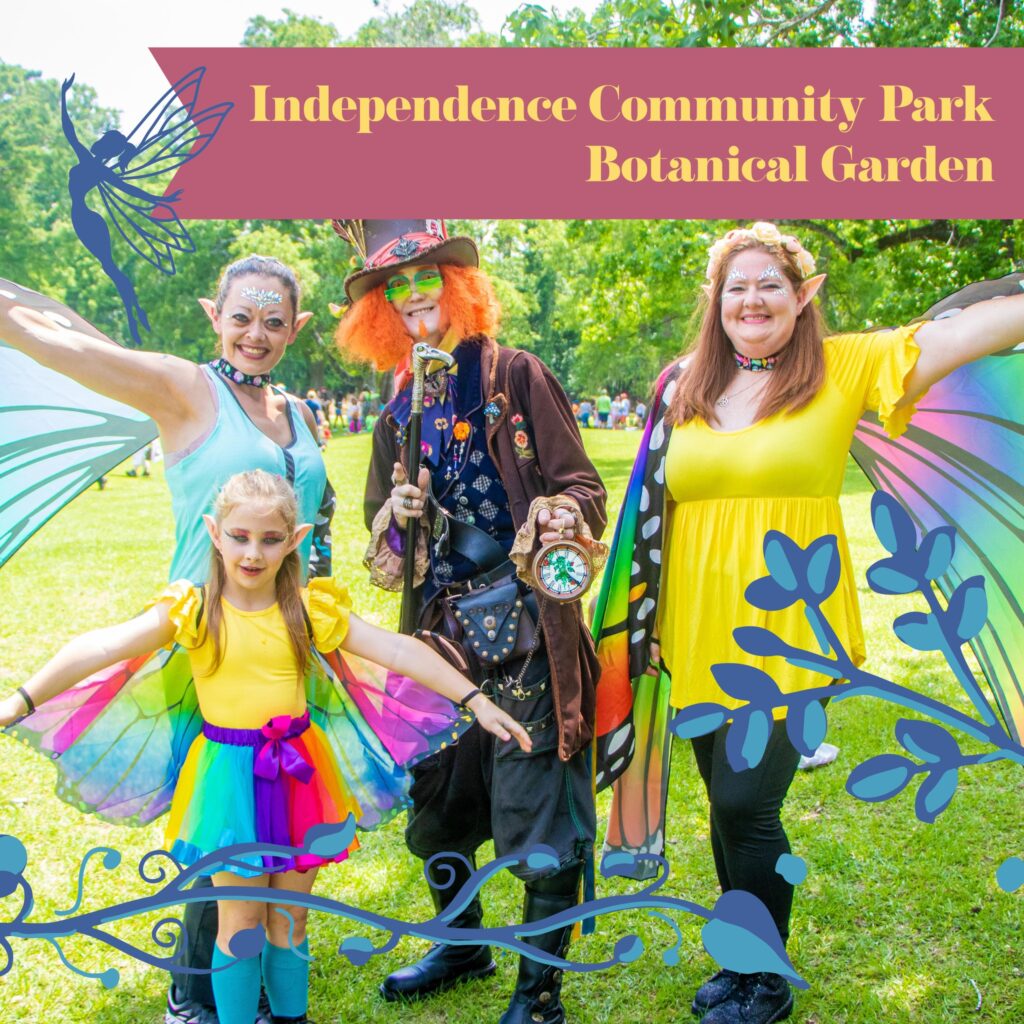 Come one, come all for a magical day full of whimsy and lore. Come dressed in your favorite FAE costume and celebrate the earth and the preservation of everything that makes it the beautiful place we know, while enjoying whimsical and fun activities with a FAE twist. This event will feature movies, games, strolling entertainment, FAE folk, face painters, crafts, and other exciting family entertainment for all to enjoy. Admissions is free for fairies, sprites, gnomes, and elves of all ages. Costumes are certainly encouraged!
12:15 p.m. – Maleficent: Mistress of Evil (2019)
2:30 p.m. – Strange Magic (2015)
Price:

Free

Age Limit: A

ll ages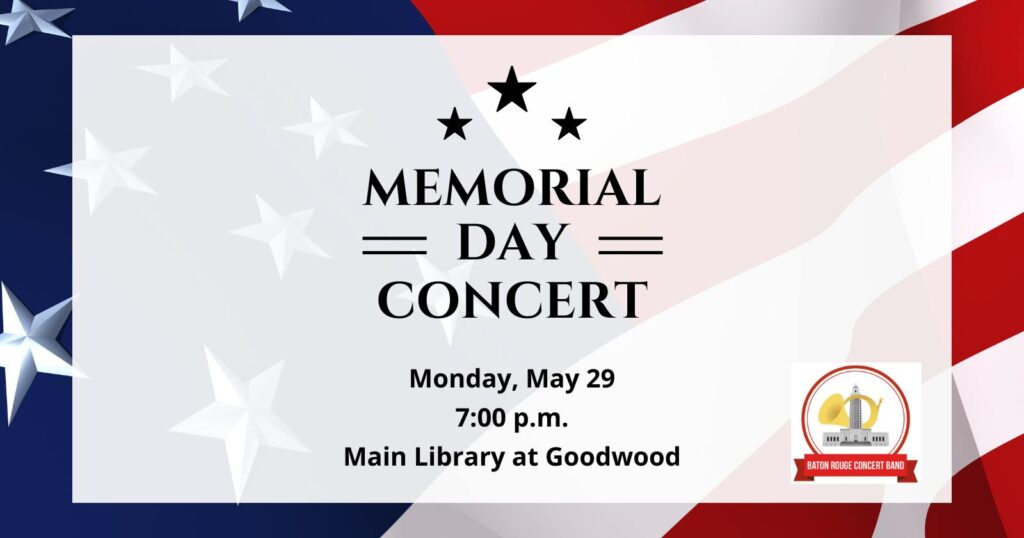 The Baton Rouge Concert Band will present their Memorial Day concert to honor those who lost their lives while defending our country. They will play marches and patriotic music but will also include music appropriate for somber remembrance of those who made the ultimate sacrifice. Join them on Memorial Day, Monday, May 29th, at 7:00 pm at the main branch of the East Baton Rouge Library, 7711 Goodwood Blvd. The concert is free!
May this Memorial Day weekend be a time for reflection and celebration, where we honor our heroes and embrace the bonds of family and the joys of summer they fought so valiantly to preserve.