Juggling numerous hats and tackling a mile long to-do list is a constant in any mother's life. However, daily tasks might come with an even bigger basket of burdens for a single mom who is struggling to be all and do all.
If you know a single mom, she needs help!
She can't do it all, be all, all of the time. This is where the village mentally is needed with aunts, grandmothers, and friends. This is where YOU can make a real difference in the life of a single mom and her children. We have listed six simple ways that you can easily bless the single mom or moms in your life.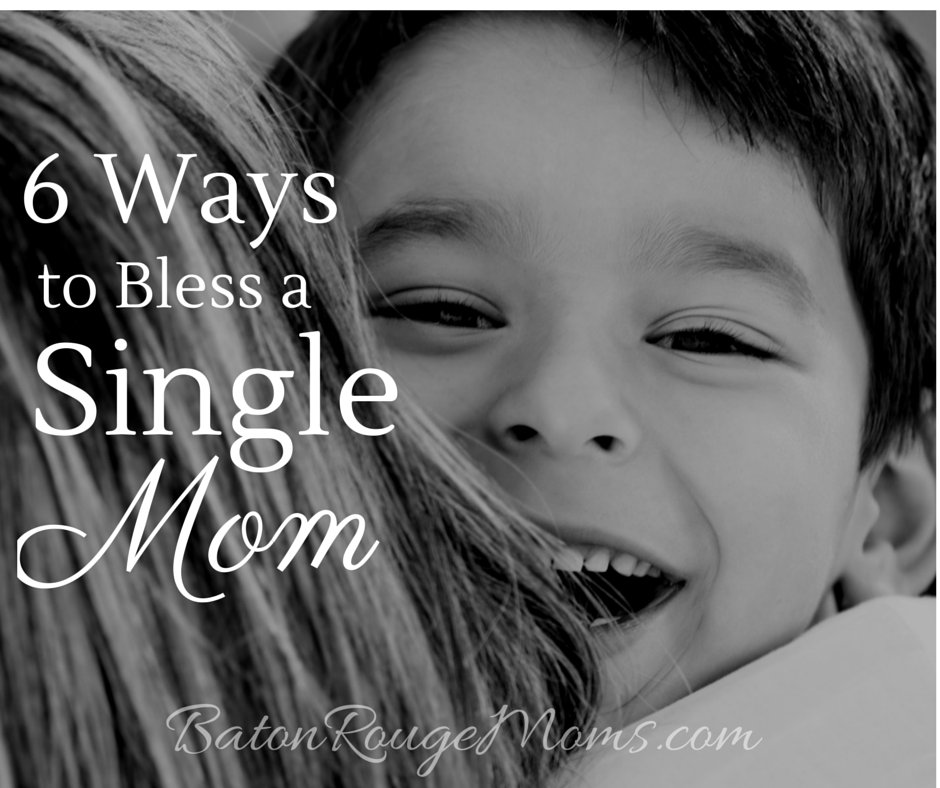 6 Ways to Bless a Single Mom
Volunteer to watch her kids:

This is especially helpful for single moms who don't have family nearby. Establish a relationship, gain her trust and offer to help with the kids once a month or twice a month. Maybe you have older children, this is a great way for them to serve or

Provide an occasional meal:

Menu planning can be daunting, to say the least, especially on busy weeks. Freezer meals are great to give to mom to use on extra busy nights, or a ready-made warm meal when you know the family is busy or mom is sick.

Offer to help with chores and home repairs:

Help lighten her load and offer to tackle any major chores, laundry or yard work. There are many repairs around the home that need two sets of hands, offer to help out with simple home repairs. Our friends at American Rooter plumbing said they have a program where once a month they do free plumbing work for single moms in their area.

Include the family in your special celebrations or casual events:

If the mother and children live away from family, holidays can get lonely. Invite them over for holiday gatherings, or when visiting a park, zoo or fair. This is a great way to offer the mother and her children a valuable sense of belonging. 

Invite her out for a moms night out:

Help provide a baby sitter and invite her out for a fun evening with fellow moms. If you have older children, they might be able to help out with babysitting needs.

Offer a listening ear:

Especially for a newly separated or divorced mother and her children. Go out for coffee, text, message or call with words of support or just offer a listening ear. If your friend is doing a great job raising her children, tell her!

Lastly, ask how you can help meet the unique needs of the family you know. You won't be able to meet every need but even the smallest gesture can make a difference.
The Life of a Single Mom Ministries
I recently learned about
The Life of a Single Mom

Ministries
and I was pleasantly surprised to learn that this national organization grew its roots right here in Baton Rouge.
The Life of a Single Mom is a global, award-winning, 501c3 nonprofit organization committed to seeing no single mom walk alone. Their programming focus is two-fold. First, they provide solutions for single moms to succeed in finances, parenting, and health & wellness, while also connecting them to a support group in their area for encouragement, networking, and empowerment.
On October 3rd,
The Life of a Single Mom
,
KLove Baton Rouge
and
Healing Place Church
are partnering for a night to celebrate Single Moms with a meal, a night of worship and tons of giveaways! Come enjoy the fellowship with moms just like you and free childcare! Be sure to share this with all of the single moms in your life, it's sure to be a great night of encouragement and fun.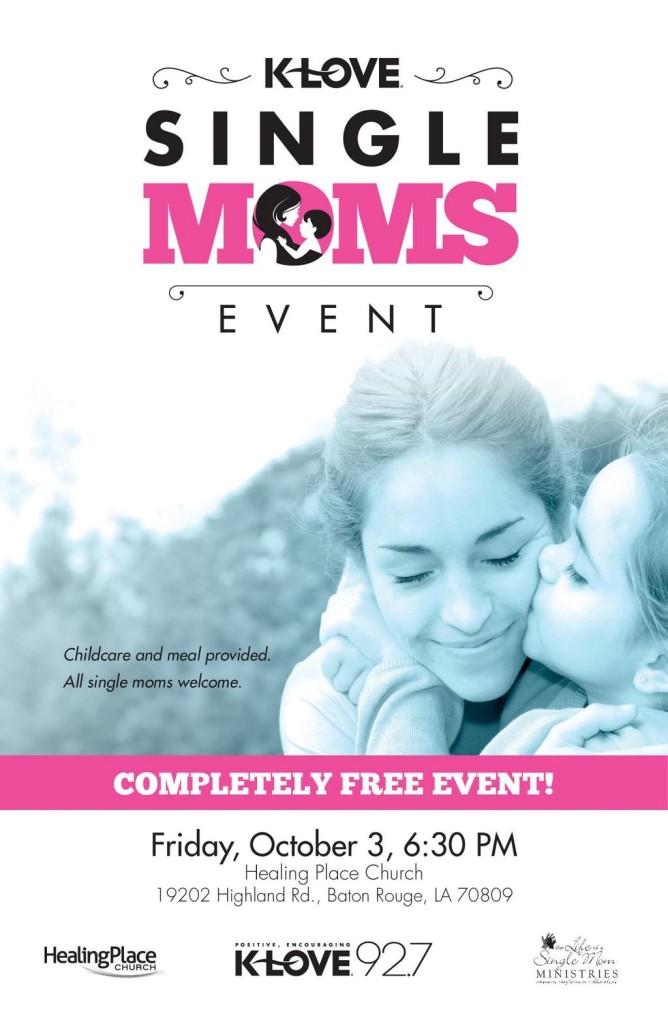 If you are a single parent in need of resources, The Life of a Single Mom provides a comprehensive list of local and national help. Please download their PDF for more info.
Some material adapted from families.com.
The following two tabs change content below.
Tiany Davis
Tiany Davis, the woman behind Baton Rouge Moms has been blogging, micro blogging and building online communities since 2001. A Northern California native, Tiany moved to the Baton Rouge area in 1995 after meeting her husband, Baton Rouge Native Jazz drummer, Troy Davis in Paris, France. Tiany homeschools her four sons and enjoys sharing all things Baton Rouge & beyond! Her passion is supporting families where they live and love – locally!
Latest posts by Tiany Davis (see all)