Coming soon to Baton Rouge, Giggles is a specialty toy and treat store that offers unique, high quality gifts for babies, toddlers and tweens (and everything in between!) So much more than visiting a store, visiting Giggles is an experience for kids and kids at heart. Giggles is opening its doors this summer and will be located at the Settlement at Willow Grove.
Giggles is also passionate about providing high-quality, fun and educational classes for children. In addition to candy, unique toys and Pinterest worthy party supplies, they also hope to offer painting, storytelling, kids yoga, cookies, canvas and more!
Giggles will not only tempt your taste buds but it will also be a treat for the eyes! Do you like gummy bears? How about 15,000 of them, molded in hi-gloss acrylic? Giggles will light up the store with a, one-of-a-kind masterpiece, Candelier.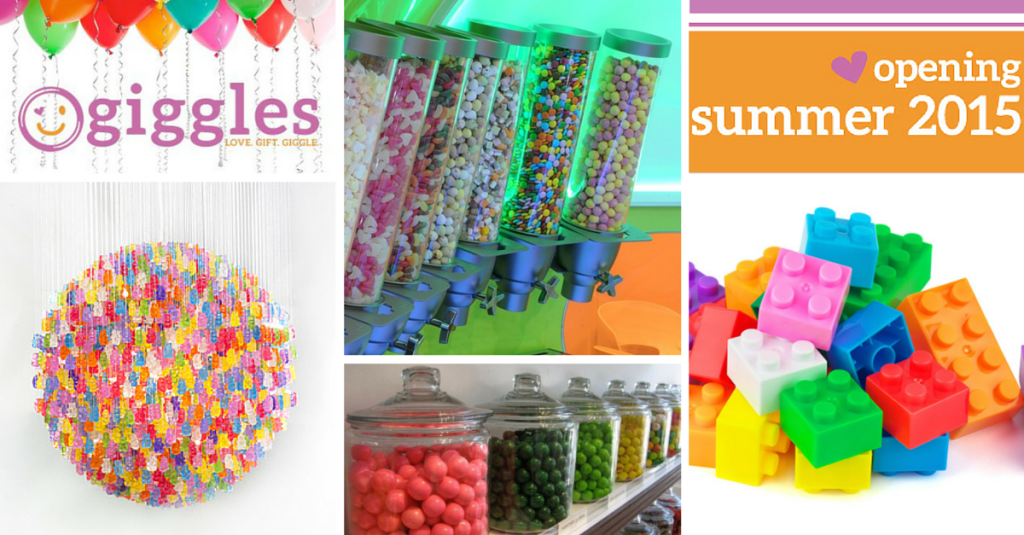 Candy
The candy section of the store will be as sweet as it gets! Their unique candy wall will be a rainbow of bulk candy treats. In addition to "pick and mix" candies they will offer packaged candies including chocolates, sours, jelly beans, caramels, lollipops, hard candies and much more!
Party
Everyone today wants to have a "Pinterest" party! Although sifting through Pinterest to find the trendiest theme for your little one is at the click of a button, it can be difficult to find the perfect party goods to make everything come together. Giggles will offer a select variety of specialty party goods so that you can host the perfect party!
Toys
Giggles will offer great gifts and toys organized by age and stage (baby – tween). And did we mention they will offer FREE gift wrap? They will!
The anticipation for Giggles' opening is growing and the kids are already drooling!
Be sure to follow Giggles on Facebook as they are adding updates on the store as well as great information and resources on parenting, children's activities and local news!
Giveaway time!
a Rafflecopter giveaway
Disclosure: This is a "sponsored post." The companies who sponsored it compensated BRM via a cash payment, gift, or giveaway. Opinions expressed herein are that of the author and are not indicative of the opinions or positions of the sponsor.