Check out our 2017 Fourth of July Guide HERE!

We are fortunate to live in the land of the free, home of the brave, thanks to our founders and those who fought for freedom so long ago. Today, we celebrate America's Independence with food, fun, family gatherings, fireworks and most importantly, honoring those who have served and continue to serve.
Looking for something to do in Baton Rouge for the Forth of July? There are plenty of red, white and blue events celebrating Independence Day – we've got you covered with a star-studded guide to help you!
Baton Rouge Moms will always bring you the best in Family Friendly events in and around the Baton Rouge area.

July 2nd
Baton Rouge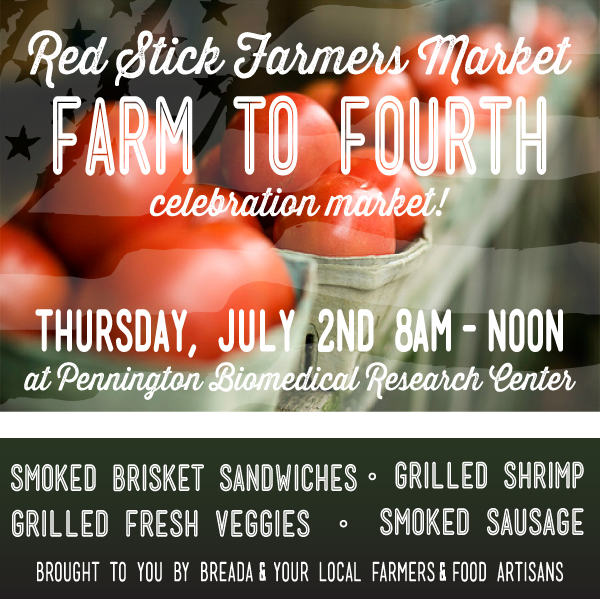 Farm to Fourth Market – 8am – Noon. The second annual Farm to Fourth Market will be a great family event held on Thursday, July 2nd at Pennington Biomedical Research Center. The "Farm to Fourth" celebration includes samples and Fourth of July supplies from Baton Rouge's best farmers and food artisans. They will be cooking and sampling some great Fourth of July dishes, like grilled gulf shrimp, barbecue brisket sandwiches, smoked sausage, grilled local veggies, and smoked whole chickens. More than two dozen local vendors will be a part of the Farm to Fourth celebration. #eatlocal #farmtofourth
July 3rd
Kenilworth Independence Day Parade – "Learning to Love Liberty" – On this 70th anniversary of D-Day, come celebrate our nation's birthday at the parade and join us for one of Baton Rouge's premier Independence Day events! The parade features military and civic groups, bagpipers, antique cars, buggies, elected officials, horse groups, and more!! Swing by Kenilworth Science & Technology School for the start of the parade. Enjoy the music of the Jemini Venture bluegrass band. Come visit with the animal adoption agencies who will be there. The Baton Rouge Sheriff Department wil be on the school grounds taking identification fingerprints for kids. Friday, July 3, 2014 6:30 pm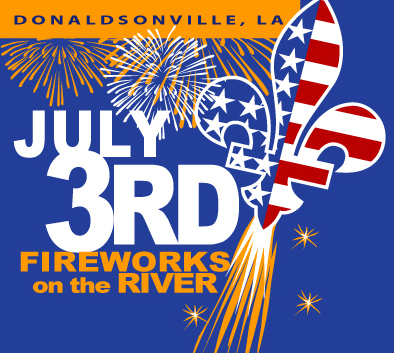 3rd of July Fireworks – The ONLY fireworks program in Ascension Parish! Main Street Donaldsonville is proud to once again produce the 3rd of July Fireworks. CF Industries, City of Donaldsonville and Donaldsonville Downtown Development District sponsoring this annual COMMUNITY EVENT for all. COME HUNGRY! COME EARLY ! FOOD, CRAFTS, DANCING For details, call (225) 323-2555
July 4th
Downtown Development District Events:
8 a.m. – BASF Freedom Mile
Join BASF and Club South Runners for a one-mile race through downtown Baton Rouge. Race begins on River Road near the USS Kidd. A series of one-mile races and a half-mile Parent/Child Run. Transportation provided to start area. Watermelon, fruit, Coca Cola products and Mockler Beerages afterwards. 1st race to start at 7:30 a.m. with other events to follow every 20 minutes. For more information visit www.rrca.org or 927-9200, www.clubsouthrunners.net
9 a.m. – 9 p.m. USS KIDD's 4th of July Spectacular!
Games, patriotic crafts, inflatables, face painting, and lots more to entrain kids of all ages! For more information call 342-1942 or visit www.usskidd.com No ice chests, barbecue pits, tents or pets allowed.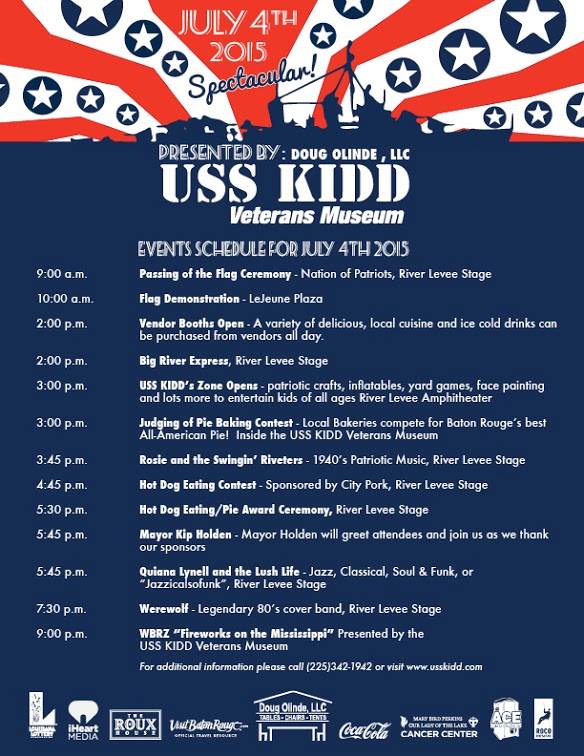 9 p.m. Fireworks On The Mississippi – This year's fireworks display can be viewed from either side of the Mississippi River, either in Downtown Baton Rouge or in Port Allen. WBRZ would like to encourage the public to join us in our annual tradition of honoring our troops and our great nation. NOTE: No ice chests, BBQ pits, tents or pets allowed.
North Bouleard Town Square : "Patriots on the Beacon"
Honoring our Patriots on the North Boulevard Town Square beacon with over 100 photos of men and women who are serving or have served in the military. Patriotic music and movies will also play throughout the day and night in the Square.
West Baton Rouge Parish
4th Fest – The best view anywhere in the Baton Rouge area for 4th of July fireworks on the Mississippi River. Held July 4th in downtown Port Allen at the Riverfront on the Mississippi River Levee. The fun starts annually at 4:00 pm and ends at 10:30 pm. Free to the public and includes face painting, magicians, clowns and space walks for the children. Beverage & food vendors line the levee for all to enjoy. Live entertainment with several local bands allow the crowds plenty of dance music to enjoy before and after the spectacular fireworks show on the river.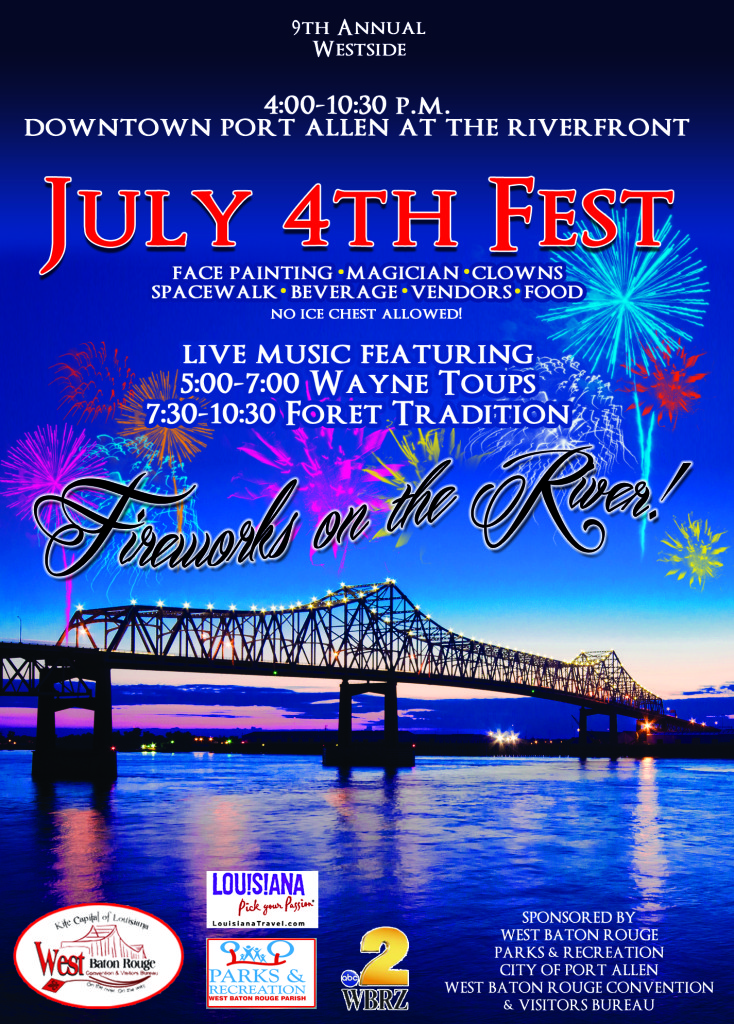 Walker
Old Fashioned Family Day Celebration: 9:00am to 9:00pm Sidney Hutchinson Park. Come Join the FUN, FOOD, & FESTIVITIES! FREE ADMISSION, FREE EVENTS, FREE RIDES! Don't forget your lawn chairs, blankets, sunscreen and bug spray!!! No alcohol is permitted in the park.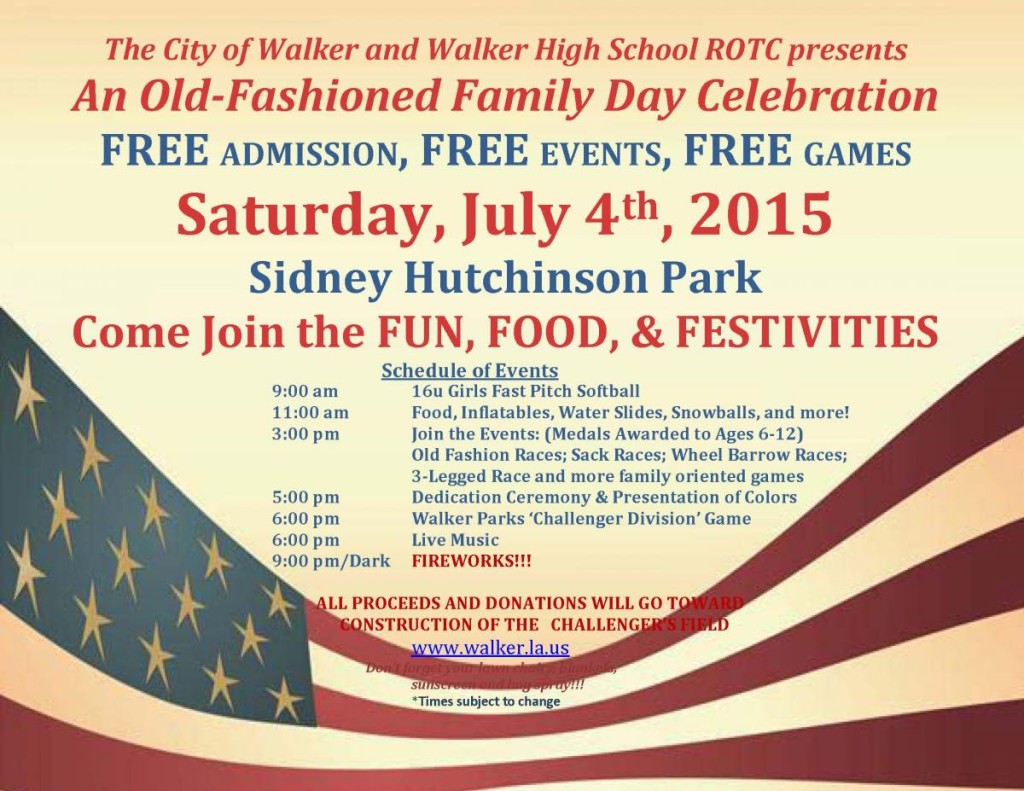 Iberville Parish
15th Annual July 4th Hometown Celebration 9:00 a.m. – 9:00 p.m. Plaquemine Lock SHS will be open for tours and demonstrations, free admission. Friends of the Lock will be sponsoring putt-putt boat rides beginning at noon. The Iberville Museum will also open at noon and admission is free. 3:00-9:00 p.m. Mouth watering food will be served from the Waterfront Park (please no ice chest, pets or tents). 3:00 p.m. 5:00 p.m. Veterans Boat Parade – theme decorated boats are welcome. 6:00 p.m. Dancin' on the boardwalk until the Firework Display at 9:00 p.m.! Phone: 225-687-3116 Website: www.plaquemine.org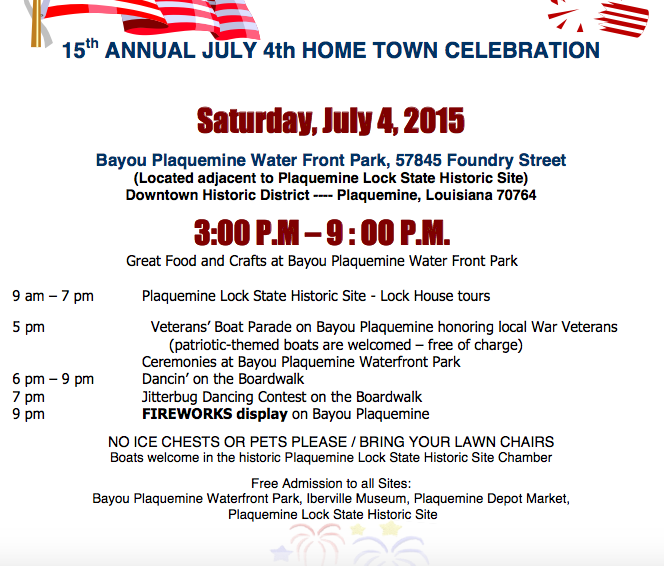 Pointe Coupee Parish
False River Annual Boat Parade Will Be Held On July 5, 2014 beginning at 1:00 p.m. The 2015 False River Fourth of July Boat Parade Theme will be: "Traveling the USA." The parade will be on July 4, 2015 and will once again be sponsored by the City of New Roads. For More Information Contact: (225) 638-5360
JULY 5TH
Baton Rouge
STAR SPANGLED SATURDAY: 8 a.m. to noon, Red Stick Farmers Market, Fifth and Main streets.
Red Stick Farmers Market will celebrate the 4th of July with locally grown produce, live music and plenty of red, white and blue. The Market will open with a special rendition of the Star Spangled Banner and continue with other patriotic tunes throughout the morning with his jazz trio. Shoppers can find fresh items for holiday barbeques including sweet corn, squash varieties, sausage, shrimp, watermelons, cantaloupes, peaches and blueberries.
St. Mary Parish
Rock the 5th – Morgan City's Independence Day Celebration. Takes place Sunday, July 5 from 4 p.m. until 9:30 p.m. at Lawrence Park and the Riverfront. 4 to 5:30 p.m. — Hal Bruni Band 5:30 to 8:30 p.m. — Band Camp 9 p.m. – – Fireworks over a Atchafalaya River Food and drinks will be accessible for purchase.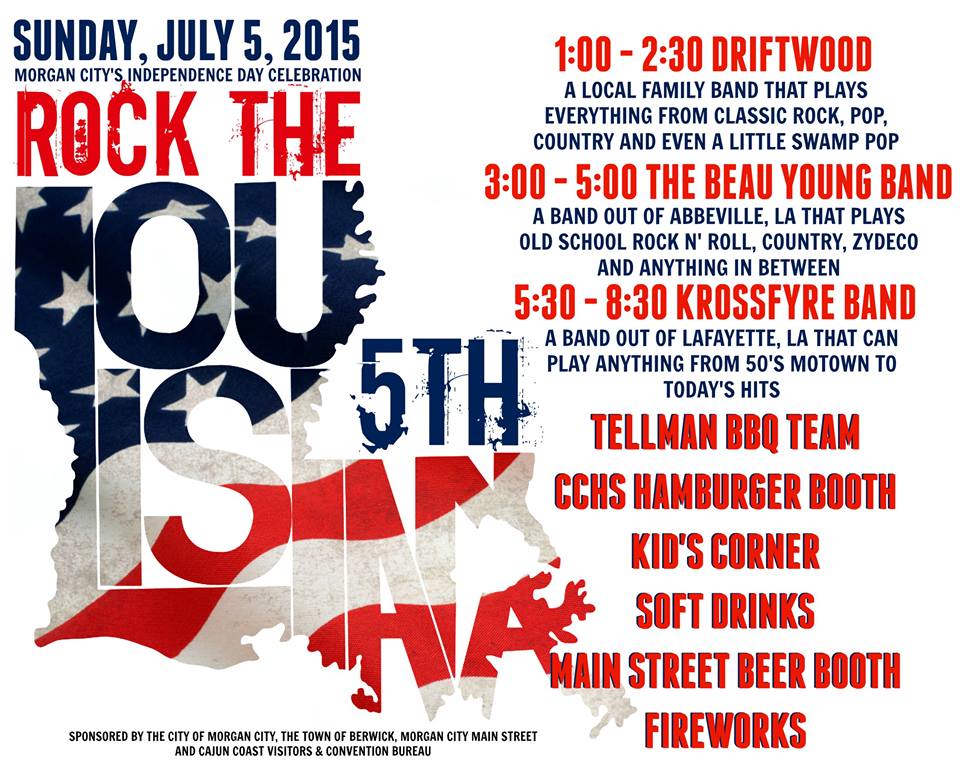 Happy Fourth of July! We hope you have a fun, safe and beautiful holiday weekend!

The following two tabs change content below.
Baton Rouge Family Fun
Baton Rouge Family Fun is the premier online destination for families in Baton Rouge. Our goal is to connect and encourage Baton Rouge families online via our website and our social media channels by providing up to date information on family-friendly local events, parenting help, services, and resources.
Latest posts by Baton Rouge Family Fun (see all)