Be amazed as one of Disneyland's pumpkin carvers brings Mike Wazowski to life out of a simple seasonal gourd in celebration of this week's release of Monsters University!
Whip up a monstrously delicious Halloween feast with recipes below, care of Mike, Sulley, and the pledges over at OK, PNK and ROR!
POP QUIZ! It's time for a Monsters University Quiz! How many eyes does Squishy have? What is the name of Mike Wazowski's Elementary school? These are just some of the questions you'll have to answer correctly to ace this test!
Monsters University is now available on Blu-ray Combo Pack!
Have fun doing these family friendly Halloween activities, inspired by Monsters University.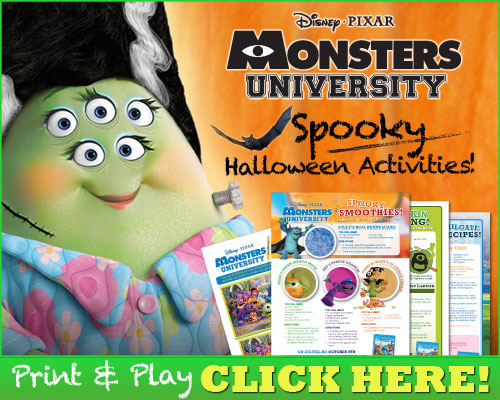 The following two tabs change content below.
I am Tiffany: mom, wife, Baton Rouge dweller, Halloween enthusiast and kid at heart. I watch way too much TV, don't get enough sleep and eat pop-tarts for lunch. Raised in Virginia, I still love spending summers there. I'm addicted to make-up and Instagram, both of which bode well for me because I work from our home in Denham Springs, just east of Baton Rouge, as a Social Media Consultant. Find me on Twitter
@FabulousMomBlog
and
Google+
.