All are invited to the Chuck E. Cheese grand re-opening of the newly renovated Baton Rouge location. Chuck E. Cheese is inviting Baton Rouge families to experience an enhanced day of fun as the location at 7680 Andrea Drive unveils a brand-new look, the latest technology, and new games. To celebrate the signature remodel, the store will host a community-focused event on Wednesday, December 8.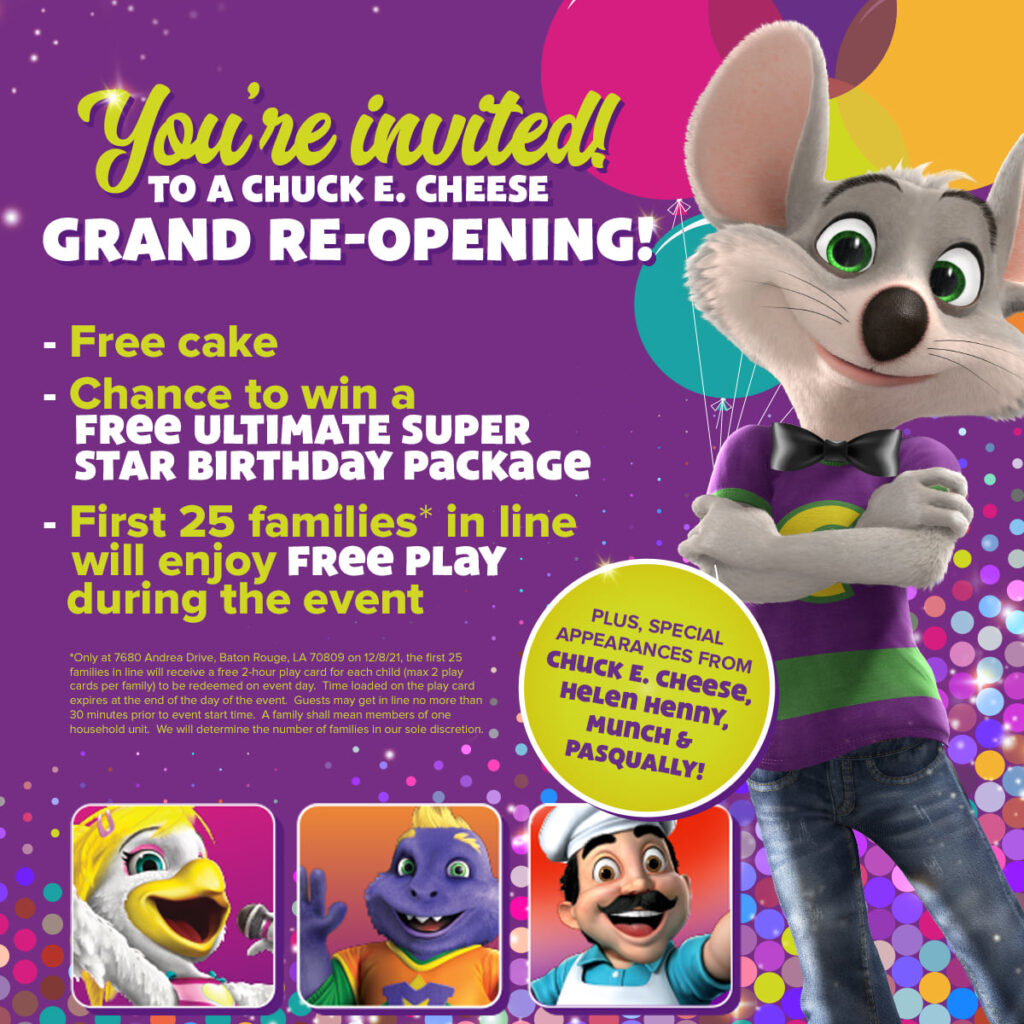 Chuck E. Cheese Grand Re-Opening in Baton Rouge
"The grand reopening of our Signature Chuck E. Cheese location in Baton Rouge marks an exciting new time for the company," said Sherri Landry, CEC Entertainment Chief Marketing Officer. "It's a time of growth and renewed energy for us, and we are thrilled knowing this beautifully renovated space has the capacity to support the entire Baton Rouge community, all while offering the latest technology and games to delight families and kids every time they visit."
The refreshed Baton Rouge location will reopen with the latest Season of Fun, Winter Winner-land, where Every Kid's A Winner on every visit. Part of the company's Four Seasons of Fun, Winter Winner-land offers guests new holiday-themed entertainment, seasonal décor, and limited-time menu items, including Iced Brownies, Frost Bite Churros, and "Bag of Snow" cotton candy.
New signature elements at the location include an interactive dance floor that is programmed with seasonal, dynamic graphics and serves as the "center stage" for Chuck E. Live! shows, a large-format video wall and screens and audio connected throughout the venue to provide a more immersive experience for guests and parties, and an oversized wall mural.
Chuck E. Cheese Grand Reopening Event
Grand Reopening Event – 5:00-7:00 p.m.
Chuck E. Cheese will welcome the larger Baton Rouge community for a grand reopening event, complete with a purple carpet, family-fun entertainment, and music from Chuck E. and Munch's Make Believe Band. Guests will enjoy an all-new Winter Winner-land live show, including Chuck E.'s new dance, the Yuletide Slide.
The first 25 families in line will receive complimentary arcade play for up to two children for the two-hour event. The location will also raffle a free Ultimate Super Star Birthday Package for 10 kids, as well as a Gold VIP Play Band, good for one year of All You Can Play access.  
WHAT: Chuck E. Cheese, the nation's No. 1 family entertainment and dining venue, celebrates the grand reopening of its newly remodeled Baton Rouge, Louisiana, Signature location with two special events.
WHERE: 7680 Andrea Drive, Baton Rouge, LA 70809
WHEN: Wednesday, December 8
10:00-11:00 a.m. First to Play Event with Joy Johnson
5:00-7:00 p.m. Grand Reopening Event
Chuck E. Cheese continues to put the health and safety of guests first. In addition to requiring face coverings for all employees, guests are strongly encouraged to wear face coverings during their visit.
The restaurant will be open Sunday through Thursday from 11 a.m. to 9 p.m., Friday from 11 a.m. to 10 p.m., and Saturday from 10 a.m. to 10 p.m.
Disclosure: This is a "sponsored post." The company who sponsored it compensated BRM via a cash payment, gift, or giveaway. Opinions expressed herein are that of the author and are not indicative of the opinions or positions of the sponsor.