Dear Les Miles,
Can I call you Les? We have spent 12 years together, so I am just going to call you Les.
When I was 21 years old and enjoyed the tailgate culture of LSU more than one probably should, I knew nothing of football. Yet I would walk miles from my boyfriend's fraternity house to tailgate after tailgate. I hydrated only with whiskey and beer. By the time the game came on I was the boisterous girl you either loved or hated. I never really paid much attention to the man calling the plays. I grew up, much to the relief of my mom. As I grew into the resemblance of an adult, I paid more attention to the game and less to the pre-game. At the helm of the game was you, a man named Les Miles.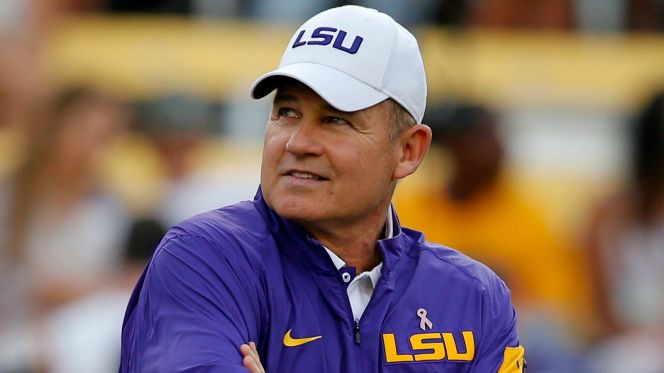 It was 2005 when you stepped up to the plate, Katrina had just passed through our coast. You came in, and we wanted greatness. We had gotten a taste of the crystal ball that is the NCAA championship, and we wanted more. We needed a win. You gave us a 11-2 season, and a Peach Bowl victory your first year.
You were a different kind of coach. Just when I thought you were going to let us down, you'd call a play that had us yelling at our screens. Sometimes in anger, sometimes in excitement, but always disbelief. "Why would he call that? HOW DID IT WORK?!" I loved you for this. I felt like your Mad Hatter side was my spirit animal. I longed to be the girl that could upset the dichotomy of this world like you upset the dichotomy of college football.
You ate a blade of grass. You clapped like my toddler when she sees Elmo. You were our coach. You were our Mad Hatter. You led the LSU Tigers to a 2007 National Championship three short seasons after you arrived, and then you stuck around. Tiger fans were in love. Were you who we had been waiting for?
I've grown to be a mom since I watched you eat your first blade of grass in Death Valley. For the past 12 years I imagine you'd be the kind of guy I'd want to invite to family dinner. I imagine you'd laugh loudly with us and discuss boudin and smoking pork with the men. I imagine your wife would sit down with us as the kids escaped to the backyard. You like beer right? If not my husband has Swamp Pop in the fridge. None the less, I have always and will always be fond of you. I have always imagined you a good man. That sentiment was supported when I met my husband.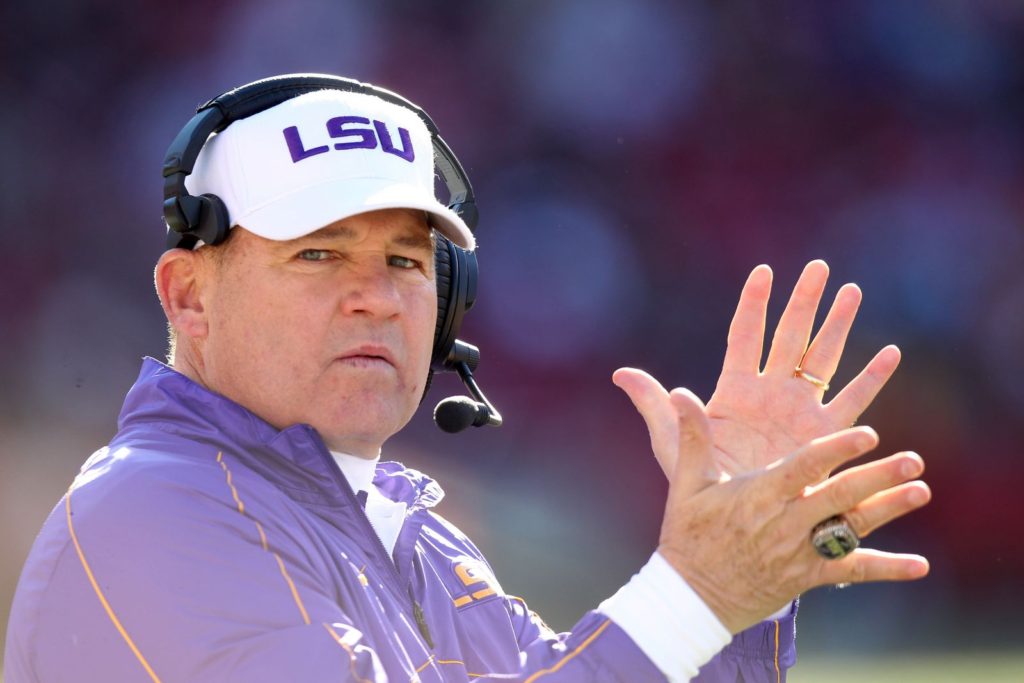 My husband has told me the story of how you looked at him when he was flying you back and forth to Oklahoma and Baton Rouge and said, "I have kids at home, just get me home safe."
As the college kid, that's not something I could have appreciated, but as the mom writing this letter to you, I love you for it.
It's easy to forget at the end of a tough loss, you're just a man, a husband, a dad. So I write this letter as a parent myself and as a born and raised Louisianan.
Thank you for being kind.
Thank you for 114 Tiger wins.
Thank you for a national title.
Thank you for a 13-0 regular season.
Thank you for 5 top ten finishes.
Thank you for humbleness and class. A rarity in athletics.
Thank you for being unapologetically yourself.
Thank you for embracing Baton Rouge and making it home.
Thank you for 12 amazingly fun years as the Mad Hatter. Your unpredictability is my favorite quality in you.
Les, you showed Death Valley what it means to Love Purple and Live Gold on and off the football field.
I don't know where your adventures will take you after this, but if they ever need a pause, our home is open. We will cook some food for the family. We will even garnish your plate with a little blade of grass.
Sincerely,
Whitney