While tennis might not be as popular as sports like baseball or football, it remains a great option for young athletes. As a parent trying to decide which sports will benefit your children the most, be sure to consider tennis as an option. Enrolling your child in Baton Rouge tennis lessons with BREC will not only expose them to a great sport now but could also lead to a lifelong passion for this popular game. BREC Tennis lessons are the perfect way to introduce your child to the sport that many call the sport of a lifetime! Following are ten benefits of choosing tennis as one of your child's sports.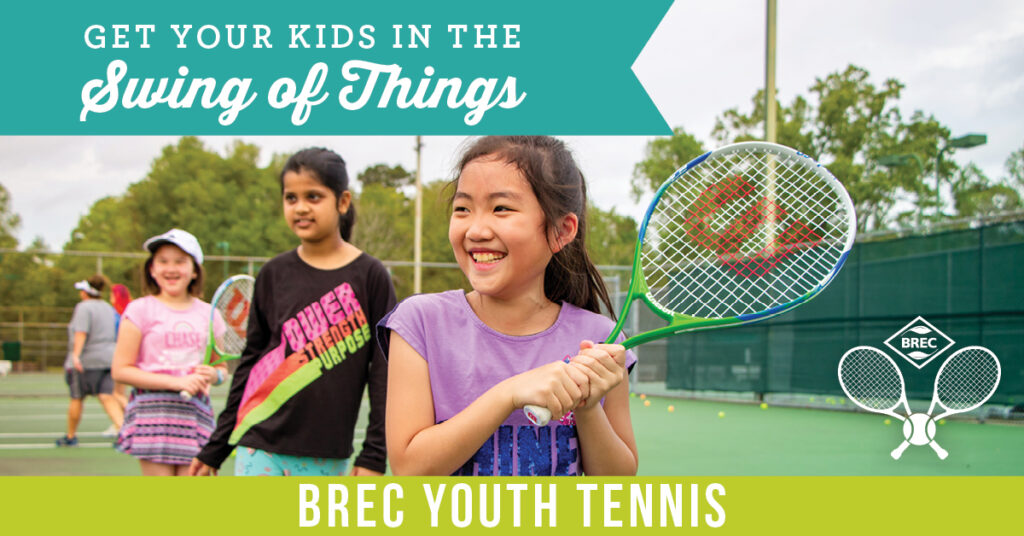 Top 10 Developmental Benefits of BREC Tennis For Kids
Bone Strength. Playing tennis regularly strengthens the bones of young players and has been proven to help prevent osteoporosis later on in life. Thus the reason why Tennis is often called the sport of a lifetime.
Hand-Eye Coordination.
Aerobic and Cardiovascular Exercise.
Speed.
Flexibility.
Gross Motor Coordination.
Fine Motor Coordination.
Agility.
Baton Rouge Tennis with BREC
BREC's Tennis Department manages five major tennis centers, each housing its own pro shop that offers tennis resale merchandise, equipment rentals, refreshments and a full staff that manages court reservations and fees. The five major tennis centers provide a number of programs to the community, including tennis instruction, school athletic programs, youth and adult league play and tournaments.
BREC Tennis also offers a variety of youth programs for all ages and skill levels throughout the parish! Programs are designed to help your child develop motor skills, hand-eye coordination, overall athleticism, and fundamental tennis strokes. Fun is guaranteed, so don't drop the ball! Get registered with BREC Tennis today!
There are also 72 neighborhood tennis courts located at recreation centers throughout East Baton Rouge Parish, where patrons can play tennis at no charge.
Learn more about each program and register here!