Berry picking can be a fun, delicious and educational outing with kids. Nothing compares to picking ones own food and seeing where our food comes from. In Louisiana, the picking season usually starts earlier than other parts of the country, we're blessed to have a number of options for blueberry picking near Baton Rouge. Berry picking is a great way to get outdoors while supporting our local farms!
We've listed a number of fruit picking farms below, while some of these Berry Farms are not close they are within an hour or two and would make a fun day trip with a new city to explore. Time to get some dirt on your hands and fresh fruit in your buckets!
Good to Know Before You Go: Please be sure to call the farm before heading out, so many variables can effect your outing. Berry ripening, Weather, Berry availability, etc.
What to Bring: Prepare for a trip to the farm like you would a day at the park. With very little shade in the berry patches, you'll want to bring hats and sunscreen. Wear full feet covering shoes, no flip-flops or the sort, those pesky Louisiana ants will get you every time! Bring baby wipes and a change of clothes for the littles, you never know what blueberry shenanigans the kids will get into.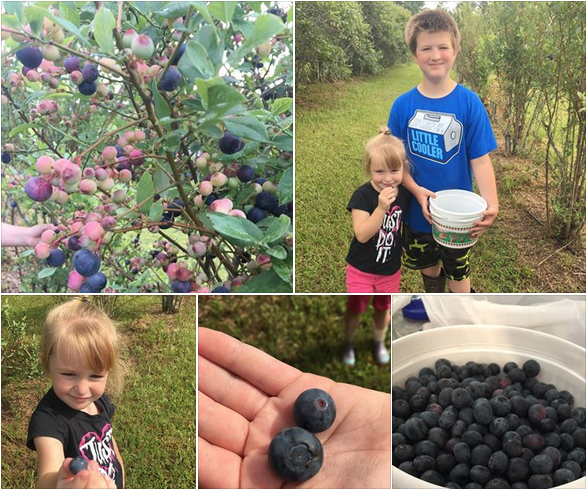 Photo Credit: Patty Mcgrath @ Blueberry Ridge Orchard
Blueberry picking near Baton Rouge & Beyond – Blueberry Farms, Orchards and U-Pick Guide
Blueberry Ridge Orchard: The orchard will be open for u-pick beginning on June 3rd, 2016. $1.50/pound. Cash only. Hours are: Sunrise to sunset. Please bring your own containers to carry berries home. We will have belts and milk jugs to pick with. Please leave them when you are finished.
Jackson, LA
Connect: Online | Facebook |(225) 629-5311
Berry Sweet Orchards: the first organic "you-pick" blueberry orchard to be certified by the Louisiana Department of Agriculture and Forestry as an organic producer under the standards of the National Organic Program (NOP). Since 2015, we follow all NOP standards but are not certified by them anymore. Only NOP certified all-natural fertilizers and soil builders are used on our blueberry crop. No synthetic pesticides or herbicides have been used on or near our blueberries or in the orchard.
5110 Brown Road, Ethel, Louisiana 70730
Connect: Online | Facebook | (225) 683-1001
Hillcrest Blueberry Farm: Hillcrest Blueberry Farm is the largest blueberry farm in all of Louisiana! Located in DeSoto Parish just a mile south of Gloster, we are a family owned farm specializing in fresh fruit sales. We have 139 acres of blueberries and two acres of blackberries.
634 Ferguson Road, Gloster, LA 71030
Connect: Online | Facebook | (318) 617-7497
Blue Harvest Farms: Blue Harvest Farms is the largest U-Pick Blueberry Farm in St. Tammany parish, located on the Covington/Bush border (Waldheim)
78495 HWY 21, Bush, LA 70431
Connect: Online | Facebook | blueharvestfarms@gmail.com
EquiTerra Farm: EquiTerra Farm is a certified organic horse powered farm. We have a goal here on the farm to provide the highest quality food possible to our customers. We believe that a healthy body starts with healthy food. We are currently going through the new LA organic application process; but, we have been organic since we began farming. We provide organic blueberries, figs, blackberries, muscadines, and vegetables. We also have wonderful big brown free-range eggs and free-range broilers.
12798 Muse Lane, Clinton, LA 70722
Connect: 225-683-8406 | pldavidson@aol.com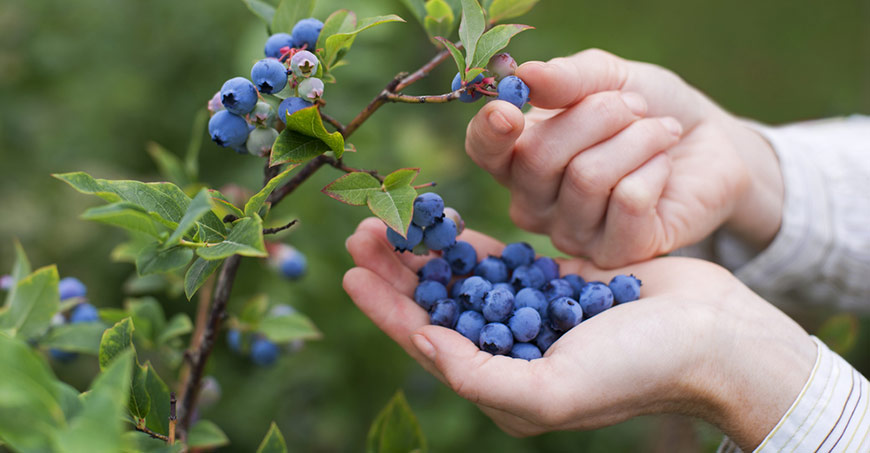 Loblolly Ridge Farm: Located in the northern section of Tangipahoa Parish, Amite, Louisiana. Loblolly Ridge Farm is a U-Pick Blueberry farm. The farm consist of 2 acres of blueberries (approximately 1200 bushes consisting of 6 varieties of hybrid blueberries). Picking starts June 2nd and ends July 2nd, depending on weather conditions.
1000 Andrew Bankston Road, Amite, LA 70422
Connect: Online | (985) 748-6843
Ridemore Ranch and Berry Farm: Ridemore Berry Farm is a U-pick berry farm located near Covington, LA. We provide a family environment where you can come out and pick ripe berries right off the bush. You can even taste the berries as you pick them to make sure that they are the best you have ever had.
22154 John T Prats Rd, Covington, LA 70435
Connect: Online | Facebook |( 985) 875-1965
Shuqualak Farms: Shuqualak Farms is small and inviting, with six acres of blueberries and four acres of blackberries. Open from early June to mid July, visitors are provided with a 5-quart bucket and strap for collecting their harvest. Berries are packaged in freezer-safe bags and children are given 1-quart take-home buckets.
232 Shuqualak Farms Rd, Frierson, LA
Connect: Online | Facebook | (318) 797-8273
3D Blueberry Farm: Pick Your Own Blueberry Farm: OPENING: Wed. June 1st 2016 Normal hours are 7am–Noon & 4pm-7pm
41031 Highway 1056 Franklinton, LA
Connect: Online | Facebook | (703) 618-3782
Sunhillow Berry Farm: Locally owned and operated. This farm has been in operation since 1993. We operate on the "honor" system. Come on out and pick your own!
33510 Magee-Mahner Rd Pearl River, LA
Connect: Online | Facebook | (985) 867-9737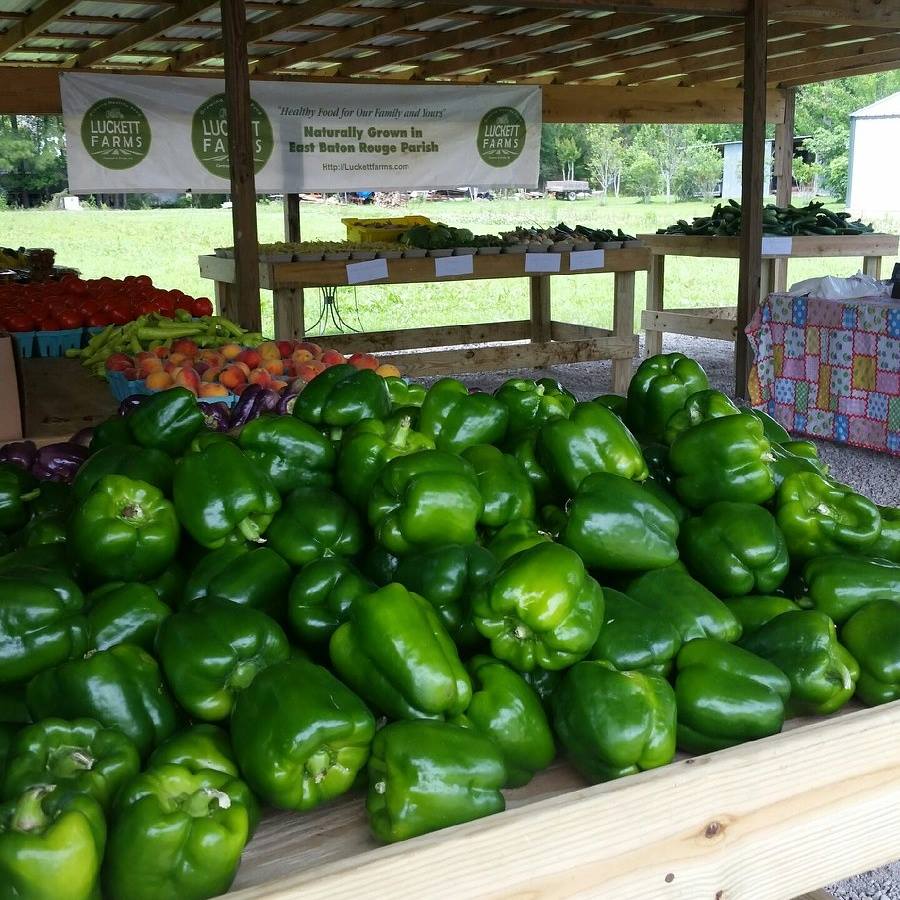 Photocred: LucketFarms
Lucket Farms: Not berries but we thought you all would enjoy learning about this amazing local farm too. Luckett Farms is located in Central and Pride Louisiana. They are a local Family Farm working 7 days a week to provide customers in the Greater Baton Rouge area with local, quality, home grown produce for affordable pricing. They currently sell produce direct to the consumer either through our CSA Program or seasonally at the Red Stick Farmer's Market and at a stand at their home n Central. They are passionate about teaching others how to grow, harvest, and cook healthy foods! This is one of the reasons that Derek, the owner, went back to school to study Horticulture at LSU.
Denhan rd. 1 mile from Greenwell springs. They have signs in the yard.
Connect: Online | Facebook | (225) 939-2998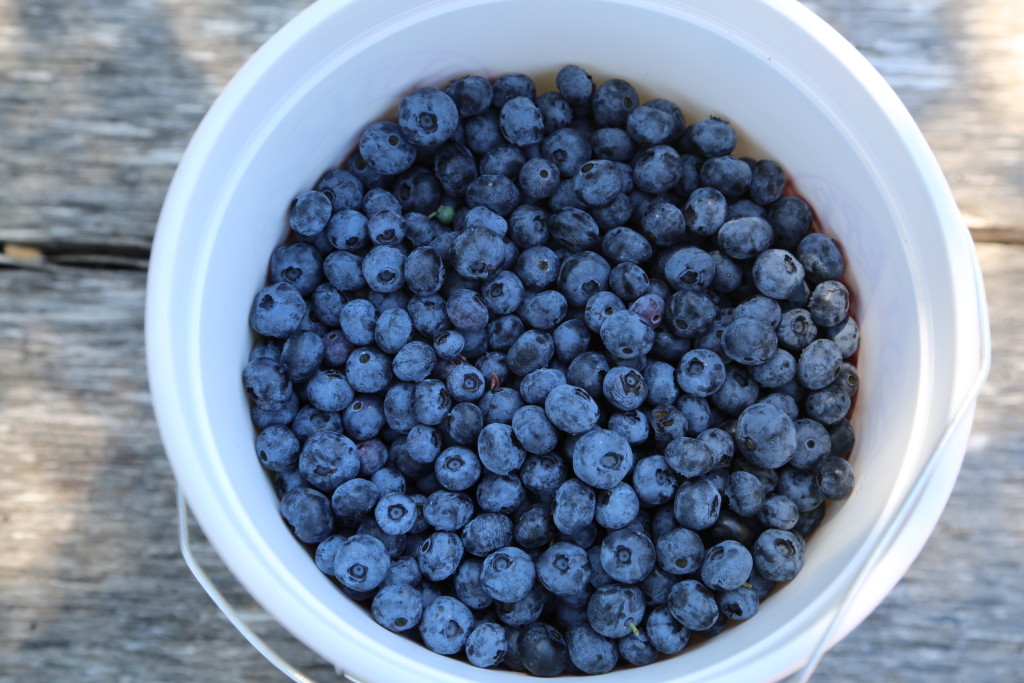 Caring for Berries
Store unwashed berries in containers or gallon-sized zip-top bags layered with paper towels. Refrigerated berries will last about two days. Frozen blueberries can last from season to season or beyond, do not wash berries for the freezer THEY MUST BE DRY BEFORE FREEZING, you can wash before use. Serve at room temperature after washing with a spray of cool water. Whole berries can be frozen in zip-top freezer bags for jams, smoothies, and homemade ice cream. Add berries to cereal, smoothies, or snacks straight from the refrigerator or freezer. Berries are fat-free, low in calories, and have fiber, vitamin C, and disease- fighting antioxidants.
Lastly, be sure to check out our list of 30 Things To Do in Baton Rouge & Beyond to fill the summer with fun, local adventures! #BRMSummerBucketList