There are so many things I love about Fall; fairs, festivals, a cool autumn breeze, picnics, you get the picture, right? But what also comes with my, oh so awesome, favorite time of the year is the oh so dreadful cold and flu season! If it's one thing I just can't stand, it's to be sick. And since becoming a mom it's even harder to see my little man come down with something. There are tons of products on the market to use during cold and flu season to give our little ones relief, but there is one that I can personally vouch for, and I think it's amazing!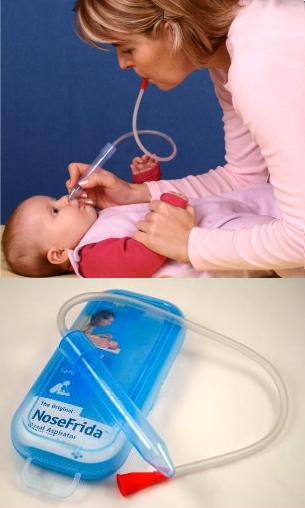 Meet NoseFrida, or as some call it, "The Snot Sucker!" I stumbled across this when Landen was a couple of months old; up until this summer I had only used it twice. If your child has ever had a cold causing them to be congested and unable to breathe easily, you'll love it. I never like the bulb syringe because I never felt like I was getting anything out. I researched this product online and used the store locator to find any stores in the area that carried it. Luckily, at the time, Angel Britches was on Jones Creek and they were the only store in Baton Rouge to carry it. They have since moved to the Mall of Louisiana and still carry it.
The NoseFrida looks almost like a jumbo pencil with a tube attached. The idea is to insert it gently into your baby's nose and actually suck, yes I said it, suck the snot out! I know, I know it sounds gross and you're probably cringing, but there are filters in the tube so that none of the mucous comes out and ends up in your mouth. During the summer my son came home with a cold, when I used the NoseFrida, it gave me so much relief to be able to help him breathe at night and to be able to see and know that I was getting all the mucous out. Yes there's a host of medications that I can use, and for moms that use over the counter meds and get results, that's wonderful! But for me, medications are not always the answer. Saline and a NoseFrida worked wonders!
Of course, when my son was an infant it was much easier. Now that he's almost as strong as I am, it's a little harder to get him to cooperate, but I don't mind the hassle if it helps him sleep and breathe easier. This is definitely something new moms with infants can appreciate! For around 18.00 I got the NoseFrida and a bunch of filters.
If you have small children that come down with cold and suffer from congestion, you have to try NoseFrida! Once you see how much mucous you're getting out and you're little one can breathe freely, you'll forget that you're sucking snot!